Fade to Black: Six Shades of Sexual Fulfillment
Ball & Chain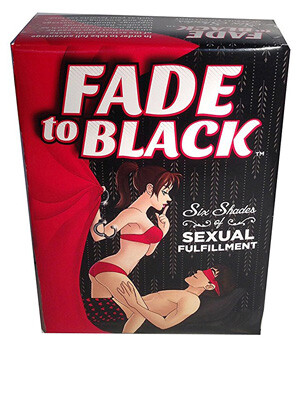 From using lotion on your partner or pretending to be a Nurse with a patient, you can leave it all up to the six-sided die to choose your fate. Included in the box are a set of instructions, a deck of cards and a single die. Use all three together and we have Six Shades of Sexual Fulfillment!
The cards range from moderately creative to the basics of using whipped cream. The shades of fantasy cards are by far the most imaginative. Those have the role-playing scenarios that go as far as you want them. The gigolos and shy girl combo was a fun to live out. Using warm oils and chocolate to seduce and arouse your partner combined with the ever popular blindfolding your lover.
Product Description:
Fade to Black game is a fun filled game of fantasy and pleasure, offering lover's six unique shades of sexual fulfillment. Lovers will engage in an extended session of physical intimacy while exploring all of their hidden desires, using each of the six shades categories. 
Contents: 1 die, and 90 cards. The category cards are comprised of 6 categories:  Shades of Intimacy, Shades of Seduction, Shades of Temptation, Shades of Arousal, Shades of Fantasy and Shades of Pleasure.
Lovers must prepared for anything in order to take full advantage of the activity cards. Which makes this game a great retail seller for offering add on items such as, flavored body toppings, massage oils, lubricants, and arousing objects. Tools for both pleasure and excitement.