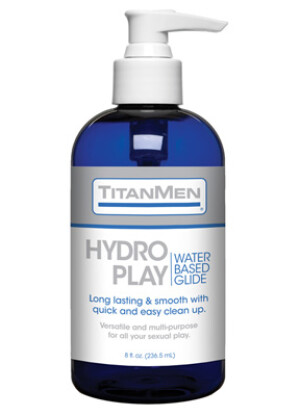 The TitanMan Hyrdo Play Water-Based Glide by Doc Johnson is a simple multi-purpose lubricant. It comes in a nondescript blue pump bottle. It is water-based, so it plays well with all sex toys. It doesn't state as much, but appears to be free of scents and dyes, and even mentions that it is good for those with sensitive skin.
We were very fond of this lube. The pump bottle is different and makes using the lube a lot cleaner. There were no odd flavors or smells or scents from using it, even when bathed in it head-to-toe. We also found that it lasted longer than many water-based lubricants, which can absorb into the skin quickly and have to be replenished often. For a bedside table friendly go-to lube, this one is nice and versatile.
For more information, contact Doc Johnson:
Product Description:
TitanMen Hydro Play is the ultimate multi-purpose glide to satisfy all your sexual needs. The long-lasting water-based formula is super slick, non-sticky, and offers a quick, mess-free cleanup. Whether you use it for masturbation, with your favorite toys, or with a partner, the possibilities are endless!