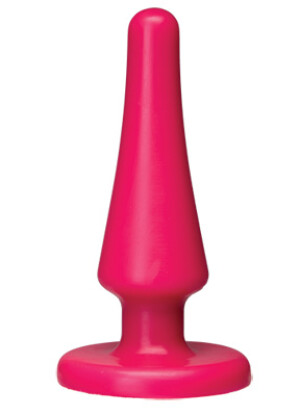 The American Pop Launch Silicone Anal Trainer Set by Doc Johnson is a set of three bright blue butt plugs that are identical in all except size.
The sizes of the plugs are 3 inches, 4 inches and 5 inches. They come arrayed in a shockingly neon package and are decorated in the pop-comic style. They also have a lovely shape for anyone new to butt play. The smaller plug is very forgiving and gentle — the tip has a soft rounding and is narrow and unintimidating. The medium plug is similar in proportions to the smaller plug, while the large plug is for seasoned players!
Cute set with quality materials.
For more information, contact Doc Johnson:
Product Description:
The Launch. Anal Trainer Set in Platinum™ Premium silicone includes three classic cone-shaped plugs to help backdoor beginners gently expand the boundaries of their anal experience. The small sizes (3", 4", and 5") and tapered shapes of Launch. pair perfectly with the brilliant colors and pop art inspiration of the American POP. line's branding to make new players feel safe and inspired.
Available in Blue (pictured), Pink, Yellow, and Purple.