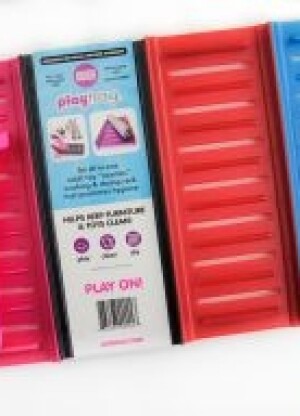 Product Description:
The new and improved Playtray is the world's only multipurpose adult toy "coaster", wash and dry tray designed for large and small sex toys to set them on before during and after use. Size: 8" x 3"

Increases and promotes hygiene by preventing hair, fibers and dust from getting on a toy and allows for air drying, the only sanitary drying method. Also prevents furniture from getting stained from lube and body fluids.

Playtray is sold by itself and with Joyboxx as an internal storage box separator.

Antimicrobial, Dishwasher safe, Food-grade plastic, PVC, BPA, Phthalate FREE

Playtray now comes in 6 colors and has new small ribs to help toys from slipping during transport.

Multipurpose: Its size is excellent for holding, washing and drying other products to keep sanitary: cell phones, toothbrushes, tongue scrapers, dentures, retainers, smoking devices, glasses and more.

Retailers: Keep a stack at the check out counter for sale add on, display with all toys, hang on slat walls, great promotional item.

PLAYTRAY - PLAY ON.