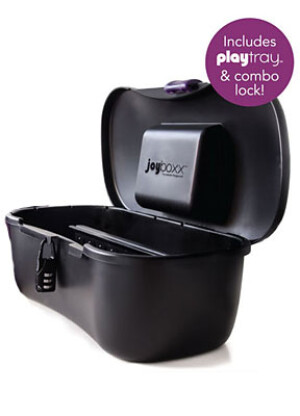 Is that a fishing tackle box under my bed? No sirree! It's the brand spankin' new Joyboxx and it's soon to become my favorite sex toy accessory! Made of sturdy plastic, this innocuous looking box safely stores the majority of sex toys out there in a nice, clean, plastic box, away from cat hair and the stuff on the bottom of your nightstand drawer. The included PlayTray is a flat, vented, two-sided plastic tray that you can use like a soap dish but also works as a built in divider to separate your toys in the Joyboxx. There's a sliding closure, which takes a moment to figure out, but once you know the feel, it's fine.
Market Appeal
The Joyboxx is an excellent upsell item because everyone needs to put their toys somewhere and they almost always throw out the original packaging. Keep your goodies in the Joyboxx.
Manufacturer Description:
The Joy's Inside.™ Meet JOYBOXX with PLAYTRAY; the world's first hygienic storage system designed to handle pleasure products before, during and after use. Be on top of the sexual wellness movement with these innovative new tools that help customers protect their passion at an affordable price.

More than a box, it's a system:

-Dishwasher safe
-PVC, BPA & Phthalate free
-Food-grade, non-porous plastic with a silver ion antimicrobial agent
-"Easy access" top compartment for small items
-Child resistant, removable, quiet sliding lock
-Mini combo lock included for 100% security
-Protected ventilation holes helps moisture evaporate and keeps out dust.
-Discreet USB toy charging hole
-Sophisticated discreet design
-Fits most products
-Includes PLAYTRAY

The portable PLAYTRAY divider sits snugly on the main tub's 'fluid spill barrier rail' for toy separation and organization. When using a toy, remove the PLAYTRAY and use it as a coaster to protect furniture from stains and toys from dust. Then easily transport used toys to the sink to wash and dry or set back inside JOYBOXX where ventilation holes allow moisture evaporation and toy charging.

Case: 12 (Two inner 6 packs for shipping)
Colors: Black with Purple Slider / Purple with Black Slider
Weight: 19 ounces
External Dimensions: 12.60"(L) x 5.5" (D) x 5.0" (H)

Copyright © 2023 Adnet Media. All Rights Reserved. XBIZ is a trademark of Adnet Media.
Reproduction in whole or in part in any form or medium without express written permission is prohibited.