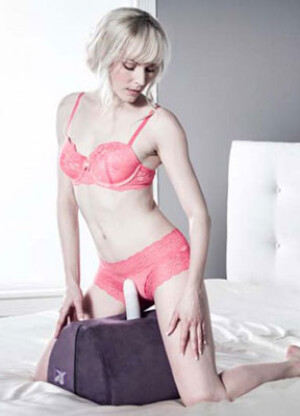 This is not your regular Liberator pillow, folks, this one can mount your toys! My world just got a whole lot more exciting, and so did my husband's. The pillow on its own is great for providing more fun to your sexual positions, or to prop you up if you are lazy. The Bonbon Toy Mount makes certain positions more attainable and allows your partner to go deeper with penetration. Not only is it a pillow but it also is a mount for vibrators and dildos! It even works with toys that have no base, which is great! You can ride the pillow, or your lover, or both at the same time. It makes double penetration with a toy a breeze. It is made of faux leather that looks great and feels great against the skin.
Market Appeal
The boxes that Liberator puts its products in are great. Flip up the main flap and find all the information about the product that you will need. It makes shopping all of the Liberator items really easy, which is where you would want to keep this — with all of your Liberator items. It can also be showcased alongside the dildos and toys so people can see what else they can use the Bonbon mount with for. Having one out will also allow people to see how the toys can go in the mount.
Product Description:
Ideal for solo play, the BonBon is a fan favorite. The super dense foam supports you while straddling, leaving your hands free for exploration. Indulge in this clever addition to your collection, and turn any toy into the ultimate sweet spot confection.