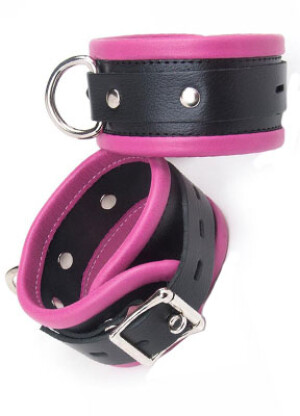 This high-end ankle restraint is the best! It's made with high-quality materials and when paired with the Joanna Angel Wrist Restraint, it's begging for a fun time! The ankle restraint is a very comfortable fit for my sub and it visually looks good too; she loves the pink and black color combo. The D-ring is nice and sturdy, heavy enough to have some mild to heavy bondage sessions. The best part I love about these restraints is that the buckle has a loop big enough for a small lock so you can ensure your sub never gets away.
For more information, contact Stockroom:
Product Description:
Sturdy and stunning, these leather ankle cuffs are guaranteed to make you stand out, even if you can't stand up because you're hogtied.
Like each piece in the Joanna Angel Line, these leather ankle restraints are designed and assembled in The Stockroom's Los Angeles workshop, and come in a specially selected color palate that evokes Joanna's black mane with her signature streak of vibrant punk-pink.
Similar to our deluxe locking buckle leather ankle restraints, these cuffs can be used with or without a padlock depending on your level of experience and comfort. Each cuff has a D-ring attached to the outside of the cuff for easy points of attachment to each other, an anchor, or a spreader bar.