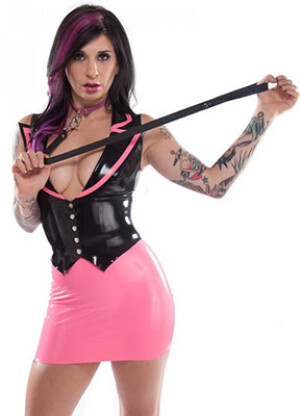 Submissively sexy, the Joanna Angel Choker by The Stockroom is a piece that can be worn as a sub piece or disguised as a simple accent to sexy club attire. The thin and sexy Joanna Angel-inspired hot pink choker has a buckle in back, two sexy steel spikes, and an O ring centered in front. This piece is amazingly versatile as it can go from a simple accessory to a sexy sub collar. Get creative and slip some bondage rope through the ring for wrist restraints, attach nipple clamps, or simply attach a leash. The Joanna Angel Choker by The Stockroom is made using quality leather. This choker fits neck sizes ranging from 11 to 16.5 inches.
For more information, contact Stockroom:
Product Description:
Like each piece in the Joanna Angel Line, this choker is designed and assembled in The Stockroom's Los Angeles workshop, and comes in a specially selected color palate that evokes Joanna Angel's signature streak of vibrant punk-pink hair.
The quality leather choker features a buckling strap attachment in back, and a pair of severe steel spikes in the front. In between the spikes is a nickel-plated ring, suitable as an attachment point for a leash, nipple clamps, or whatever your devious mind can think up!