JT Signature Collection Ankle Restraints
Stockroom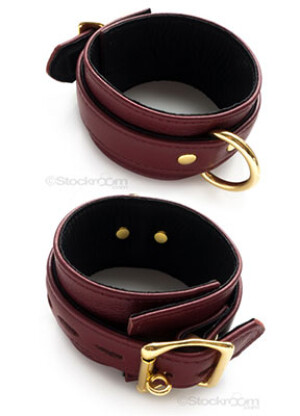 The Ankle Restraints from the JT Signature Collection by The Stockroom are about as comfortable as a sexy pair of supple leather ankle strap shoes. They are soft and forgiving like your favorite leather jacket and are able to fit a variety of ankle sizes. They even felt comfortable on a thicker set of ankles. Best part, there is no Velcro in sight.
Market Appeal
In addition to being easy to wear, they look incredible too. The burgundy leather is accented with 18k gold plated metal fittings. You are not going to want to keep these cuffs stuffed away in a drawer. These are a quality addition to any serious fan of restraints. You will want to show them off. We were able to put these cuffs through all the tests we could think of. They are not bachelorette party favors. They are an investment. They will last and look great while doing so.
For more information, contact Stockroom:
Product Description:
These well-appointed ankle restraints keep your sub from wandering too far afield, while letting them know how much you care with a luxurious glove leather lining and 18K gold hardware.
Like the other restraints in the JT Signature Collection, these ankle cuffs feature exclusive garment leather hand-picked by The Stockroom's founder and CEO, Joel Tucker, and designed and assembled in our Los Angeles workshop. Each piece in the collection takes our commitment to high quality, sturdy, and functional bondage gear and focuses it on creating the ultimate expression of luxury and classic BDSM style.