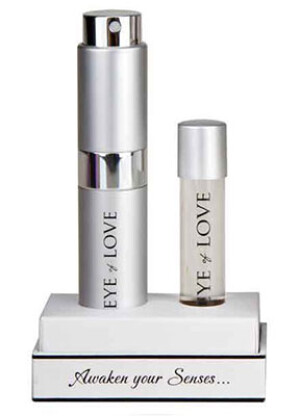 There is always this question if magical attractions caused by pheromones exist. When we got the Evening Delight from Eye of Love we decided to put it to the test. Regan gave herself three sprays and then we hit up our favorite bar for an evening of fun and dancing. It was almost uncanny the amount of guys that would perk up and look like they almost got slapped in the face as Regan walked by. Some magical force lured every guy, including myself, to her. Maybe it was a placebo affect but if it was then keep using it because it work. She could have had any guy in there that night. Lucky I was the one to go home with her.
Product Description:
Eye of Love Pheromones are designed to be used daily whether your working, playing. An enticing array of fresh picked flowers paired with peppery Indian sandalwood will make you a woman he wont forget and keep him coming back for more. Specially formulated to be worn in the evening when you want to be more flirtatious and desirable.