Fifty Shades of Grey: Completely His
Lovehoney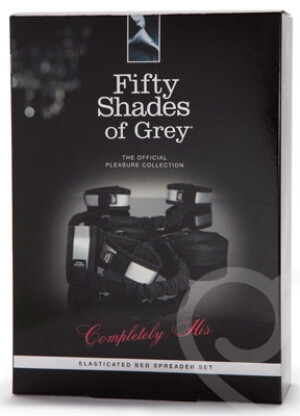 As cheesy as I find "Fifty Shades," I really like these under the bed cuffs. Mainly because on the insides of the cuffs it is lined with a super comfortable silky smooth fake fur material. So I could wear these things for hours. I also like the shiny grey material on the cuffs as well. I do wish instead of "completely his" on the front it said "completely yours" that way the person tied down can be anyone's including mine! But I see why they did it. Either way whoever you tie down will have no objection to staying there for hours! Unless they don't like you. Then you are out of luck.
For more information, contact Lovehoney:
Product Description:
Enact your innermost desires with this Fifty Shades of Grey bed spreader, which features bungee straps for effective restraint that still leaves a little room for movement. The deluxe set spreads and secures, leaving you exposed, open and ready for play.