'When I first started masturbating, it was all focused on my clit."
The speaker is seasoned performer Lauren Phillips. Comfortable in her own clothes, topped with a distinctive beanie, she perches atop a stool in a small studio in the Valley.
For once, she's not playing a MILF about to get trapped in a washer/dryer, or the va-va-voom persona from her successful career as a feature dancer. Today, Phillips has been hired just to be herself — a smart, confident woman in the prime of her sexuality who happens to be a sex worker. She is also being totally candid about what gets her off.
"It was all about the clit, so all I knew was that stimulation," she continues. "I don't think I actually got into penetrating myself until after I started having sex with somebody, but all I knew was that my hand worked really well."
She makes "eye contact" with the camera shooting her in front of a plain white backdrop.
"I mean, I was in it to win it!" she says. "I mastered masturbation in the shower. I loved it ... And to this day, I feel that same sensation." She smiles at her interviewer.
That interviewer is Adult Time Chief Creative Officer Bree Mills, who is the co-showrunner and creator of new studio brand Up Close. Around the set, a small crew keeps still, cinema verité documentary-style.
"Welcome to the 'Masturbation Factory!'" is how Mills jokingly first greeted Phillips and the other performers who were selected for her latest porn experiment. But when Phillips finishes her interview and gets ready to enter what Mills jokingly calls the Masturbation Chamber, the antiseptic, totally white studio looks less like a factory and more like the alien mothership, where human desires are being probed and analyzed by four complicated, interconnected camera rigs.
"Experiment" is the key word here. A few years ago, Mills graced the cover of XBIZ World costumed as a mad scientist, a role that she has playfully adopted both on film — in Adult Time's "Future Darkly" — and in real life, even occasionally donning a scientific researcher's white lab coat and clipboard.
Mills is not wearing the lab coat on the Up Close set, but she does have the clipboard and is very methodically walking Phillips through her real-life sexual history, with an emphasis on probing what Freud would have called "What women want" or, in Prince's later and more direct phrasing, "How do you get off?"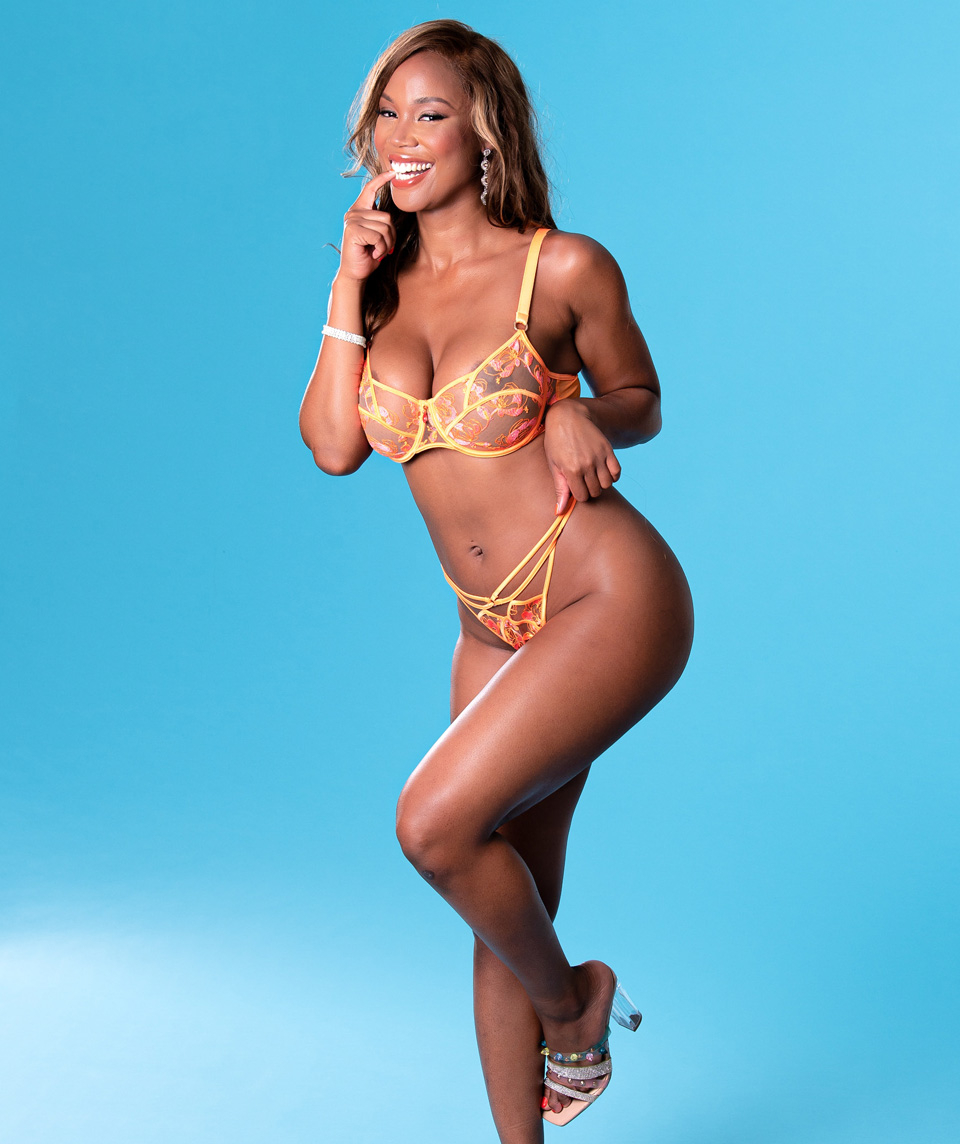 People Want the Genuine Feeling
Adult Time content director Patrick is Mills' co-showrunner on Up Close. The inspiration for the project, he tells XBIZ, "took seed in a management meeting in 2021, in which we highlighted the need to branch into series that depart from our more traditional storytelling roots, as well as a growing desire over the last few years to increase our collaboration with talent."
Mills recalls the next stage in development, which happened at the 2022 XBIZ show in Los Angeles.
"A bunch of us were together talking about what we wanted to do in the coming year," she explains. "I came into the equation as a filmmaker who is very interested in unscripted content. I have good rapport with the talent, and I want to be able to explore conversations and studies about sexuality. Overall, I'm interested in documenting sex in fresh ways that are very female pleasure-focused."
Adult Time team members were encouraged to share openly what they saw as possible gaps in marketing that this new studio could focus on. Mills says one of her colleagues told the group that when he looked at the company's original catalog, his personal response was "There's no content that is really for me. As a viewer, I don't see myself."
"And he was right!'" Mills affirms. "I've heard that comment from a lot of people: that unless you're really into stories, there isn't a lot that we offer in terms of original content. And it was clear that even our internal team wished we did."
Mills asked the team member to show her an example of what got him off, and he sent her a clip from Manuel Ferrara's "Raw" series.
"It started with an interview, but it was just him talking to this girl in the back of a car, and then they did it," Mills says, praising the simplicity and effectiveness of the format.
What stood out for her as a filmmaker? Unlike typical "casting couch" videos, the clip made the viewer feel like the person on screen "was who she was," Mills explains. "That feeling of, 'It's not for show,' and that they were having a good time."
Mills' co-worker said the same: his favorite thing about the clip was, hands down, "the fact that she was having a good time."
Always the scientist, Mills went back to the data. She remembered that many of the survey responses her team had crunched when devising Adult Time's yearly strategies echoed that same sentiment.
"People want that feeling that what they're watching is genuine," she says.
Another key element in the Up Close recipe came from an unlikely source: a particular seasoning in the gonzo formula honed to perfection by Mike Adriano for his family of sites: eye contact.
"When you watch Adriano's content," Mills says, "notice that the performers are not making eye contact with him. They're always making eye contact with the camera, which is the viewer. That's why those scenes feel so, so intimate."
As Up Close started taking shape, Mills and the team realized that the project could also serve as a way to offer newer talent the chance to be part of an Adult Time production.
"We didn't really have a pathway for newer talent in our portfolio," she explains. "We don't have many opportunities to offer talent for their first scene with us or as an early scene in their careers. Pure Taboo is too intense for a first experience and we don't ever want to do the standard 'casting couch' theme — we have no desire of going down that road."
Yet there was clearly a market for seeing people who are raw and new, Mill realized.
"That's why a lot of those casting sites are still the first shoots for talent — they're actively booking the new people," she says. "And some of those sites may or may not be good experiences for them, but there was no alternative, really. At least not from our platform."
One of Up Close's missions is to provide an answer to Mills' question: "Wouldn't it be nice to have an alternative for somebody early on in their career, that would be a very positive environment, and that the outcome of it would be something that they could really be proud to promote, and have really nice professionally-produced assets for them to promote, and it'd be very focused on them as people and not just as objects, or like 'fresh meat' or 'barely 18,' or whatever?"
Simultaneously, the series could reintroduce veteran talent who never got the chance to be open and candid about their own sexual journey — all under the supervision of a thoughtful host facilitating the experience by cultivating the right tone and environment, and asking the right questions.
Phillips' interview is a prime example of the latter scenario. Forthright and interesting, her responses range from growth and boundaries to fantasies and taboos.
"We've done a bunch of preparation for the launch," Mills says. "We tend to select people that we think would be interesting to talk to. This has always happened in all the unscripted projects that I've produced, like 'How Women Orgasm' and 'We Like Girls.'"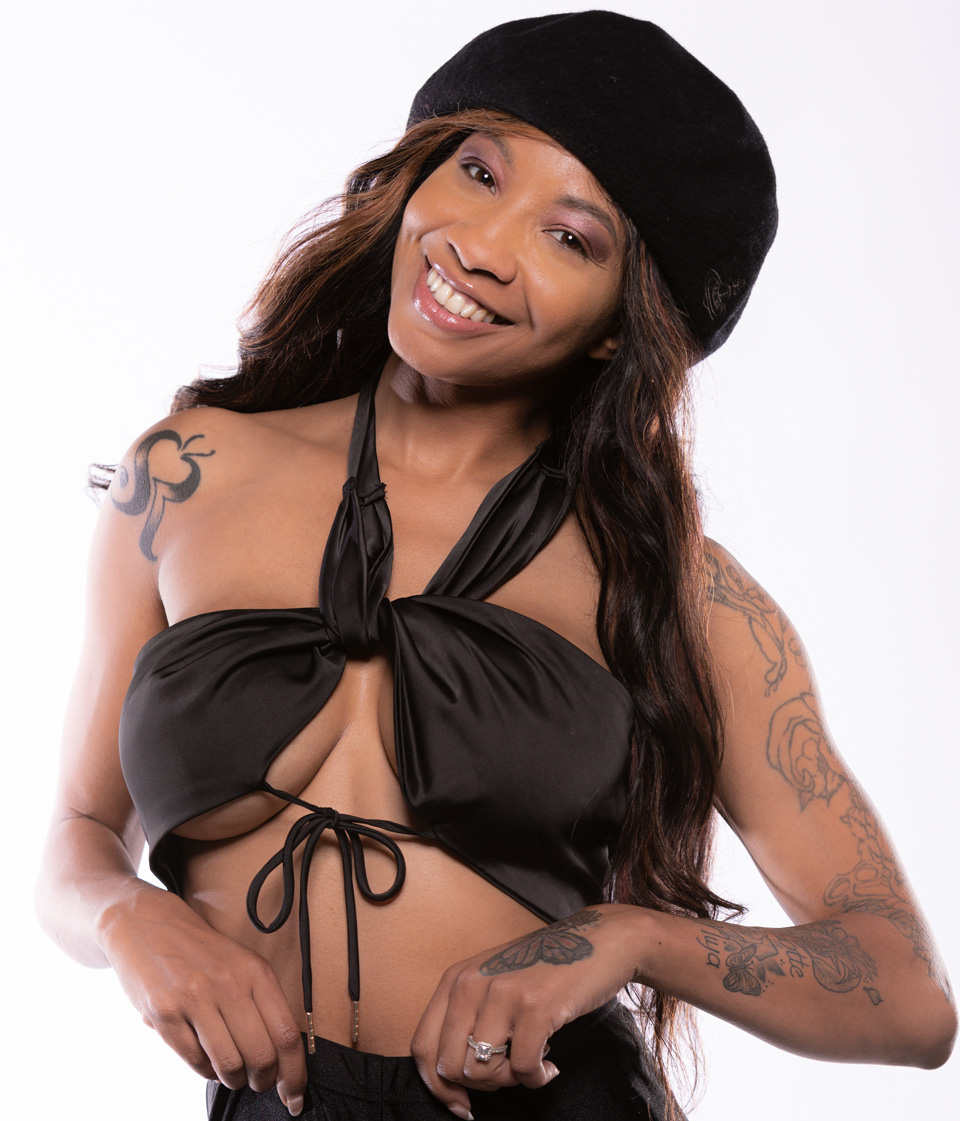 Leveraging Technology
Each week's release schedule will be centered around spotlighting a performer: an interview and solo for the studio's "How Women Orgasm" series and a partnered scene for the brand's namesake series, "Up Close With." New content will be released on Thursdays and Saturdays. The series will also be complemented by a mainstream podcast interview series that will begin releasing on Mondays by the end of 2023.
The Phillips scene adds yet another dimension: a "Choose Your Own Angle" production experiment, with four different cameras capturing the action so viewers can toggle among them during the sex scenes.
"We will release the episodes, we'll see how people like them and then we'll see if we ever do it again," Mills says. "I'll always take advantage of any excuse to keep trying new things!"
Mills laughs with total self-awareness of her reputation and creative ambitions.
"Over the course of our 2023-2024 season, I'm going to use most of my personal creative budget — aka the funds I get to play with — to further explore ideas that marry my interest in female pleasure-first expression, humanizing my subjects and leveraging technology," she says.
Always the canny businessperson, though, Mills does offer a very pragmatic reason for all the occasionally headache-inducing — have you ever tried to shoot porn with four cameras filming in real time in an antiseptic environment? — technical experimentation.
"I'm really interested in what we, as a brand, are going to offer to customers and performers that they can't get from a direct-to-consumer platform like OnlyFans," she says. "And creative use of emerging technologies is one of them. I like to keep that at the forefront of my ideation."
In addition to "Choose Your Own Angle" day, Mills has also shot a "How She Reacts" experiment for Up Close, focusing on looking at somebody's real-time reactions to what is happening to them.
"I'm just trying to play with a whole bunch of different ways of doing these," she says, "and I'll probably release one every couple of months, just as pilot concepts within the brand. But that's more just to keep exploring and experimenting — if we find something that hits, then we can discuss adding it to our regular programming. Up Close is envisioned as a journey, and I don't know exactly where it's going to take us!"
Mills has two pitches for the brand: one for the consumer and one for prospective performers.
For the consumer, the Up Close pitch is that each week, the series will spotlight a new person in an interview, a self-pleasure session and a partnered scene. Consumers get to hear their favorite performers, as well as new talent, speak about their sexuality; then they get to see them being intimate with themselves and with a partner of their choosing.
"If you want to see women in charge of their expression, saying what they want to say about their sexuality, showing their sexuality in a variety of ways, this is a good project for you," Mills would advise potential subscribers.
For prospective performers, she adds: "What's earnest throughout all of the series is that it is really led by their sexual expression. We've created a conversation opportunity, an opportunity for them to show themselves however they want to, and then choose a partner and focus on what they would like to do."
For her partnered scene, Phillips chose a fellow well-liked veteran, Isiah Maxwell. Besides their chemistry, the pairing was ideal for the "Choose Your Own Angle" experiment, because it was a particularly grueling work day for all involved — a newbie would probably have tapped out at some point in the four-hour-long stop-and-start shoot, all for less than an hour of content.
"Oh, yeah, it was tough," Mills confirms later. "You know, it's funny, because we've all had long days and some tough shoots and worked through really heavy subject material in Pure Taboo and things like that. And the 'Choose Your Angle' shoot, I think, was one of the hardest days I've ever had on set. So it'll be interesting to see the results. It was like doing live editing, almost like live sports. It goes to show why that is not done very often."
Another big perk for performers is that not only do they get paid for the shoots and benefit from a content trade, but they also receive high-quality photo and interview assets to promote their Up Close segment. Think Lars Von Trier's "Nymphomaniac"-style portraits professionally shot by Stella Smut, and colorful candid portraits shot by Anatomik Media. Patrick describes this as a unique highlight of Up Close.
"We collaborate closely with the performers to give them the best possible assets we can, including the full-length self-pleasure scene so that they may promote the work and monetize it within their own platforms," he says.
Handing over monetizable content to performer-creators, Mills adds, is great indirect advertising.
"They can have this really beautifully shot, interesting piece of content, which is very intimately about them, and they can put it on their OnlyFans or their Fansly or wherever they want. The best thing I could do for Adult Time is have performers really want to put our content on their platforms and partner with our brand. We're also giving them something that they can monetize and be proud of, that represents them, not just how they look or what they do, but what their opinions and perspectives are."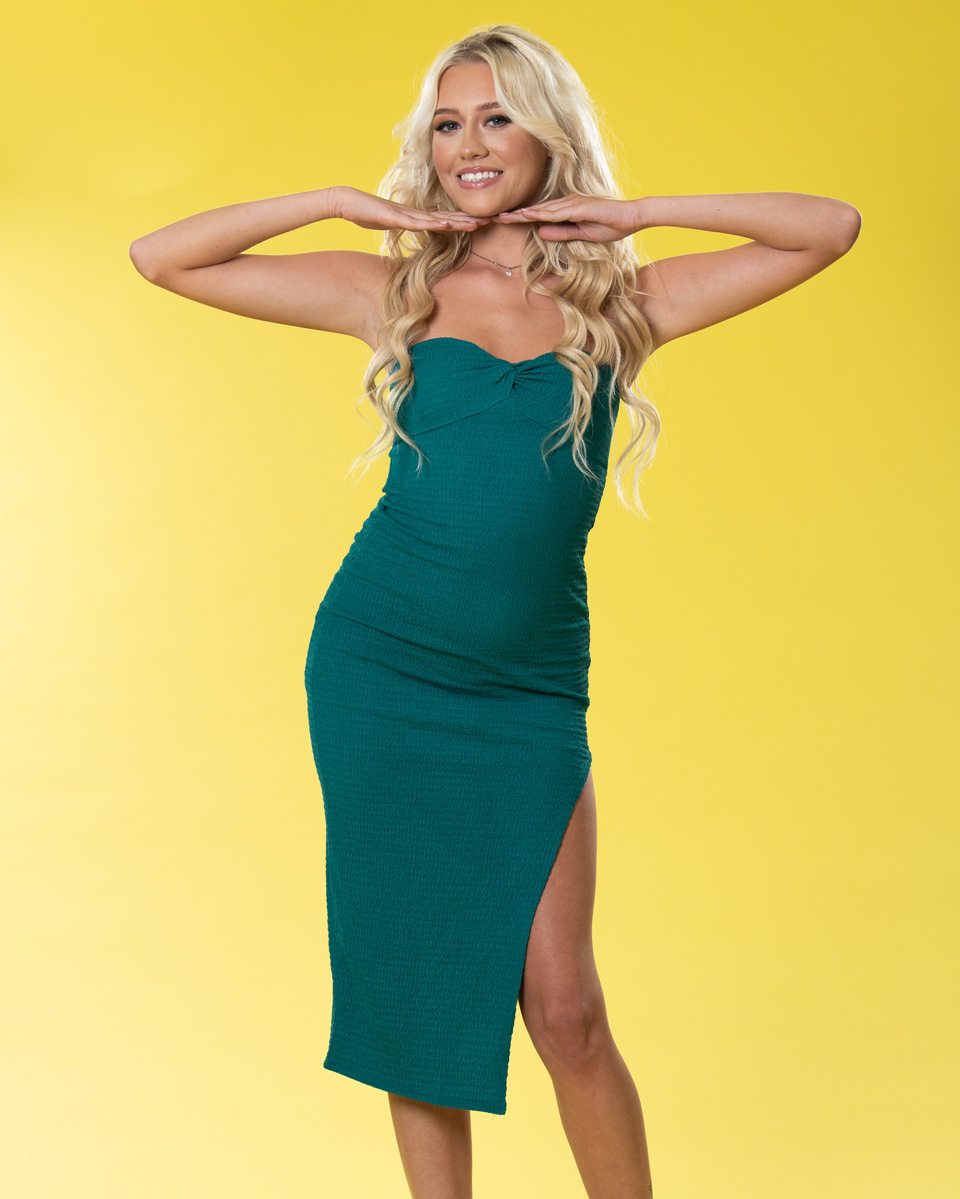 The People Behind the Personas
A few weeks later, Mills is supervising a partnered scene for "Up Close With," featuring brand-new performer Skyler Storm paired with industry stalwart Tommy Pistol. The shoot is being produced with Anatomik Media in an enormous, splendidly isolated mansion.
"All our core crews would have been great for this project," says Patrick. "In the end, we chose Anatomik Media to develop the partnered series because of the overall relationship we have built in the last couple of years. It felt like the perfect new project to allow me to share our ideas and motivation for this new studio in a way that was fully open and transparent. They've been great creative partners so far!"
The mansion setting provides a much more low-key environment for a more traditional scene, without the diabolical cranes and synchronized Red and Komodo camera contraptions of the "Choose Your Own Angle" or "How Women Orgasm" shoot days.
As the ace crew moves through stills, paperwork and the extremely detailed Adult Time consent checklist talk — one of the industry accomplishments Mills is most proud of — she reflects on Up Close's place in the history of the successful brands she has built over the years.
"I've been really interested in the unscripted space since 2018," Mills says. "I started to dabble in docuseries with 'We Like Girls' and really enjoyed working with performers as themselves versus playing characters. Understanding their sexuality and their sexual expression as people. This may have been some sort of rebellion to all of my narrative work — which is sort of my bread and butter."
Maybe she got a little bored, she muses, or maybe her mind moved elsewhere, but she had wanted to explore docu-style unscripted content like Up Close since before the pandemic.
"We actually started some initiatives," she recalls, "but they kind of got shut down around 2020. And then it hit me: in the last few years, there's been a big shift in tone, even within our own subscriber base, when we ask people, 'What is it that you value about us?' or 'What is it that you value about the content you watch?'"
Many people, Mills was pleasantly surprised to discover, said authenticity was their No. 1 priority. Another big shift: porn subscribers demanding to know that the content they consume is ethically produced.
"A large group of people said, 'I want to feel like she actually is enjoying herself,'" Mills says, "'I want a sense of authenticity, and want to know that she's having a good time. I want to know she is not faking, or being subjected to anything she doesn't want.'
"I think the whole idea of 'not faking it' is the real draw, so you can lose yourself in the experience and believe that she's actually having a good time and it's not 'just performance,'" Mills observes.
She broadens the scope to a more general reflection on the post-pandemic era.
"Being a human in the real world is a lot right now," she says. "It's just challenging, right? There's more polarization, there's people that are less naturally able to have real human connections, there's more loneliness, there's increasing depression and anxiety. And there's this real need for feeling intimacy.
"The Up Close journey, the more I look at it, is about understanding the people behind the personas and helping everyone to have a really good time — both the people involved in the production and those who enjoy the end product," she concludes.
"As our slogan says, 'Keep it Real.'"