LOS ANGELES — Last week, the retail edition of the 2021 XBIZ Honors, presented by Satisfyer, was broadcast to global audiences that tuned into XBIZ.net for a virtual ceremony that honored the year's top brands and executives.
Hosted by industry vet and clinical sexologist Dr. Sunny Rodgers, XBIZ Honors stayed true to its community-driven awards program by inviting members of the adult retail community to participate as presenters. Execs from all over the country and abroad, standing before monuments and picturesque backgrounds, appeared onscreen to celebrate the achievements of their industry colleagues. Their efforts didn't go unrecognized as Facebook was soon buzzing with accolades for the awards presenters alongside those who won.
Rodgers kicked off the first-ever virtual XBIZ Honors with a "good evening" and "good morning," acknowledging viewers that were tuning in from around the world.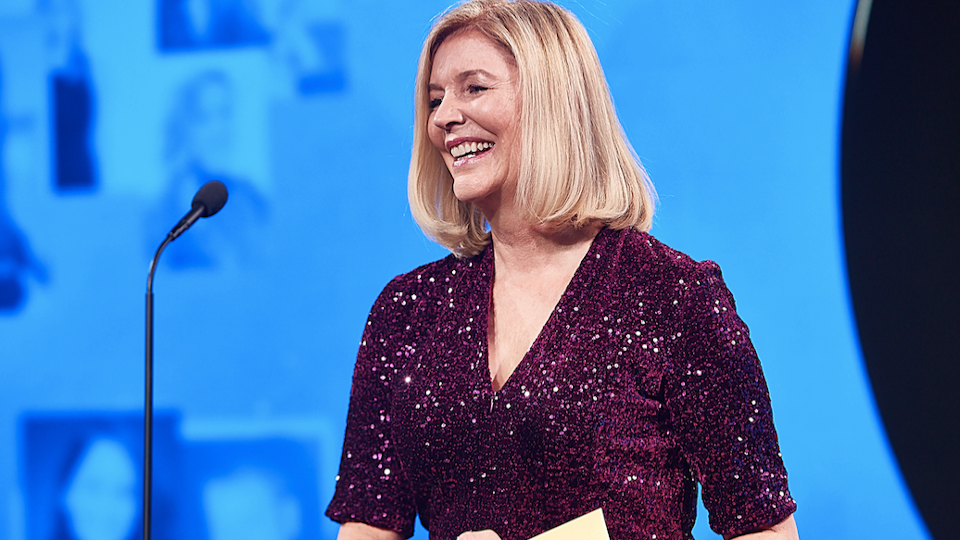 "We're living through such a surreal moment in history," she said. "This pandemic has touched every aspect of our lives. And for all of us, it's been one helluva adjustment. But tonight we get to shift away from all that and instead, celebrate what an incredibly tight-knit community we have and how — at the end of the day — we are like family, always striving to help and support one another in times of need. And for that I am so grateful!"
The first award of the night was presented by Kit Richardson, New York's Museum of Sex associate buyer and merchandiser, who announced the nominees for Luxury Pleasure Product of the Year. Decked out in a long black dress with a thigh-high slit, a masked Richardson stood with her hands on her hips in front of a bustling Times Square as she called out the nominated product names.
The Wand Massager by We-Vibe was named the winner, and WOW Tech's Kim Card livestreamed to accept the award. "Thank you to XBIZ, thank you everyone who voted for us — all of our retail partners who support us. The Wand is an amazing product and we're so glad that you're introducing it to all of your customers."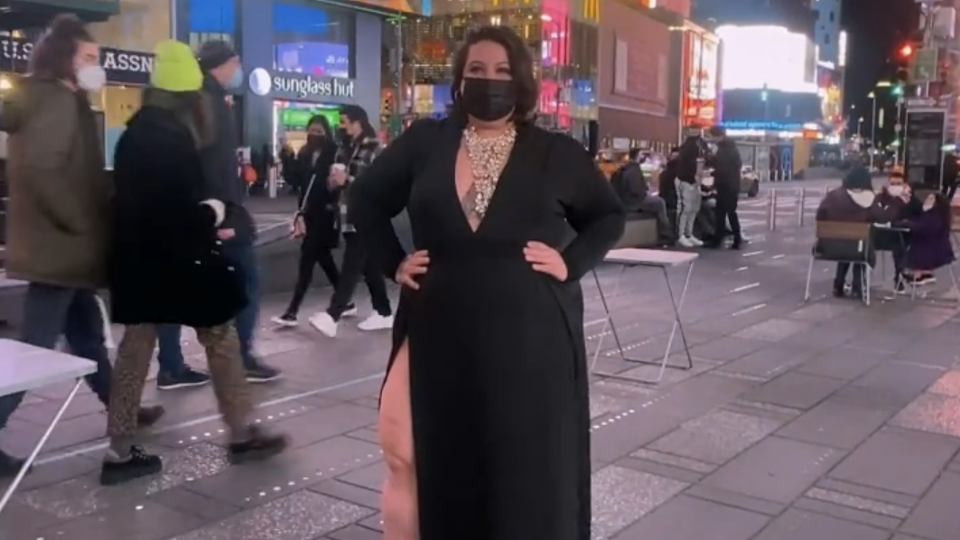 Also hailing from the Big Apple was Lulu Batista of OohCherryBox.com, who presented the Luxury Brand of the Year category from Brooklyn with the hum of traffic behind her as she stood, cozily dressed in furry pink coat.
With LELO announced as the winner, Erica Minor — who serves as the marketing communications manager for North America — accepted the award.
"This is so exciting," she said. "Thank you all so much. This is such a great honor; it's always great to be acknowledged but especially so when it's by your peers, and we're so grateful."
Introducing himself from a tropical backyard "all the way from sunny South Florida," Williams Trading Co.'s Paul Reutershan was "happy, thrilled and humbled" to present the award for Brand Ambassador of the Year.
"All of these people are winners in my eyes," he said. "They are the hustlers, the faces of the companies and without them brands would not get the placement and customers would not get the service that they get from this fine group of people. I couldn't be prouder of all of you."
Nearly spitting his drink, XR Brands' Josh Ortiz said he didn't expect to win.
"First and foremost, I'd like to thank Ari Suss, the president of XR Brands, for creating not only a culture of inclusivity but innovation that allows me to have the best gig in the world," Ortiz said. "Thank you to Rebecca Weinberg for taking a chance on this nervous, pit-sweating brown transboy from Florida — we finally have representation. Not only are people of color at the table but also trans people of color are at the table and I couldn't have done this without you. Thank you XBIZ and everyone that voted — I'm blown away."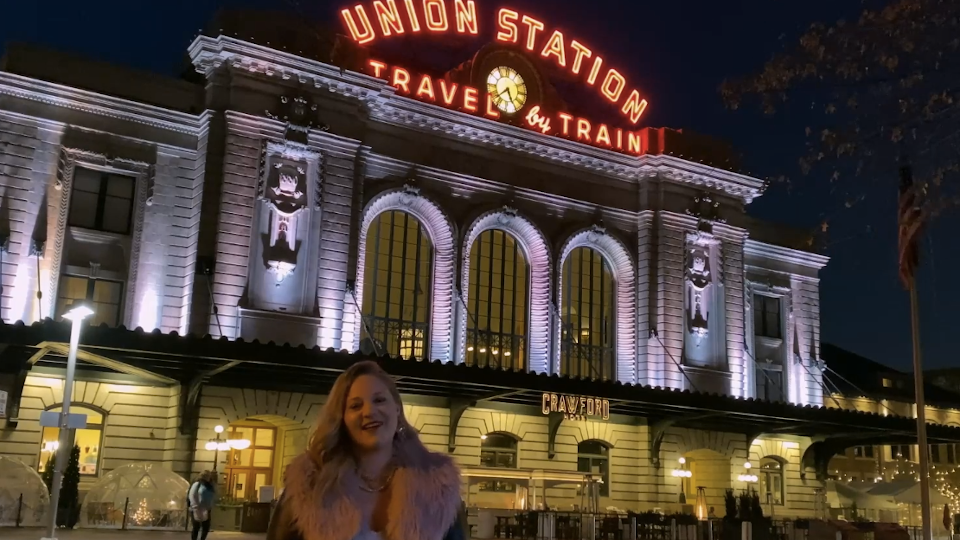 With Denver's towering Union Station glowing behind her, Lora DiCarlo's Casey Murphy announced the nominees for LGBTQ+ Pleasure Product Brand of the Year. Cute Little Fuckers was declared the winner.
"Whoa, hey everybody — I'm really surprised to hear that," Cute Littler Fuckers founder and creator Step Tranovich said. "I feel like the new kid on the block. Our toys are brand-new in the industry and every single day I'm blown away by how much people love the toys and their reception. The fact that I'm here with all of you really incredible people and you guys are like 'yes, those toys deserve an award' — my heart is at like 1,000 BPM. I'm so blown away. Thank you all so much!"
From Venice, California, Voodoo Toys brand manager Sally Cotching presented the nominees for Retail Account Exec of the Year, which was won by the night's first awards presenter, Kit Richardson.
"I'm immensely honored to be even nominated among such incredible people — professionals, titans of the industry," she said. "Thank you everyone for this award; it not only shows me that you recognize the work that I've done but that you acknowledge that I'm here. I've had many weird jobs, but this is the first one where I feel at home and a part of the community. I'm so thankful for everyone that has guided me."
After a commercial break featuring Penthouse lingerie, Excitement Adult Stores' Loretta Goodling appeared in a form-fitting yellow mini dress with a scenic sunset over a rolling hills behind her. Filmed in central Pennsylvania, where it was a chilly 30 degrees, Goodling admitted, "it's pretty cold out," before naming off the nominees for BDSM Pleasure Products Company of the Year.
"Good luck everyone," Goodling said. "I can't wait to see everyone when it's safe to travel."
When XR Brands was named the winner, Ortiz reappeared on-screen to accept before being joined by XR Brands President Rebecca Weinberg, who said, "Thank you all; we appreciate it so much on behalf of our whole team."
WOW Tech's Kim Card was up next to present the nominees in the Non-Powered Sex Toy of the Year category, which announced in front of an outdoor sculpture at John and Mary Pappajohn Sculpture Park in Des Moines, Iowa.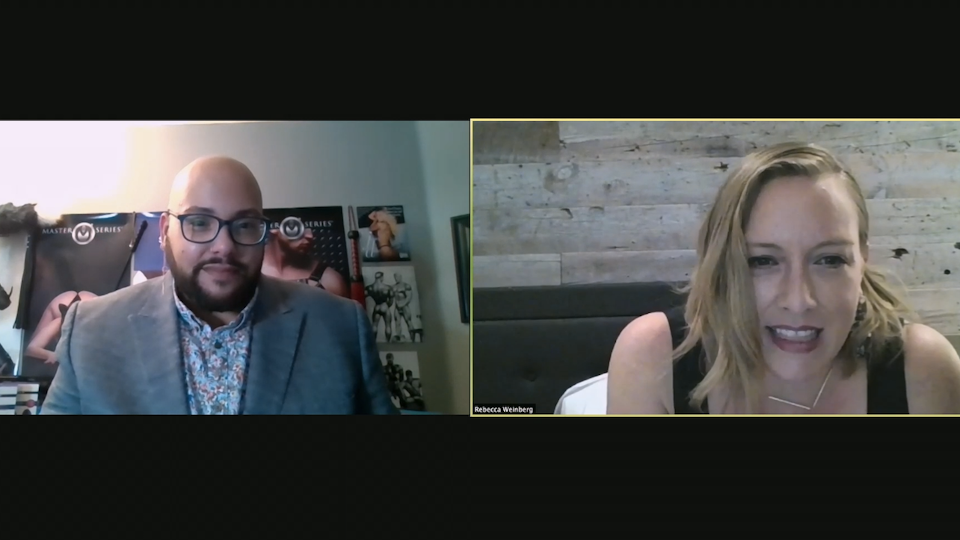 COTR's Kim Faubel was on hand to accept the award for the winning Arch by Le Wand.
"That was cool to see my shocked face," Faubel said of being presented the award live. "Oh my goodness, thank you XBIZ and everyone that voted who for us. Le Wand launched the Stainless Steel collection in March of last year and then the world stopping moving but we forged ahead and it was very well-received. Therefore, we couldn't have done it without the support from our retail partners. On behalf of Alicia, Tracy and the entire COTR team, thank you."
From a glittering downtown Los Angeles as the backdrop, Rock Candy Toys/Bedroom Products' Tracy Leone announced the nominees for Marketing Exec of the Year.
Stephanie Ingram from WOW Tech Group, who was named the winner, said, "Thank you so much to WOW Tech team and to the pjur team — it's such a pleasure to be part of such an amazing, inclusive diverse industry. I cant' wait to show you what we have in store for 2021."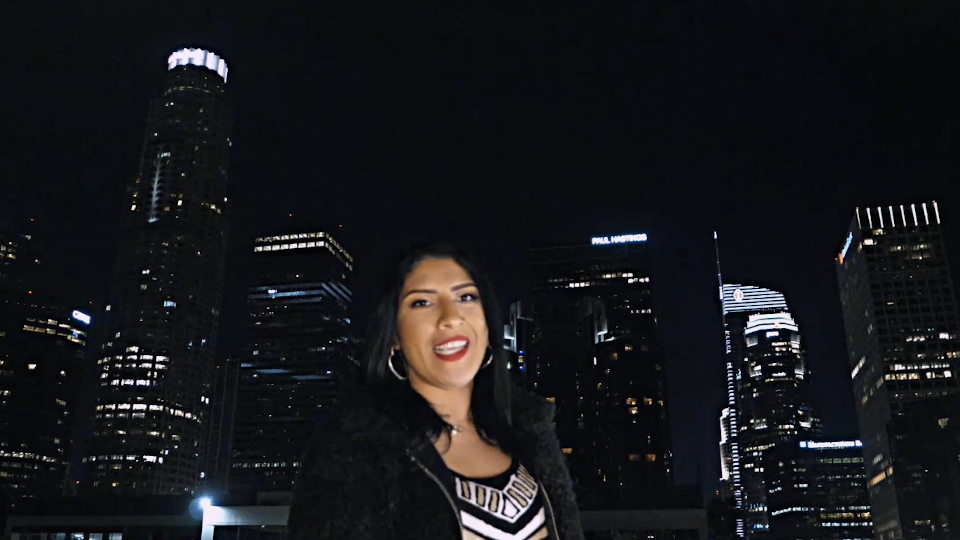 From a hilltop in Hollywood, Svakom's Kate Kozlova presented the nominees for Sexual Health & Wellness Brand of the Year. Noting her latest venture as a sex educator on Youtube, Kozlova said that much like the nominees, it is her life goal to make people aware of how important sexual wellness is. "Every brand that was nominated and the team behind it has all the passion and the desire to make a contribution to our amazing industry," she said.
Aneros' Brent Aldon and Malay Vannouvong accepted the award on behalf of the company.
"Thank you XBIZ for such an amazing recognition," Aldon said. "Thank you very much to all of our industry family for your continued love and support, and for voting for us. Also thank you to our Aneros family for being the amazing humans that you guys are — we did it two years in a row! Congratulations!"
Following an announcement of the nominees for Pleasure Product Account Exec of the Year by Nanciland Innovations' Nanci Smith, Shots Canada's Joey Teodoro was named the winner.
Teodoro kept it short and sweet, saying, "Thank you everybody, XBIZ, Ruben and Oscar. Thank you to all our customers. I love you all. I was not expecting this — cheers and be safe everybody!"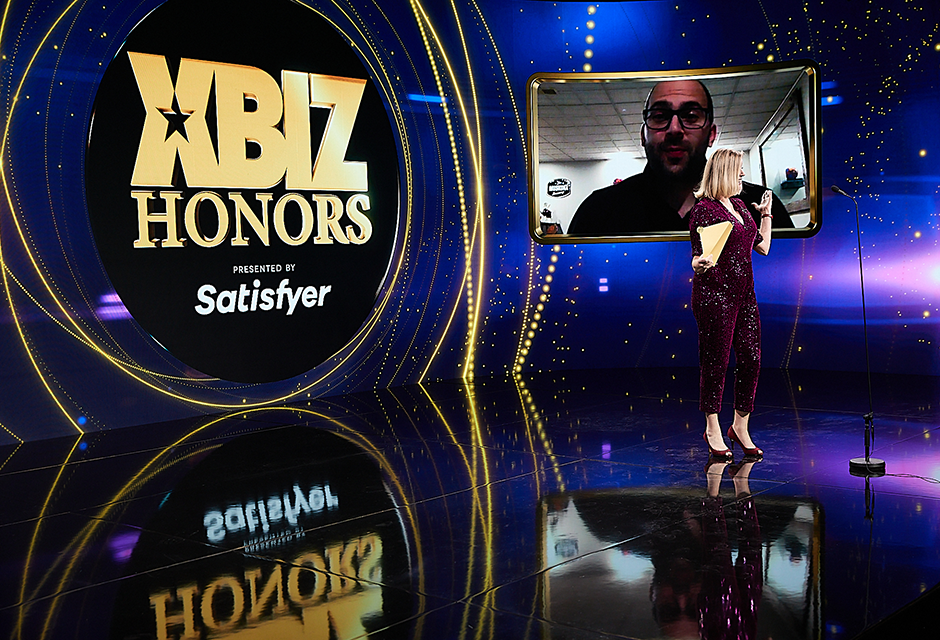 Tranovich reappeared onscreen to present the nominees for Sex Lubricant of the Year, with Simply Aqua by Wicked Sensual Care taking home the trophy.
"Thank you so much on behalf of everyone from Wicked Sensual Care," said Jennifer Brice, the company's sales director. "Thank you for your support and recognition for our new Simply line. Happy New Year and congrats to all of the nominees and winners!"
From downtown historic Yuma, Arizona, HPPPA's Tamara Bell announced the nominees for Sensual Bath & Body Product of the Year.
With Intime Balance by Exsens named the winner, Rebecca Pinette-Dorin, Exsens' North American sales manager delivered the acceptance speech on behalf of the company.
"When we made these products the idea was to promote intimate hygiene, which is hard when most people just want to get busy and have sex," she said. "We've gotten a great response and people love it. Thank you to everyone who has enjoyed this product."
Efren Mendez of Love Store Mexicali announced the nominees for Community Figure of the Year, saying that his only request is that the winner make "the Efren face" when they win — and Williams Trading's Paul Reutershan complied, pausing to strike Mendez's signature wide-smile pose.
"I want to thank everyone who voted for me," Reutershan said. "I'm grateful and I'm humbled. I think the P3 Facebook group has had a lot to do with it. It has brought our community together in these hard times of COVID. I love our community so much and all the people in it. I think that shines through in the group so I share this award with you. Without all of you I wouldn't have won or even been considered."
Joyboxx's Deborah Semer said "aloha" from Hawaii, "where the world comes to celebrate love. It's the perfect spot to announce your International Pleasure Products Company of the Year nominees."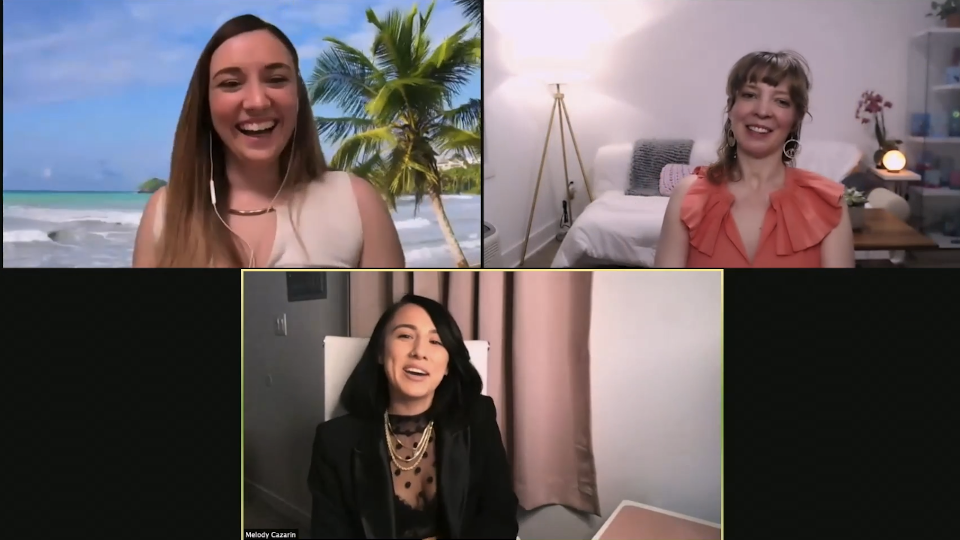 Satisfyer's Melody Cazarin accepted the award on behalf of the brand.
"I speak for the brand and the whole team when I say that we are very humble and thankful for your support and for believing in the brand," she said. "[To] all of our global teams in Europe and in the states, and all over the world, thank you for your passion and the vision and perseverance to bring more passion to people's lives."
Doc Johnson's Krystal Silva announced the nominees in the Boutique Pleasure Products Company of the Year, with Dame Products receiving the title.
"Thank you so much, I'm incredibly grateful for the recognition," Dame Products' Savannah Zinkand said. "This accomplishment would not be possible without our dedicated retailers that share our core values of closing the pleasure gap and fighting for equitable pleasure for all."
From Portland, Wicked Sensual Care's Jenn Brice announced the nominees for Progressive Leadership Award. While acknowledging the industry's trailblazers she also gave a sports shout-out to the Portland Trailblazers NBA team, which she pointed out on her branded top.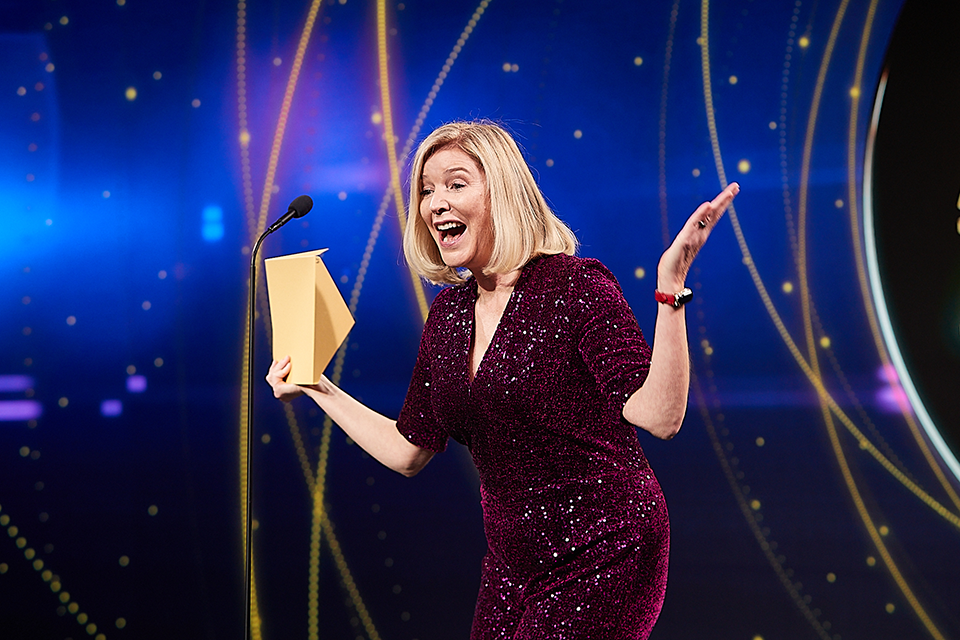 Deja Vu Love Boutique's Megan Swartz was named the winner as her friends and family cheered her on in the background.
"I was not expecting to win this award," she said. "Thank you so much; I have no speech but I really appreciate everyone out there."
Industry vet Adam Hasner re-emerged at the virtual XBIZ Honors, appearing onscreen in his signature Adidas tracksuit behind a bar.
"What's up bitches I'm back," he said, with a porn video playing in the background as he poured and took shots of alcohol while naming the nominees for New Pleasure Products Company of the Year, which went to Lora DiCarlo.
"Thank you this is such an honor to be even be nominated among such powerful changemakers," said Lora Haddock DiCarlo, founder and CEO. "It's really humbling. Thank you to XBIZ and our incredible team and all of our colleagues. The blood sweat and tears — the work that you all do is so important and we wouldn't be here without all of you. Thank you to our retailers, our distributors, customers and even our competitors. You guys are all amazing. We stand with you, we support you, we love you all, and thank you all from our team."
All the way from Sydney, Australia, Elixir Play's Lara Pack announced the nominees for Boutique Retailer of the Year, crediting them all for being "excellent at reaching their target market."
Hart's Desire's Shani Hart was shocked to be named the winner, letting viewers know that if she were fully dressed she would've gone to get her husband/business partner in the next room.
"It's such an honor to be in the group with all of these stores that I admire," Hart said. "Thanks to everyone in the industry for all of the advice that you give us. 'Shout-out' to all of the small brands that are kicking ass and taking names."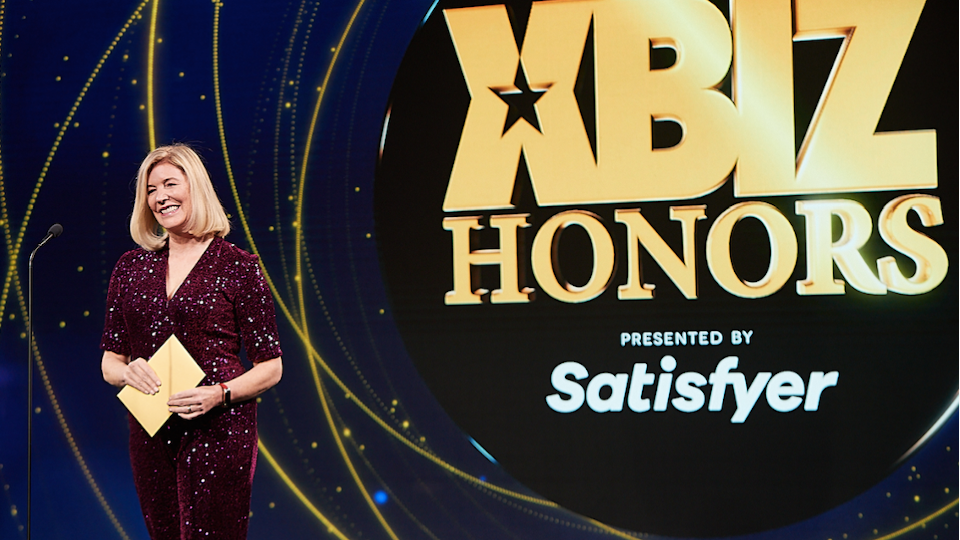 Svakom's Alexandro Feynerol announced the nominees for Senior Leadership Award, which went to Doc Johnson's Scott Watkins.
"I was not expecting this at all," he said. "I'll start off by thanking the entire Doc Johnson team. You're not a good leader without a good team, and my team is everything. I don't know how I feel about being a 'senior' leader, but I guess it comes with this grey hair."
The XBIZ Honors awards show then paused to pay tribute to Jane Liszewski and Margaux O'Donaghue, who both passed away last year.
"Jane and I worked together for six years when I first entered in this industry," Rodgers said. "She was a brilliant mentor and an incredible inspiration to me and for so many others; and her lovely energy and enthusiasm for life touched all of us, and she'll be very much missed."
Ralph Albrecht, M.D. Science managing director, memorialized O'Donaghue who worked for the company for approximately 20 years.
"She was the hardest worker I've ever met," he said. "She would get in early and leave late. She would do anything for anyone in the company. She was amazing; everyone at M.D. Science and elsewhere loved her and she warmed everyone's heart. She was a great part of growing M.D. Science and she's greatly missed by everyone inside and outside of the company."
Randal Withers, M.D. Science's international sales manager, added, "I'd like to take this moment to commemorate all of the great times and professional career of my associate Margaux, who we lost last year. It's a tragic loss — one that we all feel at Swiss Navy. Margaux and I were friends and she brought a special passion and pleasure to working with her and I so miss her."
After a moment of silence, the awards program resumed with Nasstoys' Kathryn Hartman presenting the nominees for International Distributor of the Year.
Teodoro accepted on behalf of Shots, thanking customers and telling the Shots staff, "You guys are amazing; you guys work so hard and it's so well-deserved."
Hamed announced the nominees for Retail Education/Training Program of the Year, which was awarded to SPAM (Sex Professionals and Manufacturers) Facebook Group.
Swartz, the group's creator, appeared to accept the title. "I'm so excited for this award because everyone in the industry is SPAM, not just me," she said. "I created this group, but everyone has contributed so much to it. I'm so grateful for everybody out there that donated product for the pitches, that has spent their week doing a takeover and everyone that is involved and engaged. I'm super-excited for this because I love this group so much."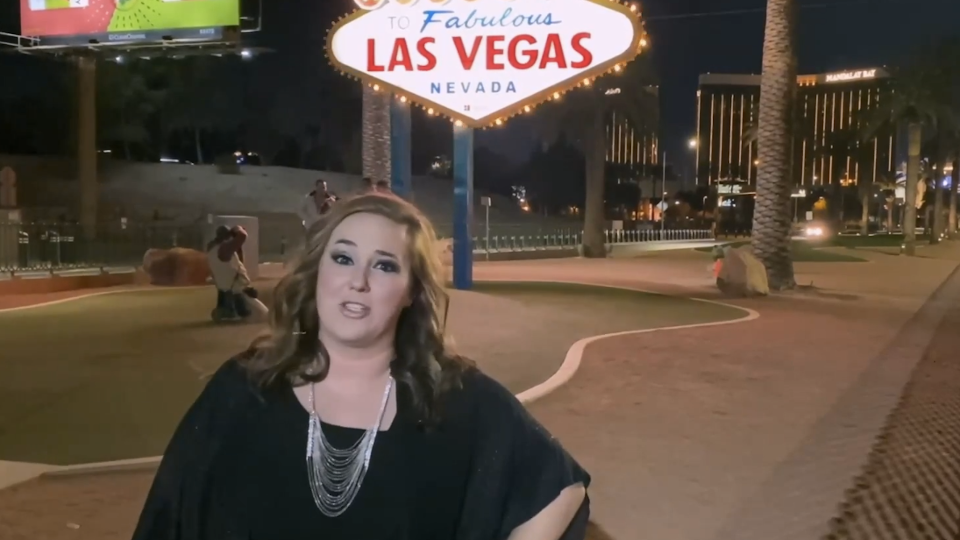 To present the nominees for Chief Exec of the Year, Swartz raised the bar with a creative video that took viewers from the famous Las Vegas sign on the strip in Sin City to the various rooms of her house.
"'Chief Executive' is the most demanding and responsible person of the company," she said. "Wearing that hat is no easy task — especially in 2020, so a big congrats to all of the nominees. With that being said, this awards show looks a lot different tonight.
"We're an industry that's used to overcoming and adapting — after all we sell dicks for a living," she said, speculating that some of the night's winners might be "cooking up an acceptance speech," Swartz said while at the stove in the kitchen, "presenting an award from your bathtub," she said while sitting in a bubble bath — "or maybe you're just laying on the couch, trying to 'XBIZ and chill,'" Swartz quipped while doing just that. Wherever they were, Swartz offered, "I hope you're all staying safe and healthy."
The honor was bestowed on Pipedream's Matthew Matsudaira, who wasn't available to accept the accolade. Nevertheless, the show proceeded with Nu Sensuelle's Patrick Lyons on hand to announce the nominees for Chain Retailer of the Year.
"As we all know retailers are the cornerstone of our industry," he said. "You have the amazing responsibility of guiding consumers through the pleasure products journey, and tonight we're here to honor your dedication to the industry, your passion for service, and your efficacy for our brands. Thank you for your contributions making this industry so successful."
Adam & Eve's Chad Jenny accepted the award, saying, "We're so happy and honored to receive this award. We have to give it up to Phil Harvey on our 50th anniversary — he created a brand and laid the groundwork for what we do now. I have to give it up to our team and all of our amazing franchise operators around the country running the 88 stores that we have and all the staff and managers."
Boneyard Toys' Kristin Moore appeared from Deerfield Beach to announce the nominees for Progressive Distributor of the Year, which was awarded to Nalpac.
"Thank you XBIZ and everyone that voted and nominated us," said Steve Craig, the CEO of Nalpac. "We are humbled to be among such a progressive group of leaders. We want to recognize our Nalpac team and everyone that has contributed to get us where we are today. It's Nalpac's 50th anniversary and it's going to be the best year yet thanks to our incredibly dedicated partners and manufacturers."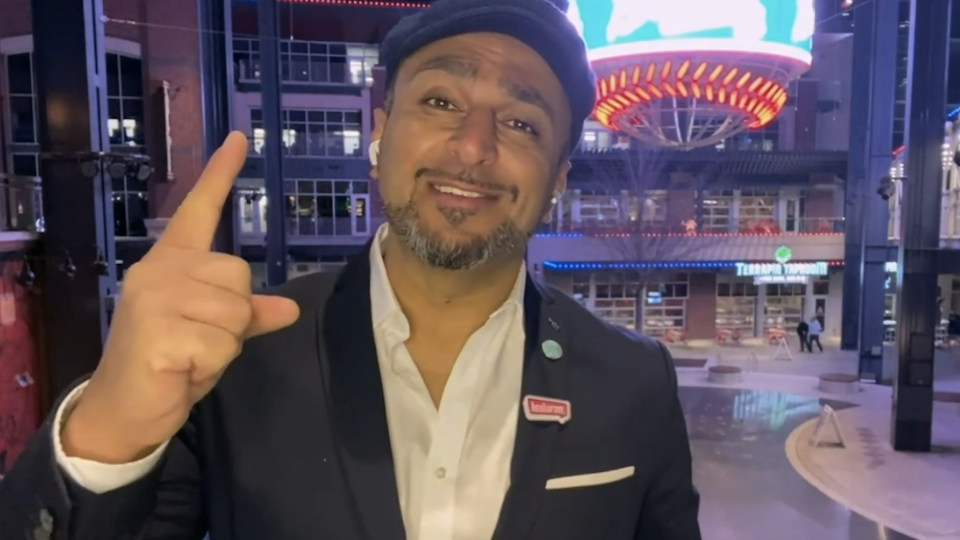 In presenting the nominees for Businesswoman of the Year, Imbesharam's Raj Armani credited the industry for always being "ripe for entrepreneurs who have the right stuff — courage, ambition and the drive — to build or lead a striving business."
"This award celebrates one extraordinary woman who encompases all of those traits and has shown leadership that is above-and-beyond in every challenge," Armani said.
The Businesswoman of the Year was none other than industry pioneer Susan Colvin.
"I got this award... because of you," Colvin said, addressing the viewing audience. "It was an extremely difficult year for all of us and for our team that worked really hard, and for all of our customers, the retailers, distributors, e-tailers and everyone that survived this year."
Located in state of Washington, CalExotics' Roxana Mendoza announced the nominees for Pleasure Products Distributor of the Year with Entrenue being named the winner.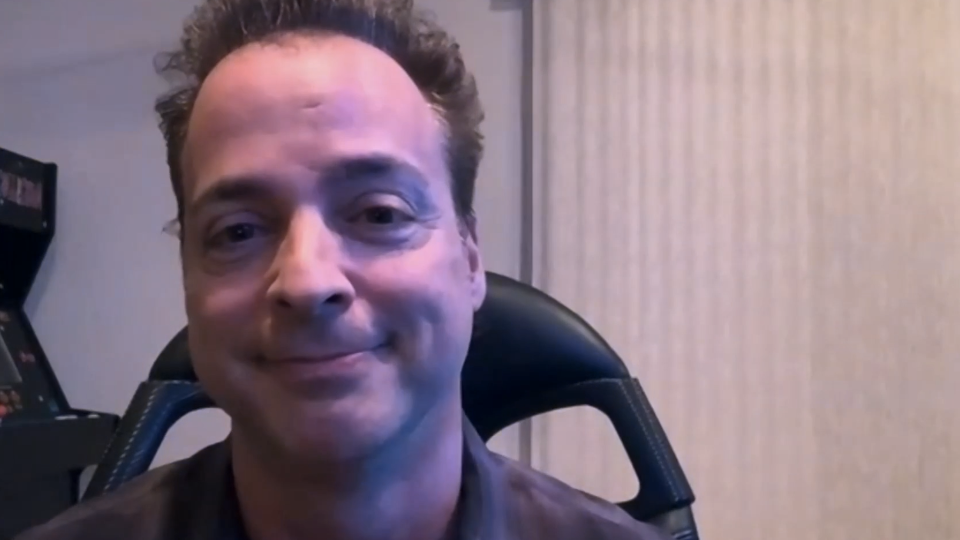 "Thanks to my staff, customers and suppliers," Entrenue CEO Joe Casella said. "2020 was a hell of a ride and I couldn't have done it without them. Thanks for the trust in us. I'm very grateful."
Appearing from the arts district in Las Vegas, COTR's Kim Faubel presented Businessman of the Year nominees, crediting them for being "hardworking" and "dedicated to their crafts," as well as being "pioneers of the industry."
Casella returned onscreen to accept the honor. He said, "Thank you very much. I'm so grateful again for all the people who have supported us this year and for the past 14. But this year in particular, I'm speechless with how grateful I am for all of them. I'm incredibly honored. Here's to a great 2021."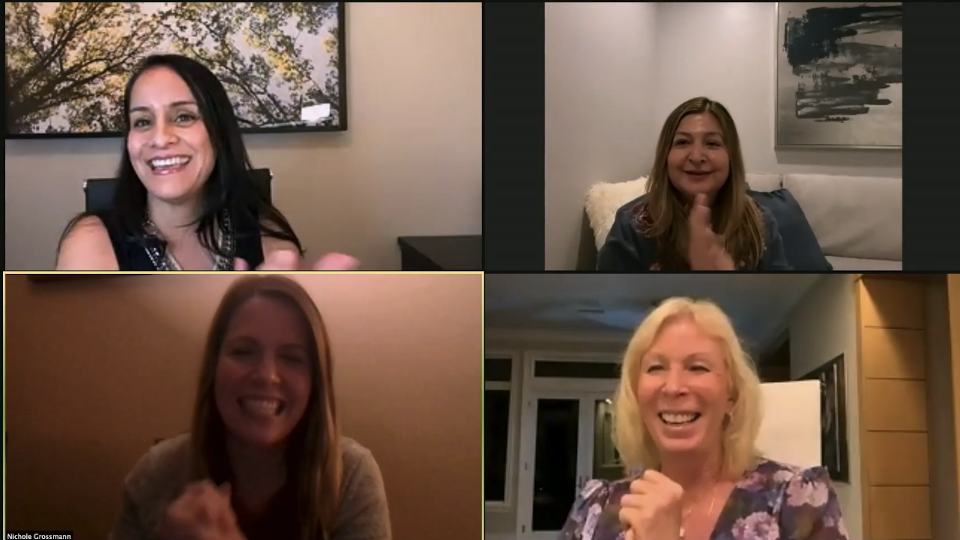 Nalpac's Don Zerilli presented the nominees of the second-to-last category of the night, Full-Range Pleasure Products Company of the Year, which was awarded to CalExotics.
"Thank you everybody," Colvin said. "It was the hardest year. Thank you to my team that worked even when everyone else was closed. I appreciate it and thank you to everyone out there that works so hard for their business. We need you, the consumer needs you and we appreciate you."
Hot Octopuss' April Lampert presented the final award of the evening, which she called her favorite of the annual XBIZ Honors awards show.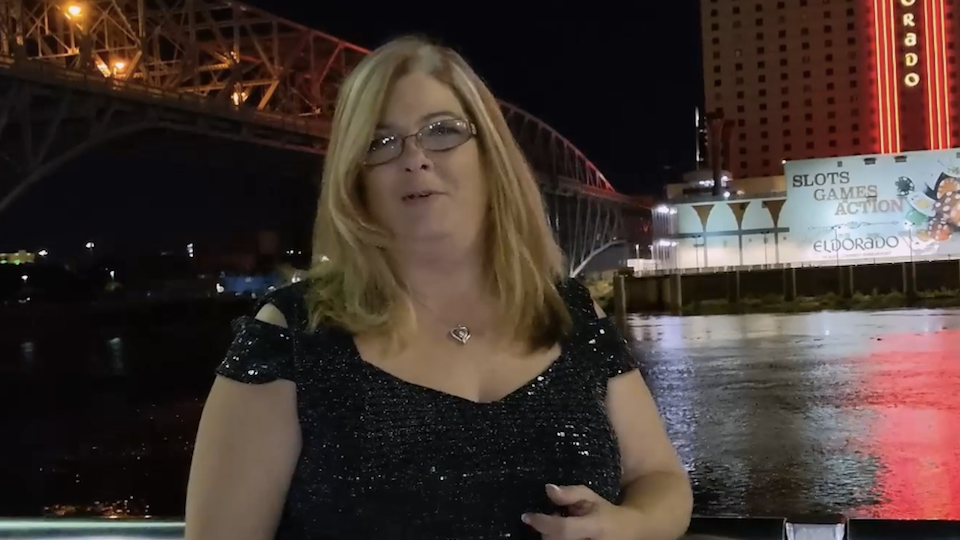 "Each year, XBIZ honors the most influential and inspirational women in the pleasure products industry and this year is no exception," she said, announcing Stealth Shaft Support creator Nanci Smith as WIA's Woman of the Year.
Smith broke down in tears, and struggled to speak as she thanked her industry colleagues. "Thank you so much for believing in me following my dream and allowing me to help people have better sex lives," she said.
Rodgers wrapped the historic ceremony, with wishes for a happy, healthy and prosperous New Year, "until we see each other again."