LOS ANGELES — One of the distinctive traits of the current wave of anti-porn propaganda — mainly spread by well-funded, religiously inspired nonprofits, and an influence on politicians and public officials across the political spectrum worldwide — is the tendency to focus the attacks and the blame on one particular company as a smokescreen for their actual goals: the abolition or eradication of all sex work, all of adult entertainment or even all sexual expression in public forums.
That company is Pornhub.
Countless headlines and statements around the globe illustrate a bizarre fact: anti-porn activists and politicians in 2020 have a Pornhub fixation.
Pornhub is a popular, well-designed tube site that provides (mostly) user-uploaded content and focuses on adult entertainment. It is not different in design from YouTube and it monetizes, according to company sources, in a way that is similar to Google AdWords.
While it is a huge player in the tube site market and it undoubtedly excels at marketing itself, Pornhub is only one of several influential platforms providing free adult video content. Its main competitor has a global market share that is at least equal, and sometimes bigger, than Pornhub (depending on the metrics used).
But you rarely hear anti-porn activists refer to Pornhub's competitors, or any other large company in the adult entertainment sector.
It's as if Mormons decided to wage a war against all caffeinated beverages but exclusively referred to Coca-Cola in their anti-soda campaigns.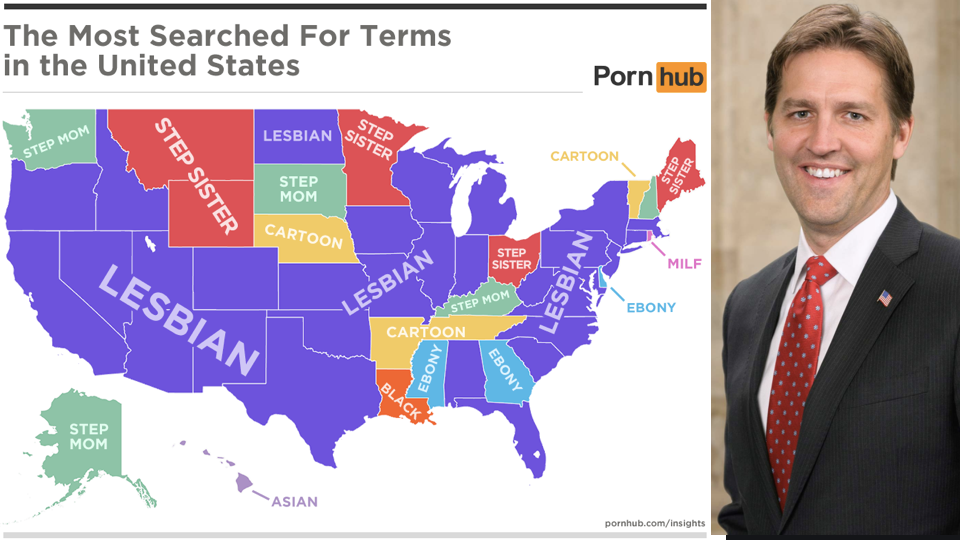 Senator Ben Sasse
The Senator and the Pipeline
On March 10, U.S. Senator Ben Sasse (R-Nebraska), the Chairman of the Senate Judiciary Subcommittee on Oversight, wrote to U.S. Attorney General Bill Barr calling for a federal investigation into Pornhub and its owner MindGeek.
Sasse was encouraging AG Barr to target Pornhub, specifically, for what the Senator calls "their involvement" in streaming videos showing the sexual abuse of women and children.
"In several notable incidents over the past year, Pornhub made content available worldwide showing women and girls that were victims of trafficking being raped and exploited," Sasse wrote.
Pornhub, the Nebraska Republican dramatically stated, as he called state intervention into a specific private business, "must not escape scrutiny. I therefore request that the Department open an investigation into Pornhub and its parent entity MindGeek Holding SARL for their involvement in this disturbing pipeline of exploiting children and other victims and survivors of sex trafficking."
Sasse's choice of words while condemning Pornhub for user-uploaded content is significant: he asked Barr's office to intervene in order to probe Pornhub's "involvement in this disturbing pipeline."
The word "pipeline" harkens back to American lawmakers' decades-long confusion about the strange nature of internet communications. Many people recall with bemusement Republican Alaska Senator Ted Stevens, who entered popular history with his 2006 description of the internet as "a series of tubes." What people forget is that Stevens, at the time, was making a case in favor of abolishing net neutrality. At the time, he was the chair of the Senate committee tasked with regulating the internet.
"They want to deliver vast amounts of information over the internet," senator Stevens said in his now-infamous intervention, "and again, the internet is not something that you just dump something on. It's not a big truck. It's a series of tubes. And if you don't understand, those tubes can be filled and if they are filled, when you put your message in, it gets in line and it's going to be delayed by anyone that puts into that tube enormous amounts of material, enormous amounts of material."
Sasse, though much younger, either deliberately or by virtue of ignorance, continues to mislead the public along the same lines when he speaks of Pornhub's "involvement." Pornhub, like YouTube, is a platform, and as such, it's protected from liability by Section 230 of the Communications Decency Act, the so-called First Amendment of the Internet.
The Electronic Frontier Foundation, a leading online rights group, calls Section 230 "the most important law protecting internet free speech."
But Pornhub, unlike YouTube, focuses its services on adult entertainment, and it is the availability of adult entertainment on the internet that seems to be the target of Sasse and other headline-grabbing politicians.
As any mainstream website editor — even those cynically feeding "pornsploitation" content into the salacious tabloid echo chamber — can tell you, the word "porn" on a headline, however critical, equals clicks.
(Incidentally, according to Pornhub Insights, the most distinctive porn search term among Senator Sasse's Nebraska's constituents is "cartoon.")
Platforms and Bad Actors
In the U.S., politicians raging against a supposed "porn menace" include both religiously motivated Republicans and also supposedly progressive Democrats, such as presumptive presidential nominee Joe Biden, who asked for Section 230 to be revised, and Kamala Harris, who kickstarted her national political career by criticizing the application of Section 230 to the lawsuits against Backpage.com for third-party uploaded content.
Harris' reputation for bipartisanship rests on her championing of the FOSTA/SESTA legislative package, drafted by evangelical Republicans in the Midwest, pushed by Harris as both prosecutor and California Senator, and signed by Trump a few days after Backpage was seized by the FBI using a much older law.
The current onslaught against Pornhub looks suspiciously like the 2016-2018 bipartisan campaign against Backpage.com, which was also waged over their supposed complicity with allowing, and allegedly knowingly monetizing, illegal content uploaded by third-party bad actors.
Industry watchers also remember Los Angeles-based "mandatory condom" evangelist Michael Weinstein and his single-minded obsession with regulating Kink.com.
XBIZ is unaware of any American politicians demanding the immediate investigation or "shuttering down" of YouTube — or Reddit, where amateurs upload and link to sex content constantly — for possible malicious third-party activity.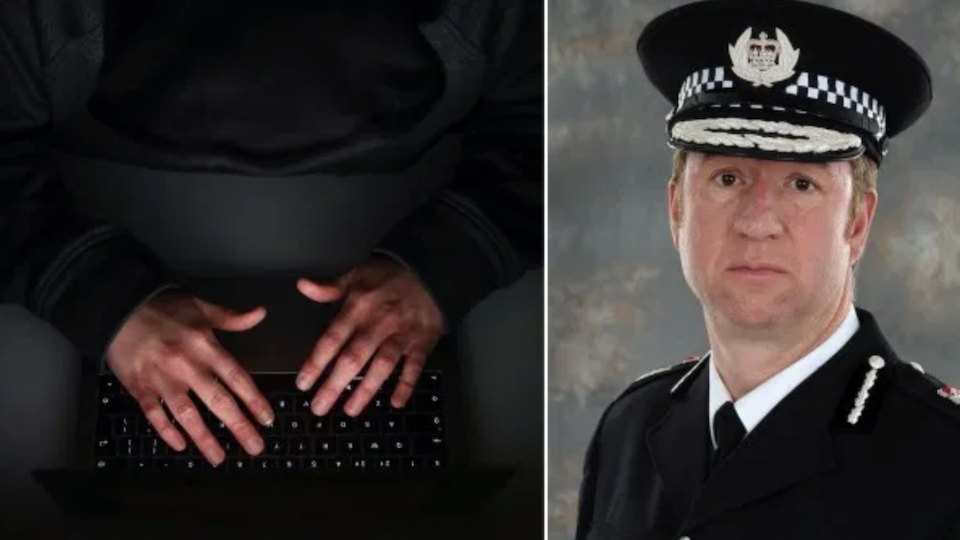 Actual graphic used by the local U.K. press to illustrate Police Chief Constable Simon Bailey's anti-porn campaign
The Chief Constable and the Desensitized Youth
But despite the best efforts of well-funded religious lobbies and the politicians who take their money, America still has Section 230, which shields platforms from liability from third-party content. Other countries, particularly in Europe, do not have such a constitutionally backed protection of Free Speech.
And so in the U.K., all manner of public officials from the petty to the halls of Parliament, rail against the supposed evils of porn by using Pornhub as a scapegoat for the entire industry they despise.
These activists are backed by Rupert Murdoch-controlled media (consistently anti-sex work and anti-porn, even though they daily profit from porn-based content), other tabloids, and the staunchly anti-porn liberal Guardian.
Last week, Norfolk Police Chief Constable Simon Bailey, who is also the national police lead for child protection, gave an interview to a pro-censorship group called the Internet Watch Foundation claiming that "the U.K. is the third-biggest consumer of online child sexual abuse," which several local news outlets spun into a widely circulated story about how "some young men have begun to 'get their kicks' from child abuse imagery after becoming 'desensitized' to legal pornography."
"What we are seeing," Bailey told the anti-porn activists "is a new group of young men aged between 18 and 26 who have been brought up on a staple diet of going to visit Pornhub and sites like that."
The Metro news site sensationally turned this dubious, speculative statement into the clickbait headline "Rise of Paedophilia Among Young men Desensitized by Pornhub."
"We've got to start coming to terms with the fact that there are some appalling things taking place online that unfortunately the internet is probably the route of most of the evils," Bailey, who has personally called for "faith groups to work with police," preached to his choir.
"We have to start looking at that and we have to start genuinely asking the question, how much more are we going to tolerate?"
What you hear from Constable Bailey is the crystal-clear, time-honored clarion call for state censorship.
And the anecdotal hot air of quaint local-press articles, in the peculiar political ecosystem of the U.K., quickly makes their way up the media and political ladders.
#NotYourPorn's Unverifiable Claims
Three weeks ago, as part of the ongoing, relentless U.K. War on Porn, liberal news organization The Guardian published a sensationalistic call for censorship titled "Urgent Action Needed as Rise in Porn Site Traffic Raises Abuse Fears, Say MPs."
As XBIZ revealed the article was a form of sponsored content placed among The Guardian's editorial articles by a shadowy American non-profit funded by tech billionaires.
The "porn site" mentioned by The Guardian's headline? You guessed it.
"Pornhub is using coronavirus lockdowns to promote and drive traffic to its site — but campaigners raise alarm over criminal and non-consensual videos," reads the article's summary.
Leaning on all these sensational reports, a group of U.K. politicians called the All Party Group for Children's Media and The Arts (Children's Media and the Arts APPG) released last week an official report full of tendentious examples and informations derived from the British press.
Co-chaired by Julie Elliott, a Labor MP and Baroness Floella Benjamin, a former children's show host, the Children's Media and the Arts APPG gave a megaphone to pro-censorship activist Kate Isaacs, the head of #NotYourPorn.
Isaacs claims that she started #NotYourPorn "when a 'Revenge Porn' video of her friend was uploaded to Pornhub, without her friend's consent. Her mission is to hold porn companies to account for the content they share and profit from. Kate is calling on the U.K. government to regulate the commercialized porn industry."
The APPG report regurgitates data from #NotYourPorn propaganda, which singles out Pornhub and parent company MindGeek as targets, making unverifiable claims about their market share and complicity in third-party posts.
"MindGeek own around 80 percent of the commercialized porn industry," Isaacs' #NotYourPorn site states, providing no supporting evidence, "with websites such as Pornhub, YouPorn and RedTube. They have offices in London and are U.K. registered but actively show and profit from Revenge Porn involving unwilling participants."
This week, Isaacs cryptically tweeted that U.K. government intervention of adult entertainment platforms was "imminent."
[Update 4/27/2020: Responding to the FSC's inclusion of this piece on their news roundup, Kate Isaacs disputed the characterization of herself and her organization as "anti porn" via Twitter. "I'm not 'anti-porn'," Isaacs protested. "I'm anti-non-consensual porn (You're probably an asshole if you're pro-non-consensual porn)" and defined herself as "atheist, liberal, sex positive." She has not addressed the source of her claims that MindGeek controls "80% of the commercialized porn industry," her relentless campaign asking for state regulation of a single company, or her alliance and coordination with resolutely anti-porn crusaders.]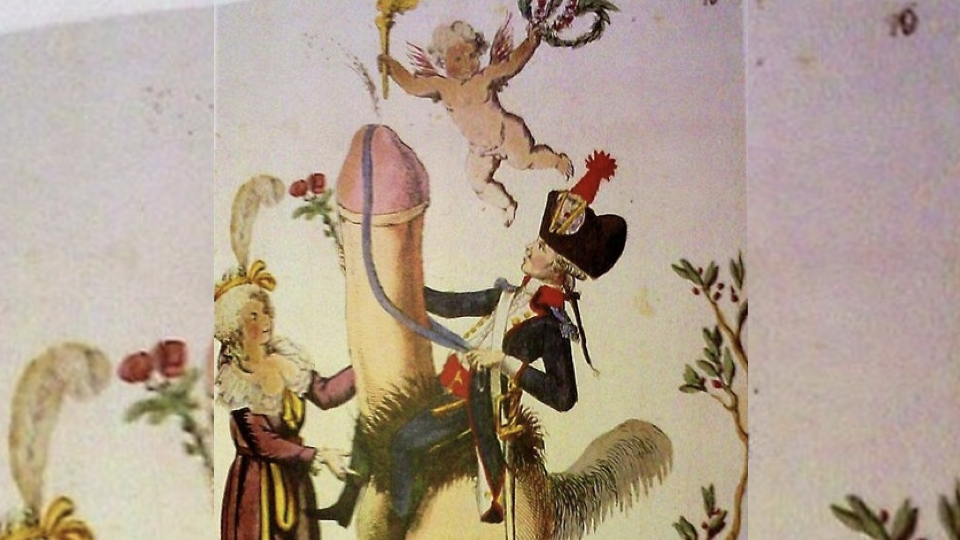 Fun Fact: The French invented modern pornography in the 18th century, hundreds of years before tube sites existed
Free Porn and La Dignité Humaine
Meanwhile, over the Channel in France, on April 8, Franck Meyer, president of the Comité Protestant Évangélique pour la Dignité Humaine (CPEDH, the Evangelical Protestant Committee for Human Dignity) and mayor of Sotteville-sous-le-Val (Seine-Maritime) requested that French President Emmanuel Macron "put an immediate stop" to Pornhub's offer of free porn to quarantined Europeans and to consider the "total shuttering of these platforms as soon as possible."
Meyer's letter was endorsed by Associations Familiales Catholiques, Associations Familiales Protestantes, CNEF Solidarité and Planète Enfants et Développement et Michée-France.
The religious-political groups were encouraged by a November 2019 speech Macron gave before UNESCO, where he spoke about minors' access to porn platforms.
Oddly enough, the last time French politicians were concerned about sex videos was back in February, when Macron's own pick for mayor of Paris was forced to withdraw his candidacy over the publication of a sex video initially shared on Facebook.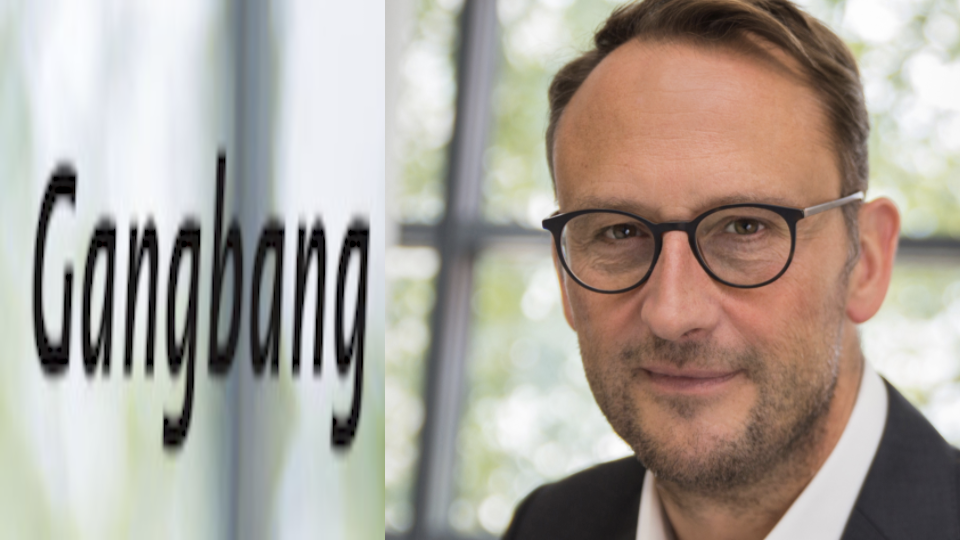 Tobias Schmid and the one sex practice he considers particularly "verboten"
Web-Locking the Porno-Portal
Over in Germany, Tobias Schmid, head of the State Media Authority (LMA) North Rhine-Westphalia, demanded "web locks" be placed on access to, specifically, Pornhub.
Schmid leads an agency that is part of the federal state government of North Rhine-Westphalia and is of equal rank as the ministries or a superior state authority.
"The protection of minors makes no sense if every child can switch from 'Kikaninchen' to Pornhub," Schmid told the Dusseldorf press. "Kikanichen" is a popular children's show.
Clamoring for censorship of the adult platform, Schmid decried that "we check every trailer on television, but confront children online with unfiltered sexual practices." Schmid was particularly bothered by "gang bang" content, and how it was normalized on Pornhub's portal among other sexual practices.
"If children get the impression that gang bang is a normal sexual practice in which the woman is used and humiliated, it is certainly an extreme problem," Schmid said.
"The suspicion is obvious that value boundaries are shifting," Schmid philosophized.
What really bothered Schmid, though, is that adult businesses operated with freedom and outside of the control of himself and his agency. "They did what they want," he complained, because they have offices abroad.
Declaring that those days were over, Schmid said that he was done merely watching platforms like Pornhub operate outside of his mandate. "We are exercising [our authority] to the end. Either we can enforce the protection of minors, or we have to ask the legislators if they really want to leave the situation as it is."
Schmid said that the tactic of threatening specific companies with enforced compliance has worked in the past, mentioning an Israeli gambling site that, according to him, "had deliberately targeted youth in the German market and also ignored the protection of minors."
"We then denounced this app and its influence," Schmid explained. "After two to three months there was a change of course and the providers asked us which criteria they had to meet. In the meantime, they are complying with the protection of minors."
Schmid originally appealed to the E.U., since MindGeek has offices in member country Cyprus, but he was rebuffed.
"After the Cypriot media supervision has refused to intervene, the German youth protection regulations must now be applied," Schmid insisted. "The E.U. Commission was also notified of our approach. Either the providers introduce a proper age verification, or we will enforce their shutdown."
If the "porno-portal" operators did not give in, Schmid threatened, "it could be in June or July that we will ask the infrastructure providers (i.e. telecommunications companies) to block the illegal content that is harmful to young Germans."
Paradoxically, it seems that Pornhub's biggest competitive advantage — its unparalleled marketing reach beyond the boundaries of adult — might also be what's putting the crusaders' bullseye on them.
XBIZ has not found consistent examples of Pornhub's main competitors in the tube site market (including some similarly sized players), or even studios, paysites or platforms, being equally singled out by anti-porn activists and politicians.
Seems like being perceived as "the Coca-Cola of Porn" can be a double-edged sword.