LOS ANGELES — Last week, Ivy Wolfe organized and shot a lesbian orgy scene with fellow performers Joanna Angel, Aiden Ashley and Charlotte Sartre, using a well-known videoconferencing platform to abide by the current "social distancing" protocols due to the COVID-19 pandemic.
Under the supervision of director Alexandre Sartre — who shot Wolfe for her Penthouse magazine pictorial before she went on a year-long career hiatus during most of 2019 — the comeback starlet joined the three other performers from their home isolation via the video app.
The star-studded — and strict coronavirus measures-compliant — 20-minute scene, entitled "Quarantine Lesbian Circle Jerk," is available today through the four performers' OnlyFans accounts, as a PPV Messages (Pay-Per-View) option.
The videoconference app, "which shall remain nameless," is one extremely familiar to office teams during this isolation, said director Sartre (no relation to Charlotte, though according to him they often joke that they are cousins).
Sartre explained to XBIZ that he and "the four stars came together during this quarantine and moratorium on shooting to launch one of the first adult films using that leading videoconference platform."
"During this quarantine period, we've all been struggling to stay busy and continue to create," said the director, who is also a noted glamour photographer in both mainstream and adult.
"So Ivy and I brainstormed and came up with the idea of a 'social distancing lesbian orgy' with three of our favorite performers, all stars in their own right," Sartre added.
"Ivy and I have been working together on a bunch of things for her comeback and she had just been in town and I had shot a G/G scene with Sahara Skye and some solo stuff, and we were wondering what we were going to do during the coming quarantine," Sartre told XBIZ.
"I thought about it, and said, 'Well, since the screen is rectangular, let's get three other performers to video chat and go to town!' I called Charlotte and she said 'yes,' and we called Aiden and she said 'yes,' and then we got Joanna — it was really our dream cast."
After a "technical rehearsal" the day before, the four performers reconvened with the director on shooting day — from their homes.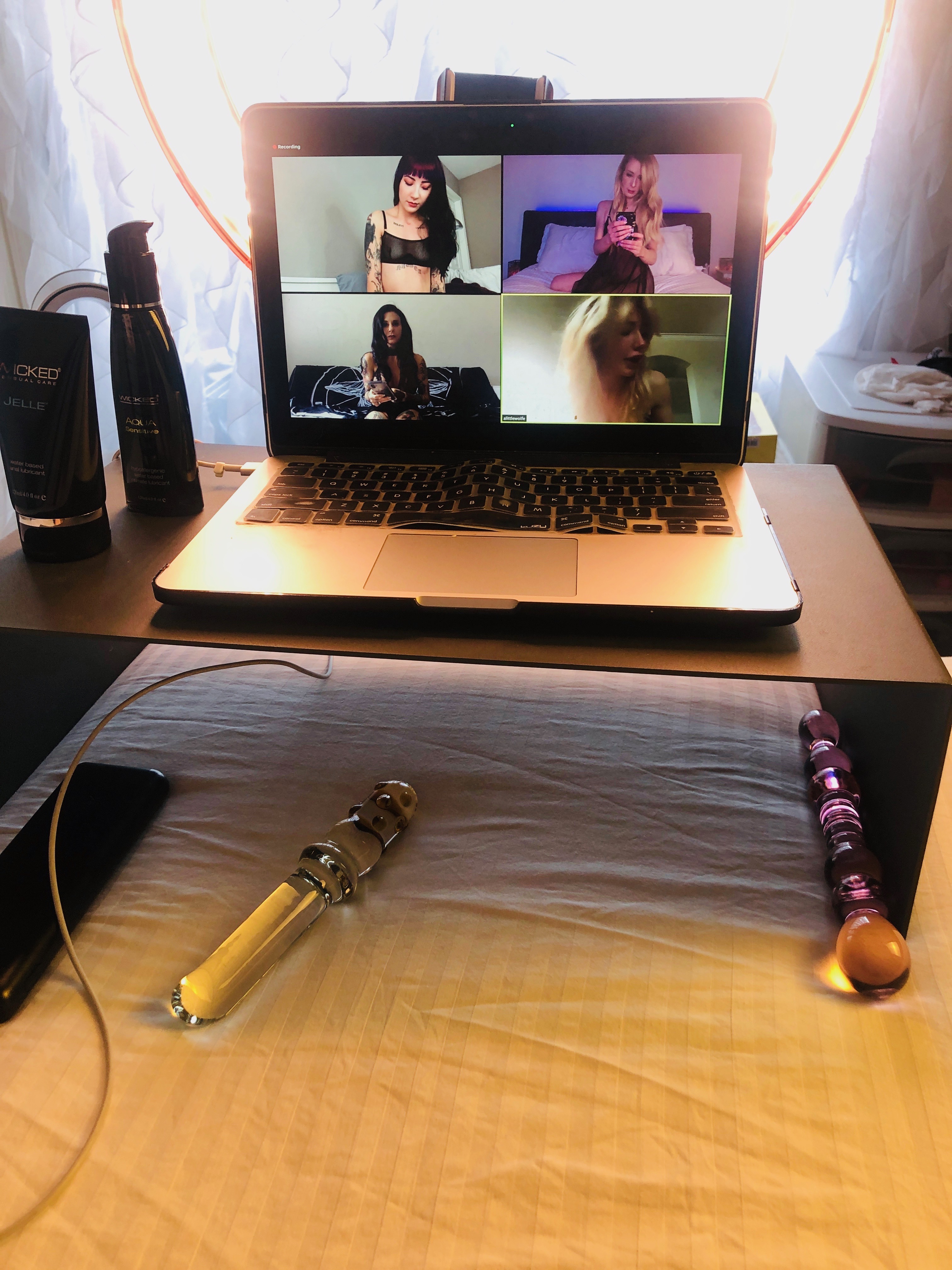 "The next day everyone 'showed up' hair-and-makeup ready and got their toys all ready and we had a good ol' party!" added director Sartre.
The four performers were all thrilled with the experiment.
"Quarantines never felt so good," Wolfe told XBIZ, commenting on the "surreal" experience.
According to Angel, who turned out to be the most vocal and enthusiastic performer during the scene, "this was a fun and unique way to have a lesbian orgy — in the most socially distant way possible."
Charlotte Sartre told XBIZ that she has been "so sexually frustrated not being able to leave my house — and I miss women! So having virtual sex with three other women was the medicine I needed during these trying times."
For Ashley, the experience was not without bittersweetness, as she felt like she was "lost in a simulation of the most beautiful women getting naked in my bed, without being able to feel their warmth."
"Made me miss human touch even more," she told XBIZ.
Earlier this month, pioneering BDSM studio Wasteland, released a solo scene shot via messaging app called "Sex Addiction in the Viral Age (A Coronavirus Story)," directed by studio head Colin Rowntree.
"If this long-distance lesbian orgy scene does well," Alexandre Sartre told XBIZ, "we might consider doing more. Who knows? Shooting porn via videoconferencing might become 'the new normal' for the time being."
In terms of star power, spontaneous performances and quality, though, the scene works extremely well as erotica. A blushing Wolfe (particularly after several limb-shaking orgasms) is truly giddy at being in the presence of the other three beautiful women. After Wolfe fists herself (an ad-lib), Charlotte Sartre cracks up in amazement and they all laugh.
Wolfe and Angel are heard enthusing about the scene during the last minute.
"This is the new orgy!" says Angel. "Orgy in the digital age. This is the new way. It's so much fun to masturbate with people! It really felt like we were having sex."
To watch "Quarantine Lesbian Circle Jerk," visit Ivy Wolfe, Joanna Angel, Aiden Ashley and Charlotte Sartre's OnlyFans accounts.