BANGKOK, Thailand — The recent arrest and public shaming of an American man and his Hungarian partner in Thailand for "overstaying in the country, publishing pornography and working without a permit" sheds a spotlight on a little-talked-about issue among self-producers: the dangers of shooting pornography while traveling as a tourist.
Last Tuesday, Roderick Antonio Matthews Jr., a 31-year-old American, and Kata Barbara Koszo, his 22-year-old Hungarian girlfriend, were arrested in their hotel room in Krabi, southern Thailand.
"According to reports, the hotel staff informed police after they became suspicious of the couple," the International Business Times (IBT) reported on Friday. "The responding officers raided the hotel room and found cameras and lighting equipment," which they confiscated.
According to the Thai police, "the investigation revealed that the couple made explicit videos and uploaded them to adult sites." The authorities also mentioned "several explicit photos" of the couple as evidence of their alleged crime.
Matthews and Koszo were also charged with staying illegally in Thailand, and with working without the proper permits.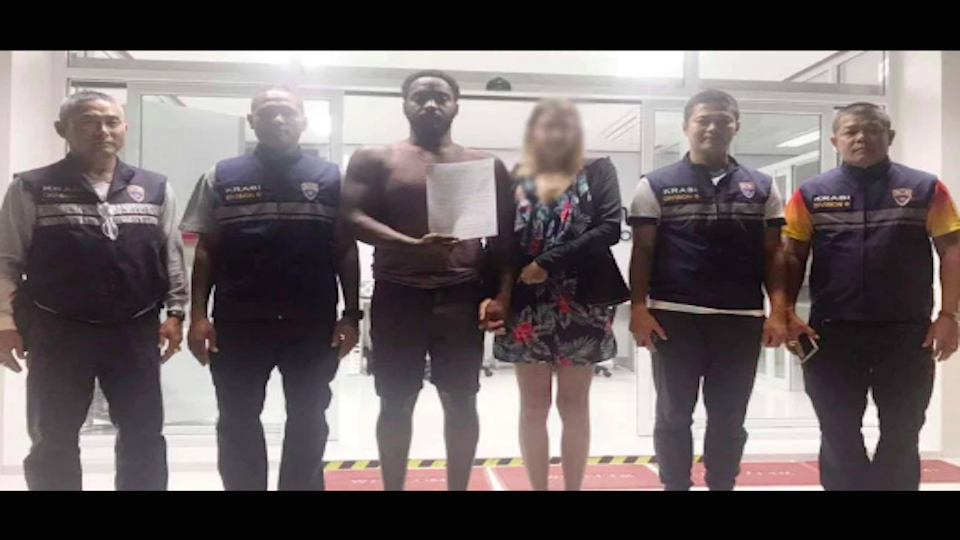 "We Caught Them Red-Handed"
Their arrest was heavily publicized by the Thai authorities, clearly intending to make an example out of the foreign couple. The photos issued to the local and international press show a shirtless Matthews comforting Koszo, their faces blurred, awkwardly being posed next to the police in their hotel room.
"The legal process has started so there's no way they can get out of this," said a Thai police spokesperson. "Initially, we went there because the hotel reported that the couple were overstaying their visas, but we also caught them red-handed filming pornography. We will charge them with publishing and trading pornography in the Kingdom, earning income without a valid employment permit and overstaying their visas."
According to the IBT, the couple could face "up to three years in jail for porn charges and up to five years in prison for working without a permit."
The British tabloid The Daily Mail — which routinely publishes "Pornsploitation" pieces taking advantage of the popularity of porn articles while stigmatizing sex workers and endorsing the War On Porn — claims that the couple "traveled around [Thailand] making hundreds of explicit videos [and] then sold them online."
According to the Daily Mail, "hotel staff reportedly became suspicious after the couple spent hours in their room."
"Several pictures show them exposing themselves outdoors at exotic beaches while others show how they had threesomes in their hotel room," the Daily Mail salaciously reports.
The tabloid also claims Thai authorities "found that the pair had been staying illegally in the country for 256 days without a visa in their passports."
As of last Thursday, the Daily Mail reported, Matthews and Koszo had not been formally charged. They are still in a Thai prison, "while the investigation continues."
"Shooting Content," "Sex Tourism" or "Working Without a Permit"?
The arrest of Matthews and Koszo, weaponized as law-and-order propaganda by the Thai government and as Pornsploitation/War On Porn fodder by the Daily Mail, highlights a serious issue for adult performers, cam models and clip makers: the fine, often arbitrary line between "shooting content" (something that the adult community recognizes as a legitimate way to generate income), "sex tourism" (increasingly policed, especially in tropical touristic destinations with a reputation, like Southeast Asia or Central America), and "working without a permit" (a hot-button, contentious issue around the world).
Travel adds another dimension to the already problematic situation of "content trade" shoots conducted without a written contract, or even a clear-cut "handshake contract" about ownership, editing and publication of content produced outside of the studio standards and for no direct pay.
The photos of Matthews and Koszo in tropical beaches and hotel rooms that are being used by the Thai police and the Daily Mail as "evidence" of supposed criminal activities are indistinguishable from a lot of photos constantly uploaded by adult performers, cam models and clip makers to their social media streams.
An A-list performer in a bikini posting "Here I am in Tulum!" might be just something fun and light "for the 'gram" in one context, or evidence of wrongdoing by authorities or agenda-driven press looking for a moral panic in another.
Here is how the Daily Mail captioned this mundane vacation photo Matthews and Koszo posted in the days before their arrest: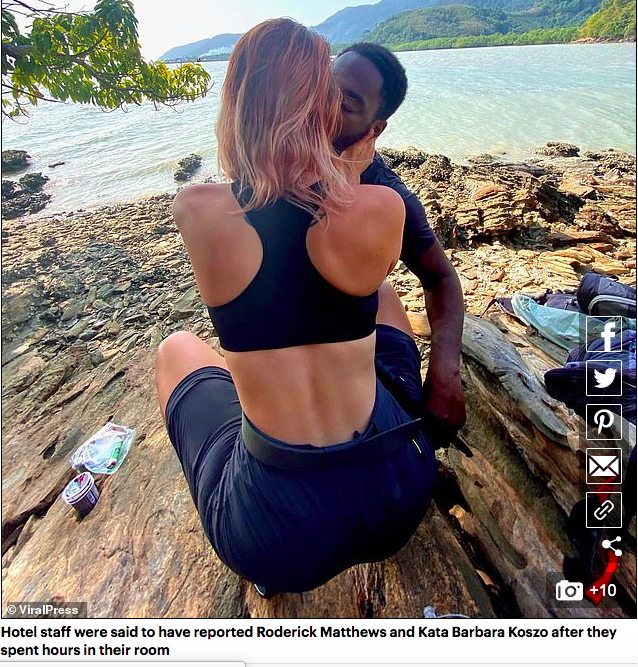 Paradise Lost
Controversial "location content shoots" also have created issues in places like Southern California, where pornography production is fully legalized. War on Porn propagandists recently weaponized a pearl-clutching brouhaha regarding a video supposedly shot on Santa Monica city streets and then inside the Ocean Park Branch of the Santa Monica Public Library. But traveling to locations where laws regarding sex can be radically different could add unforeseen problems for the performers.
Only two weeks ago, the IBT reported that Myanmar authorities were "making efforts to first identify and then administer justice" to an Italian couple, both allegedly 23-years-old, who filmed themselves having sex in a pagoda, a sacred site, in Bagan and allegedly uploaded it to a porn site.
"The sacred site Bagan lies on the central plain of Myanmar," the IBT reported. "It is an ancient city and a UNESCO World Heritage Site. From the ninth to the 13th centuries, it was the capital city of the Pagan Kingdom and over 3,800 temples and pagodas have survived to the present day. It is a place of importance to Buddhists everywhere, but most of all those in Myanmar."
"It is difficult to find them," said an official from the Ministry of Hotels and Tourism in Bagan about the couple. "We cannot know when it happened. We sent their photo to every hotel to look for them."
Many sex workers publicize on social media trips to paradisiac locations like Bali, Costa Rica or even notoriously "moral police"-heavy locations like Dubai or Singapore.
Anyone looking to produce commercial pornography, whether scenes, cam shows or clips in those places, however, should take precautions to learn about what is legal there, and how to avoid prosecution or jail time when "paradise" suddenly becomes inhospitable to sex workers.