LOS ANGELES — On a sunny afternoon, at a quiet home tucked away in the San Fernando hills, a very unique adult shoot was underway. As the latest installment of "Jessica Drake's Guide to Wicked Sex" was fast approaching its first scene, Jessica Drake reviewed the shot list with noted sexpert and guest host, Joan Price.
"You don't have orgasms on the list!" she chirped. As Drake looked over the day's schedule she remarked, "I don't like to schedule orgasms. If it happens it happens. If it doesn't, it's cool."
Price, 75, had never been on an adult set before. The unlikely collaborators met five years ago at Los Angeles' CatalystCon and became fast friends before embarking on their first joint endeavor. Price, a specialist in senior sexuality and authorial personality behind the "Naked at Our Age" blog, joined the Wicked team to give her voice to the "Senior Sex" edition of the studio's long-running educational series.
Jessica Drake joined the cast of four on the couch and assured them, "You're the boss. You can call cut whenever you want." It's a standard line that rang especially true on set that day as Drake took special precautions to ensure the ease of the green performers. Back to back scenes and a robust crew were scrapped in favor of an intimate team and a streamlined schedule. With one cameraman on hand to capture the day's action, the production was ready to begin.
A First Time for Everything
It was a day of firsts for many on set, but perhaps most profoundly for the cast, all four of who were amateurs over the age of 60. Bonnie and Joel, a couple from North Carolina, had been committed to the project from the beginning.
"They were among the first, maybe the first to apply," said Price of the couple. Bonnie, a web designer-by-day changed out of her lace-up gladiator sandals and floral sundress into a black mesh lingerie set complete with crotchless panties for her first scene. A brief set of stills was snapped as the couple exchanged sensual kisses and light touches from a classically white couch, backlit by diffused sunlight. A little light music kicked in and frankly, there may not have been a dry eye in the room as Joel, her partner, looked at her and said, "I could stare into your eyes forever." Drake nodded in approval from behind the camera, the on-screen chemistry filling the room with warmth.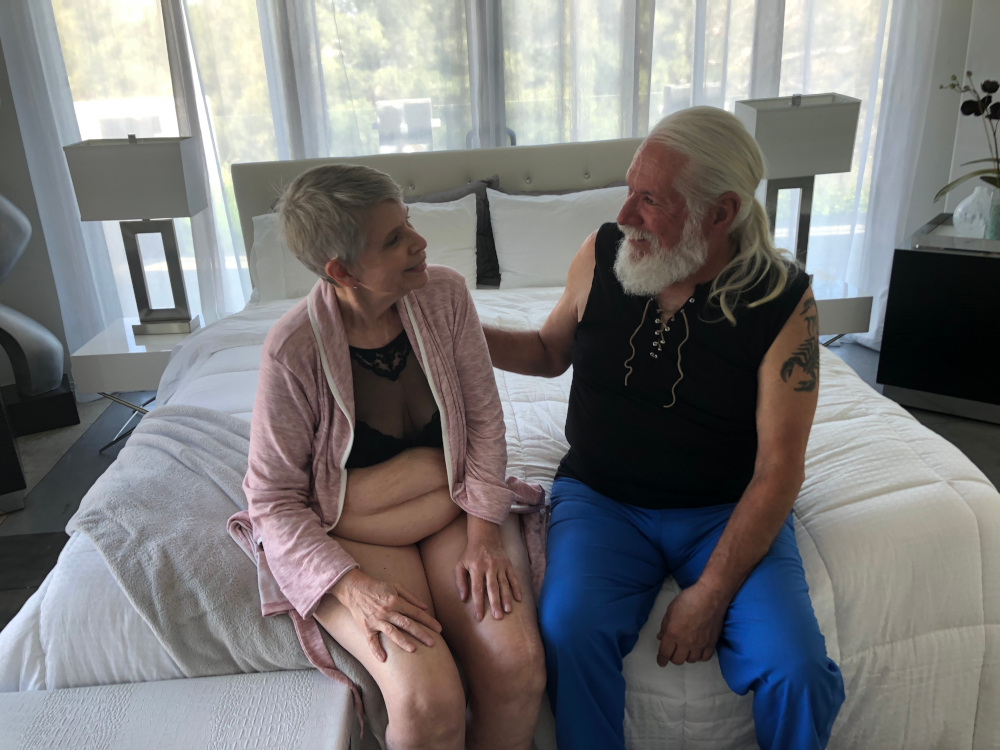 Bonnie and Joel were lovers in college before falling out of touch in 1977. The pair remained estranged for 41 years before a little search tool called Google brought the two back together. "Even when we lost track of each other I was always in the back of his mind and he was always in the back of mine," recalled Bonnie. "We just knew we'd find each other." After the two reconnected online, Bonnie made a trip to New Jersey for her father's funeral and invited him to meet her there. "We spent the night in a motel but he was still married at the time."
Time went by and another "chance" meeting brought the two together again, this time for good. "I just happened to be going to a medical conference in Canada — and by that, I mean I specifically looked for one near her," recounted Joel.
"This time, we spent five days at the Empress Hotel in Victoria. He woke up in bed crying and said, 'I'm in love with you, what're we going to do?'"
While their sensual photo shoot for Drake was sweet and romantic, Bonnie and Joel turned up the heat as they progressed to the first sex scene of the day. As per the "Guide to Wicked Sex" series format, episodes begin with a Q&A, followed by an educational demonstration that is overlaid with voiceovers offering pro tips and advice. With the goal being to highlight open communication regarding health issues and encouraging safe sex practices, the cast and crew got ready to capture just that.
Price reappeared at this point enthusiastically touting a pack of dental dams while Bonnie and Joel perused the smorgasbord of toys Drake had laid out for them. They selected a number of vibrators (and lots of lube!) and, settling back into the folds of the couch, Bonnie called out, "I need some towels — I'm a squirter."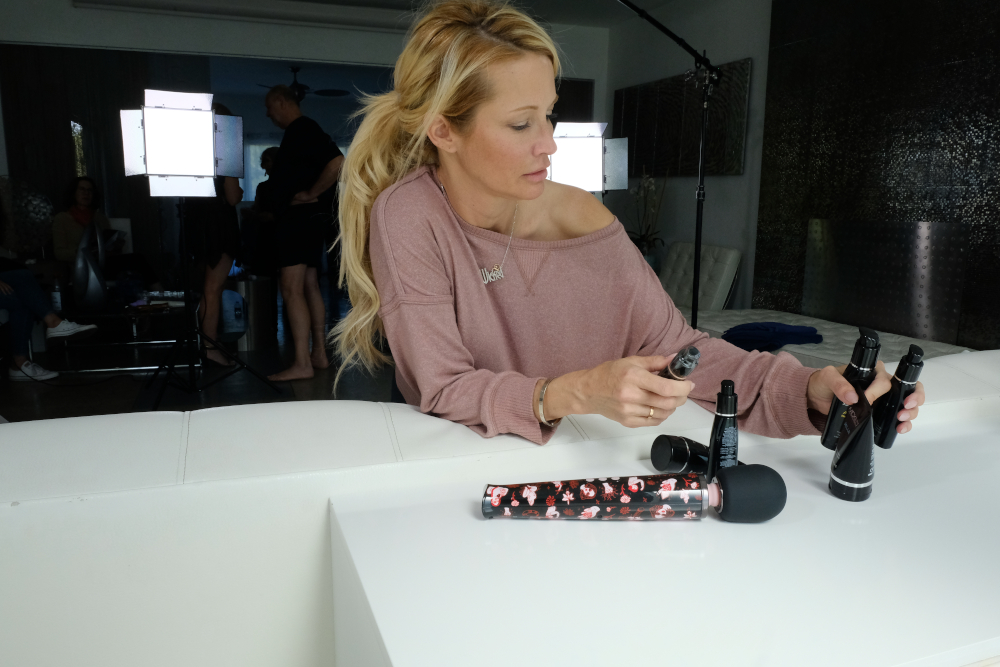 A resounding "hell yeah" from Drake set the stage for a fun, sexy scene between the long-time lovers. Lighthearted and full of laughter, Bonnie teased Joel saying, "I think my pussy needs some attention," before matter-of-factly instructing him to take off his pants.
Following a meal break and an outfit change, Joel and Bonnie continued their scene on the bed, the only instruction from Drake being that they needed to fill 30-45 minutes. In the same spirit with which she approached the shot list she affirmed, "If penetrative sex happens, cool. If not, cool."
With few rules for the amateurs and full agency to control their own action, the freeform nature of the shoot allowed for organic performances that shed light on some of the realities of sex in an aging body and offered inspiration on how to address those issues.
Price noted in particular that she was happy to see the couple take time to adjust to Bonnie's chronic back pain. "I didn't want her back to hurt of course but I did want to show the communication and that it's okay." Price continued, "Sex changes but we learn ways of dealing with it. Either we work around it or we include whole new areas that really turn us on. We discover new things about us, about our sexuality and about how to remain sexual even if our bodies are arthritic or our backs hurt or we can't get in the positions we used to love."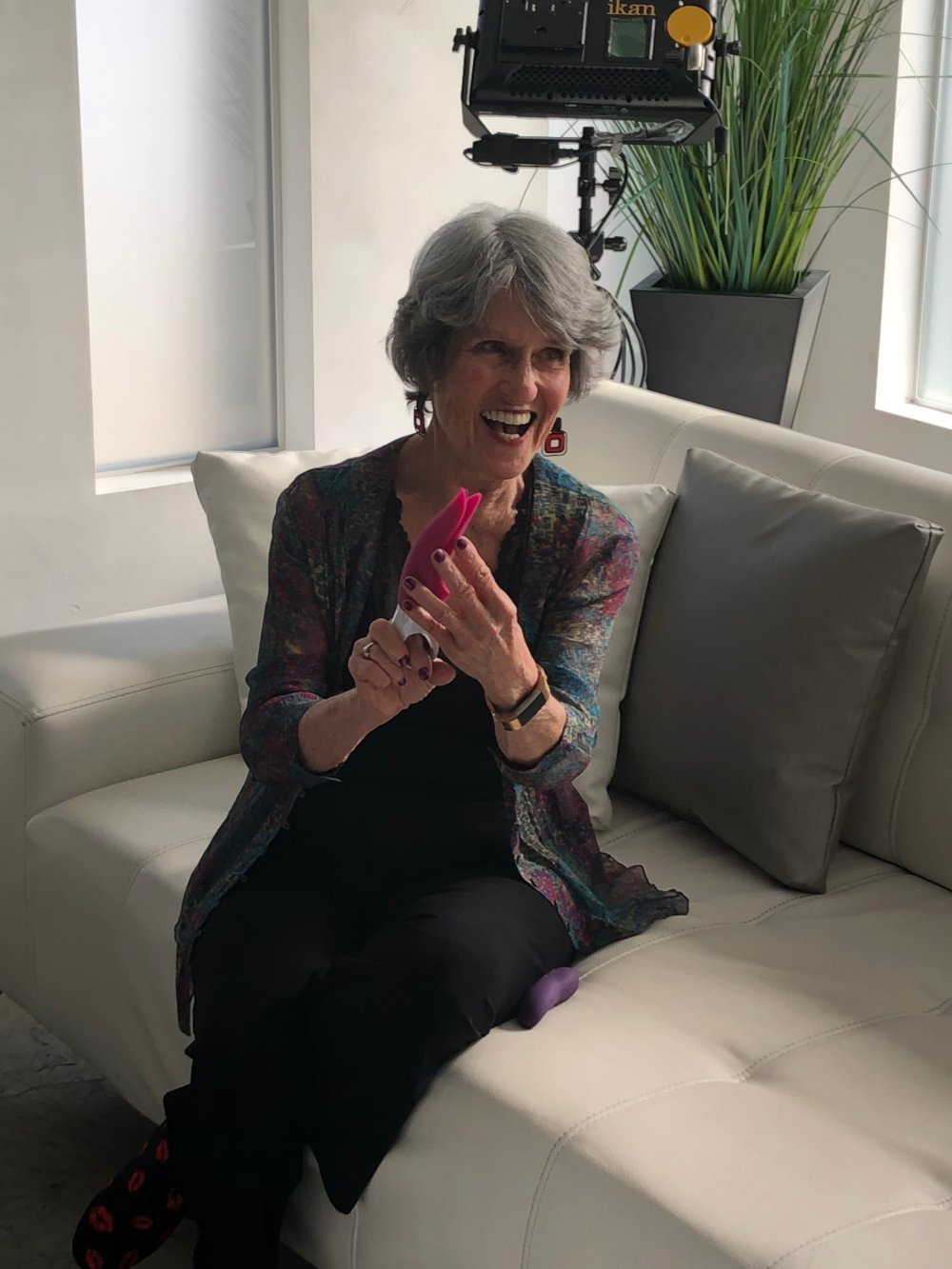 (Senior) Sexpert Advice
In between scenes, Price settled down next to the vibrators and a group of inquisitive crewmembers and other guests on set gathered. Holding up the Volta by Fun Factory, she proceeded to field questions and doling out advice about what to look for in sex toys. "You have to ask yourself the question: what do you want to do with it? For older people you want to look for something that has stronger vibrations, can go for a while without needing to be recharged … and you want to be able to control it without needing reading glasses!" All fair things to consider when shopping for sex toys later in life.
The impromptu session was cut short when Drake fluttered through to announce the commencement of the next scene. "We're getting ready to have some sex now!"
"You and I?" joked Price. "Finally! I've been pursuing you for years!"
Throughout the rest of the shoot the two riffed off of each other and a unique bond showed its face. Drake affectionately described Price as a kindred spirit — "the same, only 35 years apart."
"I just admire Joan for everything she stands for and all the stuff she accomplishes — she's so positive and vibrant, creative, upbeat and determined, smart, well-spoken…"
"Could you write all these down?" quipped Price. "I love that. Can I be your best friend?"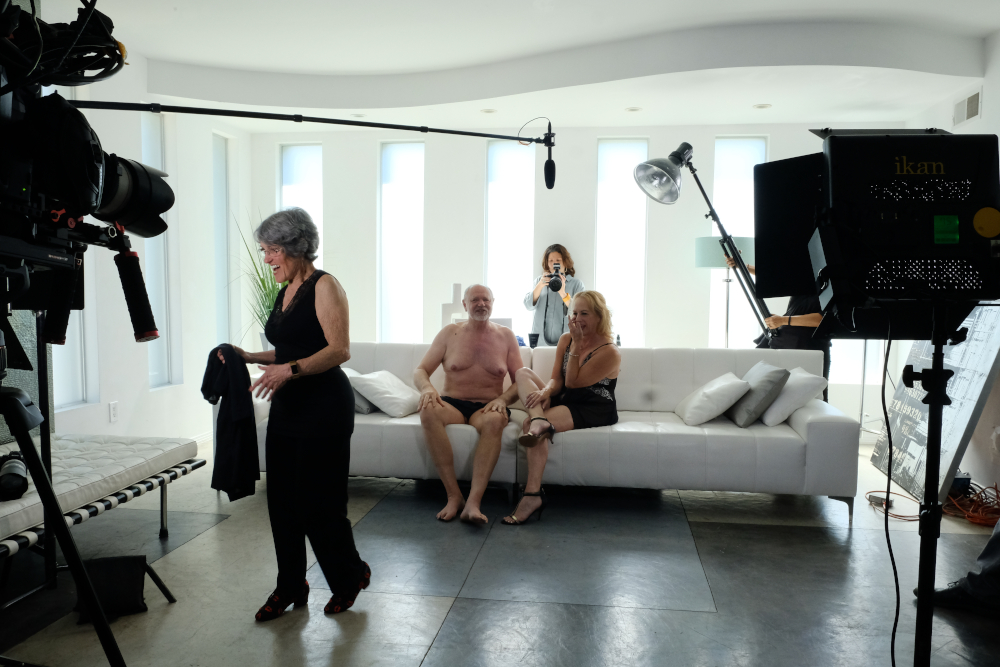 Drake said she knew she wanted to collaborate with Price on a project but wasn't initially sure what that would look like. When she first proposed collaborating on one of the "Guide to Wicked Sex" educationals, Price was reluctant. "The audience I had, I didn't know how they would respond," she explained.
"I understood her concerns — I thought her audience was ready though and I'm glad that it worked out the way that it did," said Drake.
Between initial meetings, brainstorming sessions and finally the shoot, the project has been a year and a half in the making.
As the 15th title in Drake's award-winning series, the "Guide to Senior Sex" marks a shift towards collaborative productions aimed at reaching broader audiences. After first launching the series in 2011, Drake enrolled in a number of programs to become a certified sex educator and initially combined her life experience as an adult performer with her newfound training to produce the series' early titles. Now, Drake hopes to tap into the expertise of others to diversify and expand the series beyond what she could accomplish alone.
"I could never teach senior sex," she mused, "not yet anyway!"
Drake recounted the inception of the series as a reaction to a "major shift" circa 2007-2008 when she noticed more and more women attending adult expos and strip club signings in search of sex advice. A deficiency of accessible, pleasure-based sex-ed suddenly became glaringly apparent.
"People are getting their information from porn because sex education in schools is lacking and I think that parents are reluctant to teach pleasure-based sex-ed. I know for me specifically, growing up — I was raised Jehovah's Witness — I was taught that you don't have sex before marriage, I wasn't taught about masturbation …there was a lot of shame and guilt that surrounded my own sexuality and I think a lot of people are in the same boat. I also became really aware that people were watching my regular scenes in Wicked movies and thinking that it would directly translate to their lives. So when they all started asking for sex advice I saw a need for a different kind of sex-ed."
Regarding the "Senior Sex" edition, Drake shared that the topic was a frequent request from fans that struck a similar chord with her personally. "People want to talk about menopause and erectile issues! My end goal is to empower people of all ages to own and explore their sexuality but I think it has a little something to do with me getting older as well. Society gives us some very clear messages like, 'you hit a certain age and you're not sexy or desirable anymore.' There's this set of expectations — and I think that's beginning to change — but to my knowledge there's no resource like this for people that are getting older."
Keeping It Fresh
The second couple of the shoot played in stark contrast to Bonnie and Joel and shed light on a slightly … kinkier side of senior sex. Galen and Anna met for the very first time on set that day and, as first dates often go, their initial conversations started off awkward and timid. The pair lacked the inevitable comfort and familiarity of being a long-time couple — however, a serendipitous discovery proved to be the key to unlocking their desires and unleashing passion in their scene.
After the death of her parents approximately four years ago, Anna's life changed when a new, younger boyfriend introduced her to an alternative lifestyle. "I was seeing this guy who had been into BDSM for 20-something years. We started out slow — just general flogging and blindfolding me and that was such a turn-on."
In the last few years, Anna has experienced a sexual revolution of sorts, attending swinger parties and further acclimating herself her various kinks. While friends of her age may have "given up on sex," exploring BDSM has become a liberating facet of her life.
"I've just been very open about trying new things because you don't live forever. I've had very vanilla, very suppressed experiences in my marriages, so I got to a point where I said, 'Heck with that! I'm going to enjoy myself.'"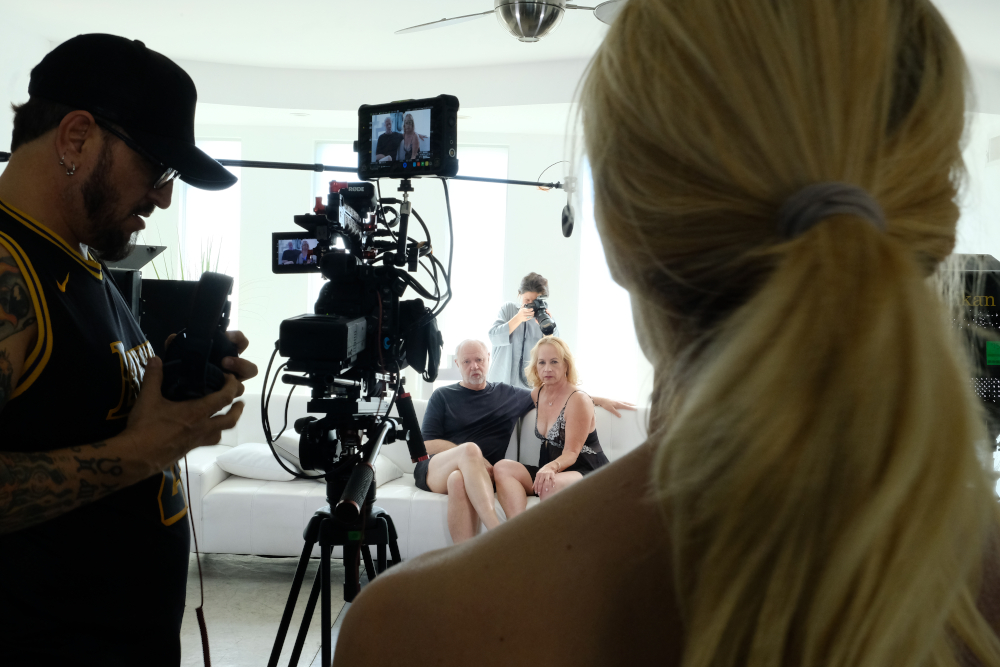 Initially, Drake hadn't planned to explore kink in the "Guide to Senior Sex," imagining it as a more general instructional for the average senior. However, Galen, a therapist and former pro-Dom, raised a valid point. "He brought up the fact that some people discover kink later in life, either because they lose their partner through death or divorce or they've just never discovered it or been able to explore it safely," recounted Drake. "And how do we talk to those people? It's one of the few, few reasons that I acknowledge '50 Shades of Grey' — it's a gateway and for that I'm thankful."
Galen arrived on set armed with a toy bag stocked full of rope, restraints, floggers and gags — a veritable mix of all things fun and kinky. Keeping in mind Price's comparably more conservative target audience, Drake removed the rope, restraints and gag, leaving a set of nipple clamps, the flogger, a blindfold and the Le Wand vibrator at his disposal. She reminded him, "I just need you to be 70 to 80 percent vanilla today, okay?"
Galen's mischievous smile betrayed him as a half-hearted "I'll try" tumbled out in response.
While Galen and Anna negotiated on camera, they settled on a number of hard boundaries, which were in part set by Price: no choking or face-slapping, but light spanking and a little hair-pulling was permissible, as was an occasional "good girl." At the behest of Price and Drake to "err on the side of vanilla caution," Galen settled into his role of a benevolent Dom, giving Anna a barehanded OTK (over the knee) spanking before running the smooth leather of the flogger over the length of her body while she masturbated with the Le Wand vibe to climax.
The shoot wrapped to applause and a sense of a job well done. Although filled with buoyancy and laughter, it was clear that the day's project held a significantly more profound meaning, best captured by Price's parting words: "Making this film is really living a dream, because this is bringing to life visually what I've been trying to teach for 15 years about how to open yourself to different ways of pleasure and how to adapt with an aging body. So often, my age group is totally dismissed when it comes to sexuality.
"To understand that you don't age out of sex, that you don't age out of pleasure and that this could be yours, lifelong, with the right information and sense of humor … if you think of it as giving joy to each other and using your body to give and to receive pleasure, you don't need to say goodbye to that at any age."