BOISE, Idaho and DES MOINES, Iowa — A new Idaho state law limiting free internet access in libraries and an Iowa court case restricting access to media in prisons are the latest examples of an ongoing campaign by some local politicians to eliminate free speech protections of depictions of nudity and sex in order to fight what they are calling "the public health crisis of pornography."
Late last week, Idaho Governor Brad Little (R) signed into law an amendment to a previous law that ordered the state's libraries to filter out "pornographic sites" on publicly accessible computers, the Associated Press reports today. The amendment extended that order to any personal electronic device that was connected to a library network.
The restriction of access to content deemed "pornographic" extends "to personal laptops, tablets, smartphones or other devices" connected to "publicly accessible wireless internet." The law will go into effect July 1, 2020 and public libraries have until then to implement the filters at an estimated cost of $2500 per library.
Many citizens in rural Idaho rely on these public sites for access to information.
Meanwhile, Iowa has implemented further restriction on what content prisoners can have access to. "The new policy," reports the Des Moines Register, "generally prohibits prisoners from watching anything stronger than 'TV-14,' defined as material 'unsuitable for children under 14.'" It is unclear from that phrasing if prisoners are only prevented from watching programs rated TV-MA, like many popular premium cable shows, or if TV-14 programs like "Family Guy" or "Magnum P. I." are also included in the ban.
Iowa's prison reading rooms were until last year regulated by a law from the early 1990s that defined unsuitable materials as those "depicting or describing the genitals, sex acts, masturbation, excretory functions or sadomasochistic abuse which the average person, taking the material as a whole and applying contemporary community standards with respect to what is suitable material for inmates, would find appeals to the prurient interest and is patently offensive; and the material, taken as a whole, lacks serious literary, scientific, political or artistic value."
The 2018 law replaced that definition with one much broader and open to a level of interpretation that would censor access to artistic, medical or political material: "Funds appropriated to the department or other funds made available to the department shall not be used to distribute or make available any commercially published information or material to an inmate when such information or material is sexually explicit or features nudity."
The new phrasing coincided with a lawsuit by a prison guard who, after being fired, sued the Iowa Department of Corrections alleging that her termination had been caused by her regular complaints over a period of several years that the inmates were allowed to watch "violent and sexually graphic movies." The guard gave as examples mainstream horror movies rated R. Last year she was awarded a $2,000,000 wrongful termination verdict by a Polk County jury.
The new amendment does not specify any restrictions about violent content, but instead bans all forms of nudity. A relative of one of the affected inmates, according to the Des Moines Register, submitted a public records request in late March asking the state to identify "what science or psychological theory is the basis of this radical censorious change."
Last Wednesday, April 3, Polk County District Judge Scott Rosenberg issued a temporary injunction ordering the Department of Corrections to stop preventing the distribution of materials to inmates "that features mere, non-sexually explicit, nudity."
According to Rosenberg's injunction, the state's prohibition of the distribution of material that features nudity "indeed interferes with the constitutional rights of the inmates."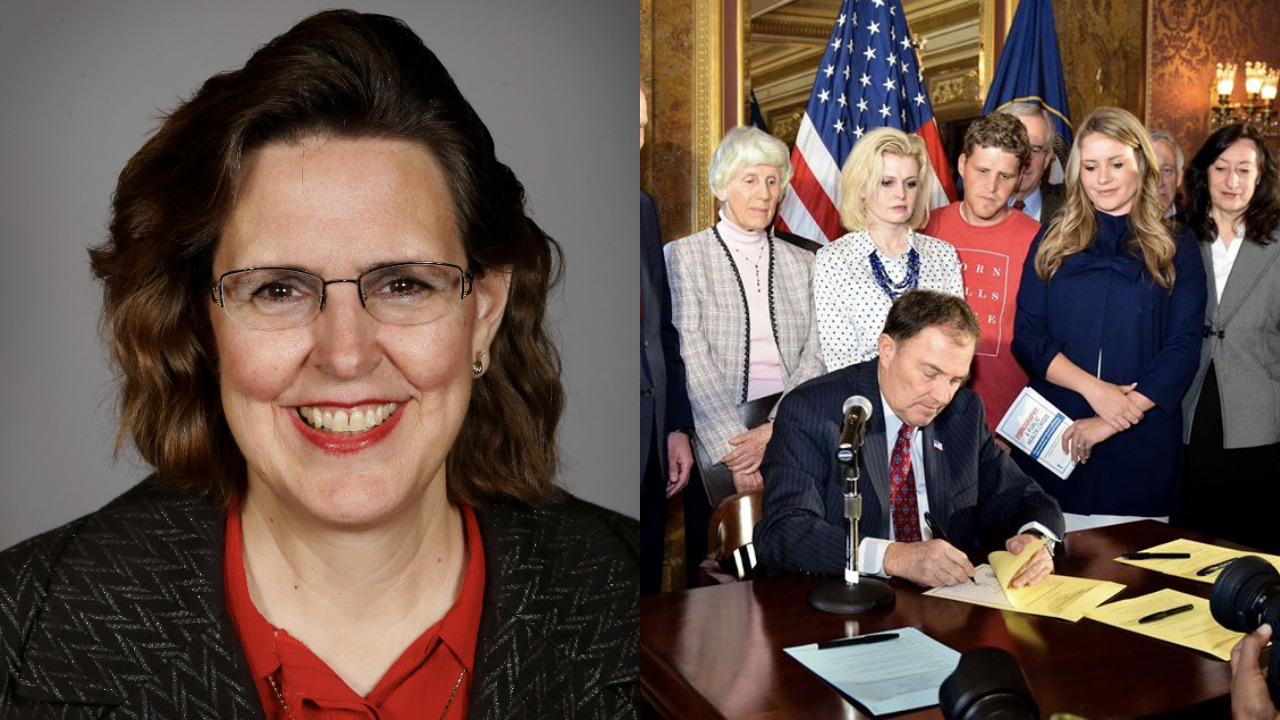 An Ongoing "War on Porn"
Both Iowa and Idaho are test battlegrounds in an ongoing "War on Porn," through which some politicians are attempting to curtail free speech protection by proclaiming a supposed "public health crisis" caused by adult material on the internet.
The first state to declare a "public health crisis" caused by "pornography" was Utah in 2016. "Some schools in Utah have already chosen to host assemblies to teach youth about the addictive nature of pornography, similar to the way they are instructed about the harms of abusing drugs and alcohol," informed Governor Gary Herbert's official blog back in 2016. "The governor commended these schools for taking action to educate and protect Utah children."
This past February, Iowa State Representative Sandy Salmon (R) introduced a resolution asking the state legislature to officially recognize "the public health hazard of pornography and its harmful proliferation on the internet and calling for vigorous enforcement of obscenity laws and steps to address the crisis of easily accessible pornography on the internet."
Salmon asked Iowa's General Assembly to recognize "that pornography is creating a public health crisis and perpetuates a sexually toxic environment." Aware that prudish tactics from the past — broad appeals to "morals" or "shame" — do not find widespread endorsement, Salmon justified her call for censorship by conflating all depictions of sexuality with a toxic mix of human trafficking, sexual development of the young, child abuse and even addiction.
Salmon topped this with an appeal to women's rights, a common tactic designed to find allies in powerful SWELs (Sex Worker Exclusionary Liberals) like Kamala Harris and many other Democrats. Her philo-feminist credentials, however, become immediately suspect when she contends, without showing her research, methodology or sources, that "pornography use is linked to difficulty in forming or maintaining intimate relationships, a lessening desire in young men to marry [sic], dissatisfaction in marriage, and infidelity, demonstrating that this link has a detrimental effect on the family unit."
(Salmon is concurrently campaigning for a proposed constitutional amendment stating that the Iowa Constitution "does not secure or protect a right to abortion." She has also actively tried to de-fund Planned Parenthood and any form of science-based sex education.)
After an absurd affirmation that "overcoming the harm of pornography is beyond the capability of the afflicted individuals to address alone," Salmon closes her resolution by claiming that pornography "leads to a broad spectrum of individual and societal harms," asks "for education, prevention, research and policy changes at the local, state and national levels to address the pornography epidemic that is harming the people of our state and nation" and calls upon "the United States Department of Justice and members of the federal, state and local criminal justice system to vigorously enforce federal and state obscenity laws against commercialized obscenity and upon Congress to address the crisis of easily accessible pornography on the internet."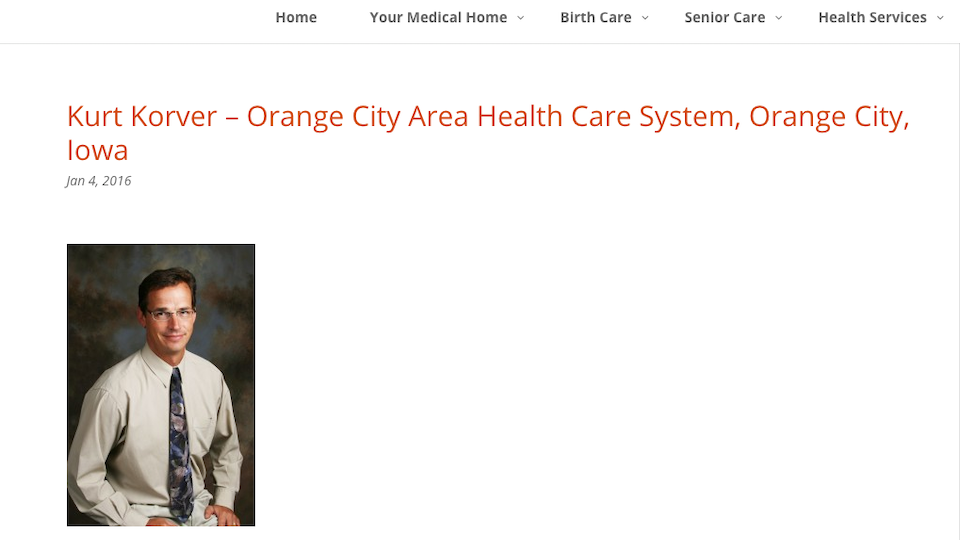 Dr. Korver's "Filters"

Salmon's proposal caught the attention of Kurt Korver, a 52-year-old ear, nose and throat doctor in Orange City, county seat of Sioux County, Iowa, who wrote to a local newspaper that "this 'public health crisis' is an outward manifestation of an even larger, spiritual health crisis in the United States — even among those naming themselves Christian."
"What is the cure for this spiritual health crisis that harms not only the society and family but sends souls to hell?," asks Dr. Korver. "Those enslaved by pornography and other sexual sins need to confess and repent to God and their brothers and sisters in Christ and allow the power of the Holy Spirit to set them free."
His advice to "Fathers": "Protect your families from the sexual revolution's multimedia invasion of your home. Each night, gather all electronic devices and disable the router and take it to your room. Let your children know that you are serious and have full access to their cellphones and laptops whenever you choose. Monitor everything. Use filters. [sic] Instruct your family often as to the dangers to their souls."
Dr. Korver has no advice for "Mothers" or any other women.
His advice to "Church Leaders": "Keep your pastor accountable. Two surveys show 37 percent to 50 percent of pastors are addicted to porn! If your pastor isn't preaching against pornography, fornication, adultery, homosexuality, transgender [sic] and other sexual sins, they may be enslaved themselves. If that is the case, how can they take authority against fornication, adultery, LGBTQ, etc. in their own homes, churches and community?"
His advice to "Civil Government Officials": "Romans 13 says you are to reward what is good and punish what is evil. Pornography is clearly evil. Pass laws to punish those who promote this evil. Our society and people's souls are at stake. Take a stand. From my understanding you can't buy tobacco on the internet because of concerns it may fall into the hands of those under age 18. Why can't this be done for pornography?"
Dr. Korver is a known political-religious activist in Orange City, Iowa. He has been in the news after attempting to get his local library to ban LGBTQ books, telling journalists that locals are not "racists, bigots or homophobes" but rather "generous, caring people who generally pity those who have gender dysphoria."
A commenter on the Facebook page for Dr. Korver's medical practice mentions that he is a "radical alt-right Conservative" who "preaches to his patients about Christianity when they know there is no where [sic] else to go."
Anyone who thinks that Dr. Korver and his fellow dominionist State Representative Sandy Salmon might be opposed with the cherished concept of "Separation of Church and State" is in for a surprise. On July 2015, Salmon was the cosignatory, with eight fellow Iowas state legislators of a press release in support of the Separation of Church and State.
Except that this is how they define the concept: "We as legislators agree with the meaning of President Thomas Jefferson's letter to the Danbury Baptists which said we need a 'separation of Church and State.' In context it meant that we must always keep the State away from any of the affairs of the Church. At the same time, in order for the United States to function at its best, the people who represent the citizens in government must reflect a strong Judeo-Christian ethic in all we do, including having a solid, unmovable moral basis in our laws."
Turns out theocracy, dominionism and censorship, these Iowa politicians claim, is what the framers intended all along.
XBIZ will continue reporting on the "War on Porn."
Gustavo Turner is the News Editor at XBIZ. Twitter: @GustavoXBIZ