BERLIN — Explosive camera flashes struck the Ionian columns rising mightily from the neo-classic façade of the Meistersaal, wildfire sparks ricocheting from the gossamer gowns and crisp tuxedos below, to glint upon the historic concert hall's engraved name in the frieze above. It was time for adult's biggest night in Europe.
Hosted by the legendary Rocco Siffredi, the inaugural XBIZ Europa Awards summoned a mythical gathering of gorgeous superstars, business moguls, ambitious entrepreneurs, digital media kingpins, pleasure products royalty, movie sharpshooters and veteran webmasters to bask in the incandescent spotlight like never before.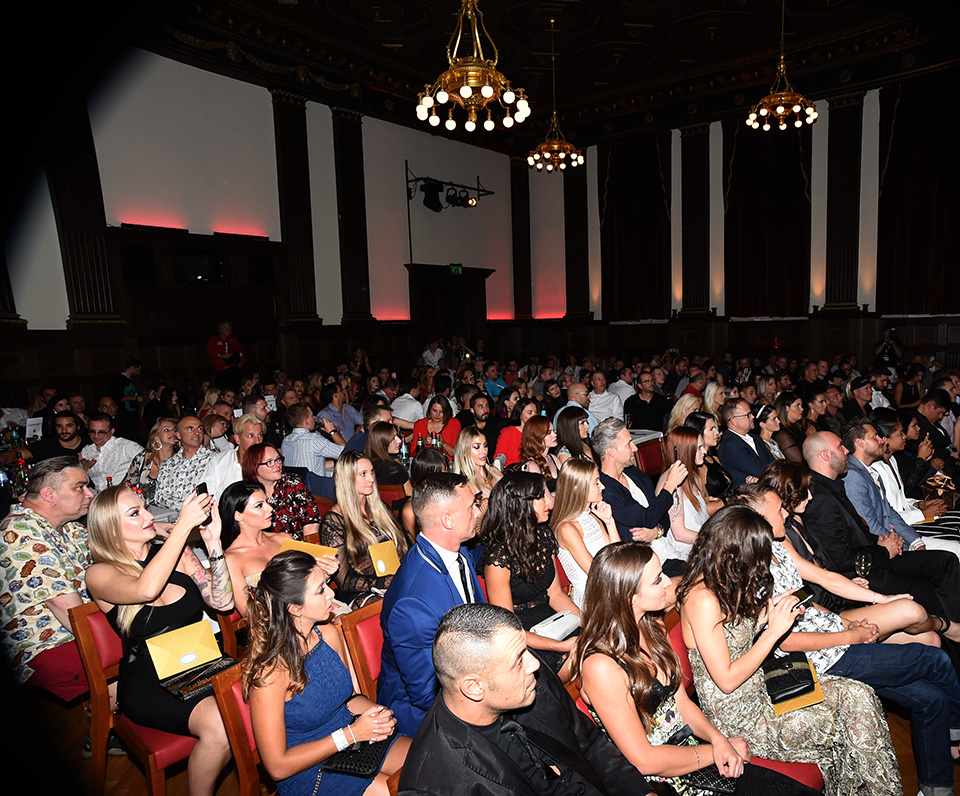 Like the yearly XBIZ Awards in L.A. and XBIZ Cam Awards in Miami, this newly incarnate ceremony would raise the bar beyond the industry standard, to elevate every sector of the biz with hard-won honors and glory.
As the gathered power players swaggered, strutted and marched across the sable marble of the lavish Meistersaal entrance area, staccato blasts immortalized them from a dozen angles whilst photographers scurried madly to harvest slices of history for future galleries.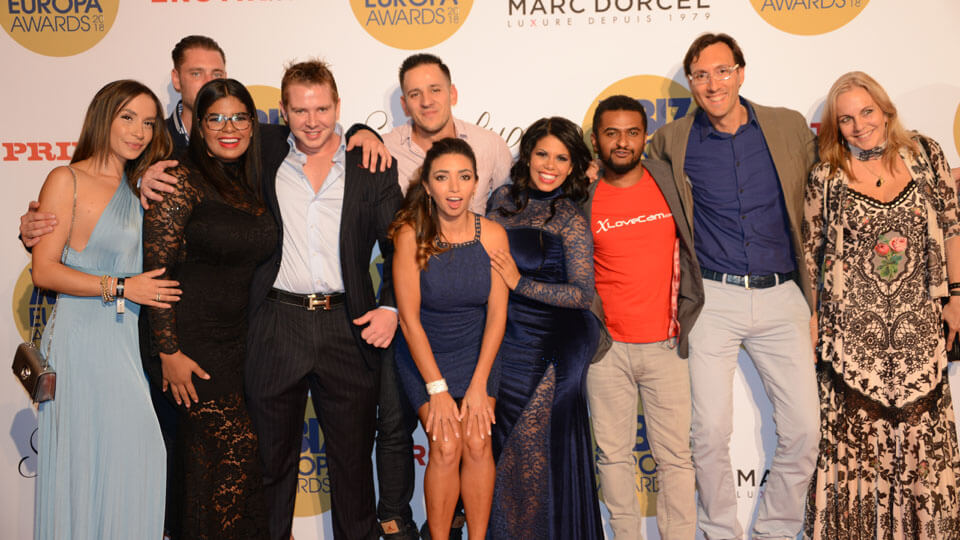 They cast flaming splashes with every blink of the lens, bathing attendees in luminous beauty as they ascended a majestic staircase and navigated the moodily lit foyer.
Onto the red carpet they sauntered, posing for eager videographers and stills hunters against a backdrop that proudly displayed the sponsor logos of Erotik.com, Private, Satisfyer and Marc Dorcel.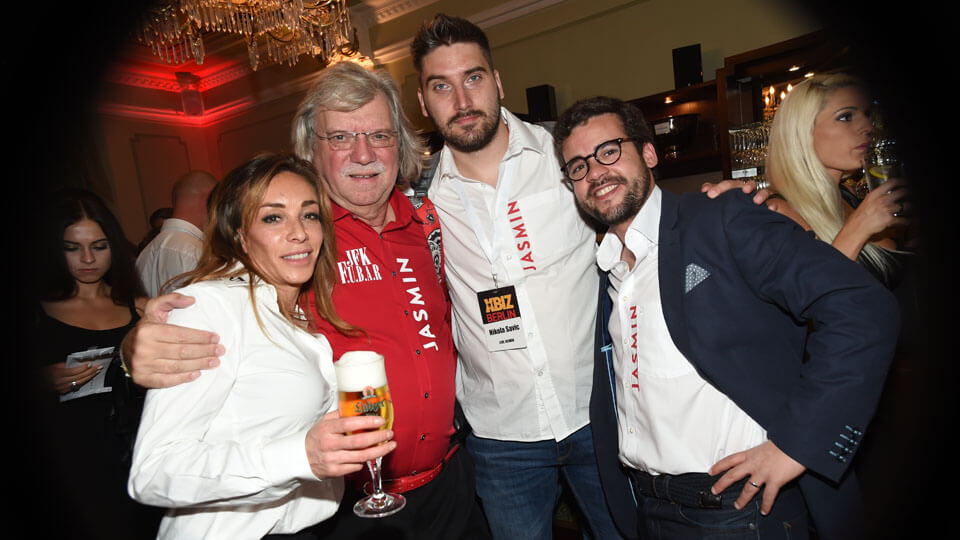 Gliding effortlessly from the scarlet path, the celebrants whirled and laughed as they jostled towards the distant bar in the salon with its promise of intoxicating sin.
High windows swung open to admit the evening breeze through velvet curtains, swirling about dresses and kissing sweat-beaded skin with blessed coolness, for the smoldering heat of closely pressed bodies so seductively garbed turned up the heat.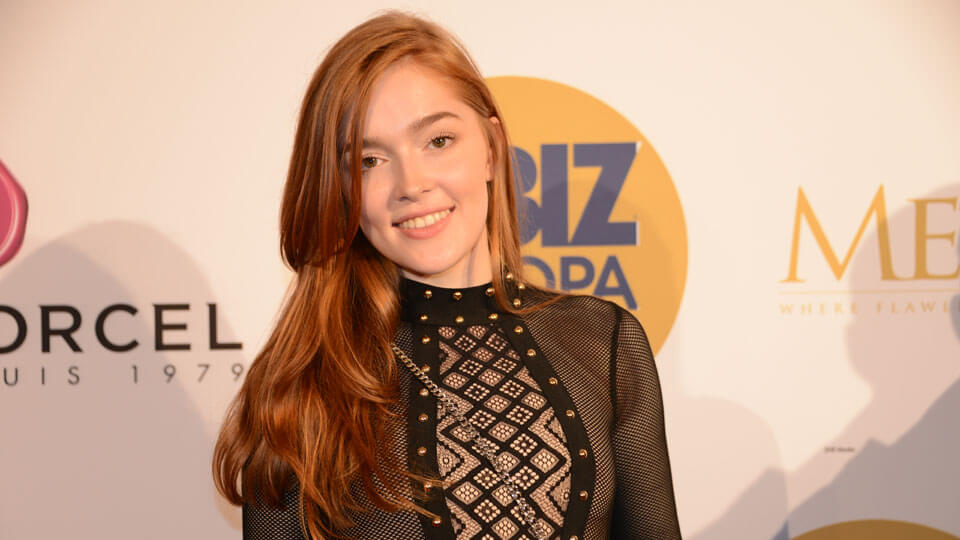 Drinks splashed into glasses, friends clasped one another in joyful greetings and soon the multitudes swarmed into the concert hall through large French doors, where the grand event would transpire within the hour.
The wooden coffered ceiling bore inlaid gold cornicing, chandeliers dripping from the cavernous upper reaches like glowing stalactites to intimately light the crowd below. Rows upon rows of seats enshrined black-clad VIP tables overflowing with hard liquor and juicy mixers, each one filled to the brim as hundreds stormed the hall to test its max capacity.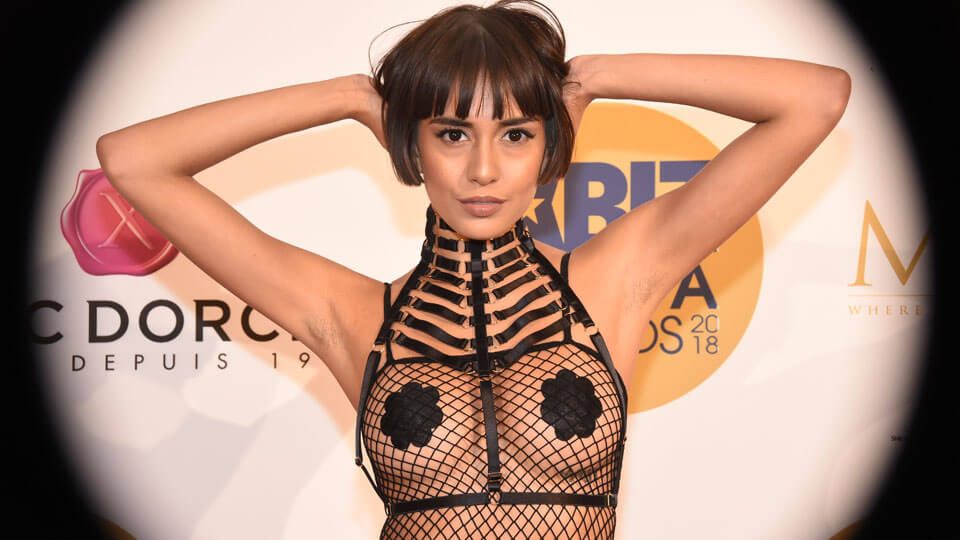 At last, darkness fell, as did a hush over the audience. The main stage, lorded over by a massive screen that would play host to eye-catching imagery and movie footage, welcomed Alec Helmy in his black tie regalia.
"I'm the founder and publisher of XBIZ," he intoned, once the applause died down. "Since XBIZ is an American company and this is our very first European awards show, I wanted to take a minute to say a few words.
"Firstly, I want to thank all of you for embracing us, and giving us the privilege to recognize all of your excellent work," he added. "You guys mind if I take a photo of you?" Cheering him on, the audience assented, and Helmy took a selfie with the sea of shining faces arrayed in front of him like peacock feathers. "Now, please join me in welcoming our legendary host, Rocco Siffredi!"
The studly Italian Stallion waltzed onto stage, dapper in a bowtie and tux, and the hall echoed with thunderous acclaim.
"I want to make a bit of an introduction," Siffredi began. "First of all, I want to say I'm very honored to be here at this show, with XBIZ moving all the way from America and coming here in Europe to support us." Clapping ensued.
"It's good for freedom and it's good to be recognized as a professional for all that we do," Siffredi continued. "I always say that what we do is art, and I believe it now today more than ever. We all work as professional people. We don't just do sex for ourselves, but mostly for the people who watch us. This contains for me great worth. Now, let's get to the porn!" Laughter broke out.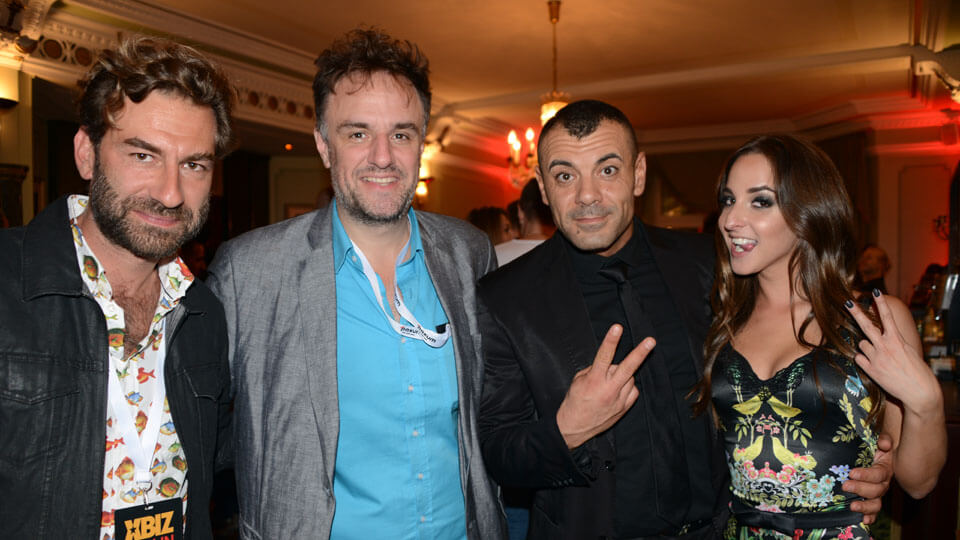 "Finally, we have here what they have in America, a real awards show, like the one they have in L.A.," he said with a wolfish grin. "But what's crazy, what's really outstanding, is with the XBIZ Europa Awards, we have everybody from Europe under the same roof … every sector of the adult industry … to honor you, the best performers, movie producers, sex toy makers and technology companies together."
He steepled his fingers and gazed at the audience, passionately declaring, "Let's say the truth … we give people a better sex life!" Everyone voiced their hearty agreement.
"I recognize many friends and colleagues in front of me tonight," he said, scanning the expectant gazes before him. "And some of you, I haven't fucked… er, worked with yet." Cackling and guffaws rang out. "So many wonderful people are here, people like Amirah Adara, Mike Angelo, Lutro, people who I work with very often and they always give 110 percent. Always more. And when I ask them why they do this job, they say, 'Rocco, because we do what we love!'"
Standing tall, Siffredi said, "Now, are we ready for the show?!" They were, judging by the volume of excitement.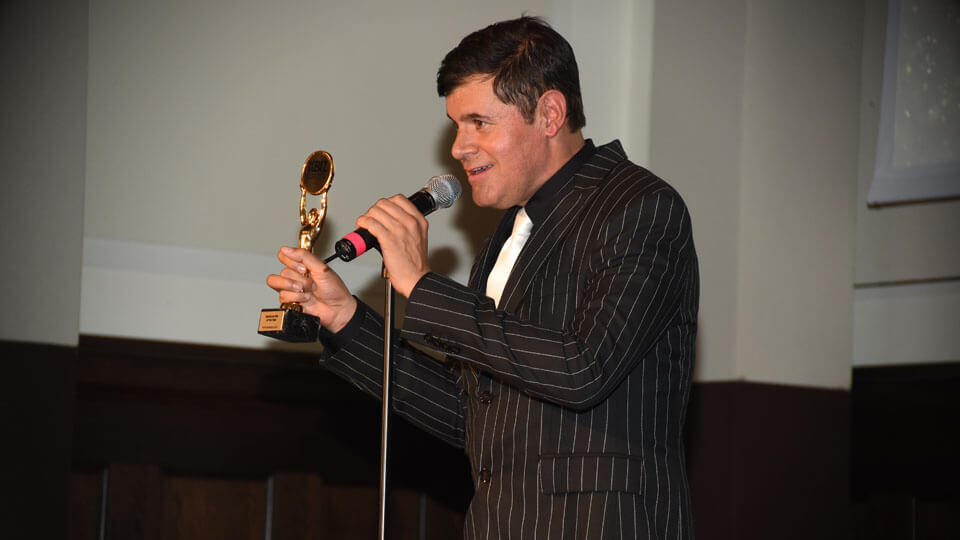 First up was Hardcore Site of the Year, presented by two striking blondes — Ella Silver in a sparkling silvery dress that trailed behind her, and Quincy, whose generous cleavage bounced enticingly from her stylish red dress jacket. The winner? Porno Dan Leal's very own ImmoralLive.com!
Decked out in a Mafioso pinstripe suit, Leal jumped onto the stage and seized the award from fire-maned Jia Lissa, the official Trophy Girl for the XBIZ Europa Awards, whose beautifully designed black outfit hugged her physique.
"Thank you very much," roared Leal. "I moved here from America a little over two years ago, and when I came here, I had a dream that I could grow my company and get acclimated to Europe. I didn't really know it would happen and I want to thank every single person, especially my business partners at Gamma, the talent agencies like Brill Babes, the people who work for me like Chad Rockwell and Dean Van Damme and all the great models … Cherry Kiss, Kesha Ortega, so many of the amazing women. You guys are awesome. You all make it happen. I just want to say thank you Europe for accepting a crazy American like me and, god bless!"
Exotic starlet Luna Corazon next presented Best Sex Scene — Glamcore, which went to Little Caprice and Marcello Bravo for their work in "Gaping My Husband's Boss" (Tushy). The adorable real-life couple made a handsome pair, as Bravo rocked torn dark blue designer jeans, a black tux coat and bowtie with no shirt, showing off his muscled torso, while Caprice was spellbinding in her silky dark garb.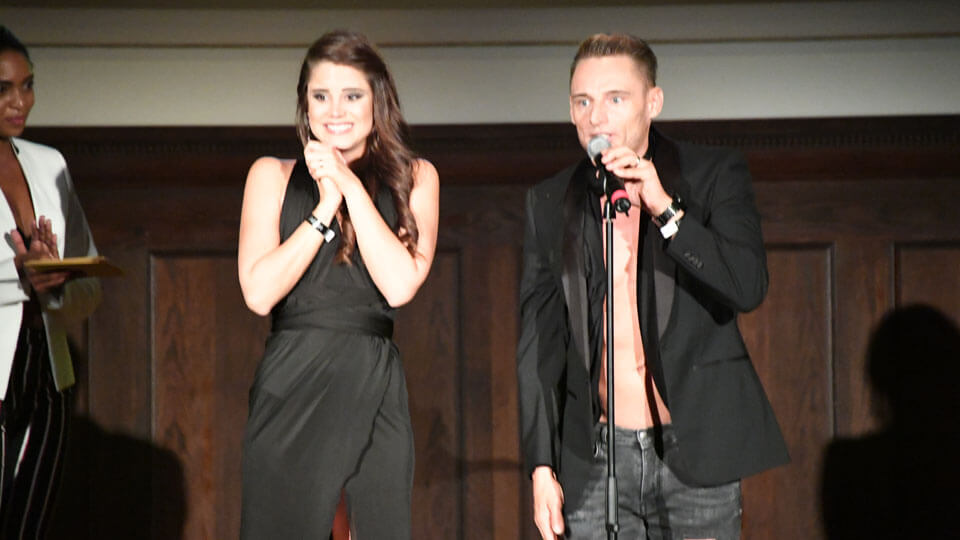 "Oh my god guys, I can't believe it's really happening!" Caprice said, teary-eyed. Bravo chimed, "Yes, I say thank you to JulModels, and thank you XBIZ!"
Later, as they sat down, Caprice recorded a behind-the-scenes snippet, where she gushed, "I just won my first award ever. I'm just… fucking… I don't know what to say, I'm fucking nervous. Thank you!"
Corazon then announced the winners for Best Sex Scene — Gonzo: Texas Patti, Antonio Black and Joss Lescafe for "Big Black Cock 3" (Private). "Thank you so much, I didn't expect this, that I'd win tonight," said the radiant Patti. "I'm a little bit nervous. Thank you so much, it was an amazing scene, so thank you!"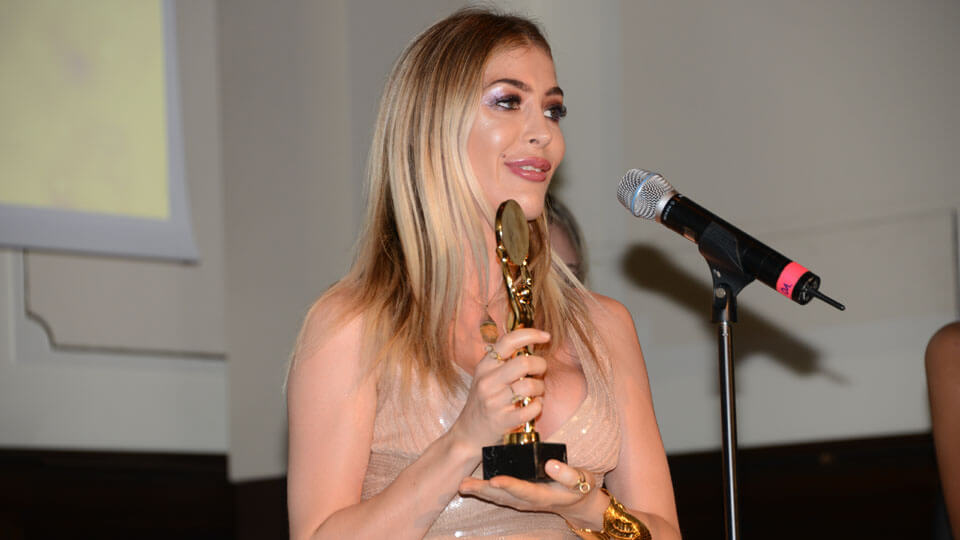 Allie Eve Knox and Janice Griffith followed in their mouth-wateringly alluring lingerie-like ensemble, to present Clip Performer of the Year to findom The Only Theodora, #TheManipulatrix whose goddess persona so often brings men to their knees. They also revealed PornDoe Premium as the winner of Paysite Company of the Year, much to the delight of its visionary leader Gian Carlo.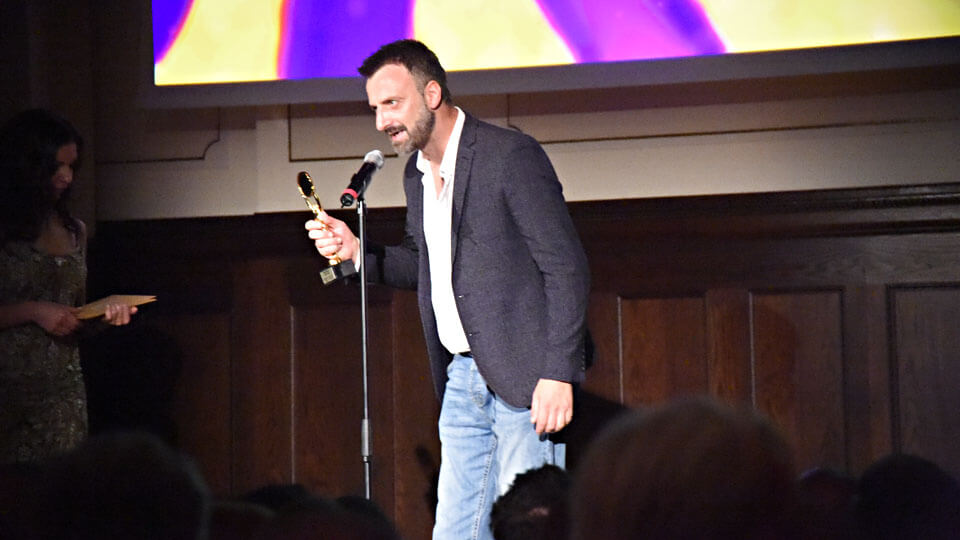 Cassie and Dorian Del Isla presented Luxury Pleasure Product of the Year and BDSM Pleasure Products Company of the Year to Queen, ZALO and Mystim, respectively, after which Inna Innaki and Kayla Green presented Cam Site of the Year to LiveJasmin and Studio of the Year to Studio 20, whose beloved mastermind Mugur Frunzetti was most gregariously thankful on stage.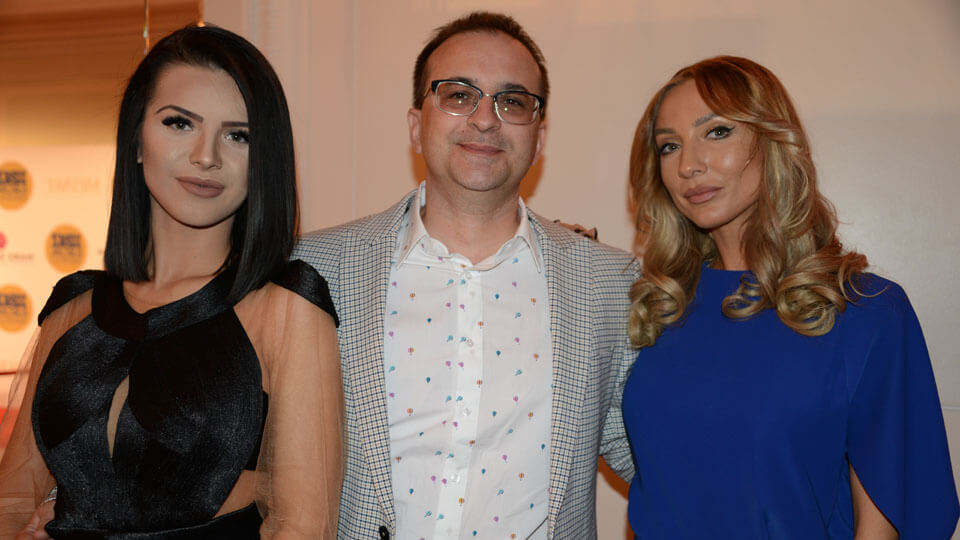 Fetish Movie of the Year and Feature Movie of the Year, presented by Alina Henessy, went to "Big Girls Don't Cry 3" (PascalsSubSluts) and "Undercover" (Marc Dorcel). Effusive in their praise of industry partners, the dashing Pascal White and Gregory Dorcel gave impassioned speeches, clasping their trophies.
Silhouettes suddenly sprang onto the stage as the lights dimmed, before illuminating smoking hot dancers putting on a striptease number.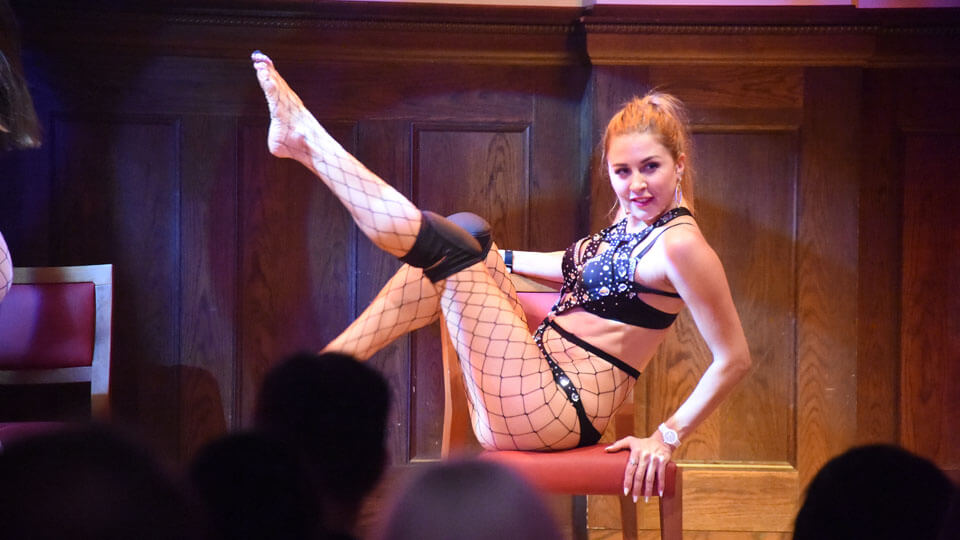 Bending their legs erotically and rubbing slender hands across every curve and sensitive softness, tantalizingly accentuated by feathery threads, the scantily clad succubi dazzled with serpentine grace.
Several spun like dervishes, scything the air and whipping sweat-soaked tendrils of their sleek hair about, while others commanded chairs with equal parts dominatrix and submissive effect.
Once the steamy mirage of minxes vanished into the shadows from whence they came, Siffredi returned to deliver a humorous monologue about his rough start in the biz, his experiences as an Italian immigrant shooting in the U.S., his gratitude for the likes of Marc Dorcel and John Stagliano of Evil Angel (who he directs titles for now) for helping his career blossom, and especially his wife.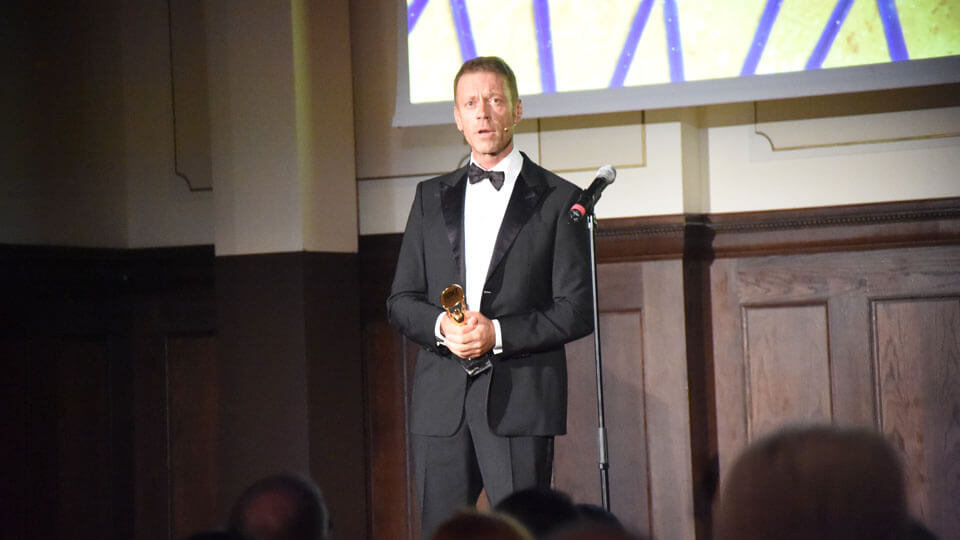 "I owe her everything," he said with heartfelt emotion, before relating that he made the mistake of treating their sex life like a porn performance with dozens of positions, before she had to let him down slowly and ask for more sensual lovemaking with stronger eye contact.
He also shared the tale of a wild shoot where he disregarded warnings about mosquitoes in the area during an outdoor scene, and found himself covered in bites all over his dick, leading to a hospital visit and mind-blowing pain.
Siffredi then called the next presenter to the stage, Carly Rae Summers and Candy Alexa, who awarded Sex Lubricant Company of the Year to Pjur and Global Pleasure Products Brand of the Year to Satisfyer. Attentive as always, Trophy Girl Jia Lissa added extra sizzle to the exchange, her spritely energy a welcome source of celebration.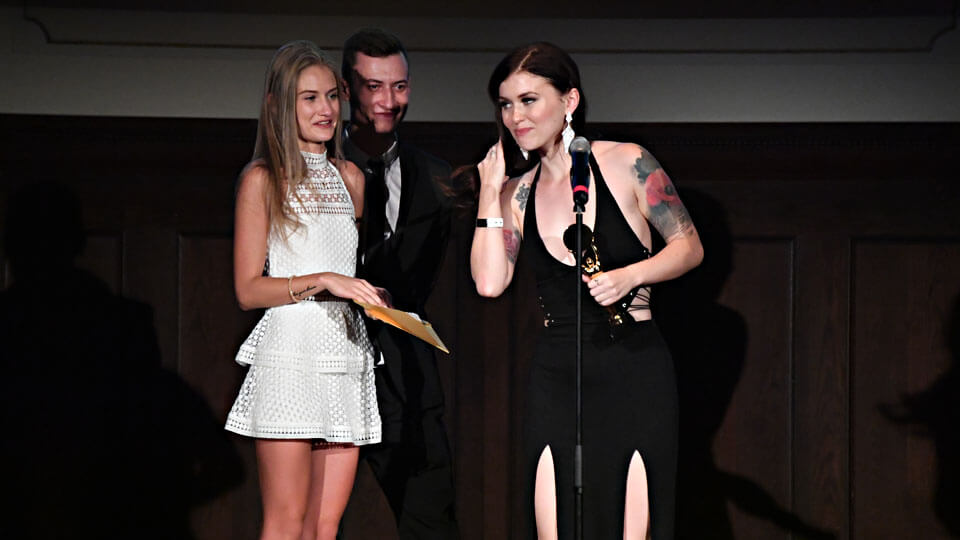 Adorably petite spinner and real-life partner to Lutro, Tiffany Tatum, then presented the award for Best Actress to Misha Cross, for her cowgirl badassery in "Rawhide" from Digital Playground.
"Thank you so much to Digital Playground for putting me in 'Rawhide,'" Cross said, in an enchantress dress. "And thank you to everyone who supports me during my career. Thank you XBIZ, this means so much to me, because I love awards! So, thank you, thank you, thank you!"
Tatum also gave out the trophy for Best Sex Scene — Feature Movie, which went to Carly Rae, Athena Palomino and Danny D for "Hand Solo: A DP XXX Parody" (Digital Playground).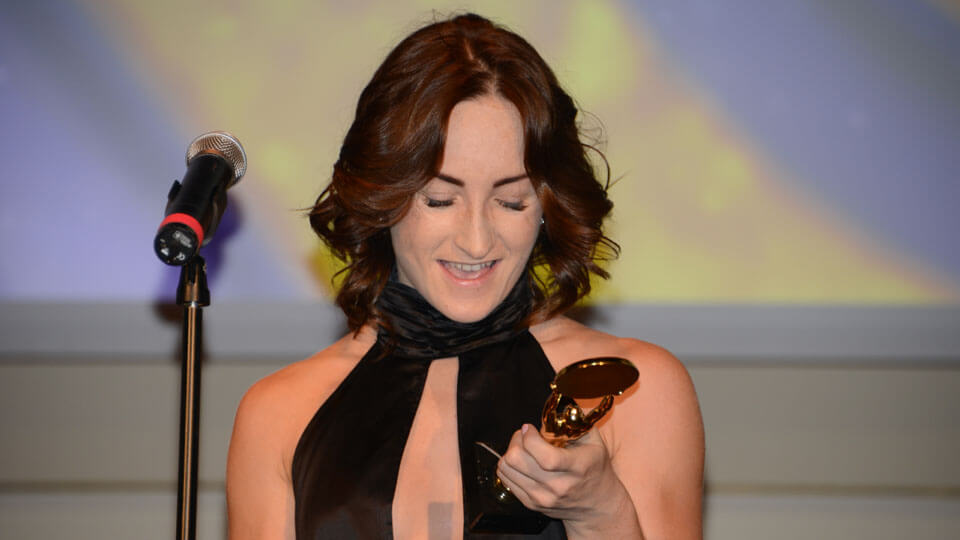 Cam Model of the Year — Female (Studio) and Cam Model of the Year — Female (Independent) were next, presented by Arteya and Kira Queen. Brunette babe Megan Kroft scored the studio award, thanking Studio 20 profusely as well as LiveJasmin, while Hannah James claimed the independent trophy.
"Woo!" James enthused, looking stunning. "This is pretty cool, I didn't expect this. I don't even know what to say, but thank you to everyone that voted for me. And I must say thank you to my partner who has always supported me. And … go masturbation online!"
Director of the Year, presented by Ella Hughes, went to Rocco Siffredi, who brimmed with passion as he thanked the industry for backing him, while she awarded Studio of the Year to Marc Dorcel, prompting Gregory Dorcel to make another trip to the stage as he added to his growing collection that night.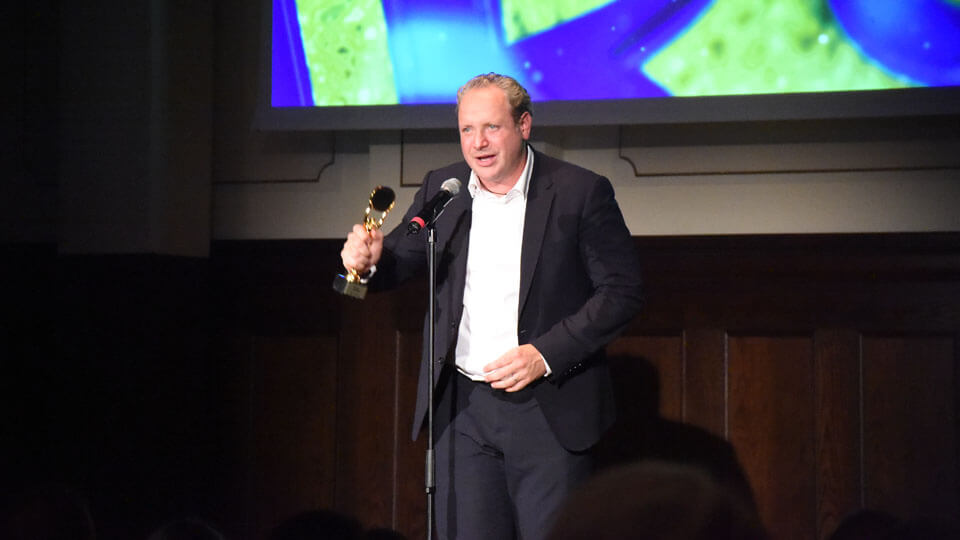 "Thanks XBIZ," he said, "and thanks to the Dorcel team."
Caprice once more graced the stage, this time as a presenter for Male Performer of the Year, which went to Lutro.
Wearing casual rock star clothes, Lutro said, "I wasn't expecting this, thank you so much for this. It is my first time. My life wasn't easy, but here I am. Thank you Rocco Siffredi, he really helped me to open my eyes, thank you for helping me. Thank you to my girlfriend for supporting my life, thank you guys … I don't know what to say!"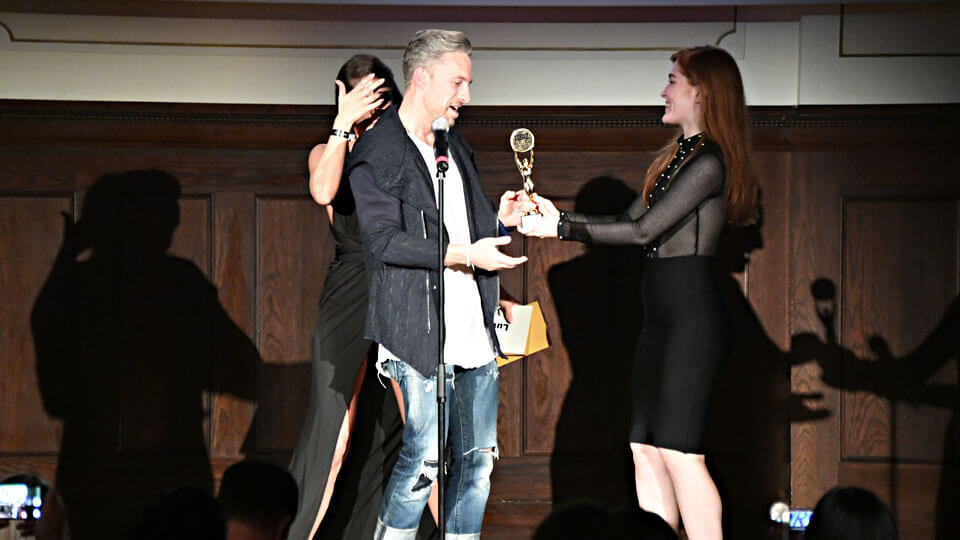 And then, Caprice announced the final on-stage award of the night, Female Performer of the Year, which crowned Amirah Adara with one of the most coveted prizes of the evening.
The foxy little starlet was ecstatic, bouncing in her sensual black dress, which was stitched with a colorful assortment of birds and floral artwork. "Thank you so much to XBIZ, and thank you so much to everyone, I don't know what to say, thanks!" she said simply, overwhelmed by the power of the moment, which raised her skyward to queenly majesty.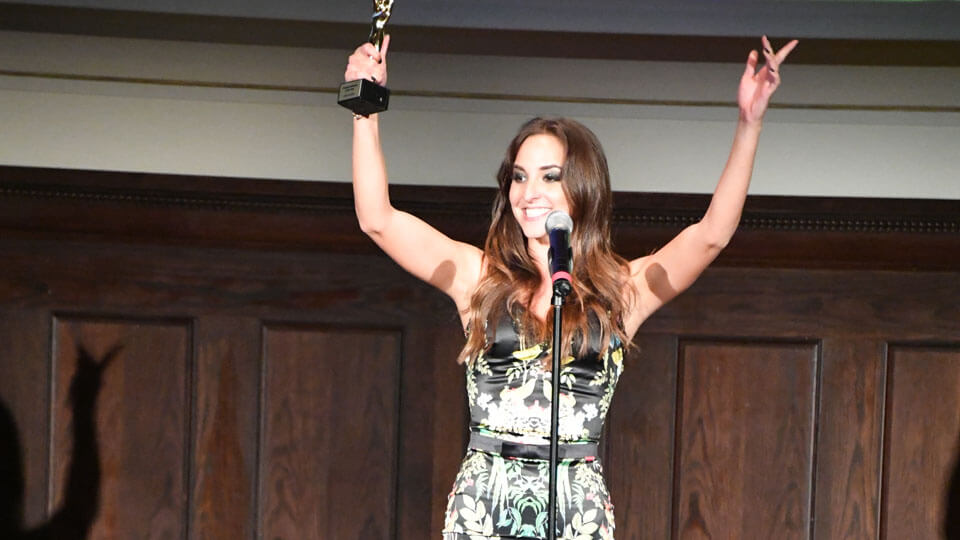 Then, Rocco Siffredi announced a surprise trophy, International Crossover Star of the Year, which was awarded to Valentina Nappi. He praised her storied career, which he has followed in earnest, having worked with his fellow Italian on numerous movies. Nappi thanked XBIZ, Siffredi and her industry peers, in an incredibly creative dress that she herself had fashioned from scratch.
Leal leapt onto the stage one last time to snatch the mic and thank everyone for coming, as well as Siffredi for hosting. He reminisced about how he had been asking XBIZ for an awards show like this in Europe ever since he moved out to Budapest, and celebrated its historic arrival.
As the main event concluded, the screen was etched with digital calligraphy, whilst the names of numerous other winners were unveiled in scrolling fashion. Cries of happiness and whoops greeted each revelation, as nominees found themselves uplifted into the pantheon of industry greats.
Like so many that night, they were now an indelible part of history, the first among first, able to look back fondly forevermore as victors on so historic an occasion.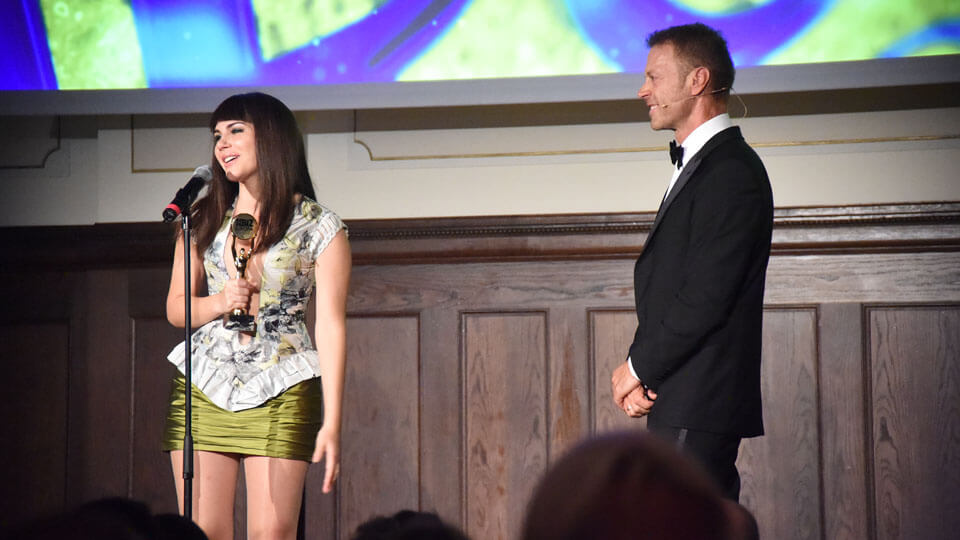 A few mischievous audience members pocketed bits of vodka and cranberry juice, as the VIP tables were vacated, to begin the night's bacchanalian revelry with greater gusto.
Dispersing across the Berlin metropolis, casual lovers, romantic partners and jovial friends found a hundred corners, diners, clubs and hotel rooms to conclude the night on a high note.
Like the stars above, they were now an eternal solar body in the constellation of adult stardom, even if they had merely witnessed the entirety of the XBIZ Europa Awards with nary a nomination nor a trophy. All were winners, for having taken part. Until next year, they would eagerly anticipate XBIZ Berlin 2019 on the horizon, and strive to outdo themselves with even more stellar achievements in the coming months.
And for those who held high their gleaming symbol of prestige, immortal glory burned in their hearts and hummed from their smiling lips, reaching their eyes with fiery fame.
For a full list of winners, click here.