LOS ANGELES — Orphans … we are all orphans, on some level. If not our families, then our lovers or our friends have abandoned us at one time or another. Few things haunt us more than getting ghosted and no one is quicker to abandon, than those who have been abandoned one too many times. For no amount of love will convince them to stay for very long. Only raw, vampiric lust will suffice. Hellish delights.
They will watch for any sign of your impending departure, however unlikely. And the less betrayal they see, the more they will imagine it. The more they will dream of you as a demonic phantom, despite all signs to the contrary. They will do anything to avoid believing that this time, they will not be cast aside, lest they be so heart-wrenchingly disappointed yet again. But oh, how wondrously they fuck.
They may even provoke you, testing your vengeance, so that at long last when you react with punishment, they can cling to their trauma like an old friend, painting you in its blood-drenched colors. Then, they can find twisted comfort in that dark serenity, which was never so filled with light until you came along, a hopeful flame to embrace their devils, a healer so alien to their subconscious torturers. Dominate them! They desire it. They need it.
A threat to their madness is less a cure than a terror, a death to all the life they have burned on the funeral pyre. And if they judge you guilty, if they find some technicality upon which to crucify their love for you, you may swiftly find yourself an orphan too. Rest assured, no amount of sacrifice will redeem your memory in their eyes thereafter. Only the ashes of feverish sweat rise like a mist in the aftermath!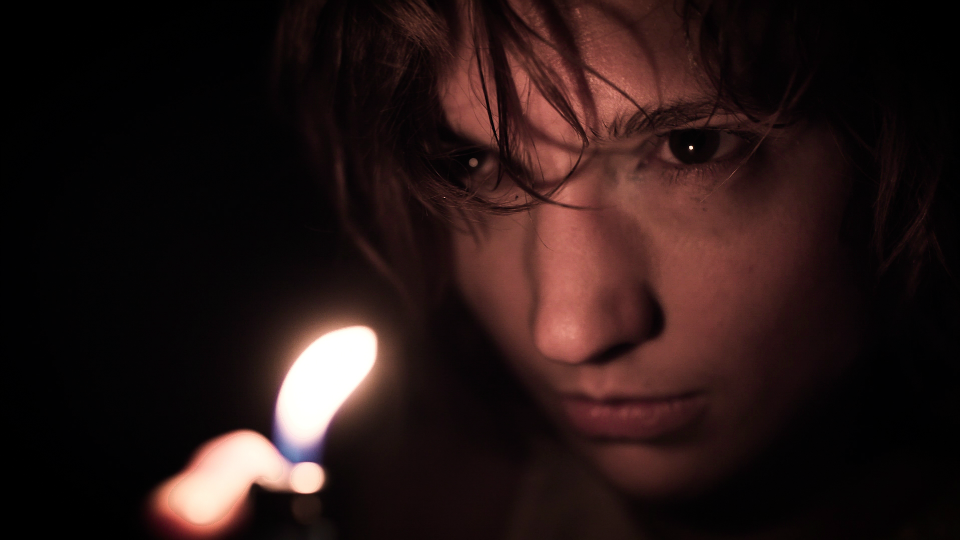 And so, you may as well embrace the villainy.
You may as well live up to their nightmares, for so long as you are buried in the catacombs with forbidden delights, why not enjoy the damnation? Why not dance with a succubus and sin with wild abandon? In some strange way, you will heal their wounds all the faster by doing so. You will harden them. You will confirm their knowledge that it is only themselves they can trust, only their survival instincts, however false that notion may be.
And once more, the orphanage of their soul will be filled with the familiarity of sadists and masochists. Only they can be trusted with keys to the broken locks on the shackles that were never meant to be unlocked in the first place.
What a complex phenomenon, no?
And yet, no taboo is too complex, no unlit corner of the human mind is too shadowy, for 2018 XBIZ Director of the Year Bree Mills to harvest with seductive majesty. No ghastly ugliness, no hideous deformity, no jagged edge is beyond her brilliance, beyond her ambitious reach, which somehow manages never to exceed her grasp. She has even corrupted the genre of parody along the way, a dread savior reviving the corpse of a porn category fallen from grace, and by her might, let loose a shambling colossus that will roar victoriously, if only until she has had her way with it, if only until she has withdrawn her animating spirit from its husk.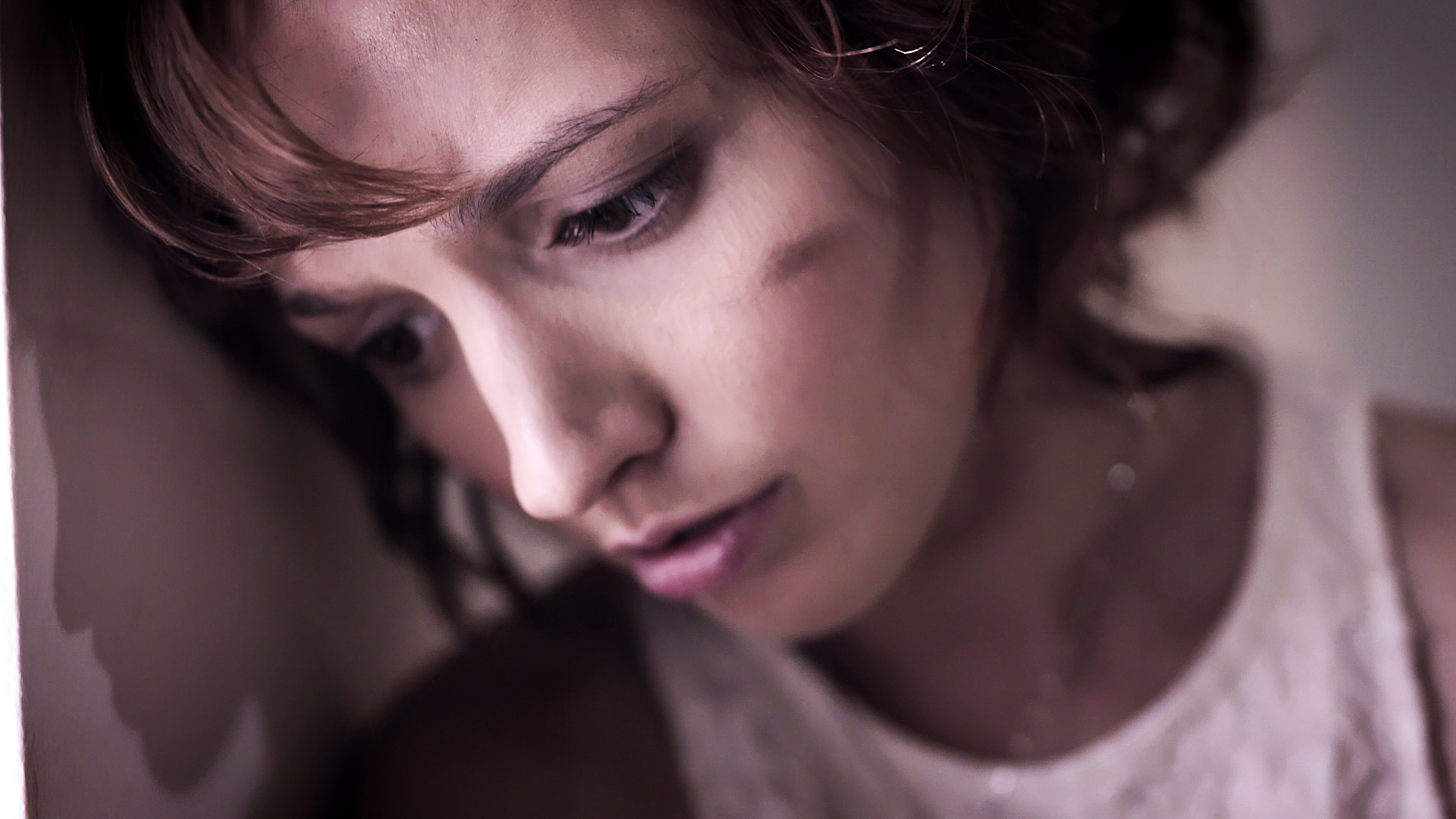 And so fond is PureTaboo.com of seducing innocence, feeding the ravenous hunger that rabidly kicks at the tightly sealed cellar doors in our skulls, in our loins, that it has taken the marshmallow sugar of the musical "Annie" and charbroiled it into addictive heroin, into pulsating sex, becoming, quite simply, "Anne."
After all, Mills and her band of outlaw Gamma Films creators were responsible for the titanic "Half His Age: A Teenage Tragedy," which won Feature Release of the Year as it swept the 2018 XBIZ Awards.
And who best to capture the magic of so grand an endeavor, than the warlocks and futuristic prophets that rule digital media, who cast crowns upon demigods and demigoddesses long before others scramble with haste to proclaim them master of ceremonies? True players like Mills can see through the smoke and mirrors, recognizing kindred excellence.
Thus, we descend into the inferno, for this on-set XBIZ exclusive, for the most magnificent work that PureTaboo.com has yet wrought. And that, my friends and foes, is saying quite a lot.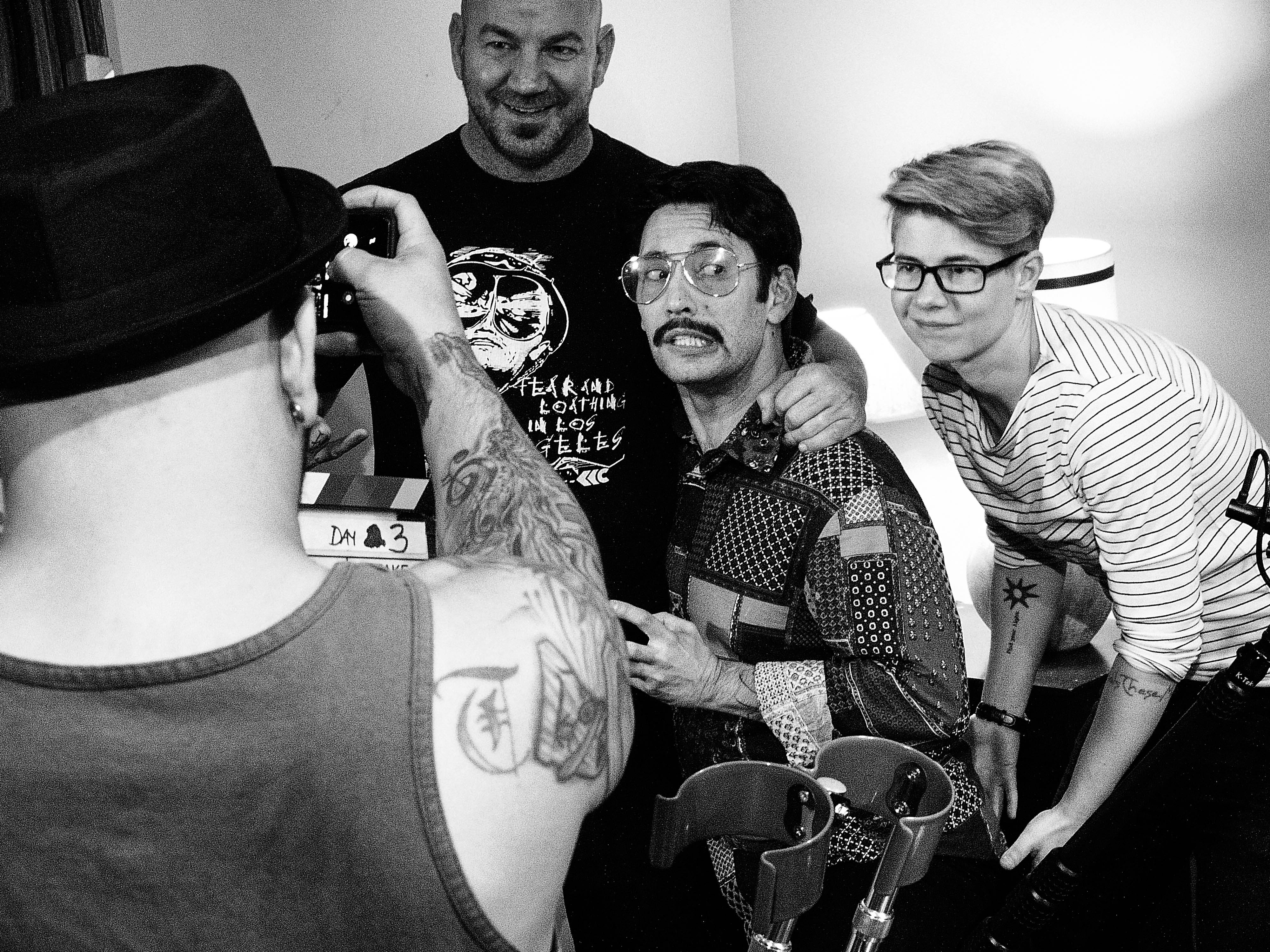 "This is the first Pure Taboo parody, maybe even the first Gamma parody ever," Mills confided, as her madcap orchestra of Gamma technicians and artisans capered in the background.
The house … the house of hallways and hospitals and restaurants and balconies and courtyards, the house which plays host to some of the best movies in adult cinema … the multi-storied manse that looms from its cobwebbed corner of the L.A. hills and hillocks, a schizophrenic spider crystallized in amber, promising to birth ancient horrors, is where she has crafted a Lovecraftian lovechild, an orphanage from the bottommost rung of netherworld depravity, elevating it to the firmament with iron intent.
"Typically, parodies are comedies, jokesy and campy," she pointed out, dressed unassumingly in a striped shirt and pants and belt buckle.
Bespectacled, with her partially buzzed hair flowering into a neatly parted mane that glimmers golden in the sun, belying the mischief behind her brightly burning eyes, Mills lets her genius and stoic work ethic cast shadows that need no garish decorations to command the stage.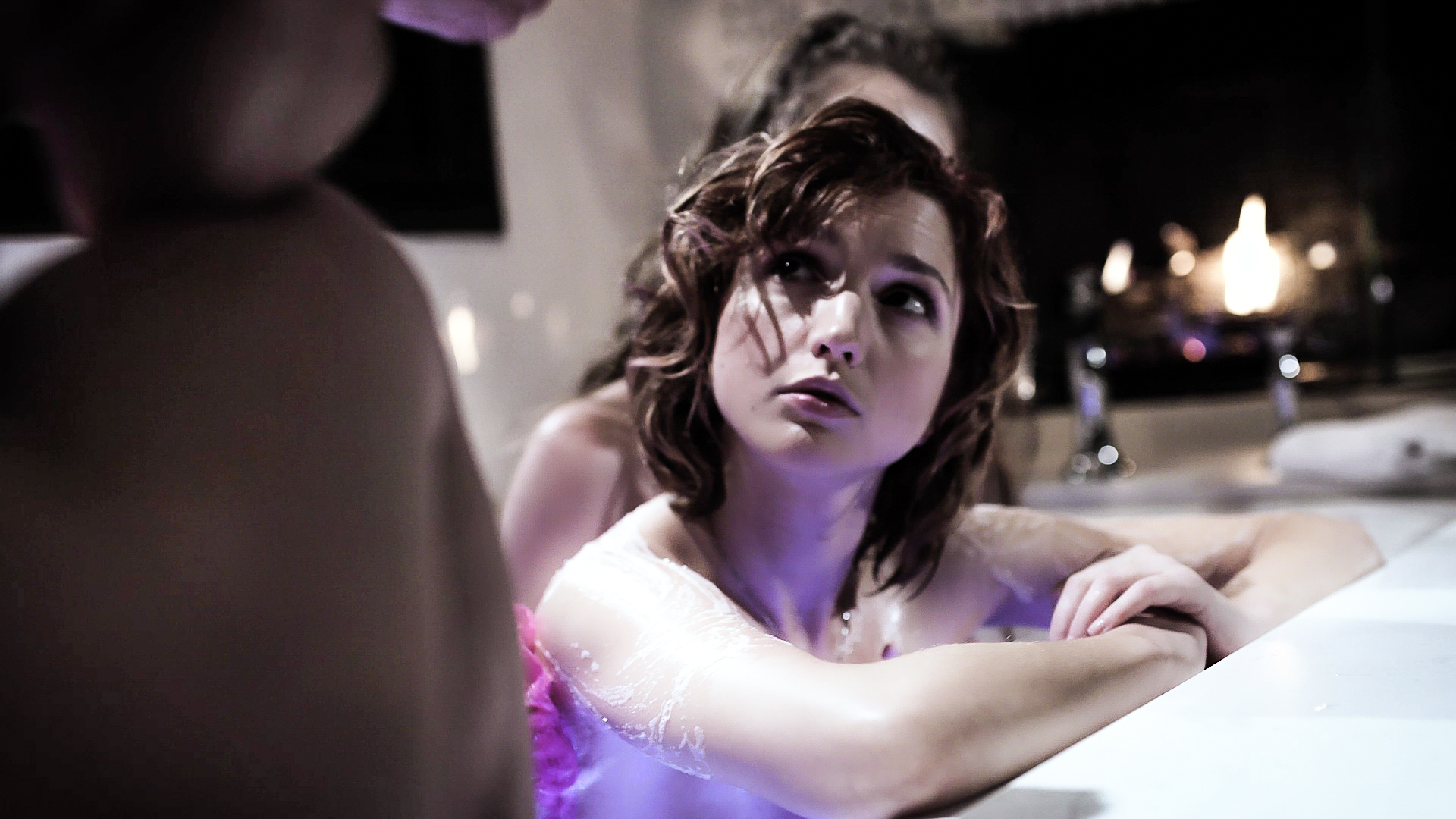 "But I wanted to make it more of a critique, which is its own story," she underlined. "And I wanted to tell this story with taboo. And at a certain point, it began percolating in the back of my head … wouldn't it be great to create this horror, this dark parody of 'Annie,' and if it was going to be nominated during the awards season? Wouldn't you love to see the list of nominees with titles like 'Ass Blasters 15,' 'My Black Stepdad's Niece' and then there'd be … 'Anne.' This porn movie called, simply, 'Anne.' Haha."
I laughed at the thought, for much like her persona and her fashion and her approach to social media, Mills is the queen of understated power, of emanating quiet charisma with such effortless simplicity, that all of the complex gears and interconnected mechanisms and wildly wrought sophistication is hidden elegantly as merely threading in the fabric, as merely designs in a tapestry that at first glance, seem the humble outline of a gemstone, before unfolding to flash sapphire and emerald starlight, sparking fires that consume an entire city.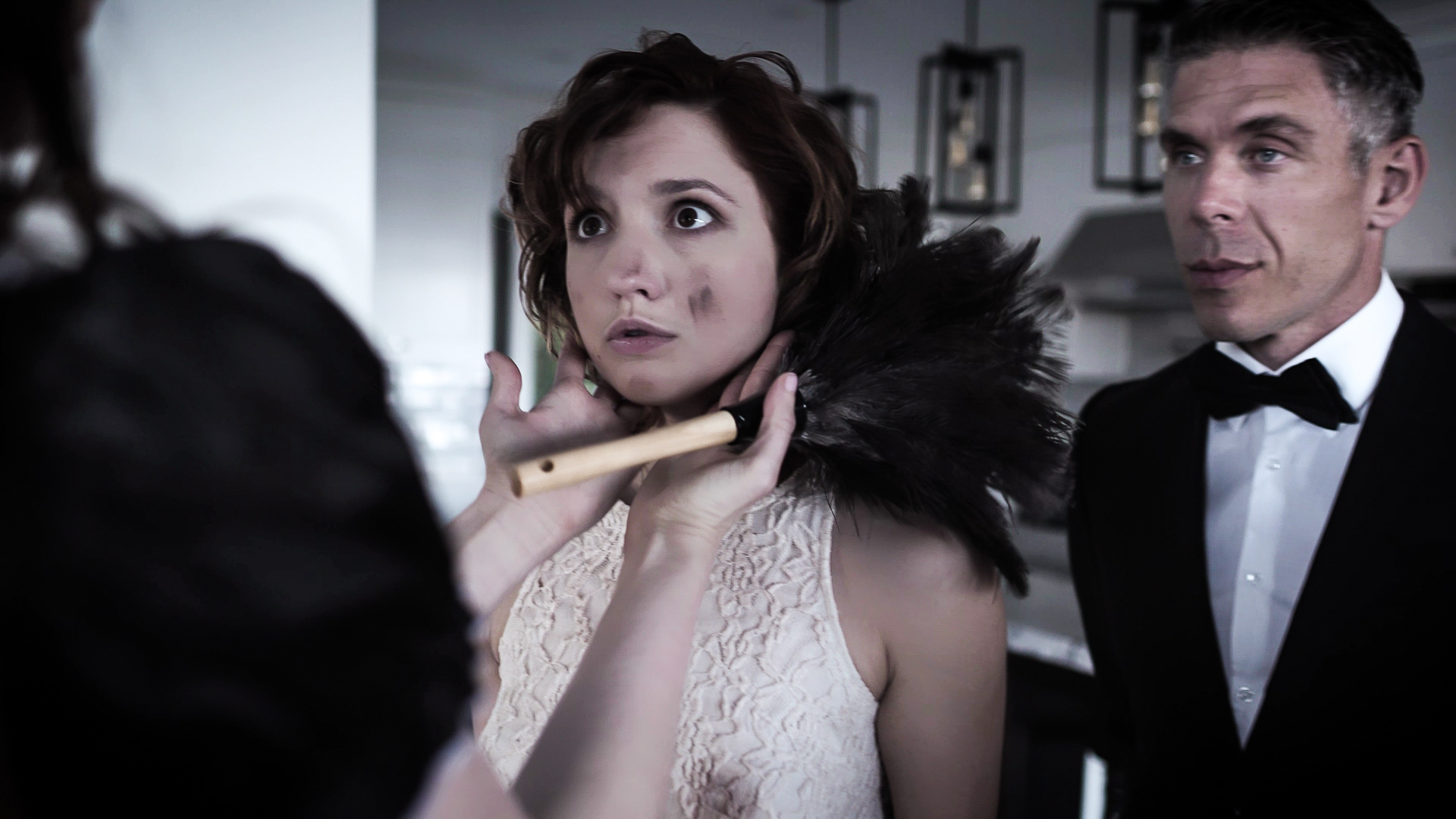 Mills was calm and alert and prepared, setting up the first scene of the day which had been clearly outlined ahead of time, weeks before anyone received their call time, on a sharply laid out paper headlined by the blood-red calligraphy of "Anne: A Taboo Parody," listing the day's directors, Mills and Craven Moorehead, the location, the date, "05/03/2018," and the cast with the type of scene they were performing — "Steve Holmes (BGG), Sarah Vandella (BGG), Kristen Scott (BGG), Tommy Pistol (Dialogue), Whitney Wright (Dialogue), Ashley Adams (Dialogue)" — as well as the extras, the motley menagerie of orphans — "Chloe Foster, Vienna Black, Jane Wilde, Scarlett Mae, Ember Snow, Lily Moon, Elle Voneva."
At a glance, Mills is a field marshal, attuned to the rhythm of the movie-making battlefield, which is ever besieged by time and its dwindling hourglass, by weather and its fickle nature, by the dying sunlight and its chameleon paintbrush, by vehicles and their noisome whirring of helicopter blades and motorcycle engines, by perfectionism and its necessary cuts, reshoots, multi-angled takes and hands-on directing. To hedge her bets against inevitable chaos, she nails every star and crewmember to the crossed t's and dotted i's, that they may rise again and again, no matter the odds.
Touring the foundations of her mental cathedral with vivid recall, Mills said, "I first started to write the actual characters and who I wanted to cast for it. And I wanted to stay true to the musical roots of 'Annie,' but honestly, the day you see me doing a musical, you'll know it's over for me."
I laughed, not only at the thought of Mills doing musicals, but also at the thought that were she to do one, it would likely be quite spectacular and game-changing.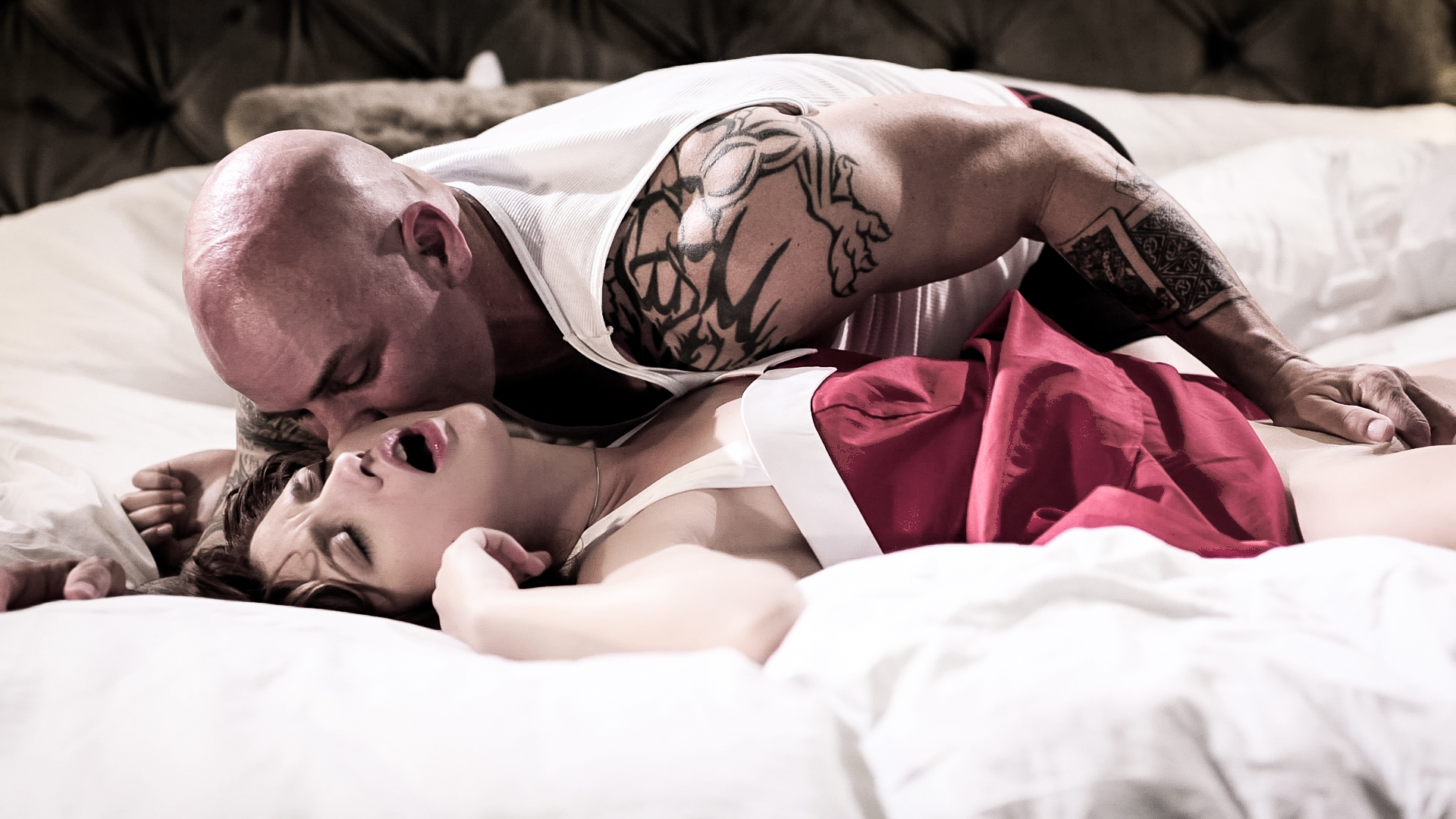 "But by taking elements of what makes a musical 'a musical,' like a huge cast — it's definitely the biggest one we've ever had I think —I wanted to make sure 'Anne' ended up with big production values," she illumined. "There is a big orgy in it and the story itself is pure madness."
It was indeed. For while the tale centered on Eliza Jane as the titular "Anne," as she sought to escape the insanity of her orphanage … run by madman Tommy Pistol (portraying "Mr. Hands") who runs his establishment like a brothel for personal use and profit … and perhaps find her way back to her biological family in one form or another — on this day, the third of the shoot, I would bear witness to the tragedies engulfing other members of the dramatis personae.
I would not see Jane nor Derrick "Daddy" Pierce, nor Casey Calvert, Elena Koshka, Seth Gamble and Mick Blue, who, if the trailer is any indication, rocked their roles, though I was certainly invited to cover any and all portions of the shoot. Alas, time being the bastard it is, I chose the juiciest slice of the pie, when all the vast majority of the orphans would be gathered in one place, ripe for the plucking.
I would, instead, behold Mr. Hands in "Act III: The Scam Is Hatched," wherein he plots to claim a one million dollar reward offered by a wealthy family that has taken in one of his orphans, to find the real parents of Anne, and have his sister Mrs. Budge (Vandella) pretend to be the parents in question — the Knoxes — alongside her husband Mr. Budge (Holmes). He would call up his sibling, amidst lines of cocaine and fumbling with Anne's documents from a safe, before the excitement begins in earnest with "Act III: Budges Intro."
The cameramen, headed by the oft-tweeted about #NoTwitterMatty (Matt Holder) and co-director Moorehead, removed their shoes — as did I, to chronicle the kitchen scene with the Budges and Mr. Hands, following nimbly and quietly behind them, lest our footfalls echo too loudly — dashed to and fro, as an orphan (Ember Snow) hid in the kitchen, when the diabolical Hands and Budges met to talk business. Chief among that business, was pleasure, and which orphans could best sate the perverse hungers of lecherous Holmes and Vandella — each of whom played their character to perfection, as did Pistol, with his manic and twitchy lockjaw mannerisms.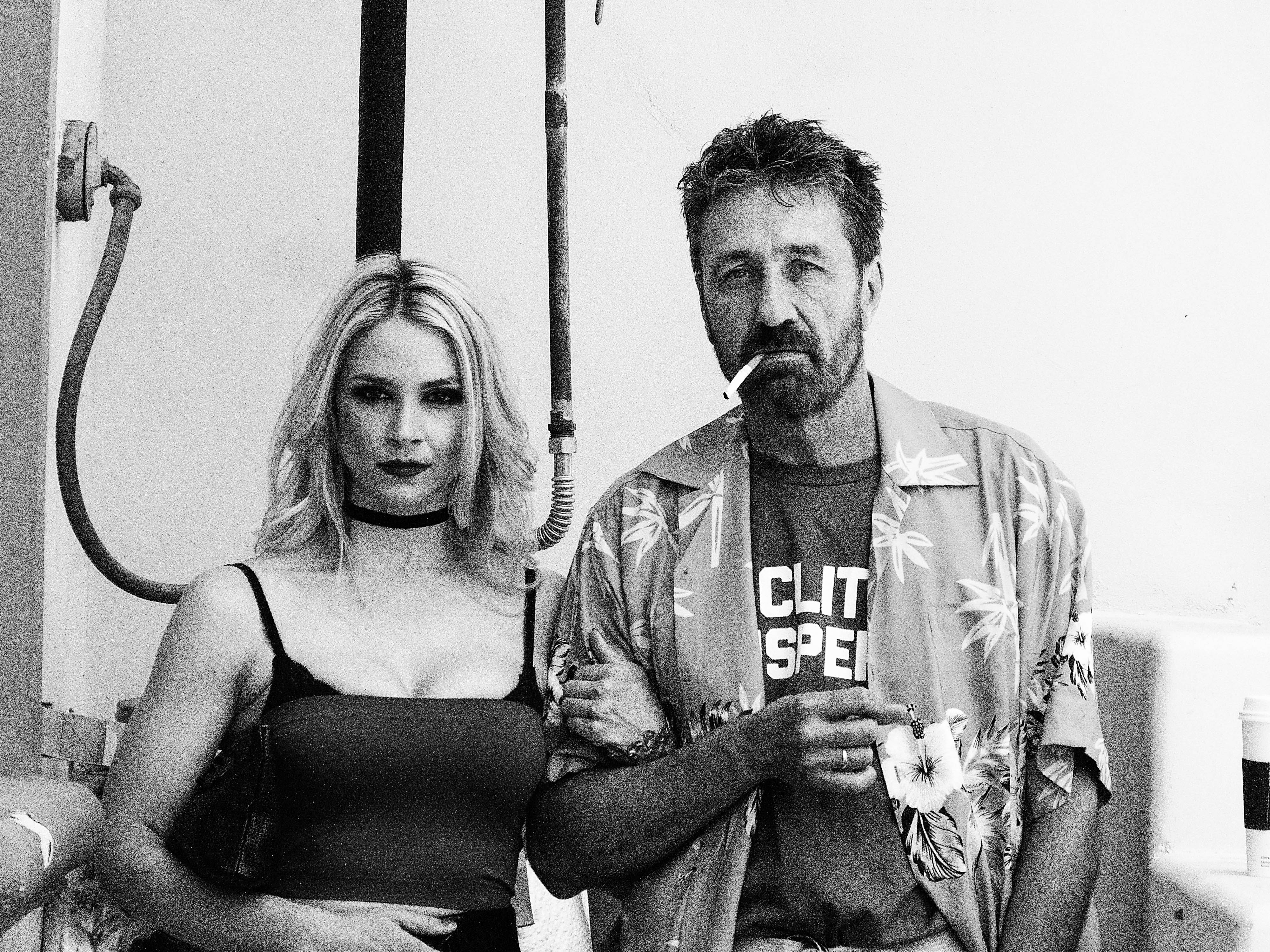 A dozen takes later from a variety of angles (the norm for every sequence of a Gamma shoot), and it was off to the next sequence, when Mr. Hands leads the couple through a courtyard, filled with melancholy orphans cowering from the menacing couple.
Holmes pulled out his cock at one point, encouraging the girls to feast their eyes upon its engorged fullness, and Vandella conjured an awards-worthy degree of villainy, cackling and cavorting with psychotic hilarity. Their outfits, too, fit the personas snugly, with Holmes in a too-bright Hawaiian shirt and wrinkled khakis, Vandella in a black-and-red harlot ensemble and Pistol in a patchwork dress shirt as sleazy and sleek as his trimmed mustache and yellow-lensed sunglasses.
As always, improvised dialogue ruled the day, with plenty of suggestions offered up by Mills, who balanced the scalpel with the knowledge that sorcery flows most exquisitely when the skeleton is given freedom to craft its own flesh and physique, to rob the graves of other characters from other films and resurrect their most extreme qualities with marvelous lunacy.
After Vandella had stabbed and gutted and sliced with her cruel barbs, she reclined on a sofa, as the crew set up the next scene. I sat beside her and asked a flurry of questions about her role that day.
"I get to prey on these hot little twats, and then I get to torture and terrorize them a little bit, because my brother — played by the one and only Mr. Pistol — runs the orphanage," she said, clearly enjoying herself. "I pretty much went around shopping all these little orphans, frightening them — some more than others — and then I found a girl who really caught my eye, her vulnerability was really sexy to me. I find myself a young cripple that really catches my eye, played by Kristen Scott, and I get to bang her, plus Steve Holmes, today. I'm a very happy girl!"
Indeed, I had witnessed Scott, the 2018 XBIZ Awards winner for Best Supporting Actress, shuffling on her crutches with absolute conviction, a convincing cripple.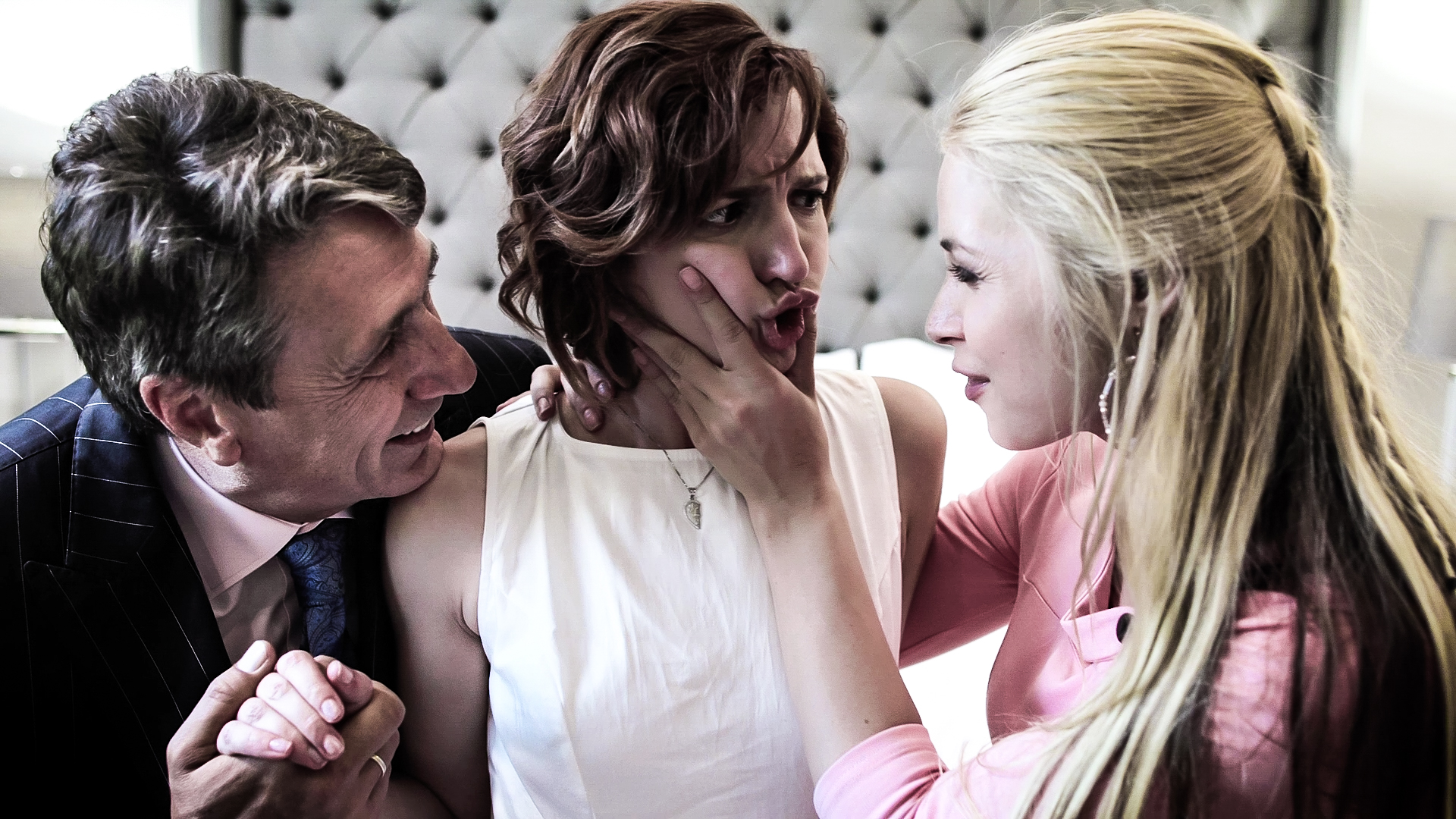 "I've never been on set before with Bree Mills, but it looks like they are just rocking and rolling along really well," Vandella observed. "I love having her as a director … she's amazing, very authentic and has a vision. She shoots us over many takes to make sure it's right and is very hands-on. And yet, she also encourages us to do improv, which I love doing when I'm able to work alongside other great improv actors like Tommy Pistol. It's just fantastic."
She reminisced, "If you'll recall, I was in 'Extradition' for Girlsway — got an XBIZ nom, thank you for that. As for this character, it comes naturally. Like, I'm definitely not a sadistic creeper, but hey, I watch a lot of movies and T.V. and it's good to pick a character that really pushes your limits. I'm a little Cruella de Vil, a little Miss Hannigan, Sharon Stone, a mixed matched hybrid of cold/seen-it-all/no remorse."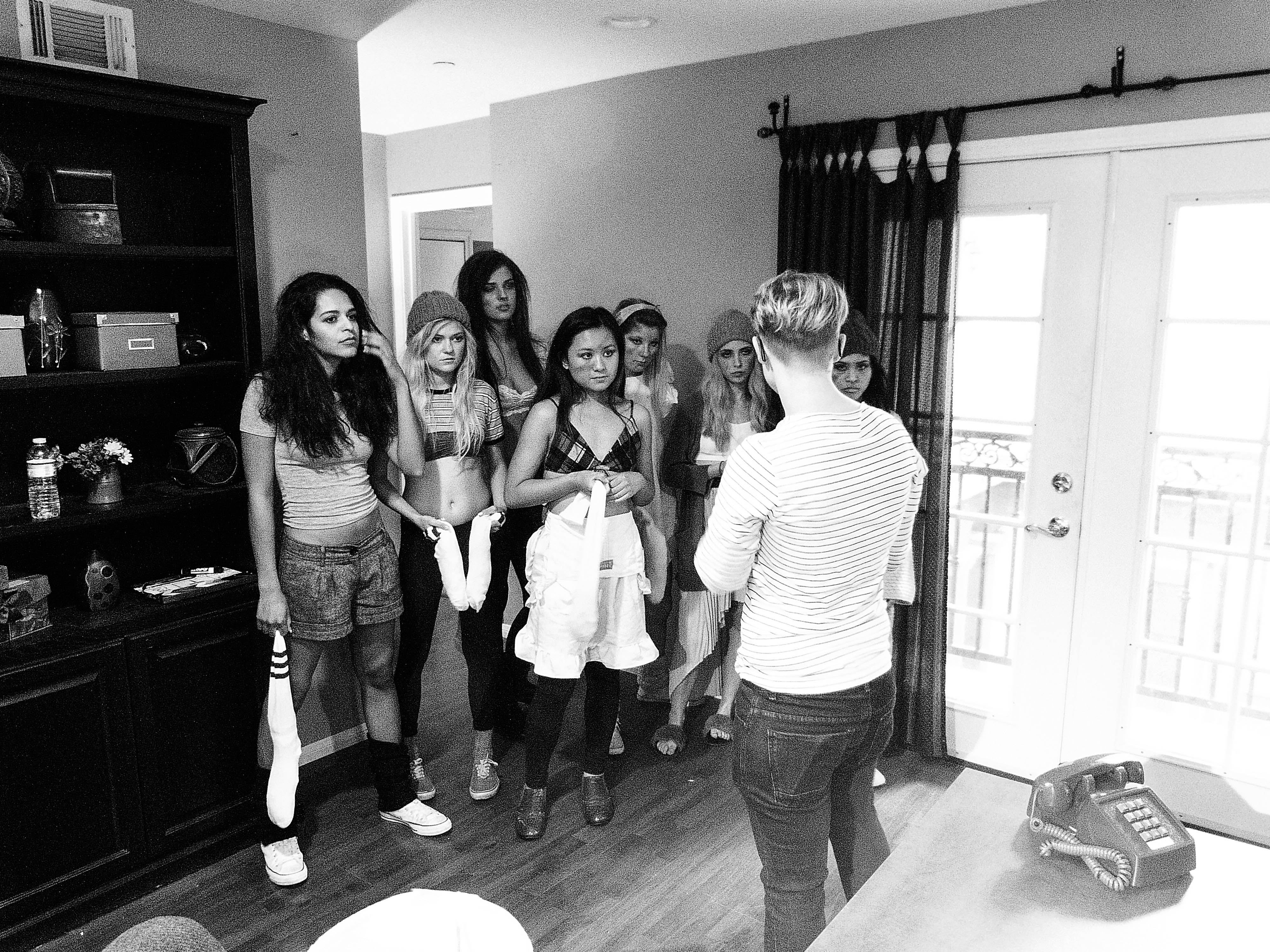 I thanked her and glided away, watching the hustle and bustle as the Gamma Films pack warped forward in time to shoot a few sequences that take place towards the climactic finale of the story, before returning to see what happens with Scott, Vandella and Holmes following the orphanage selection — that, would be saved for the very end of the day.
Were I to reveal the contents of the ending "Epilogue Sequences," they would give away too much of the plot and so … lest I spoil it … I will say that they included a tied-up Whitney Wright and Ashley Adams (the bullies of the orphanage who curry favor as Mr. Hands' henchwomen), a murderous gang releasing their wrath upon a major character with socks filled with rocks and a thrilling escape.
After the binding of the brunette enforcers, but before the deadly sock attack, I sat down with Wright to glean insight into her character's motives.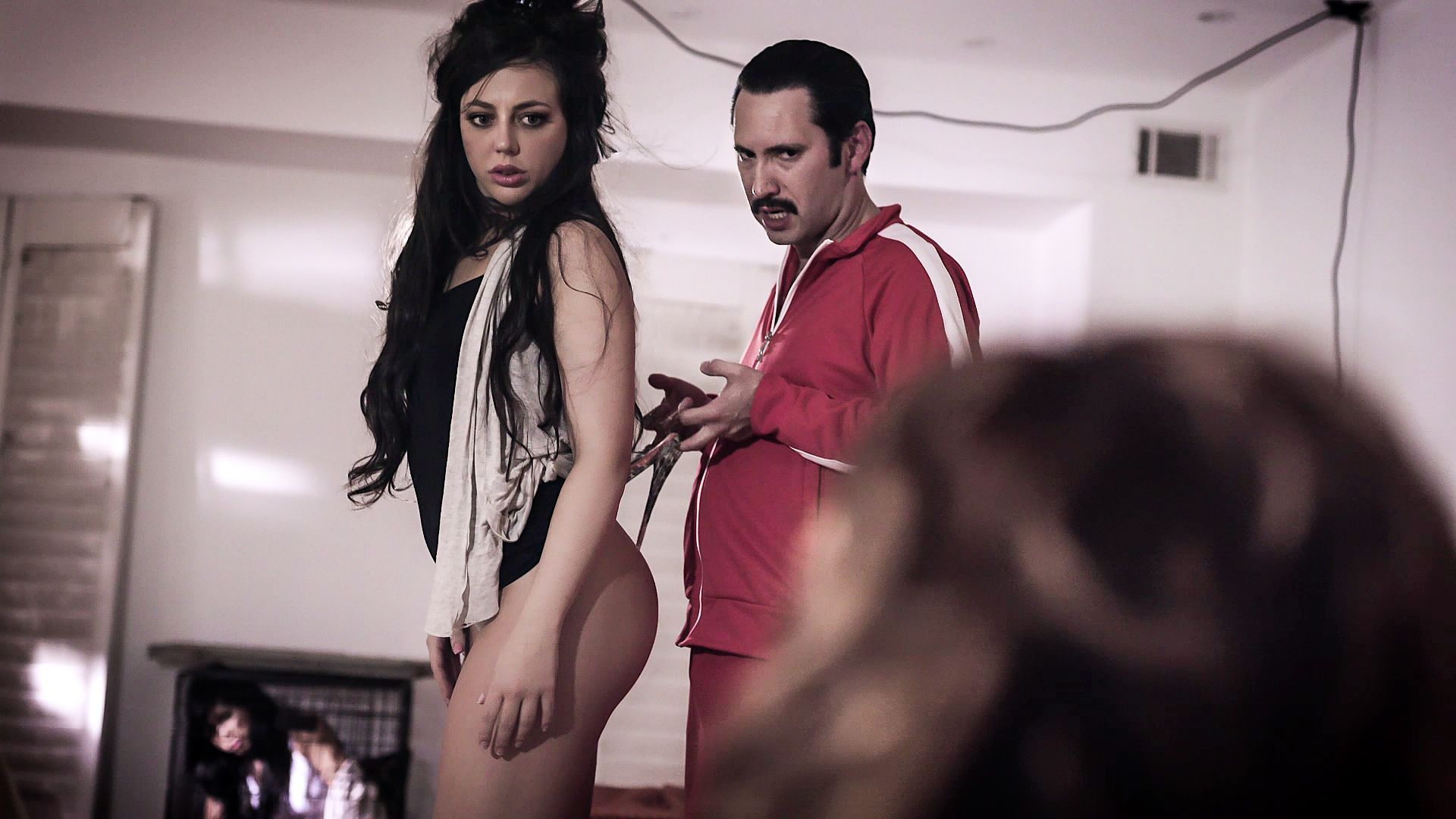 "I'm playing Bonnie, one of the mean orphans, and I am what you might call the 'sidekick' to Ashley Adams, who plays Patty," she revealed. "We bully the main character and get favors as a result, like dessert, seconds during meals and showers. We get less work and it gets pushed onto the other orphans because we're down with letting Sully fuck us. Eventually, we are tied up by the orphans before they go after Mr. Hands."
After these shots concluded, the Gamma posse rewound the cinematic timepiece to the aftermath of Vandella's ruthless cherry-picking tirade in the courtyard. I seized the moment to find Holmes and catalog his experiences on set that day.
"I'm the creepy husband of the villainous Sarah Vandella," he summed. "Mills is very particular, more than any other director. Usually, I get a script with lines, but today's very much about improv. And before every scene, Bree explains to us what's happening. I've performed with Kristen before, she's very energetic. And today she is handicapped, immobile. I'm wondering how that's going to work out, though I'm sure it will!" It would indeed, work out just fine.
Holmes stood up, joining Vandella and Pistol in the office of Mr. Hands, for "Act II: Budge + Hands Plan," wherein they went over the specifics of how they were going to pull off the con job and steal the reward for finding Anne's parents.
After plenty of handwringing, sneering and viper scheming, with the sharing of insider information and a memento that will convince Anne they are the real deal (I know, I'm keeping it vague to preserve the mystery), Mrs. Budge tells Mr. Hands that they are amenable to his terms … so long as he adds a little extra spice to the arrangement — namely, allowing her and Mr. Budge to fuck Scott together. Hemming and hawing, clearly annoyed, Mr. Hands reluctantly agrees, not from moral uncertainty, but from the inconvenience of having to pay at all.
As the crew set up for the final sequence of the day, I sought out Scott, who was balancing precariously on her crutches.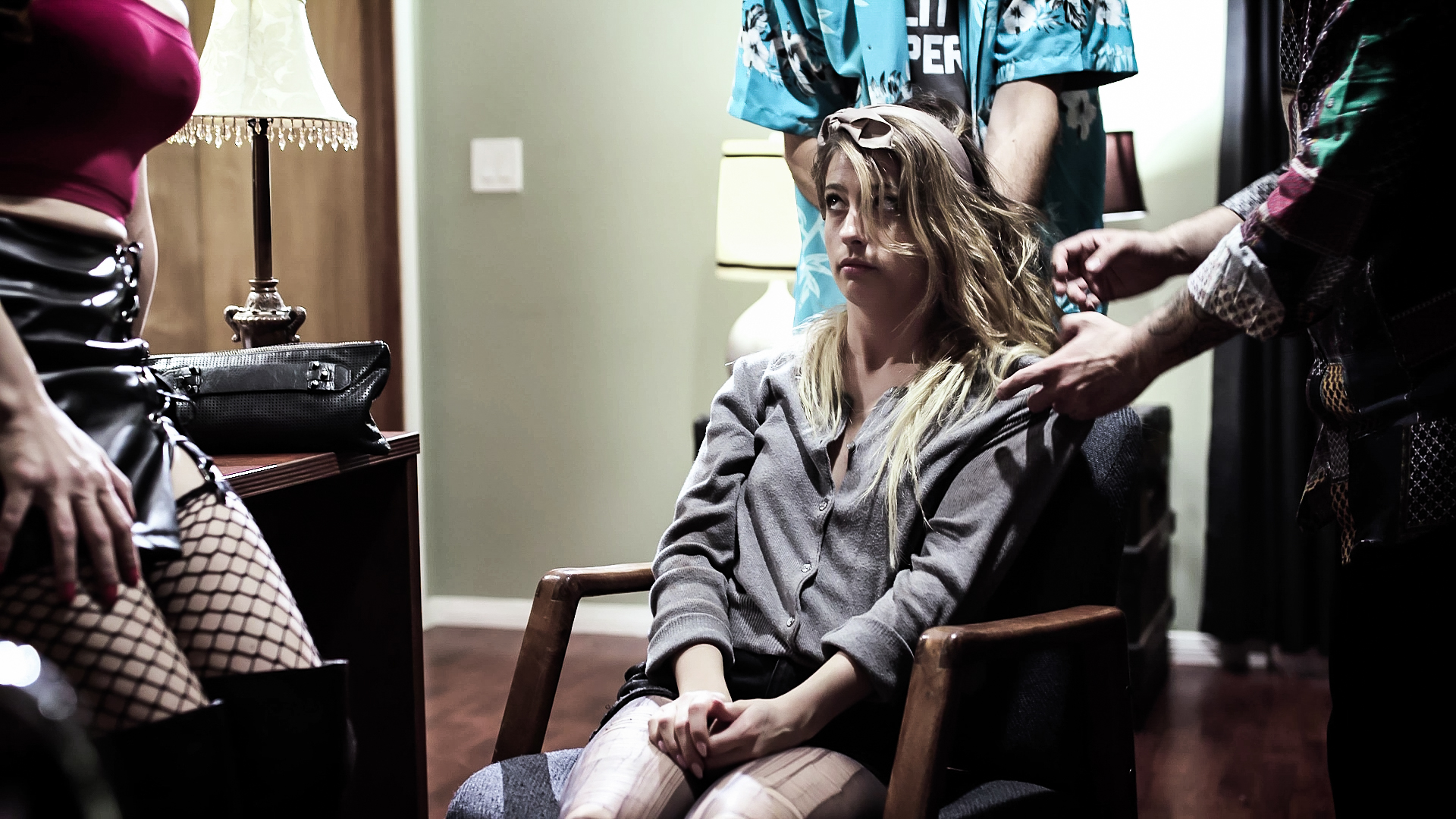 "I play a character called Sally, who gets targeted for bullying, and Anne is my one true friend," she shared. "Today, I get to have sex with Mr. and Mrs. Budge. They're freaks and like to pick the most outlandish orphan possible. Before that scene, all the orphans get put into the prison yard. I'm off by myself, and the predatory Budges show up to find someone. Because I'm this quiet, little, innocent crippled girl, they pull me aside and Mr. Hands … well, he hands me over! But, I get a week off from my chores as a result.
"The fact that I'm not using my legs and I'm committed to the role, means I keep thinking to myself, 'I can't lean over to grab this water bottle,'" Scott added. "So, even when the camera is off, I'm like leaning against the wall, trying to keep myself up and suddenly realize, 'Wait! I can use my legs!' I have to keep reminding myself to do that."
This was true, as I had watched her struggle to move between sequences, lest she be inauthentic during the actual shooting.
"It's been fun and it's been challenging," she continued. "The Pure Taboo crew is really good at putting me in such compromising positions, and I like to push boundaries with them. I like to make everyone question the fact they're enjoying this really twisted porn. That's really fun for me, so I'm really happy to be in any role for them."
Like many of the teammates who have made this dark realm their home, Scott shares excitement and delight in using sinister themes to excavate dormant fantasies that come to life on PureTaboo.com with scarcely rivaled flair.
"I love the energy that Bree brings to set," Scott enthused. "She is just so good at the 'porn script theater,' where we sit down and do a read-through. Even if we're having 10 or so people all at once, to see her direct everyone and have it all come together in such a natural way, I'm just so impressed, every single time. Because we don't have specific lines that she writes in the script, it's a very general outline of what she wants to have happen, so when it comes together so beautifully as it does, that method to me is superior in my experience — compared to having pre-set lines and bringing certain props. Because an actor can feel how real a character is to them."
Smiling, she picked up her crutches and made her way to Mr. Hands' office, where Holmes and Vandella eagerly anticipated the deviant sex to come.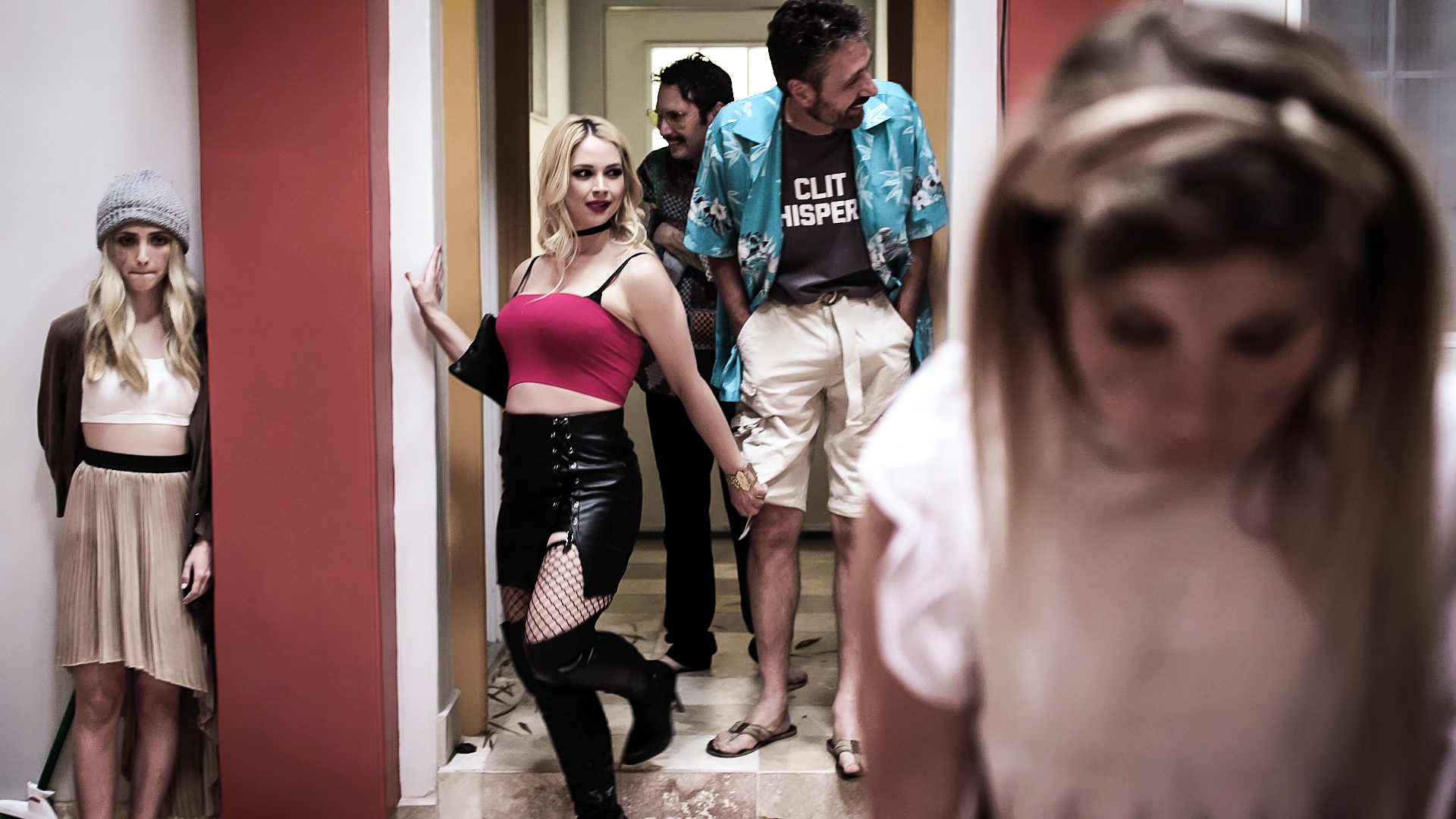 The ensuing steaminess did not disappoint, as the lecherous couple stripped away Scott's clothing, slowly working their mouths and highly aroused members to seduce the orphan so expertly, that she succumbed to their ministrations moaning and crying with orgasmic joy.
And during the entire thing, not once did her legs move, forcing the Budges to maneuver her around like a ragdoll, adding an element of vulnerability that made their predations all the more impactful, especially as the thrusting and hip gyrations began piston-fucking her bestially.
An unbridled and molten affair such as this had the crew nearly sweating as much as the stars, thrilled by the multiple taboos tangled in a heap like the bodies and limbs reflected in their dilated pupils.
Once the camera angles memorized every curve and gasp and spittle with their lenses, providing plenty of material for the Gamma Films editors to sift through with a jeweler's practiced eye, I stole away to find Pistol in an adjacent room. Here was a man for whom acting is temporary possession, and who I had witnessed previously in the first-ever episode of sci-fi offshoot "Future Darkly," when he had savaged his android daughter Jill Kassidy in another XBIZ exclusive this year.
"I am playing Mr. Hands and I am a criminal," Pistol stated matter-of-factly, an almost imperceptible snarl clawing at his lips. "The scenes I did today, the main thing that happened is I brought in my brother-in-law, through Sarah Vandella, and I end up meeting a rather grisly fate. What's always challenging for the character I'm playing, is I had to play this dirty guy … and I kind of had this idea of Gary Oldman and the crooked cop he played in 'The Professional,' I was going off of that — how he danced around, how he was also twitchy."
Staring off into the distance with a haunted expression, he explained, "And then, people started feeling more of a Hunter S. Thompson kind of thing. The more I did it, the more natural this character came out, all twitchy and disturbing, the kind of person I wouldn't want to sit next to on the bus or have a conversation with."
I chuckled, for that was an apt description.
"It was a lot of fun," he said. "And it's funny when you do these things and we're on the set from early morning to the late, late night, and you leave the set with these mannerisms you've been doing all day, like my lockjaw. I was driving home and felt myself all wired, still doing lockjaw, because I'd been doing it for 10 fucking hours. The persona sticks to you. I'm sure by tomorrow I'll be fine, but just … that energy sticks to you. It was a really fun character."
I thanked him for his time, and hunted down Mills, for a few final words before the production finished up for the day.
"This is Pure Taboo a year after its creation, with the actors definitely driving a lot of the content," she said, looking back fondly on the progress of her firebrand behemoth. "I mean, I've seen Tommy Pistol speak improvised dialogue for 10 straight minutes. And we do hire what I like to call our veteran actors, where our viewers may have seen them in numerous scenes, but have come to expect different roles from them, as if we're a live theater show. They're the players we bring back. Some of the ones who've had the most unique roles are Tommy, of course, Kristen Scott, Jill Kassidy, Elena Koshka … and Whitney Wright has been in a number of them for us."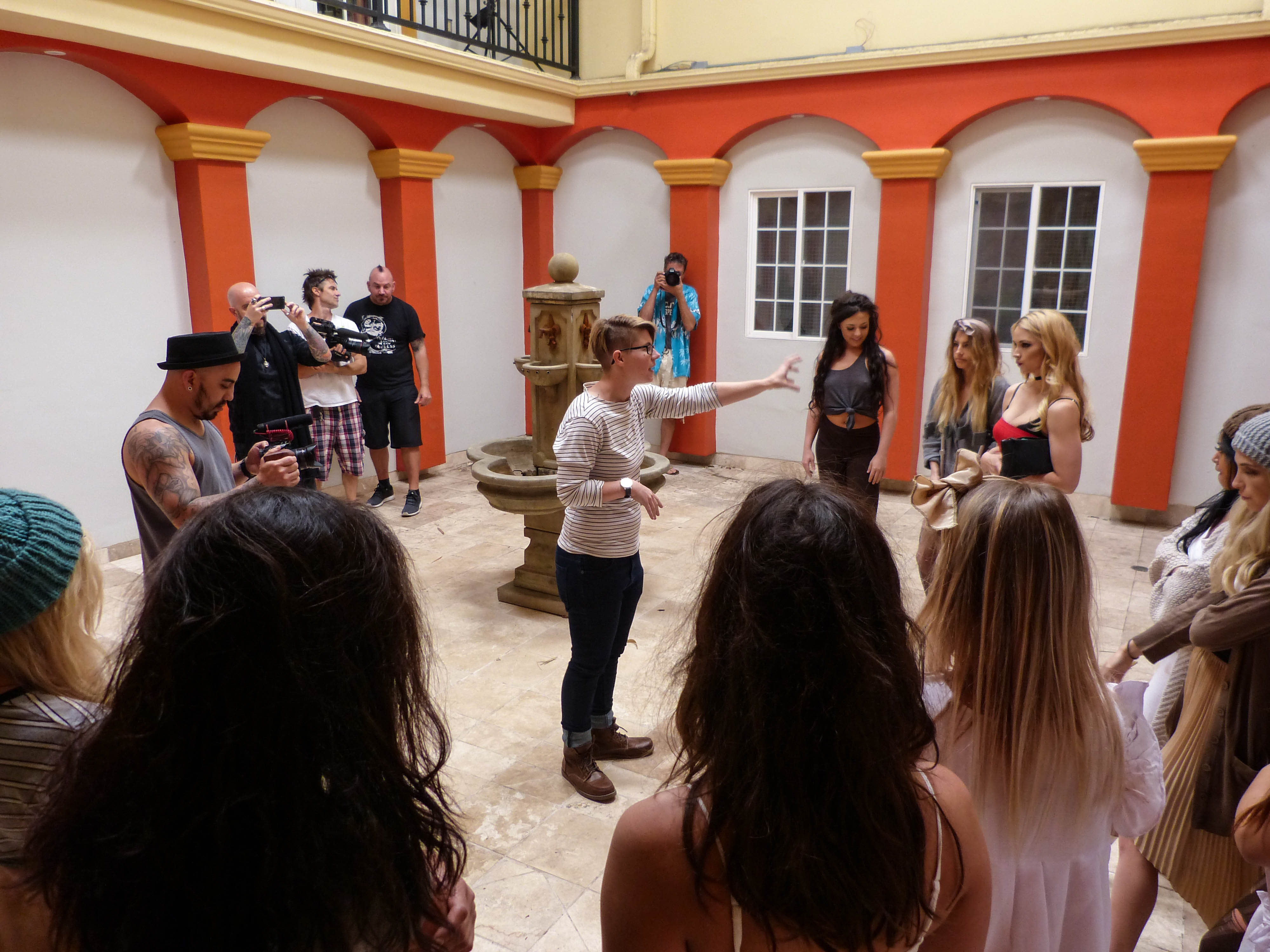 She kicked up her feet onto the desk, which not too long ago had been occupied by the writhing bodies of Vandella, Holmes and Scott, as she regaled me with her vision and the method to her madness.
"Generally, once I get the opportunity to work with someone, I can devise future scenarios in my head for them, like Steve Holmes … the second he walked in the door, I had seven characters written in my head already, so generally the best thing to do is get in my mental rolodex," she pointed out. "I like to write knowing who I'm writing for, and I try to do as much as possible to bring it together. And a number of months ago, Craven Moorehead started taking on more scenes, so the transition is already starting for him to take over, like Stills by Alan has done with Girlsway. I'll see a scene he directed and think to myself, 'Wow, that's not how I would have done it, but it works so well!'"
As for her other projects, on that fateful afternoon in May she revealed, "I'm spinning off creatively and the genre I'm tackling is 'Girlcore,' so I'm focusing there. It's not going to show up under a particular brand, it'll be its own thing, but what's cool is I'm taking some of my favorite people down there with me. That also means I can spend less time on Pure Taboo, and more time on larger projects like this, 'Girlcore' and our 'Future Darkly' series.
"Especially now that I know the Pure Taboo brand is in really good hands," Mills elaborated. "I don't want to compare 'Girlcore' to 'Girlsway,' since 'Girlsway' has its own recipe. I don't want to force feed something into a different brand if it doesn't go, per se. So 'Girlcore' is going to tackle darker fare, lesbian drama, less tongue-in-cheek, more serious shit, because that's what I'm into personally. Like, when I started Girlsway, I hadn't really been on an adult set, so I'm a lot different now than I was back then. I had worked in adult for about 10 years, but this is the place I'm at now, so I wanted to make a series that paid homage to lesbian pulp novels. And I'm a huge fan of the 80s and wanted to set it then, not in a campy way though."
Sure enough, since that day, Mills has not slowed down at all, unveiling everything from "Girlcore" to "Girls Under Arrest," a cop-themed series centered on rough arrests that turn downright sexual. And with the recent reveals of the Girlsway trailer for "Fantasy Factory: Wastelands," for which XBIZ also went on set to cover exclusively, as well as the official trailer for "Anne," Mills has cemented her enduring reign over adult cinema as 2018 XBIZ Director of the Year more authoritatively than ever, living up to her legacy and seeding her future legend status.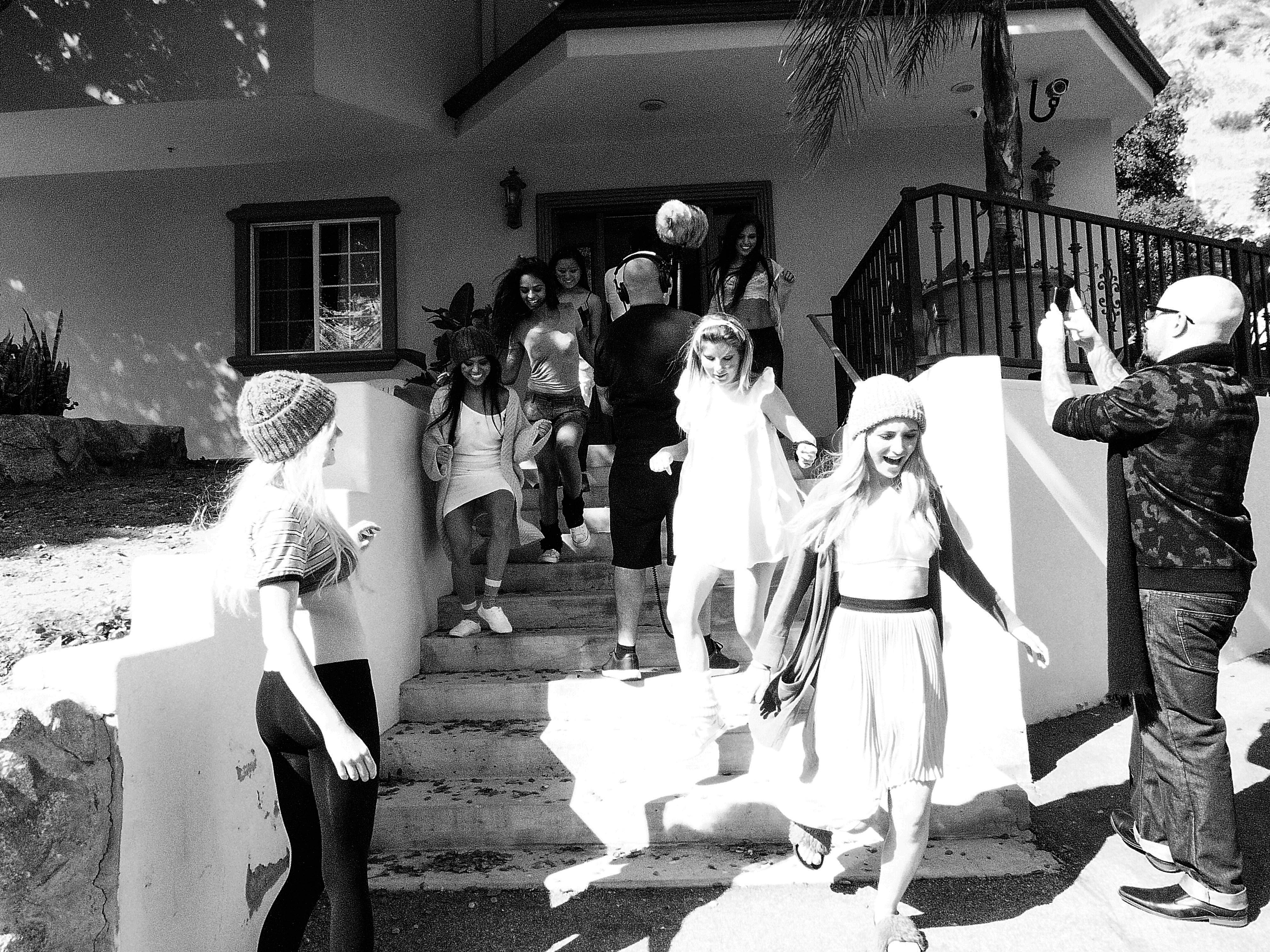 Because, storytelling is the ultimate art form, spinning imagery and emotions and passion with nothing more than letters, melting the human soul and all of its maddening dimensions, all of its impossible complexities into mere words.
For a true storyteller never tells stories. They enlighten. They bewitch. They control.
And acting is the ultimate incarnation of storytelling, playing hearts like instruments, calling forth nightmares, dreams, losses and desires from a bottomless well of truth, wielded as deception with convincing authenticity.
For a true actor never acts. They surrender. They mutate. They summon.
And directing is the ultimate puppet mastery of acting and storytelling, a demonic possession of willful bodies, gleefully reaching into ribcages with the merciless purity of a god, conducting bones and blood and muscles to dance with spellbinding majesty, to stitch a symphony with seamstress finesse, else a butcher's cleaver.
Of this craft, Mills is the master. And yet, she is so much more than a director. She is a dark healer, pulling forth all the skittering, spidery and leathery beasts that lurk behind our thin-skinned illusions, behind our outwardly friendly humanity, behind our jigsaw identities. And the most perverse of her portals, the most devilish of angelic gateways to heavenly hellfire, is PureTaboo.com. Its twisted tales adopt their fictions so thoroughly, they infiltrate the depths of the underworld, morphing landscapes and native inhabitants into creatures of limitless splendor.
Even if the actors she masterminds play a damaged character, even if they play the most wretched and detestable worm, they will clutch the lapels of the nearest viewer, clawing at their ankles with such pity and sorrow, as to forever brand their flesh with smoldering scars. For even weakness is strength to them. Mournful tears can manipulate as thoroughly as intimidation, can ensnare flies in arachnid silk.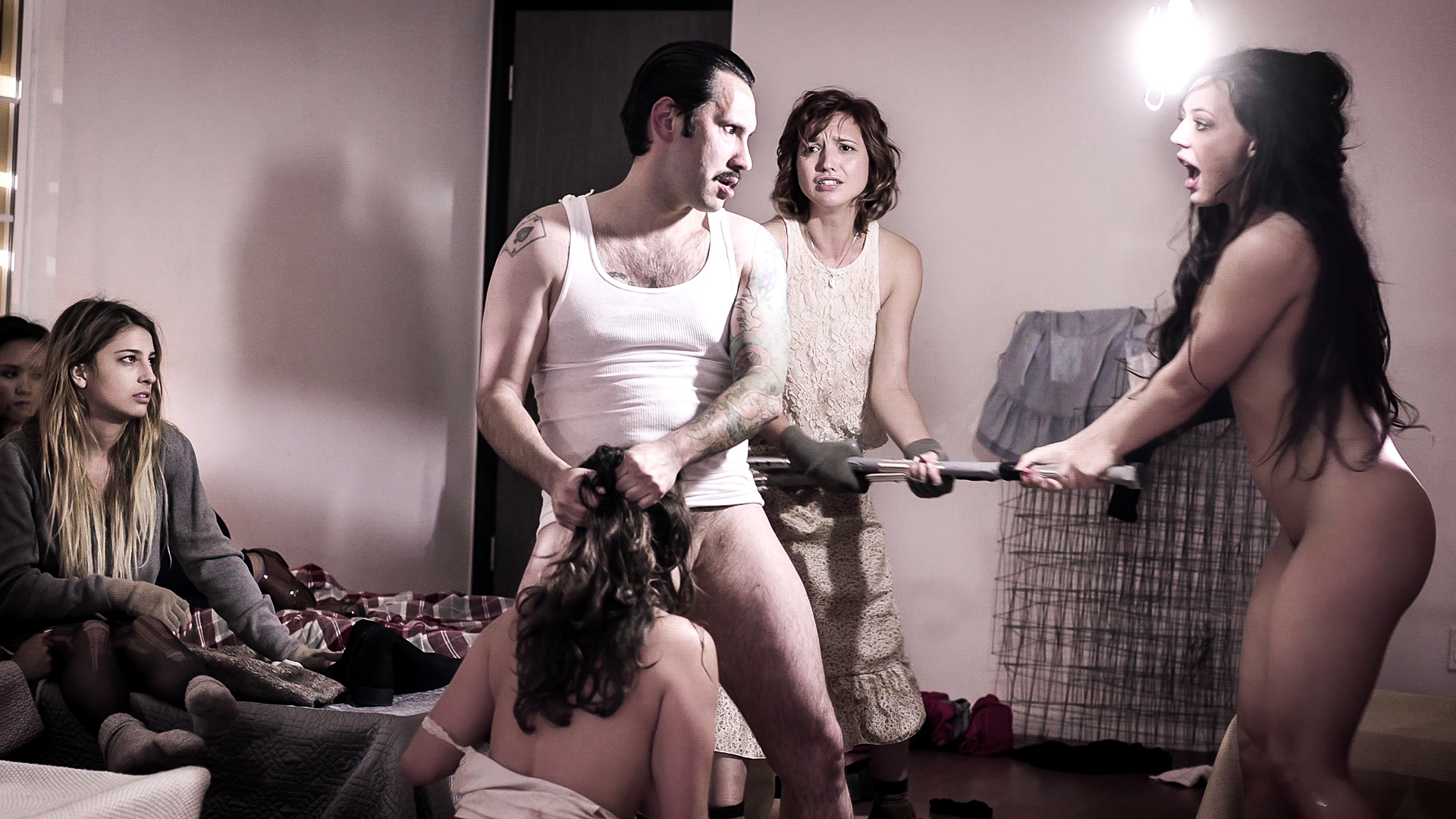 And that is where pornography becomes therapy, where what verges on exploiting the downtrodden, in fact, lifts them up, in effigy upon the canvass of cinema, paving the path for those of us who have been maimed and mutilated and humiliated, to become so galactic in our reign, so dignified and magisterial and magnificent and resplendent, that all those trials and tribulations are made into blades, into armor, into soldiers, into spies, into a legion of celestial entities by which we overpower our opponents from a thousand angles, by which we triumph where others break, where others shatter and where others flee.
For actors walk the fine line between sociopath and saint, their inhumanity so self-aware, so barbarously enlightened, that in a horrific twist of fate, they are more real than those who do not act. Because those who cannot act, have not even begun the process of splitting their minds like atoms, of deconstructing the self, of separating out all the moving parts of their identity and finding ways to light them afire, achieving deathless immortality with godlike finesse.
And often, the persona becomes personality, the words rising from the page, dancing as an illustration, manifesting with enough fury to engulf not only the prism we call "actor," but those upon whom they gush with frothing light, with charismatic bewitchment. Kneel, then, cinephiles and bon vivants, skeptical passersby and casual observers, before the #PowerOfActing. It is glorious in Mills' hands.