MIAMI — With unprecedented attendance this year, XBIZ Miami raised the bar as the unrivaled summer conference, serving up just as much business as pleasure to an international base of more than 1,000 industry aficionados.
The excitement levels were visceral on "Day 0," even amidst cloudy skies and a light drizzle pouring over the Mondrian South Beach hotel. Nonetheless, attendees eagerly gathered around the pool in anticipation, as the resort transformed before their very eyes, festooned in a myriad of sponsor logos that would inevitably lead to talent recruitment and business deals.
The official marquee XBIZ Miami sponsor logo of Chaturbate was splashed colorfully across the hotel's perimeter, decorating everything from the hotel walls to the fully stocked bars inside with its fun-loving font.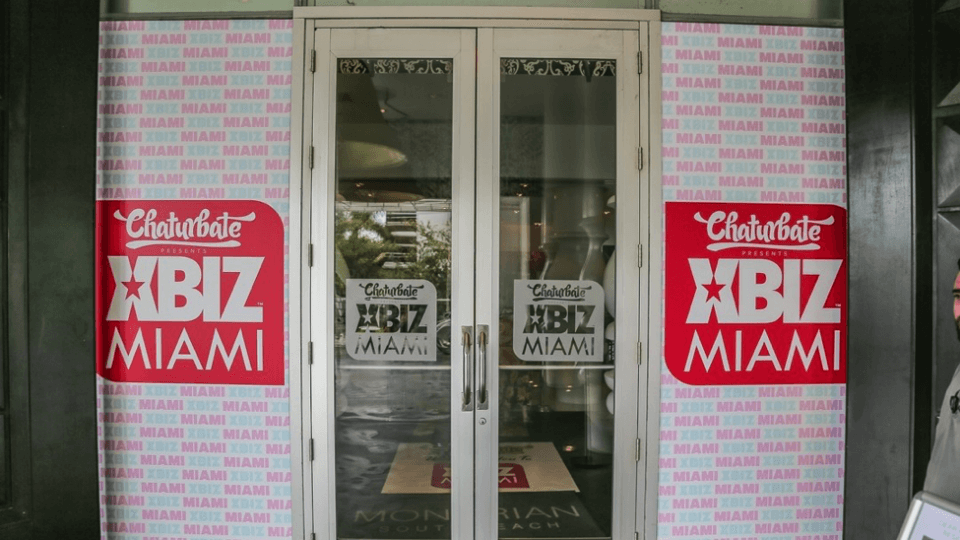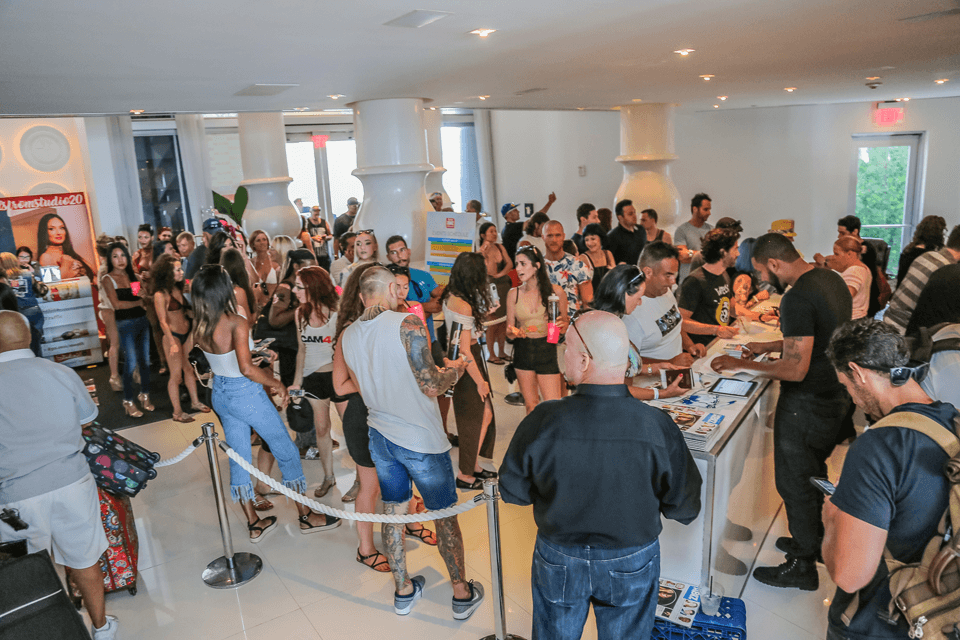 Poolside cabanas sprouted like money-growing trees, ready to sign up the legions of charismatic personalities already clamoring to get inside as the lobby overflowed. CAM4's booth stood near the entrance of the pool, with Flirt4Free on the other side. The rest of the cabanas, sponsored by AdultAdWorld, Cams.com, iWantClips, Lovense, Manyvids, Spankchain, Streamate, Stripchat and Studio20, were neatly arrayed along the edges of the aquamarine water, close enough that people could dip their toes in the rippling lagoon.
The pool itself was boldly inscribed with the huge iWantClips imprint, while extra large balloons floated across the sky with the iWantFanClub logo, like planets rotating around the sexy magnetism below.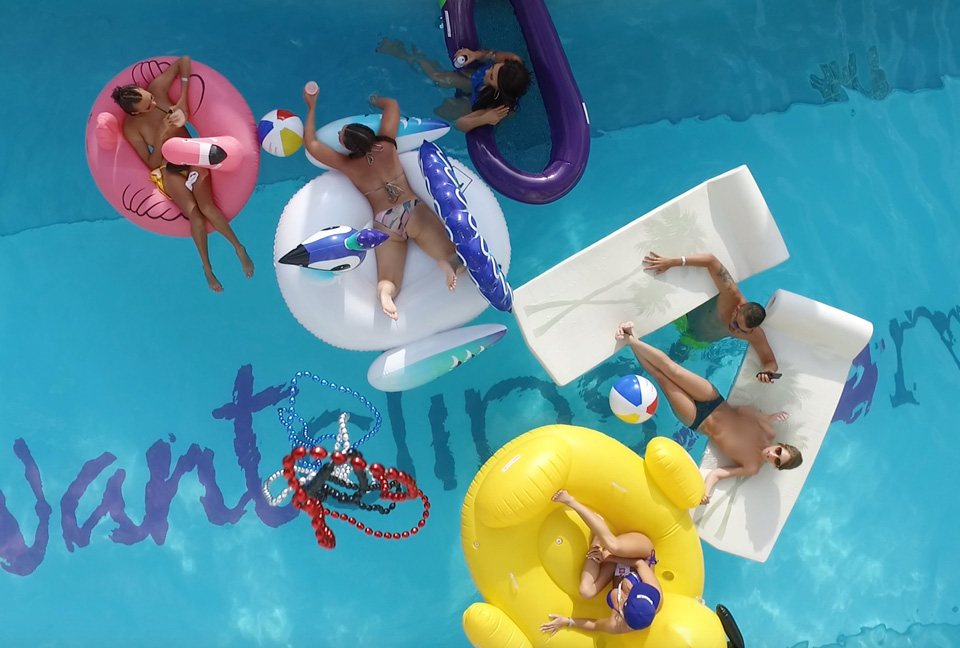 As the cabanas came to life, models began to make themselves at home, stretching out their limbs and soaking in the sun that was now breaking through the gray. Beautiful people of every stripe, from across the nation, nay, from across the globe, glistened with suntan lotion and sweat.
Although the highly anticipated 2018 XBIZ Scuba and Snorkel Social was a washout due to poor sea conditions, some 30 prospective participants representing all aspects of the industry showed interest in this fun-filled executive networking event, which underscored the fickle nature of Florida's weather.

Fortunately, the water was calmer — and sexier — at the Mondrian Hotel pool, where WIA (Women in Adult) hosted its annual "Booze 'n Buns" Poolside Mixer. The popular ladies-only event brought everyone together for cool cocktails and a relaxing start to the show, where warm sunshine and hunky hosts helped melt away the stress of travel while providing an ideal venue for making new connections. The popular event saw models sitting on one another's laps, eager to network and hear the surprise guest speaker — the radiantly confident Shirley Lara, COO of Chaturbate.
Lara began by revealing she once had a boyfriend who was "slightly abusive," but without his harmful tendencies, she would have never become the woman she is today. She walked in between the rows of women, making eye contact with each and every one of the girls in attendance, her willingness to share past vulnerabilities enrapturing them immediately.
"He was blonde, had blue eyes … lots of tattoos! I was like, yeah! That's for me!" Lara declared, smiling all the while. The crowd around her cheered in agreement, having experienced their share of heartbreak throughout life. "It was very rock 'n' roll. We had a lot of fun, we drank a lot. But, he ended up just getting in these bad, dark places. Over the course of time, I realized he made me grow tough skin.
"During the time I was dating him, I was managing this other site," she shared. "I had struck a traffic deal with this older gentlemen, and he was supposed to guarantee me X amount of clicks."
Lara gestured animatedly, as the girls listened in rapt silence.
"He didn't send me those clicks, and I had sent him the amount of clicks I'd promised him," Lara continued. "At the time, I was so timid! I didn't even want to approach him. I was like, 'What the fuck is wrong with me?!' Thankfully, the stupid ex-boyfriend who was 'slightly' abusive … he said to me, 'You need to grow some balls! Speak up! Say something to him!'
"That ended up being the turning point in my career," Lara expressed. "That was the beginning of the rest of my career, where it taught me to speak up … have a fucking backbone, don't let people push you around and if we do a deal … we do a deal!" Lara clapped between each of those last few words, emphasizing her point.
"It goes both ways," she said. "It doesn't matter if it's content exchange or a business deal. If you say it's going to be done on a certain day, it has to be done on a certain day. So, when all was said and done, even though the relationship didn't work out … I look back at it, and I'm thankful for that man. He strengthened my backbone.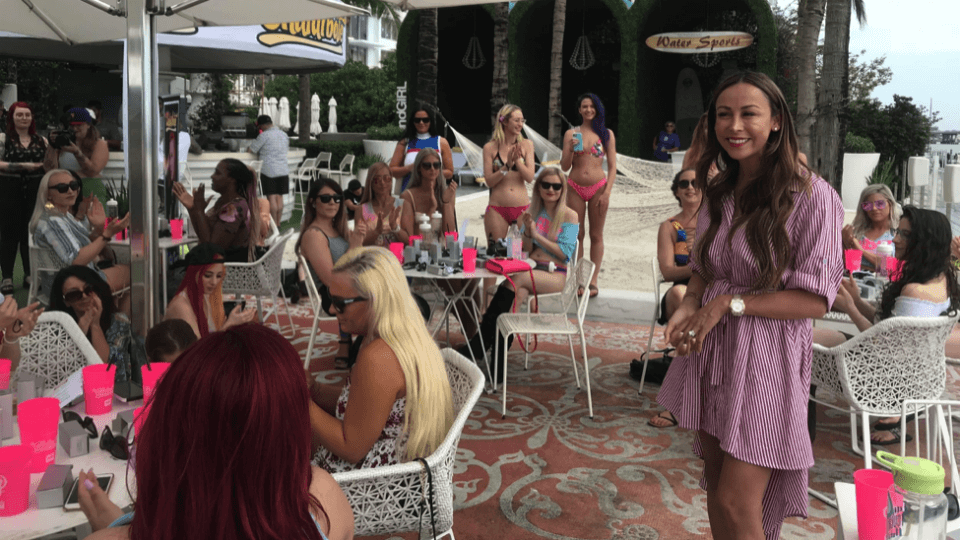 "And as my career progressed," Lara added, "I got involved with Chaturbate. I did not get started with a successful company. When I first started, people would laugh at us! They'd be like, 'Chaturbate? What is that? A masturbating site? That is so stupid! No one is gonna buy it!' Well, little did they know! We started in 2011, and here we are now.
"And now, here I am!" Lara stated triumphantly, walking around the tables of women and letting intense sentiment ring in her voice. "And, you know what I've noticed? You see all the men … when you see a powerful man walk in, do you notice that the men stand a little taller? They're a little bit more proper. I hope everyone, and all the women here, realize that we have something just as good. Women are very magnetic. Whether it's our personality, our features … whatever it may be. We have a magnetic pull. And that magnetic pull is just as strong as a man walking into a room. So, when you notice a man walking into a room, and he's standing a little bit taller … women, I want you to notice that when you walk into a room, all the men are looking at you."
Before continuing, Lara grinned and flipped her hair over her shoulder in mock attention-seeking. She laughed, as did her captivated audience.
"So, smile," she advised. "That smile is the magnetic pull. That pull can lead to so many different opportunities. Don't underestimate that magnetic pull, or yourself."
The crowd cheered, and thanked her. Multiple women in attendance went up to her, to thank her for her powerful words.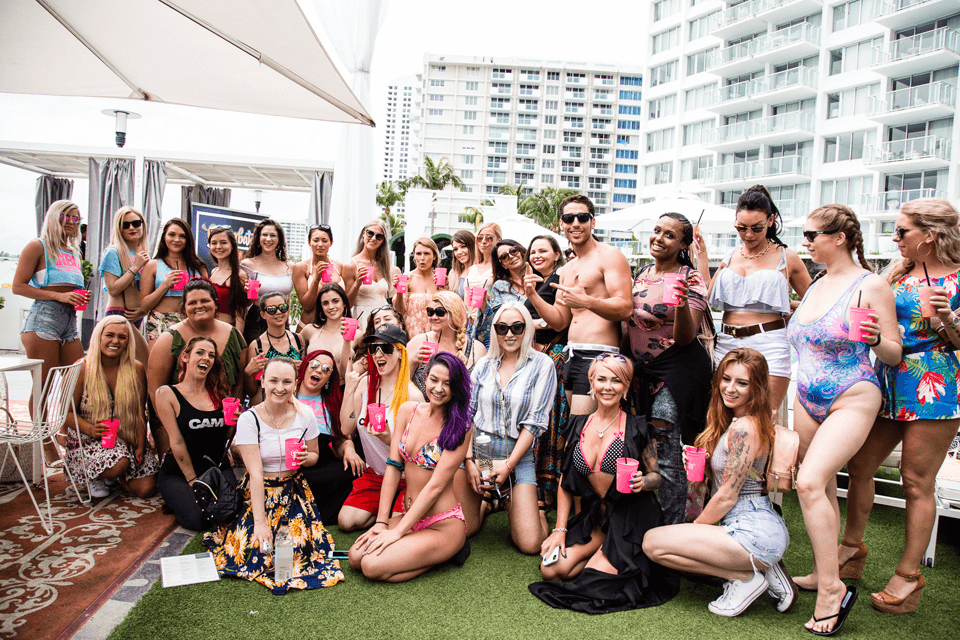 As the day progressed and attendees continued to flow into the Mondrian, the energy seemed to amplify tenfold. The registration booth line swelled and a chorus of voices rose, greeting newcomers and welcoming old friends to the fray. Folks picked up their registration badge, before heading to the bar and seeking out impromptu networking.
Adding to the building buzz, an influential group of affiliates and webmasters arrived in style, thanks to TrafficPartner's complimentary limo service, which whisked select attendees from the airport to the Mondrian.
Performers were also in the spotlight with an exclusive Model Welcome Reception and orientation, which provided insights into all of the event's special career-advancing sessions designed to help models make the most of all that XBIZ Miami has to offer.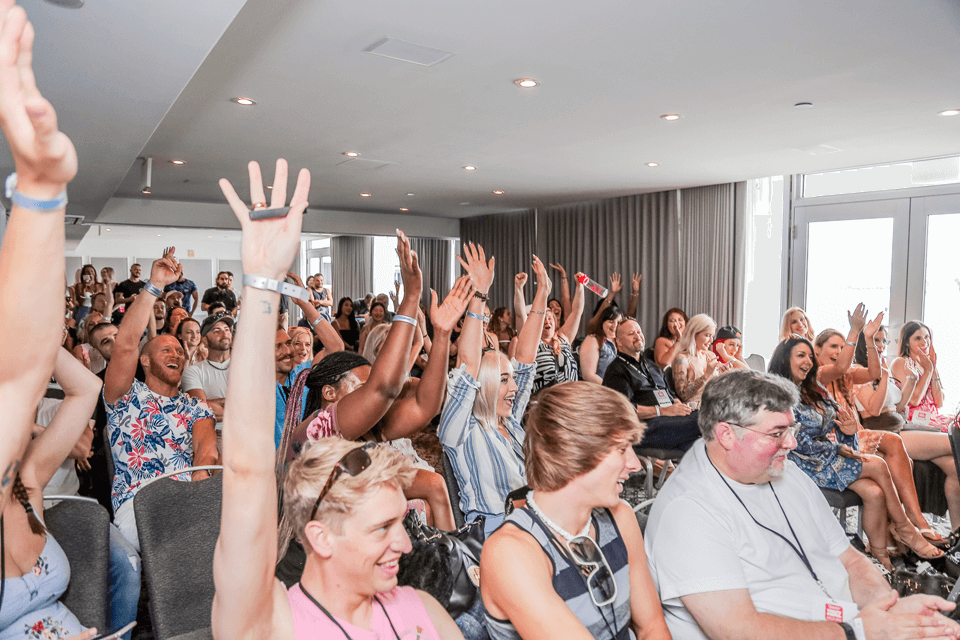 Once the rules had been set, models were encouraged to pick up an XBIZ T-shirt and design it to fit their style. Scissors were handed out and the attendees took turns creatively ripping up fabric and fashioning the coolest shirt with gleeful abandon.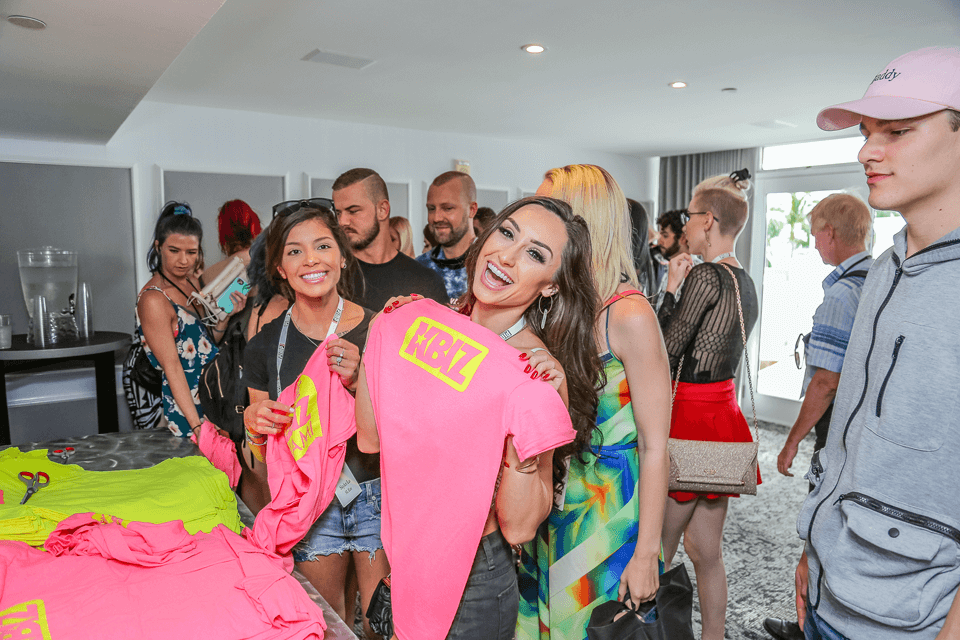 Ground Zero for XBIZ Miami, the Mondrian Pool Bar came to life with the Kick-Off Happy Hour and the special Welcome Toast, greeting revelers who quickly realized the size and scope of this year's expanded carnal cavalcade, which saw the largest and most diverse attendance in XBIZ summer history — with more models than ever before, joining the ranks of industry insiders and stakeholders.
Providing a thrilling opportunity to see and be seen, XBIZ Miami's opening night concluded with the sexy annual XBIZ White Party — an elegant soiree where attendees dress to impress in their finest white attire. The perfect place to make their XBIZ Miami debut amongst their peers, performers and promoters alike gathered on the Mondrian rooftop for cocktails and casual conversations, along with a good dose of admiration for fellow attendee's outfits, in a scenic social event that never disappoints.
The Miami nightscape sparkled, like the bubbly drinks filling glasses and the glorious wings unfurling from the official White Party Angels — London Bunz, Bunny (TruStori3z), Ella Silver, Honeysuckle, AngelDeemon, Reya Sunshine and Blonde Rider. Posing for photos with a multitude of revelers, they seemed like the very incarnation of heavenly lust.
Long after the clock struck midnight, partiers checked their watches, realizing the need to pace themselves for the busy days ahead.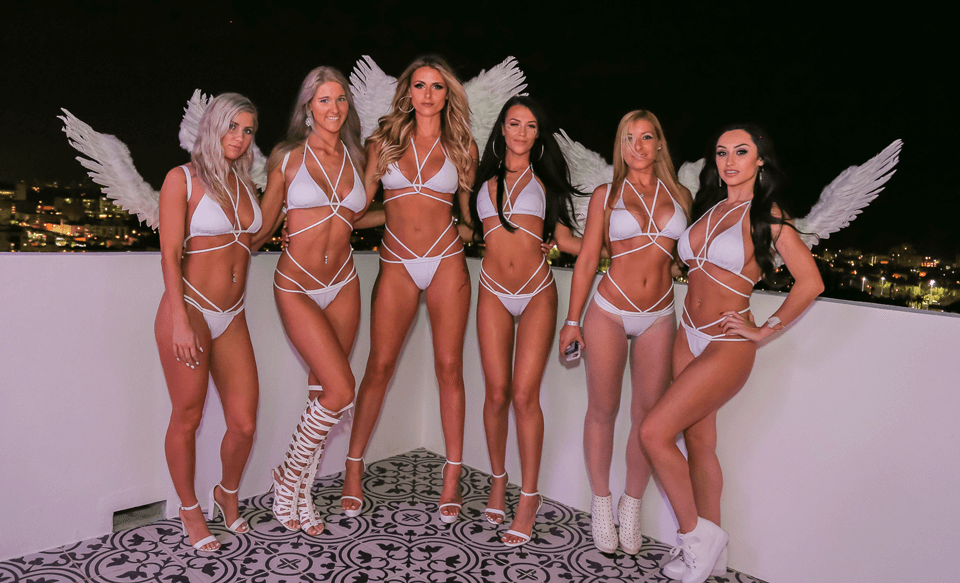 Stay tuned to XBIZ.com this week, for more XBIZ Miami coverage. To check out photo galleries from the event, click here.