LOS ANGELES — Honey Gold is a force of nature.
Like a tsunami, Honey is full of energy, unstoppable, unrivaled ... unforgettable. She moves like an earthquake, leaving everyone in her wake quivering. She's enraptured fans and industry elites the very same way a sunset fading into the horizon enthralls all those who watch. She's sugar, spice and everything nice … the perfect mix of classy, nasty and intense.
Like an exploding volcano dripping red hot lava, Honey captivates the viewer with her equally hot, equally explosive performances. Like a fierce hurricane ripping through a city … so has Honey Gold swept the adult industry's greatest achievements, leaving behind her mark: 2018 XBIZ Best New Starlet, 2018 XBIZ Trophy Girl, Cherry of the Month, Bang.com Ambassador of the Month — the list goes on and on.
She is the Queen Bee of this year's starlets — her incredible body humming with charisma, feeding all those who are starved for real talent with the sweetest of nectars. To taste her would be to devour Nepalese hallucinogenic honey — she is the substance men would scale mountains to obtain.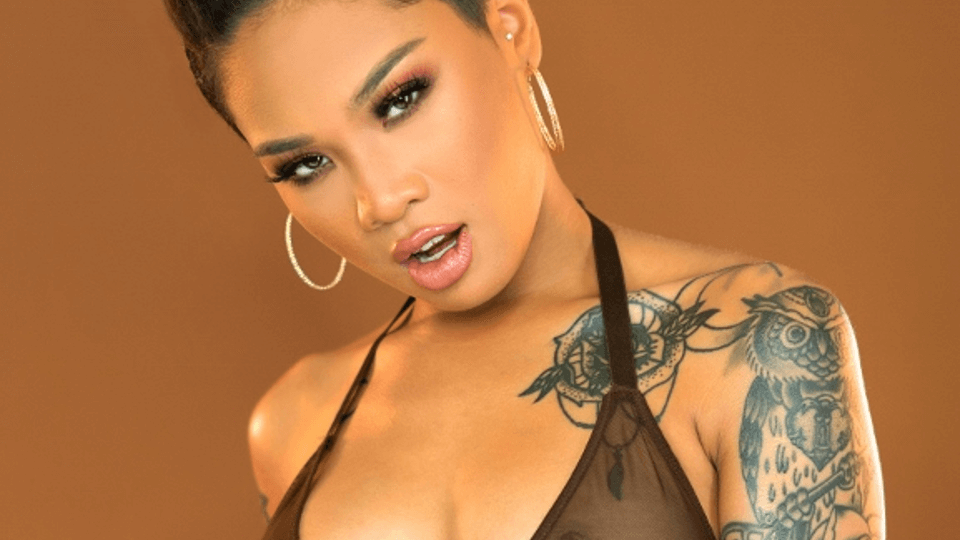 And though she stings like a bee, Honey, too, floats like a butterfly. Once sheltered in a cocoon, she has since broken through the darkness to spread her wings and fly, soaring into instant stardom.
Honey Gold is a damn force to be reckoned with, and XBIZ was lucky enough to pick her beautiful brain in this exclusive interview.
XBIZ: Let's start off easy … tell us about your life before porn!

Gold: Life before porn was interesting to say the least. The older I get, the more I feel like my past becomes a tiny blur with only selective memories that seem to stand out amongst the rest. I'm a pretty normal girl from the bay with a not so normal upbringing. I was homeschooled almost my entire life and was isolated from society until I turned 19.
My only connection to people most of my life was my church, which is where I invested most of my time and energy. Most people are surprised to find out that I was a worship leader, Sunday school teacher, a mentor for inner city children and an ESL teacher for young kids in the Chinese community.
When I left home at 19, I was focused and determined to make it on my own … which marks the start of me struggling to find my place in society. I was so desperate to fit in with people my age. I wanted to be able to proudly proclaim that I was majoring in something I loved or pursuing a career in something I had a fiery passion for.
Job after job — from fast-food, office jobs, modeling, retail ... I struggled to find what made me happy and eventually gave up all together. Life before porn was me struggling to find my place in society, struggling to find my passion and finally accepting the fact that life was meant to be a dreary mundane cycle.
XBIZ: You've spoken very boldly about your past — with being overweight, feeling dejected and out of place — what was the inspiration or turning point that led you to make a change, and then join adult?

Gold: I am definitely outspoken about the negative aspects of my past. Sometimes I feel like fans get jaded by the glitz and glam, and forget that I'm a human being who has experienced things that have broken me and have helped define who I am as a person today.
It's very easy for someone to laugh in denial if I told them I was the girl who had no friends and got made fun of because of my multi-racial background. I've experienced rejection on so many levels from my peers, and my own family, for things I can't even begin to explain without writing a whole book. This is where things can get a bit dark.
My inspiration for change — which inspired me to join the adult industry — came from me hitting the lowest point in my life. I was struggling to accept the reality I had created for myself. I had the perfect job, a relatively good life and thought I had the perfect boyfriend.
I was miserable. I couldn't accept the fact that I was born to sit at a desk, pay off debt, get married and raise kids who would potentially hate me later in life. Maybe this seems a bit exaggerated, but I worked with men and women in their 30s and 60s ... and they were the most depressing bunch I had ever encountered!
Everything I worried about spawned from their depressing conversations during lunchtime. I hit such a low point in my life that I decided living wasn't an option anymore, I wanted to end it all. Most people will probably lose their minds over this, but it's true and I'm very open about it.
This was the turning point in my life where I decided that I only have one life to live and if I was that unhappy, and willing to go to that extent, that I had nothing to lose and everything to gain.
This is where things started to look brighter for me. I threw caution to the wind and shortly started modeling which led to erotic modeling. I started to discover things that made me feel alive. I started to smile and found purpose and spice in my life! Donny Sins, my fiancé, is the one who introduced me to the adult industry. He took me to all of the events he attended, introduced me to people I could have only dreamed of meeting and explained little by little how the adult industry worked.
I saw how happy everyone was and how passionately everyone spoke about their jobs. I was sold. It was through talking to other performers and asking them about their lives and jobs that I realized I wanted to be in the adult industry.
XBIZ: Well, we're glad you're in a happier place! Now, give us a recap of your first year in the biz. What were the highlights? The low points?
Gold: I just celebrated my first year in the biz! I'm a very honest person — or so I'd like to think — and can definitely say that there were several highs, but with anything, there were just as many lows.
My first year honestly feels like a blur. From the moment I stepped foot into this industry I experienced so much love and warmth from directors, performers, makeup artists, companies and much more.
I remember when I was barely three months into the industry, and I got my first role for a feature film, which was directed by Jay Allan for Adam & Eve. I was in shock, nervous and terrified of disappointing everyone because I couldn't act to save my life! It was a rewarding, but also a very awkward, learning experience.
I'm so thankful that Jay was so patient with me, because I honestly was learning new things about myself and acting as we went a long. Without getting into specifics, some of my personal highlights were successfully getting through my first deepthroat scene — where I actually learned how to deepthroat on the spot! — shooting for my favorite company, Burning Angel, for the first time, meeting Kayden Kross and Manuel Ferrara, shooting for TrenchcoatX, being named a Cherry of the Month for Cherry Pimps, being named an XBIZ Trophy Girl, somehow by the grace of the porn gods winning 2018 XBIZ Best New Starlet and just so much more!
I recently shot two scenes for Kay Brandt's upcoming feature film "Unleashed" for Adam & Eve and can easily say that made it into one of the best experiences and most memorable shoots I've been a part of thus far.
One of my biggest lows was experiencing rejection from people who had known me prior to getting into the industry. Most performers expect to deal with rejection but nobody could've prepared me for the amount of heartbreak and pain I had to go through. It's tough knowing that the decisions you make can permanently burn a bridge between you and the people you love. I'm only human and my heart is fully intact, I feel emotions just like everyone else!

XBIZ: Let's talk a little bit about your Evil Angel showcase, "Taste of Honey." What was the filming process like; how was the talent and what was it like working with Jonni Darkko? Additionally, what were your favorite shoots of the year?

Gold: Shooting "Taste of Honey" was an experience I will never forget. I don't think I have any scenes out that are more intense than those in that showcase. I'm personally not sure if anyone reading this has seen the showcase but it is classy, nasty and intense!
The filming process was exciting from start to finish. I also happened to be nervous from start to finish. To be given the opportunity to have your own showcase in this industry is a big deal. especially when you haven't even been in it for at least a year!
I personally don't know what Jonni Darkko saw in me, but I am beyond grateful that he put so much time, energy and attention into this showcase. The filming process was far from dull. My favorite aspect of shooting wasn't actually the sex, it was the tease I did where I'm covered in nothing but 100 percent pure honey!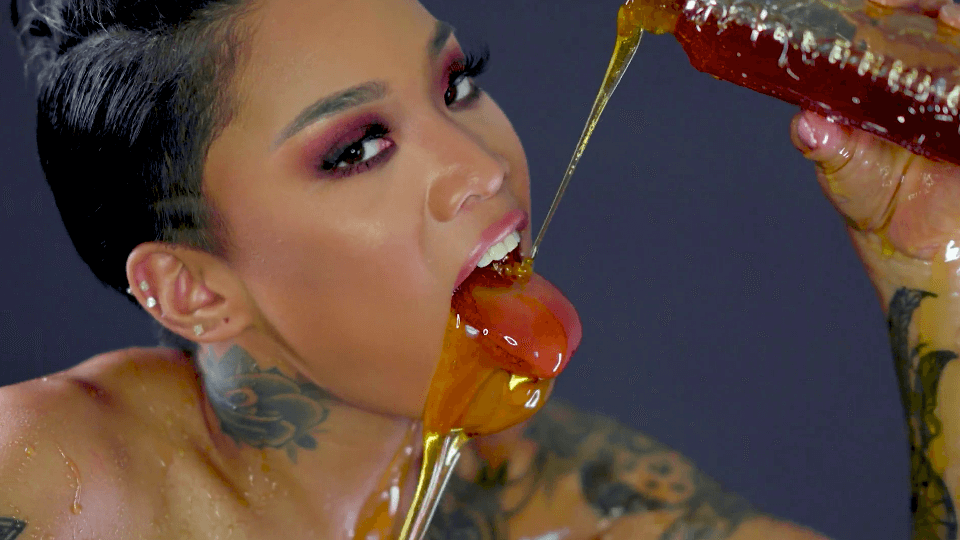 Jonni Darkko decided that why not cover Honey Gold in honey? When he shared the idea with me, and asked how I felt about it I was beyond excited. To be honest he could've said chocolate and I still would've been just as excited because I like rolling around in edible substances. The honey was obviously quite sticky and I got the craziest sugar high from putting all that honey in my mouth. I wish you guys could know what I feels like to roll around in sticky honey while attempting to look sexy. I felt like an elephant trying to do ballet.
Regardless of how I felt, Darkko captured every scene beautifully and was able to highlight my best features which include my nastiest desires. I was thrilled to have the opportunity to do my first double vaginal penetration with Marcus Dupree and Justin Hunt. I honestly have a shallow vaginal canal and genuinely have no idea how they managed to fit both of their manly parts inside me! I think after that experience I'm a little bit more enthusiastic about the idea of having kids one day, hah.
The girl/girl scene I did with Violet Starr was phenomenal. I had the best on and off camera experience with her. She's honestly a force to be reckoned with in this industry because she has an insatiable appetite for sex and a level of enthusiasm that can't be matched in this industry.
The final scene shot for my showcase was a good ol' boy/girl scene with one of my absolute favorite performers, Justin Hunt. I wouldn't have wanted to do my boy/girl scene with anyone else. He and I have a fun and playful on camera chemistry which resulted in an amazing scene for the showcase!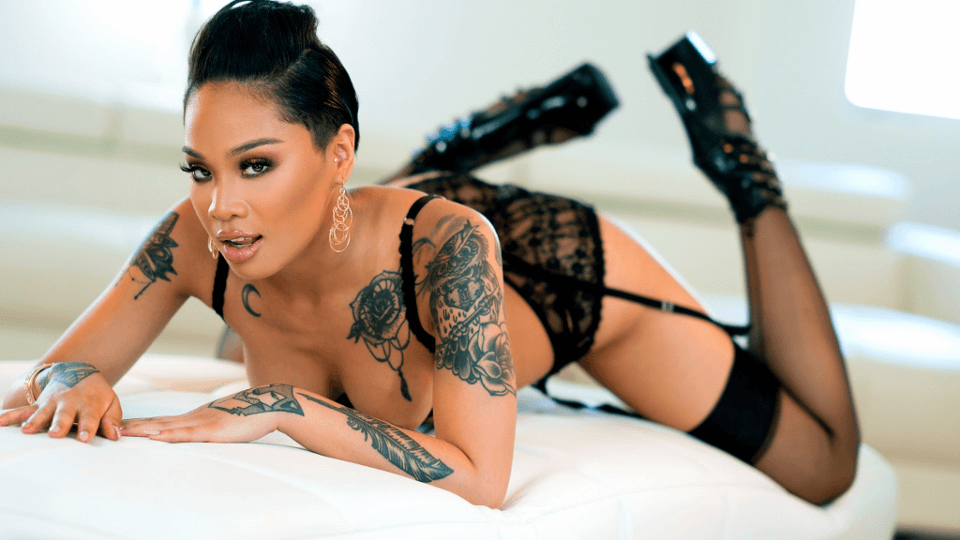 XBIZ: In the industry, who are your closest friends, and who do you look up to? Additionally, who have been the people that have helped you along the way? Whether it was emotionally, or by hiring you, etc.

Gold: I personally have chosen not to have close friends in this industry. There are girls I'm getting to know and wouldn't mind having lunch with, but I relatively keep to myself.
I look up to Kayden Kross and Kay Brandt. I have a lot of respect for women in this industry who have the courage to take their visions and bring them to life. One of my favorite things about these two amazing women is that if you are ever on set with them you never feel awkward, invisible or lost. They create a comfortable environment and never get upset if you mess up a line. These women create an atmosphere where you are happy and comfortable, which results in the ideal environment to do the best possible job you can do. Plus, being on set for the both of them is absolutely fun, it's like adult Disneyland for me!
My fiancé, and my agent Sandra from OC Modeling have been my biggest source of support from day one. Being in this industry has its challenges, and I would not be where I am today without the help of both of them.
I'm not always put together and I have days where I can't get out of my head or I'm my own worst critic. My agent and fiancé keep me level, humble, appreciative and motivated.
To name some (not all) of the people who have helped steer me in the right direction are Mick Blue, Kayden Kross and her husband Manuel, Mike Quasar, Stefan a.k.a. 'BornUnderPunches,' Small Hands and his wife Joanna Angel, Jim Powers, Luna Star, Mark Kramer and Jules Jordan.
These people know me a bit better than anyone else, and allow me to be who I am to the truest form without judgment. It has been a blessing having so many people I admire help guide me in the direction I need to go.

XBIZ: Aside from shooting, what have been your highest revenue streams?

Gold: I would say for the time being my highest revenue streams aside from regular shoots would be OnlyFans and FanCentro. I personally don't like overcharging for any of my platforms and my fans in turn have rewarded me with their loyalty.
I come from a family where we could barely afford dinner every night so I understand that not everyone can afford $10 a month for something they wish they could have. I like to keep everything prices at a reasonable rate that fans of all income backgrounds can enjoy my videos and work without breaking the bank.
So far this has worked really well for me and has made a huge part of my fanbase happy so it makes me happy!

XBIZ: What was it like to be an XBIZ Trophy Girl, and likewise … did you expect to win the 2018 XBIZ Award for Best New Starlet? How did it feel when your name was called?

Gold: Having the honor of being an XBIZ Trophy Girl is an experience I will always remember. I said it before and I'll say it again, there's nothing like seeing the mix of shock, happiness and so much more hit a person when they win an award. Will people remember that I was the girl that handed them the trophy? Probably not. But I will always remember the look on each and every single person's face as they accepted their trophy on that stage.
It made me really emotional to see people who have been working so hard the entire year be acknowledged in front of their peers for the amount of effort and care they put into their craft.
Aside from the actual awards, it was an absolute pleasure standing alongside someone who I've admired for quite some time. Riley Nixon is not just a beautiful woman, she has a beautiful soul that makes her someone you naturally want to gravitate towards. She has an aura that instantly makes you want to smile and hug her!
I personally didn't think that it was possible for me to win any awards. I'm my own critic and there were days where I would wake up full of self-doubt criticizing all the movies I've been in. There were so many mornings I would wake up getting ready to go to set and wonder if I could actually make it in the business and if I could actually be somebody.
Coming from a background where I've been told my whole life that I was never good enough, winning an award seemed impossible. When my name got called on that stage I was in absolute disbelief. It's hard to verbalize the mix of emotions that hit you when all your life you had been fighting to find your place in society and struggling to find your passion and all of a sudden you're being acknowledged for something for the first time in your life.
Before I got into the industry I was just a dreamer. I dreamed of being able to walk on stage and to be able to gracefully accept an award but it was never something that I expected to become a reality. I never thought I was good enough or deserving enough to ever win an award.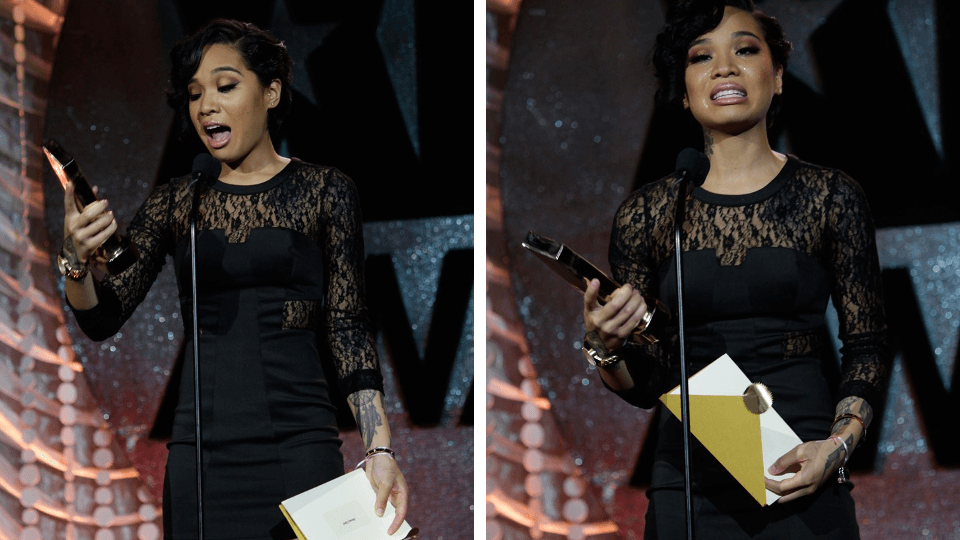 XBIZ: Now, can you tell us what 2018 looks like for you? Any firsts or major goals?

Gold: A lot of people ask me what's next, but to be honest I'm still in the process of figuring it out. I didn't think I would get to where I am today so I still have to decide where the future is going to take me. I do know that I want to shoot my first blowbang this year, which should be extremely exciting!
I don't plan on doing any anal just yet. I feel like I have so much room for improvement that I don't want to get ahead of myself and move on to something new when I feel like I'm not ready. I'm personally looking forward to shooting with Jules Jordan this year. We've shot some cool stuff — some of which hasn't been released yet — and I can't wait to work on more projects with him!
XBIZ: If you could give any advice to new girls getting started in the industry, what would you say?

Gold: Be yourself. I'm a huge advocate for being yourself and staying true to who you are in this industry. There will be people who love you for you, and there will be people who might not be as fond of you, but that's okay.
Be kind. Nobody wants to work with someone who is mean and makes everyone else feel uncomfortable. Kindness will get you far in this industry.
Be clean. If you have a fetish for unwashed balls and hairy armpits it does not mean everyone else does. Unless your partner requests otherwise, make sure that you shower, brush your teeth and always clean your genitalia before every scene. It's also important to urinate after every scene to avoid bladder infections.
Be smart. File your taxes every year and save your money. Take at least 50 percent of everything you make after agency fees and set it aside. If you do this you will have no problem dipping into that saved money to pay your taxes at the end of the year. The last thing you need is issues with the IRS. Don't rely on only your income from shoots. Take advantage of your platform and cam, feature dance, use OnlyFans, ManyVids, etc. to bring in additional streams of income.
Be proactive. Take proactive measures when it comes to your mental health. Being in the adult industry can be challenging mentally, physically and emotionally, and it's important for you to seek out a support system or a porn friendly therapist who you can talk to when you feel as if you need help or guidance.
Be humble. Just because you're in porn doesn't mean you're a porn star. Don't get ahead of yourself and start treating people like they are less than you. You are not Beyonce. Sometimes a new girl will be so full of herself that she won't listen to the director and end up not getting booked again. Don't be that girl.
Have fun. Don't take yourself too seriously, this is porn … and while it's a huge responsibility, this is meant to be a fun job. Enjoy what you do and don't be afraid to project that enthusiasm on camera!

XBIZ: This has been great, thank you. You're such a kind soul. Do you have any last words for your friends, fans or industry family?
To XBIZ … thank you so much for everything each and every one of you have done for me. I am truly honored that I had the opportunity to be your 2018 Trophy Girl and 2018 Best New Starlet. You have all been so kind to me and encouraging, which truly means the world to me.
To be accepted into the Xbiz family means the world to me. I've always been "different" and at Xbiz they not only embrace my differences, they encourage it, and make me feel at home ? I love you guys ???? pic.twitter.com/hUi8l2gtQz

— Honey ???? (@HoneyGoldxx) March 29, 2018
To my agency … I cannot even begin to express the love I have for you and all that you do for me. Joining OC Modeling was one of the best decisions I have ever made, and I'm truly blessed to be able to call each and every one of you at OC my family.
To my fans … I love each and every one of you!!! You all support and encourage me every single day which makes me feel like the happiest girl alive. Know that each of you matter and mean a lot to me. I can't wait to keep pumping out more XXX content for you all to enjoy!
To my peers … be kind, be humble and be supportive. We are all in this together and we need to support one another like the crazy dysfunctional family we are. Our industry has gone through so much in the past year, but it's time for all of us to rise up and support each other in our accomplishments and hold each other up in times of hardship.
It's a new year which means lots of awesome sex, new opportunities and a chance to make a positive difference in our industry. Be the change you want to see and always move forward in love and kindness.
To my love … nobody will truly understand how supportive and encouraging you have been from the day we met.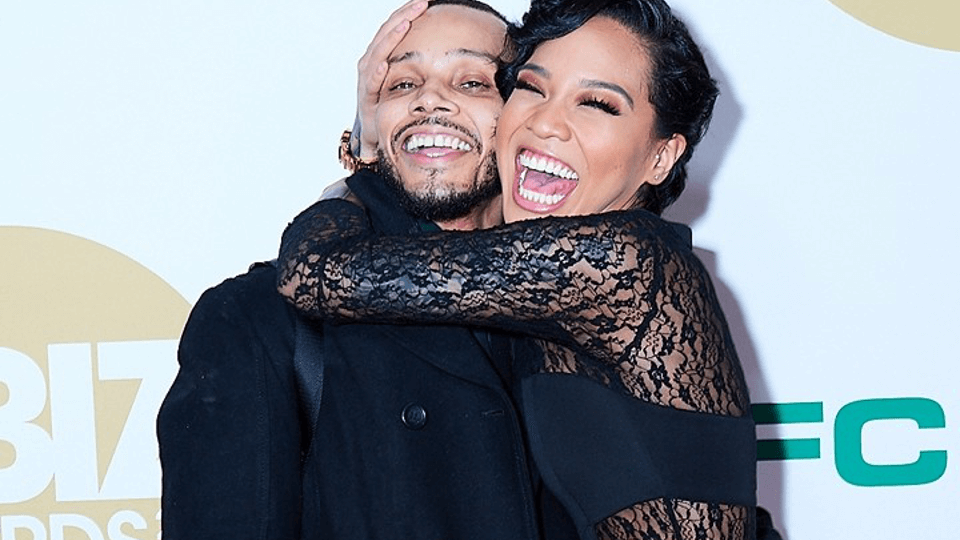 You believed in me before I got into the industry and told me I could when I thought I couldn't. When I got into this industry I had nothing and you took your own money and bought me an entire wardrobe so that I could chase after my dreams. You invested in me, believed in me and supported every crazy idea I came up with. Words fail me when I try to think of what to say to somehow express the level of love and gratitude that I have for you. I am beyond thankful to have you by my side and even though I'm annoying as hell and steal your food … and clothes … and basically anything of yours that's cool, I want you to know that I love you, ya old fart head.
Photos courtesy of Evil Angel/Jonni Darkko and OC Modeling. For more on Honey Gold, follow her on Twitter or Instagram. For booking information, visit her OCModeling page here.