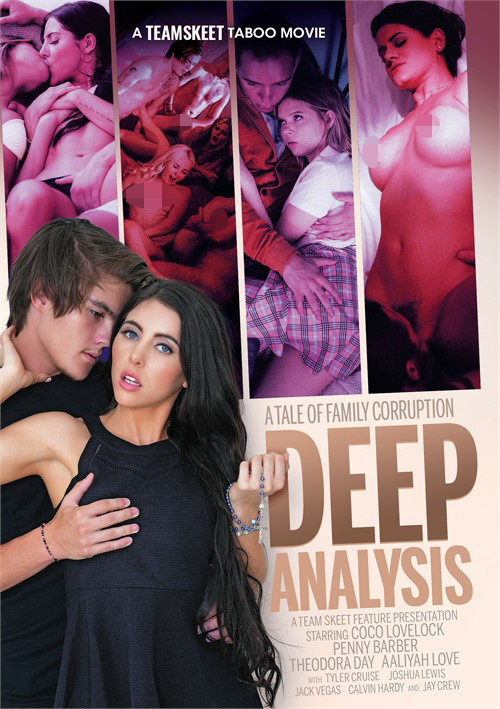 The Von Skeets, played by Penny Barber and Jack Vegas, are a wealthy, kinky, debauched married couple who, under the guise of their psychotherapy practices (done literally under the roof of their home), live to corrupt others, in this case, their neighbors, the Badcoxx, who aren't really that "bad", until the Von Skeets — and their equally perverted stepchildren, Theodora Day and Tyler Cruise — thoroughly pollute them… making for some very arousing porn.
And the opening scene between Barber and Vegas really gets the film rolling. While curvy brunette Barber is in the bubble bath, she's watching a porn movie — with her in it! — and masturbating to it, when her on-screen hubby, Vegas, walks in. "What did I do to deserve such a kinky wife?" he gloats, before they start getting it on; Barber still wet and shiny from the water and soap. Yum! The scene smoothly transitions to the bedroom, where we get passionate, up-close missionary, spoon and doggie, the latter being best with Barber and her outrageously juicy butt.
We soon find that the Von Skeets' daughter and son, played by Theodora Day and Tyler Cruise, are just as bent as their parents, with the two inviting the Badcoxx's innocent stepchildren, played by Coco Lovelock and Joshua Lewis, over for a party (while Penny and Jack are gone for a week), culminating in steamy foursome. On a large sofa at the Von Skeet residence, Tyler hooks up with Coco, and Josh gets down with Theodora. Josh eventually gets it on with on-screen stepsis Coco, including drenched spoon and missionary, while Tyler (finally!) doggies the tantalizing Theodora. Ultimately, Josh creampies Theo during doggie, which, much to Coco's chagrin — as she eats Theo's pussy from below — drips down upon Lovelock's face. It's simultaneously nasty and funny.
Next, the stepfathers — Vegas and Calvin Hardy — get it on with their daughters (after a heart-to-heart "chat"), in another rousing mini orgy. Both young ladies are excellent cocksuckettes; my favorite position being Theodora getting doggied by Calvin, as Coco is (again!) below eating Theo's pussy, while Vegas slams it to Coco missionary style. And after each dad fucks his own stepdaughter via missionary, the pops pop in the ladies' faces; with the pixies naturally sharing the spunk.
The same type of foursome takes place between the boys and their stepmothers in an even more apocalyptic scene. Apparently, the Von Skeets' butler, played by Jay Crews, has videotaped the junior orgy between the stepchildren, leading to drama between the families and the butler getting promptly fired. In turn, during a heart-to-heart 'chat' with their sons, MILFs Aaliyah Love and Barber show what superb dick-inhalers they are. Doggie with Ali and her pear-shaped butt getting hammered by Tyler is excellent, as is doggie between Josh and Penny, with Penny's succulent butt cheeks madly bubbling. As Ali is doggied, she winds up sucking her on-screen stepson Josh's cock, leading to missionary with Josh and Ali, as well as cowgirl with Tyler and his on-screen mom Penny. Choice!
And we end with a nice, sleazy, sticky orgy involving all eight family members during a masquerade party which the Von Skeets hold at their home. All the guys get a crack at each one of the ladies, but I especially liked seeing lush-assed Aaliyah Love gets doggied by Vegas and then Josh; while it was equally enjoyable seeing Calvin lift his own stepdaughter Coco off the ground and bang her in mid-air missionary style. Somehow the butler shows up, wearing a mask (as they all do) and fucks Theodora and Coco, missionary and reverse-cowgirl, respectively. Eventually, the guys all jerk off upon the ladies' mugs, as the babes are all lined up and on their knees.
"Deep Analysis" is a feature that definitely delivers, with lavish/brightly-lit sets, an excellent selection of blondes and brunettes (especially Penny and Aaliyah), and marvelously passionate/taboo sex. It also has a twist ending, which some viewers might enjoy, while others might find it a bit confusing. You be the judge.
Synopsis:
Every family has a secret, but none run quite as deep as the Von Skeets. A prestigious family of psychologists, the Von Skeets are known for their unconventional methods. Through atypical perverted therapy, the Von Skeets entice the Badcoxx family to explore their darkest, most intimate feelings, setting them down a path of self-discovery. A story filled with deceit, manipulation, lust, and sexual freedom, Deep Analysis is an intense thriller that pushes the boundaries of sexual taboos and redefines sexual norms forever.
Copyright © 2023 Adnet Media. All Rights Reserved. XBIZ is a trademark of Adnet Media.
Reproduction in whole or in part in any form or medium without express written permission is prohibited.