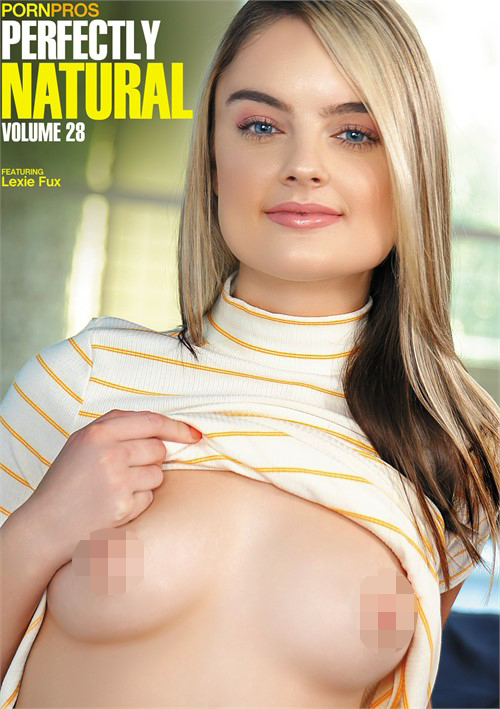 Actually, most of the breasts in this solid gonzo look unnatural because they're so incredibly young, fresh and perfect! Yummy! The young ladies, of course, have far more to offer than just a great pair of terrific tits: namely, pretty faces, shapely butts, and way-deep hankerings to engage in some super sweaty sex.
Up first is Sona Bella, with long, flowing black hair; big glasses (excellent touch!); and totally authentic boobs that are so full and firm that they, again, look unreal. But trust me, they're totally real! We first see her passionately vibing herself before the ever-reliable Tommy Gunn shows up. I love Sona's white fishnet lower-body stocking, her juicy butt cheeks sticking way out of the opening. Sona gives a loving blowjob, after which she offers up some dick-stiffening doggie. But I really liked missionary with her heatedly moaning at the overhead camera. Those firm fun bags fabulously flow during reverse-cowgirl as Tommy fingers her clit before eventually spurting all over the upbeat sweetie's mouth and nose.
Another always-smiling, good-natured honey is our second brunette: the incredible Scarlett Alexis, possessing probably one of the best racks in the entire biz. All oiled up for the camera, Scarlett vibes herself with another gigantic white device before Brock Cooper shows up. They get into some scalding 69, with Brock sitting in a chair eating her pussy as her luscious, scrumptious naked body is draped over his. Alexis sucks his prick to the bone. Horny stuff! Then, she's down upon her knees, sucking that raging throbber. There is lots of magnificent eye contact from Alexis — and loads o' spit. Doggie on the wide, comfy, sofa-like chair with ultra-fox Scarlett is amazing. And missionary is even better, with plenty of intense eye contact and those swollen, firm boobs magically cascading. With Scarlett doing cowgirl, we fully see that her ass is just as superb as her boobies. Again, Scarlett is just always so marvelously happy and animated. After Brock-cock whitewashes her tongue and mouth with jizz, she lets it spill all over her killer tits, her big eyes looking dreamily at the camera. Outstanding!
Brown-haired, busty cutie Leah Lee goes a bit crazy in the back of an SUV care of a remotely controlled vibe — Tyler Steel at the controls — before they head home for some deep sex. She's a good cocksucker. "I fucking love your dick," Leah soon pants to Tyler during hammering missionary, her marvy boobs flowing. The bed creaks like it's gonna split in two (just like little Leah's body!). During overhead doggie, we get to enjoy Leah's wobbly butt cheeks. With reverse-cowgirl, there's dynamite springy boob action — although with the same position, from Tyler's perspective, we get to enjoy that fleshy Leah booty, which she doesn't mind getting spanked. Tyler eventually jackhammers Leah's pussy big league, ultimately creaming all over her mouth. Our girl makes bubbles with the still-warm gametes, before swallowing the cheese whiz whole. Leah rocks!
Lastly, blonde babe/DVD cover girl Lexi Fox is paired up with Johnny Castle, who has her put a vibe up her pussy while they're driving, as well as when they're in a desolate parking lot — where it looks like Fox is having a seizure, although she's smiling and laughing — before they head home for some heavy-duty action between the sheets. And, yes, Lexi's tits look fab: not too big, not too small (like all of the girls in this gonzo, actually). After Johnny takes out the vibe and eats her, Lexi returns the flavor, slowly sucking his prick to the base. She then rides him cowgirl, looking at the camera. During missionary, Lexi's boobies undulate a lot, as Johnny pounds her harder; Castle eventually jerks off into Lexi's smiling, giggling face.
From start to finish, these amazingly breasted babes perform magnificently — though brunettes Sona and Scarlet take the (perfectly natural!) cake, in my opinion.
Synopsis:
Sona Bella - Bush and a great rack: Latina perfection!
Scarlett Alexis - Our stud goes to town on that pussy!
Leah Lee - Ass and tits; she's a complete package!
Lexie Fux - She has the body you dream about!
Copyright © 2023 Adnet Media. All Rights Reserved. XBIZ is a trademark of Adnet Media.
Reproduction in whole or in part in any form or medium without express written permission is prohibited.