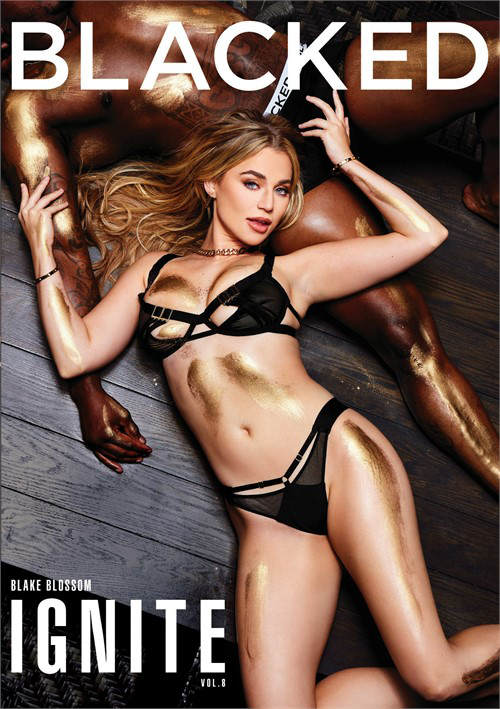 In "Ignite 8," the folks at Vixen's Blacked brand present four more fiery scenes.
Blake Blossom, Rob Piper ("On Top"):
Director Laurent Sky helms this scene about a young woman using her body to get what she wants. Blake Blossom prefers fucking Rob Piper because he's simply better at it than her boyfriend. But sometimes, it's hard to get Rob off the golf course and into bed. Luckily, Blake knows exactly which buttons to push to manipulate Rob into doing what she wants. Blake slobs Rob's knob messily to start before lowering her ample ass onto his dick for a nice ride. Blake has a great ass, and Rob's hands are all over it as she humps him like a savage. Reverse cowgirl gets Rob all riled up, and he ends up pounding Blake like a jackhammer in doggie before finishing her off in a sexy side spoon.
Mary Rock, Joss Lescaf ("Friendly Wager"):
In this scene, directed by Julia Grandi, Joss Lescaf and his wife are skiing in the Alps when he happens upon a cute Mary Rock on the hill. Upon introducing the tasty tart to his wife, the randy couple decides that she's the perfect candidate for some sexual shenanigans. And Mary is ripe for some wild abandon herself, having just broken up with her boyfriend. This is a beautiful backdrop. Rock and Lescaf fuck on a mattress in front of a giant mountain peak, which is a perfect example of the importance of setting when it comes to sex. Everything in this scene is elevated because of the mountains in the background. Mary looks like a goddess, and every position feels like a living painting. It's almost a disappointment when the action moves to the bedroom, but Mary's incredible body makes up for the scenery downgrade.
Agatha Vega, Darrell Deeps ("Vacay, Part 2"):
This scene features Agatha Vega and her friends' vacation in a paradise location. And Agatha wonders if what they say about the island's ability to loosen inhibitions is true. In the first part of the story, Agatha's friends all find themselves deep in sexual fervor, but Agatha resists the urges. In this scene, she finally succumbs to her lust, and Darrell Deeps is the recipient of her unexplored virility. Agatha takes a nice pounding from behind that brings her to shuddering orgasms before Darrell flips her over and gets himself off by pumping her hard in missionary.
Kelly Collins, Mia Nix, Aaron Rock ("That One Summer"):
The final scene in "Ignite 8" comes from Grandi, who casts the stunning Mia Nix alongside the cute Kelly Collins. And boy, do they make a great dessert! They descend on Aaron Rock like sexy sea sirens; their movements are slow, deliberate, and enticing. They slurp down his dick like ice cream, and they take turns letting him stuff their pussies while licking each other. Mia rides him like a champion (good fucking lord!), and she also rubs Kelly to a leg-shaking orgasm while Aaron hammers her from behind on one of the best moments from the scene. Not to be outdone, Kelly gets a strong fucking in a very sexy spoon that is really something to see.
There is certainly a fair share of hot sex in this eighth volume of the series. Julia Grandi and Laurent Sky do a good job capturing the essence of hot sex, and the cast does a great job of delivering on a myriad of fantasies.
Synopsis:
BLACKED.com is cooking up trouble with another installment of IGNITE. This series will get your boiling with sizzling sex action. Featured cover girl Blake Blossom is with another man behind her boyfriend's back, but holding her part-time lover down will require more of her than she'd be willing to do for other guys. Mary Rock, Agatha Vega, Mia Nix, and Kelly Collins are all inside turning up the heat. Steamy stories, fiery production values, and scalding hot performances: BLACKED.com hopes youre ready to hit IGNITE.
Copyright © 2023 Adnet Media. All Rights Reserved. XBIZ is a trademark of Adnet Media.
Reproduction in whole or in part in any form or medium without express written permission is prohibited.