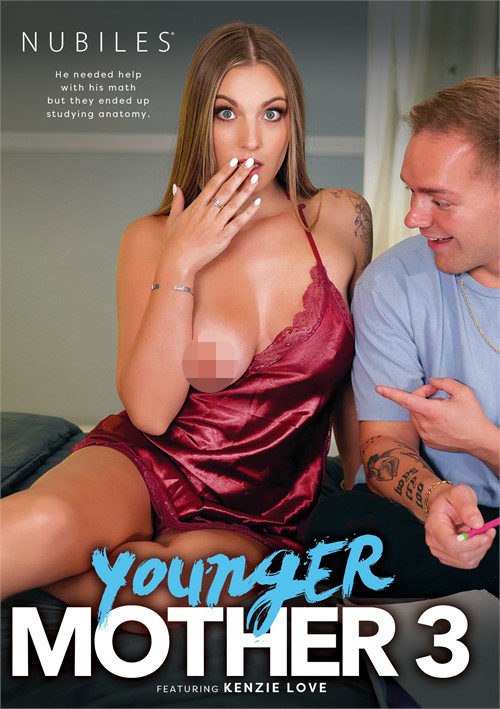 Even though both DVD cover girl Kenzie Love and the deliciously exotic Lacey London are wonders to witness in action, the true stars of Nubiles' "Younger Mother 3" are bawdy brunette Ashley Wolf and blonde, horny, totally awesome Amazon Jasmine Daze.
Sure, I get that a lot of folks will tune in to "YM3" for big-boobed/big-assed Ms. Love, as well as tasty-from-head-to-toe Lady London. And that's totally understandable. The scene with both Love and her on-screen stepson, played by Joshua Lewis (who basically seduce one another when Lewis repeatedly asks for help with his math) is way horny, especially care of Love's curvy, buxom figure and her animated demeanor, like when she insanely bounces via cowgirl on Lewis' love stick. And it's just as exciting watching Tyler Cruise get down with his own stepmom, played by cute and carnal Lacey, in his bathroom as she's cleaning the place up, with both of 'em doing a fine job of getting into the spirit of things on such a hard, undoubtedly uncomfortable bathroom floor.
But Ashley and Jasmine are the top moms here. I just love the way Ashley looks like an actual mother. Really. She dresses, acts, and all around has the appearance of a concerned, doting mom. Check out the conservative dress she's wearing as one example. And when Ashley catches her stepson, played by Anthony Pierce, beating his meat on the living room sofa, you really believe she's shocked. But you similarly buy her astonished attitude when she gets a good long look at Pierce's thick pud; Ashley initially shows a believable amount of reservation about having sex with her stepson before actually doing so. And I just love her thick lips, smallish tits, smooth ass, and sleepy slut's eyes. She gives a fine blowjob, truly excels during cowgirl, and really rides Pierce's penis before the latter lays quite a bit of splatter all over her sexy face. "Your dad never does anything like that for me!" Ashley elatedly announces, hot sperm webbed all over her face like sticky custard. "That's because he's a loser," Pierce hilariously tells her. Kudos! I wanna see more of astounding Ashley!
But I think I like blonde, big-boobed, big-assed Jasmine even more, care of her potent scene with Joshua Lewis. We first see the tall, rangy, attractive Jasmine dressed in sexy lingerie, dancing with herself in their home, thinking that she's all alone. Jasmine, that is, doesn't see/hear her stepson, played by Lewis, walk into the house from school. He likes what he sees. And damn, I don't blame him! Again, like Ashley, Jasmine plays the shocked mother very well. She sees Lewis watching her and immediately covers up her breasts, even though they're largely covered by her sleek bra. And Jasmine quickly expresses reservations to Lewis about their dancing together. However, Jasmine slowly melts, succumbing to Josh's raging hard-on upon the living room sofa. I think Jasmine is just a total knockout. She's truly gorgeous. There's a truly healthy, wholesome aura about Jasmine, which is thoroughly magnetic. I even dig her cute, slightly floppy ears! Additionally, her ass is just so nice, and big and round. And those tits! Good grief! They're large, long 100 percent natural. Love 'em! And when Jasmine is on her back getting ploughed missionary style, those breasts just separate on either side of her torso, looking so long and full and unique. Man! Daze is also a good, devoted cocksucker, while she's simply irresistible during the final doggie drilling (and I mean drilling!) Lewis gives her before he creams all over that fine fanny. Like Ashley, Jasmine is one chick I definitely wanna see more of!
With just enough storyline in each episode to make the movie memorably arousing, "Younger Mother 3" totally delivers the goods, especially thanks to the delightful late-night charms of ultra-babes Ashley and (mercy!) Jasmine.
Synopsis:
Stepmom is shocked but she likes what she sees.

A hot stepmom makes the best tutor.

It's nice to have a stepmom who's there for you whenever you need her.

She was dancing in lingerie when she caught her stepson peeping.
Copyright © 2023 Adnet Media. All Rights Reserved. XBIZ is a trademark of Adnet Media.
Reproduction in whole or in part in any form or medium without express written permission is prohibited.