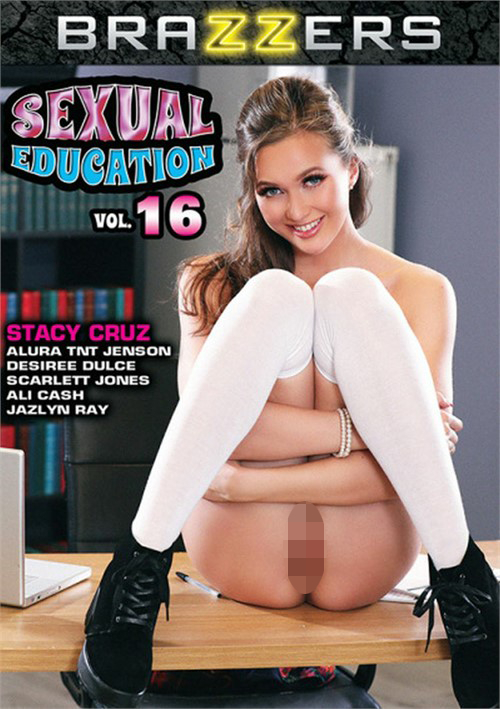 The problem sometimes with schoolroom sex scenes is that, well, it's not terribly comfortable for the female and male performers to be banging away upon hard wood surfaces: i.e., a schoolroom or office desk. Long live the old-fashioned bed and sofa! Nonetheless, the ladies and gents bravely performing in Brazzers' "Sexual Education 16" have no problem whatsoever — at least, no visible issues. And the female talent in this sweet sixteenth volume is especially top-notch, making it one of the horniest (and funniest!) installments in the long-running series. The standout scenes feature extreme fuck dolls Stacy Cruz, Jazlyn Ray and (have mercy!) Desiree Dulce.
We definitely hit the ground running with pure beauty and DVD cover model Stacy. The amazing amazon (at 5' ft., 11") is just so irresistibly bubbly, upbeat, and downright gorgeous that it's hard to keep your eyes off of her. Stacy totally rubs high school principal Danny D. the right way when she dresses in a far-too-alluring fashion; our picture-perfect young lady seduces the boob in no time flat. And all positions from Stacy totally rock, especially doggie (great butt!) and missionary (that strikingly lovely face!). Danny Boy doles out the best cumshot in the entire movie, and his amazing deluge is repeated in slo-mo for better effect. Hilarious ending, too!
MILF Alura Jenson plays a high school teacher who is pissed off at troublemaker Ricky Johnson for making her have to stay after school to monitor the dude during detention, causing the horny teech to miss a hot date. Jenson takes it out on lucky Ricky by having him fuck her right there upon her desk in one searing spontaneous tete-a-tete. It's great when Ricky deeply face-fucks Alura, as well as when he lifts the huge-titted/-assed Jenson off the ground and bangs her missionary in mid-air. Doggie and cowgirl display Alura's marvelously marshmallowy ass, and we're treated to another hilarious ending.
Scarlett Jones is a fetching British nymph who winds up seducing the returning Danny, the latter playing a teacher who catches Jones cheating (by writing the test answers across her ample breasts!), with extremely arousing results — thanks, that is, to Scarlett's delectable body and impressively animated nature. But it's the sequence with ultra-fox Desiree that's off the fucking scale. This woman is just so damn beautiful and erotic that it's ridiculous. Those deep liquid eyes, her head-giving lips, that juicy ass, her perfectly bumped-up boobs and intense appetite for cock are magnificent. Desiree plays a bored substitute teacher, making her small class of three male students watch a video while she texts away on her phone. Yet she spots one student, played by Ricky Spanish, whacking off to her — after he focuses on her eye-catching cleavage, skin-tight dress, and exposed undies — and the slutty Desiree brings him to a nearby break room and totally fucks his brains out. Every Desiree position is outstanding, especially cowgirl and doggie (what an exceptional ass!). And I can't get enough of her delightfully hypnotic eyes during her intense blowjobs. An XXX-traordinary talent!
Mick Blue plays a teacher who gets readily seduced by two different lassies in the two final scenes. Round and pillowy sweetie Ali Cash is quite the scrumptious student, especially with her brilliantly big ass and hefty, all-natural boobies. And the banging of bawdy blonde beauty Jazlyn Ray is thoroughly awesome. Jazlyn's fine, juicy butt is all over the place during her tryst with Blue, especially during cowgirl, reverse-cowgirl and (damn!) doggie. During the latter, she reaches underneath her twat and grabs hold of Mick's shaft as he's pounding away at her, causing him to ultimately erupt a torrent of homemade custard into her mouth.
What a superb volume of "Sexual Education!"
Synopsis:
Stacy Cruz just could not wait to turn eighteen and finally be able to dress like a little slut at school. Test day? Just an occasion to show off her tight sexy body to the entire school. When her teacher sends her to principle Danny D's office, she can't help but tease him with her hot, revealing look, but is sexy Stacy really as slutty as she claims to be? Danny is about to find out!

Busty professor Alura TNT Jenson could not be more irritated. Her evening plans have been dashed thanks to wise ass student Ricky Johnson, whom she now has to watch during after school detention. While calling her date, to apologize for bailing, the horny Jenson can't resist spreading her legs and having a little bit of phone sex with her beau.

As soon as professor Danny D has his back turned, Scarlett pulls out her tits and sneaks a peek at her answers. Danny ends up catching her red-handed, but he'll soon find himself getting seduced by his horny student and fall victim to her thirst trap, leading to intense classroom sex!

Desiree Dulce is a substitute teacher who just wants an easy day, so she proposes that the class watch an educational movie. Once she has the class focused on the movie, Sexual Education Vol. 16, Desiree tries to relax, but finds herself distracted by student Ricky Spanish. After avoiding getting caught by nosy students, Desiree sneaks Ricky out into another room to fuck him.

Making her Brazzer's debut, Ali Cash is late for professor Mick Blue's big exam, and all eyes are on her big, natural tits popping out of her skimpy top the moment she enters the class. Mick doesn't approve of her wardrobe and hands her a blouse to change into instead, but guess what? It can barely contain her titties either!
Copyright © 2023 Adnet Media. All Rights Reserved. XBIZ is a trademark of Adnet Media.
Reproduction in whole or in part in any form or medium without express written permission is prohibited.