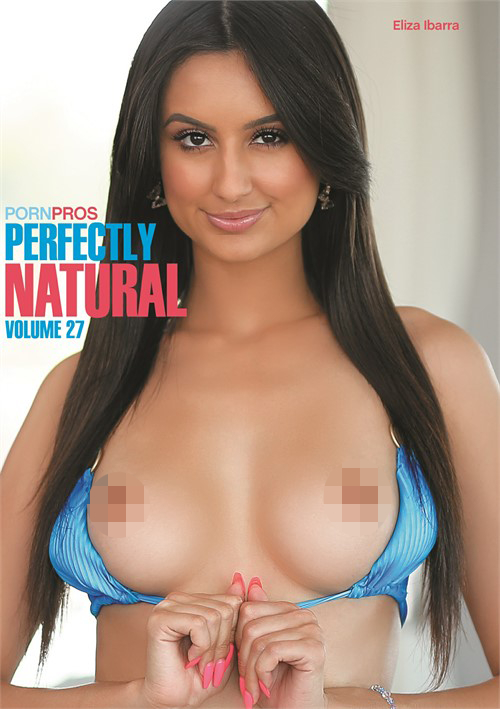 "Perfectly Natural 27" boasts an amazing group of all-natural boobs, ultimately giving us a total of eight. Eliza Ibarra, Skylar Vox and Scarlett Alexis — along with their choice chests — truly shine in their passionate Porn Pros scenes.
As far as huge, sloppy, natural boobs, it doesn't get any better than the big-hootered (with large areolas to boot) Skylar, who also has a large, juicy ass; foxy Vox happily gets banged here by British banger Danny Mountain. After her pussy is primed up and sopping wet from a well-charged vibe, Skylar gets the real deal from Danny Boy, who first gorges on her sopping slit as she plays with her fun bags. This is followed by some enjoyable cocksucking, then some excellent cowgirl, with that prominent Skylar ass bubbling all over the place as she hornily rides Danny. We get a frontal view of cowgirl soon enough, and Skylar's hanging juggs are wobbling everywhere. Vox likes getting choked during missionary (those bodacious boobs flopping around) as well as during spoon. Doggie with that impressive ass cleavage on Skylar is superlative, her butt just quaking like mad. And we get to thoroughly enjoy the sleepy slut's eyes looking at the camera during missionary (while similarly enjoying all that marvelous baby fat), before Danny fully slicks her tits down with sperm.
Eliza Ibarra's own scene is way too short, in my opinion, especially since she's the DVD cover girl (and what a great shot of her). Nonetheless, the incredibly contoured, tall and rangy Eliza does her best in terms of all positions, with Kyle Mason being the lucky dawg who gets to enjoy this amazing babe with such firm, long tits. She gives a loud, wet blowjob, followed by some total horniness during missionary and semi-standing doggie. EIiza grinds up a storm (as always!) during cowgirl and reverse-cowgirl, before Mason sprays a ton o' tube paste all over her pretty face.
Lumi Ray is a compact cutie with brown hair and slightly big, wildly solid tits, getting all oiled up for the much older Brock Cooper, who gets to really feast on this sweetie, after she gets her pussy all wet from a giant vibrator. She returns Brock's eager cunnilingus with a slow, well-focused suck-off, including some much-appreciated eye contact. Lumi looks fab during cowgirl and reverse-cowgirl, showing off her shiny ass during the former and her choice tits and firm tummy during the latter. I like how Brock really slams away at her small-but-still-jelloey butt during doggie; her cheeks are made all the more scrumptious with oil. Lumi's eye contact is equally fantastic during deep and horny missionary, before Brock blows his load all over her eyebrows and eyes as well her nose, lips, and mouth. All bases covered!
Lastly, bubbly and exotic-looking darling Scarlett Alexis is a true treasure with almost unnaturally firm breasts (but they're totally natural!) that just look so damn tasty, as does her entire petite, taut bod. Alexis frequently smiles and is just so good-natured as she gets the full PN treatment from the returning Brock. She first vibes herself with a small purple doohickey and afterwards with a huge white one, before lovingly sucking Coop-cock — sometimes to the bone, with plenty of awe-inspiring, dick-hardening eye contact. I think it's actually the best BJ in the movie. I love how Scarlett groans during doggie, her tight little butt totally in our faces. She delivers quite a bit of yelping and hyperventilating during missionary; the honey's tits look totally dreamy, and they actually bounce during athletic rounds of reverse-cowgirl and cowgirl. Brock soon plasters her schnoz, lips, and hooters with love liquid, after which Alexis still sucks Brock-cock! She's a keeper, alright.
All the perfectly breasted young ladies in "Perfectly Natural 27" are 100 percent worth checking out in action, my faves being Skylar, Eliza and newbie Scarlett. This is good, strong stuff.
Synopsis:
Skylar Vox's boobs are the definition of squeezable. Eliza Ibarra is tall, thin, and curvy in all the right places. Watching Lumi Ray's boobs bounce is so nice. Scarlett Alexis' body is a seriously wild ride.
Copyright © 2023 Adnet Media. All Rights Reserved. XBIZ is a trademark of Adnet Media.
Reproduction in whole or in part in any form or medium without express written permission is prohibited.