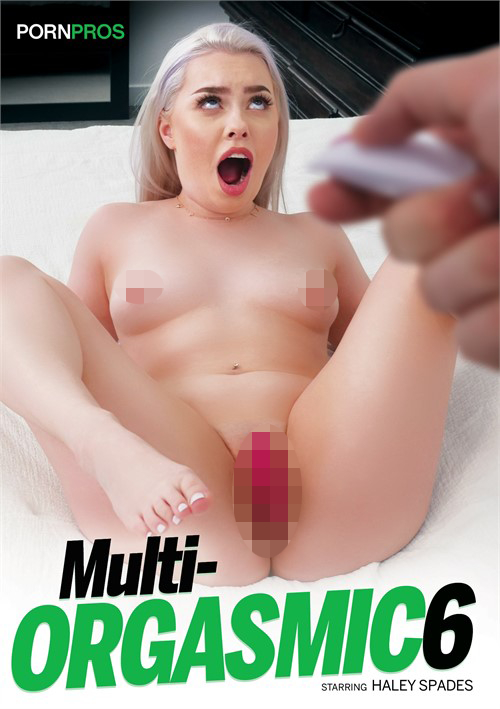 After all four of the delicious-looking, extremely randy young ladies in "Multi-Orgasmic 6" go through their various histrionics with high-powered mini-vibrators — some of which are so compact that they can literally disappear inside their pussies — they eventually get off with the real thing (as in c-o-c-k), care of a few studs I recognize (and some whom I don't). Each woman gets progressively juicier than her predecessor, and that's saying quite a bit, indeed!
We have perhaps the most recognized of all of the young vixens in Scene 1 as Vanna Bardot gets off with her own mini-vibe, controlled by Brit degenerate Danny Mountain via his cell phone, before he ploughs her big time with his London love loaf. She sucks dick rather competently, followed by Danny absolutely pigging out on her no-doubt soppin' twat. Doggie is definitely a movie highlight, with this lush-assed babe shaking that moneymaker like today were her last day on Earth. She seems to lose it during missionary; check out her eyes going blank as Danny drills her something fierce while she maniacally fingers her clit, before the fortuitous perv blows his load o' London lovin' all over Vanna's pretty gob.
Next, the unique-looking, ridiculously cute Tristan Summers (wearing braces, even!) keeps manipulating her fresh vagina with another one of those mini-vibes, before Kyle Mason gives her the real deal in another scorcher of a scene. And talk about an excellent dick sucker! Tristan really gets passionate as she tries to get that thick beast attached to Mason all the way down her gullet, before Kyle screws her reverse-cowgirl, cowgirl (another show-stopping sequence, with Tristan's perfectly-formed, shiny pair of round ass cheeks wildly jiggling), and missionary (lots of disappearing eye moments here, as Tristan gets off numerous times, while we get to appreciate her relatively large, all-natural tits). Then, Kyle releases his load right into her fertile hole (yeah!), followed by Mason dumping an extra helping o' secret sauce all over her pretty mug.
Brunette Mila Money is a total juicy Lucy, first getting off in a dude's car followed by the two of 'em going outdoors to a coffee shop where he controls the vibe in her vadge with a remote control. Mila goes slightly mad, but without revealing herself (it's a very brief interlude, anyway) before they settle down upon an honest-to-goodness bed and do the real thing. Some truly horny moments follow. I like watching Mila's all-natural boobies undulate during missionary, and doggie is out of this world with her world-class ass. Wow! It's juiciness personified. The guy knows how to slam it well without getting his hands in the way (for the most part). And what a pair of billowing pillows Mila has! She's a screamer, too. Cowgirl rocks, with Mila liking a nice spanking now and again; the stud totally gets her off during reverse-cowgirl before bustin' his nut all over her lips and cheek.
And we end with another ridiculously succulent sweetie in the form of platinum blonde cutie Haley Spades, who is paired with an older guy I've never seen before. He handles himself quite well with this seemingly insatiable spring chicken. Haley gets off somewhere in a desolate public park with another one of those remotely controlled devices, as well as in the guy's car and, later, in her/his/whoever's home; this meaty morsel loves every inch/minute/drop of her natural plundering. Her head-givin' lips are just perfect for a deep, nasty, merciless face-fucking. Haley's lush thighs are in our faces during missionary, while her killer ass cheeks are extraordinarily marshmallowy during doggie. The guy first blows his load into her ever-famished mouth, then supposedly cums inside her during missionary.
All of these babes rock in the orgasm department, though my faves are fleshy foxes Haley and (hubba, hubba) Mila. Worth checking out!
Synopsis:
The goal isn't just to get her to cum; the goal is to leave her exhausted, lying in a pool of her own juices!
Copyright © 2023 Adnet Media. All Rights Reserved. XBIZ is a trademark of Adnet Media.
Reproduction in whole or in part in any form or medium without express written permission is prohibited.