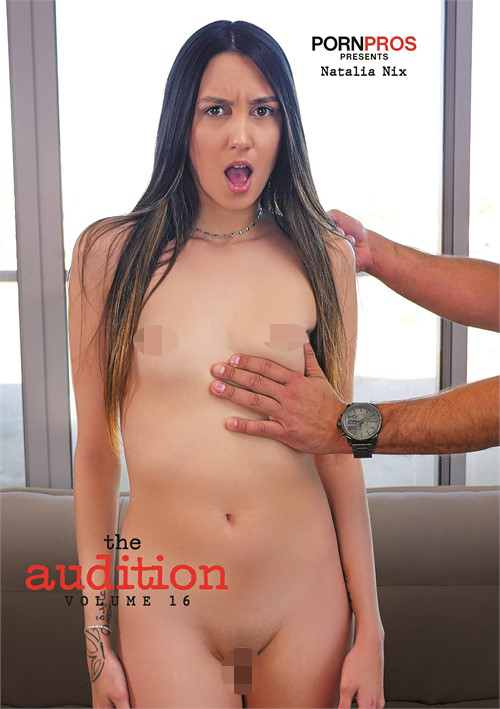 "The Audition" is basically a POV gonzo with good camera work and (yes!) easily aroused young babes, the formula being that the male performer, whom we never see (as his face is technically blurred out in all scenes), meets up with his female starlets at the airport and while in the car — and on route to the "studio" (which looks like a regular house to me) — tells the ladies what to expect in their scene, which is pretty much straightforward sucking and fucking, all totally worth checking out largely due to the well-chosen female talent.
The first sexpot is luscious, all-natural blonde Skye Blue, providing quite the audition indeed. Skye, like all of the girls, talks a little about herself to the mystery man and his camera (the interviews sometimes go on a tad too long), after which, the games begin. Skye gives a superb deepthroating to the guy, followed by some doggie action, shot from three different angles (including from behind); our girl doesn't mind a bit of spanking. Cowgirl shows off Blue's bodacious butt; reverse-cowgirl displays her amazing headlights; and missionary, shot from the side and overhead, lets you similarly enjoy those large, soft, pillowy hooters. The dude eventually jerks off into her pussy, resulting in a nasty cream pie.
My favorite gal of the lot, red-haired cutie Nala Brooks, has an even more incredible pair of all-natural tits. Nala gets totally naked in the car to said studio, soon doing her interview for the camera once they're at the joint; after that, she masturbates, gets eaten, sucks a mean prick (with delightfully wide eyes looking straight at the camera), and gets down to the vaginal penetration, which is what we've all been waiting for with this truly tasty tart. Doggie with this ultra-juicy morsel is a movie highlight. What a big, round, succulent pair of ass cheeks! She shows her natural rhythm during cowgirl (not at all minding some kinky spankings), while her prize-winning boobs show their own natural rhythm (bouncy-bounce!) during reverse-cowgirl and missionary; our faceless lothario deposits yet another cream pie. So, as you can see, there's a method to the unseen stud's madness (his angles and positioning of the girls), which is perfectly fine. Hey, it works for me.
Long-haired, slinky brunette (and DVD cover girl) Natalia Nix is next, getting finger-fucked in the car on the way to the shoot, with her best moments being a choice face-fucking (during which she gives our unseen Romeo a big, wet kiss, which is always appreciated in any movie) and cowgirl, where Natalia really works that fine fanny. It's also great seeing this sweet spinner getting totally turned on as she's heatedly hammered via missionary. And, mixing things up a bit (and not delivering another cream pie), our stud jerks off upon Natalia's beaming face.
Lastly, pretty Liz Jordan magnificently winds things up, after getting the usual finger-fuck treatment in the car on the way to the studio (which is fairly comfortable-looking, for the record). Liz offers a relatively low-key performance, first giving an attentive blowjob, then showing off that meaty ass during doggie (a scene highlight!). And she likes getting choked and seriously pounded during missionary, before sucking our phantom cock off to eruption. And what a pop shot! He squirts all the way across her face, into her hair, and straight up her nostrils. Nice aim!
"The Audition 16" is a strong entry, filled with cute, delectable, horny lasses; my own favorites are Liz and (good grief!) Nala, though Natalia and (most definitely) Skye also provide some amazing eye candy and body heat.
Synopsis:
Skye Blue: All natural tits complete her beautiful body!

Nala Brooks: Gorgeous ginger is on fire for hard cock!

Natalia Nix: Tiny frame, flat chest but tons of sexy!

Liz Jordan: Innocent cutie that just begs to be corrupted!
Copyright © 2023 Adnet Media. All Rights Reserved. XBIZ is a trademark of Adnet Media.
Reproduction in whole or in part in any form or medium without express written permission is prohibited.