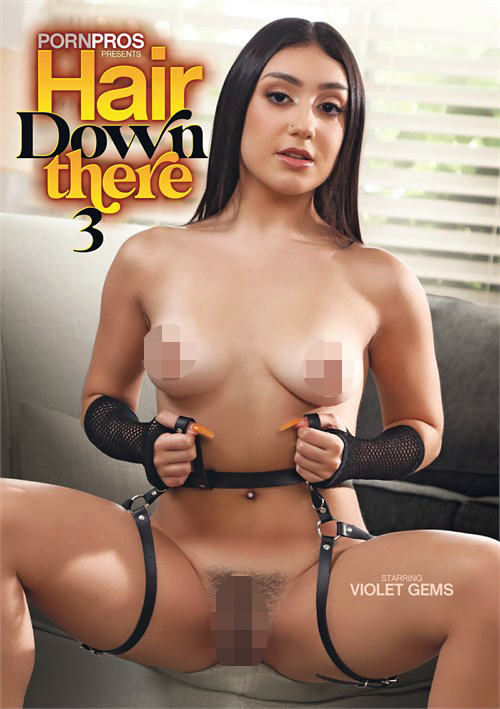 Lovers of whisker biscuit will adore this series, focusing on attractive young ladies with bush. Eliza Ibarra and Jessica Marie each have a slight- to middle-sized triangle over their pussies, while Violet Gems and Savannah Sixx are (yes!) well-forested down below; with all of the lovely, lusty ladies performing superbly.
While not heavily well-endowed in the pussy-hair department, Eliza's tasty all-natural boobs, scrumptious ass, pretty face, and always-horny disposition give HDT3 one helluvan opening. After getting her vadge all loosened up with a dildo, Liza chows down on Logan Long's love loaf with extra-nasty X-pertise, going deep, loud, wet. An oral artiste! After Logan feasts on her twat, Liza starts workin' his dick a la reverse-cowgirl. She's got the best rhythm in biz! Same applies with cowgirl — which is even better with that mind-of-its-own butt — and doggie. And check out how Ibarra eventually goes balls-deep with Long-schlong! Damn! That dark bit o' bush is particularly on display during some passionate missionary, before lover boy Long comes in her mouth, leaving Liza looking quite happy, indeed.
Blonde spinner Jessica is first seen getting herself all excited and wet with a huge vibrator (the thing looks like a robot's friggin' arm!), after which she partakes in a blistering POV-style scene (though the camera is operated, thankfully, by a third party). Jess starts off with an excellent bj (on the tool of a tattooed phantom), including lots of eye contact with the camera. Missionary is fairly slammin', with Marie's little tuft of hair in full view as she looks at the camera with pleasure and pain. Doggie — initially shot high above the action — shows off Jessica's succulent ass cheeks; but the camera eventually does get next to the action, and much closer, where you can fully see her hair (and almost smell the vapors!) as our never-seen stud hammers away. After reverse-cowgirl, the stud lifts her off the ground for some really horny missionary, then comes back down to earth (a sofa, actually) for a repeat of reverse-cowgirl; Marie's legs scrunched up so that her meaty ass is jutting in our faces. During cowgirl, Jess looks right at the camera with a brilliant smile, soon getting her tongue white-washed with cock cream and giving us a sweet parting grin.
One of the best babes here is definitely brunette Violet Gems, with pretty face, large/pierced boobs and juicy ass, as well as the hairiest bush in the movie; getting the HDT3 workout from Peter Green. After Vie vibes herself (looks like the same massive robot's appendage from scene two), Green shows up and starts lapping up that fine pussy, followed by a slow but solid bj, some arousing 69, then cowgirl (lots of bush showing here, from Petey's perspective), reverse-cowgirl, doggie (shot overhead and highlighting Gem's gem of an ass, and afterwards shot alongside the action), missionary (love her sleepy-slut's expressions and hairy twat), reverse-cowgirl (giving us yet more hair footage), after which Pete erupts a copious amount of cum all over her highly photogenic mug. She's a happy, hairy camper aright!
And we end with a bang, as scrumptious brunette Savannah Sixx gets her delicious little bod oiled up then worshipped by our returning tattooed stud from scene two (whose face we see this time) in an exceptionally steamy sequence. What a marvelously little yet similarly gelatinous ass on Sixx! Nice, big, hangin' hooters, too. She gives one outstanding, tongue-heavy blowjob, followed by some rocking reverse-cowgirl, which shows off that thick patch o' dark hair, while she displays — like Eliza — natural rhythm pumping cock. Love how her tits jiggle and undulate. Cowgirl is fantastic; Savannah's shiny ass delightfully wibblin' and wobblin'. Doggie is also decidedly heated; ditto for spoon; while missionary offers great footage of bush 'n' boobage, before el stud-a-roono fills Sixx's mouth with boy batter. Sixx kicks ass!
Extremely well-shot, with just enough bush throughout for lovers of unshaven females, HDT3 is most definitely a whackworthy entry; with the hairiest honeys — namely bawdy brunettes Violet Gems and (have mercy!) Savannah Sixx — especially shining!
Synopsis:
Eliza Ibarra: That bush is shaped like an arrow, directing you to the best place to hide your dick!

Jessica Marie: Petite teen is so flexible, you can put her in any position to get a good view of her tasty muff!

Viiolet Gems: That sweet bush between her legs is the only gem any man could ever need!

Savannah Sixx: Want to make that sexy, party patch a big more fun? Just ass oil!
Copyright © 2023 Adnet Media. All Rights Reserved. XBIZ is a trademark of Adnet Media.
Reproduction in whole or in part in any form or medium without express written permission is prohibited.