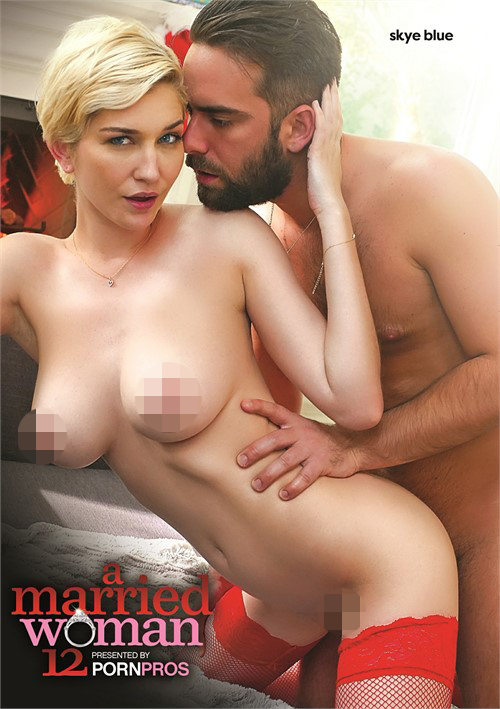 In "A Married Woman 12" from Porn Pros, the tantalizing tales range from Christmas and Thanksgiving motifs, to home-webcam exhibitionist and office-slut stories. All of the ladies performing swimmingly, especially those lusty lovelies in the last two sequences: namely, Maria Kazi and Lily Larimar.
Delicious short-haired/big-boobed blonde Skye Blue is getting into the Christmas spirit by donning some red lingerie, with fluffy white fur lining the collar and butt, along with some red stockings and garters before meeting — and meating! — her lover (an uncredited guy with a beard) upon the sofa in front of the festive Christmas tree and atmospherically crackling fireplace. Aside from having a perfect pair of all-natural hooters, Skye also flaunts a succulent bottom, both of which our lothario wastes no time gorging on, with mouth and cock! Skye lets him fuck her tits before giving him a solid suck-off, with our Romeo returning the flavor via some deep cunnilingus. All positions with Skye rock, especially missionary (those big, hangin' tits flopped on either side of her torso), doggie (the lucky fucker really goes to town with that delightful derriere), and reverse-cowgirl (Blue displays terrific rhythm while bouncing on boy-beef, as her first-class boobies undulate).
Next, Clara Trinity is a long-haired babe who gives her beau a real treat for Thanksgiving dessert — namely, her mouth and muff — and right at the dining-room table too! After Clara masturbates in front of her highly fortuitous boyfriend, he feasts on the spinner's pussy, followed by face-fucking the sweetie, who gets tons of saliva all over his throbbing member. Cowgirl shows off Trinity's tight little butt, followed by some smokin' sessions of reverse-cowgirl, standing doggie and missionary, with Trinity ultimately giggling uncontrollably as a shower of cum splashes all over her beaming face. What a cutie!
Next, redheaded babe Maria Kazi is housesitting for a friend, with the little tramp doing a webcam strip/masturbation show at his house, as a horny male neighbor perversely views her from one of the windows. Maria soon, however, catches the voyeur, and then sucks and fucks him as part of her show. Such a deal! For the record, Kazi has one of the best asses in the movie, magnificently augmented by a pair of white high heels. Our busted male degenerate first eats Kazi's cooch, after which she orally services his shaft good and proper. It's fun watching Kazi's expressions of intense lust as she's hammered during missionary. And it's another blast observing her big butt cheeks quivering during doggie. Maria likes getting spanked too. Her awesome ass is also put to good use during cowgirl (watch those cheeks wobble!), while you get to enjoy Kazi's taut body during reverse-cowgirl; our girl soon cheerily takes a full load o' liquid love right in the kisser.
Lastly, major cutie Lily Larimar is interviewing for a clerical job (in a private home) for a guy named Oliver (not Flynn), who tries her out for a day (in more ways than one!), with our lucky exec soon mixing pleasure with business. Exhibitionist Lily starts slyly showing off her undergarments here and there in the office (it's just the two of 'em working in the house), followed by our undaunted gal giving Oliver a deep, luxurious shoulder massage to relieve some built-up stress. Then, while Oliver is in the shower (after a long day's work), Lily strips down to her birthday suit, awaiting her employer upon his sofa, her legs spread wide as she loudly massages her sopping twat. And our freshly showered exec gets a major surprise, indeed, when entering the living room. Another out-of-this world spinner, Lily hastily gobbles down his prick. Reverse-cowgirl, cowgirl, doggie and missionary are all superb with lusty Lily, before Oliver shoots bazooka batter all over her forehead, nose and tongue. Wow!
All four of these young vixens are super performers. The scenes get hornier and hornier as the movie progresses, fully climaxing with scrumptious sluts Marie and Lily. Recommended!
Synopsis:
Skye Blue is the only gift you'll need for a special holiday. Clara Trinity is thankful that her husband spends time away. Maria Kazi caught him peeping...and rewarded him. Lily Larimar showed hi that to her, vows were just words.
Copyright © 2023 Adnet Media. All Rights Reserved. XBIZ is a trademark of Adnet Media.
Reproduction in whole or in part in any form or medium without express written permission is prohibited.