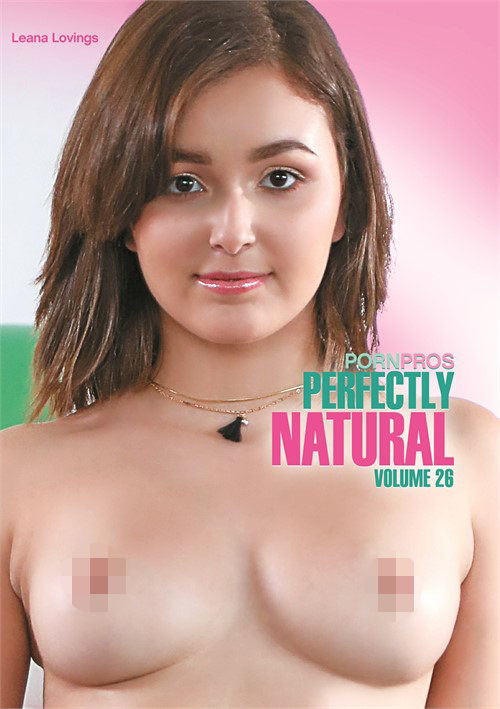 Here's one of those Porn Pros gonzos where the all-natural-boobed women just get sexier and more fuckable as the movie progresses. The ridiculously cute Leana Lovings (sans her trademark plastic-framed glasses) is, of course, a big selling point here. But good grief, when you add huge-breasted Octavia Red and (mama mia!) ever-succulent and pretty Kay Lovely to the mix, then you simply have off-the-scale, "perfectly natural" ultra-foxes, all of whom quite visibly adore their "work."
Hazel Moore is definitely one of movie's most wholesome-looking newbies, here getting probed by one of several unnamed "Perfectly Natural 26" studs. After she's vibed upon a bed by some dude, Hazel gives him a fine blowjob; her best fuck position is missionary, where you can fully appreciate those magnificent, oh-so-incredibly firm Moore mams. But hey, doggie, cowgirl, and reverse-cowgirl with heavenly-hootered Hazel are fun, too; our girl eventually takes a healthy load o' liquid love smack dab in her pretty face.
Leana has such tight, fresh boobs that they almost look unreal, but they're far from it! Our luscious morsel of cuteness vibes herself upon on a bed before she oils her deliciously petite bod and starts fucking a magically-appearing cock with her small but just-big-enough cleavage, followed by a slow, passionate, attentive blowjob, with lots of tongue and lip action, then some sizzling fuck positions. Lovings' voluptuous butt is on full display during reverse-cowgirl, filmed from the guy's POV. And isn't Leana's totally sincere smile unbelievably intoxicating? Missionary is another superb position, letting us totally absorb Lovings' unique face and her wet, shiny, meaty body; ditto for more traditionally shot reverse-cowgirl. And both doggie and cowgirl are truly outstanding, as that glossy butt is so well-highlighted, before our ever-chipper girl takes several heaping dollops o' sperm upon her tongue, after which the romantic (well-named!) Lovings showers our phantom cock with gentle kisses.
Octavia Red is (you guessed right) a redhead, and may well be the most buxom honey in this quartet of busty babes; her large, hangin' hooters are inevitably spotlighted throughout this scorching scene. After getting her rad body fully oiled down, Red jams a huge plastic dildo up her pussy, before a cock (yet again!) suddenly appears. Red titty-fucks said prick with those bodacious boobies, after which we get to see her knockers swing like mad as she bends over and hacks on hose. Cowgirl, shot from the guy's POV (making it look more like reverse-cowgirl) really shows off that awesome Red-rack; her breasts smoothly, almost hypnotically swirl. And watch those prize-winning chest orbs animatedly flop during doggie! Fantastic.
We end with the tastiest tart of the lot: blonde, juicy, delectable, horny-as-hell Kay Lovely (at a delightful 5' 10"!), whose large, succulent ass is as memorable as her phenomenal pair o' breasties. After she finger-fucks herself to orgasm, oiled-down Kay gets the real thing. "Lick both my holes," she groans to her stud, who happily feasts on Lovely's vadge and anus. By the way, Kay's wearing a memorably skimpy, multi-colored string outfit, totally augmenting her perfect boobs, which are neither too small nor too big. She's also the best cocksucker in the movie, going deep, loud, wet, nasty. "I'm just a sloppy little slut, aren't I?" she says. It's true! Doggie is otherworldly with such a superior posterior. "It's so wet and oily down there," she filthily moans. I just love her dirty talk! Missionary, however, may be my favorite Kay position, as her eye contact is so intense. She likes to kiss, too. And during cowgirl, kinky Kay likes to reach back and (whew!) rub her anus. "Keep pumping that cock deep in me," she filthily commands during reverse-cowgirl. And as El Stud-a-roni blasts a major load all over her still-gorgeous face, Kay is positively beaming. Lusty Miss Lovely is definitely a new fave! I can't fucking wait to see her in a gangbang.
Every cock-hungry young lass in "PN26" has a beautifully curvy figure with truly tasty tits, but it's Kay's face, butt, boobs and all-around wicked disposition which totally rule!
Synopsis:
Hazel Moore's tits just scream to be squeezed! Lena Lovings' perky handfuls look beautiful. Watching Octavia Red's tits bounce is so nice. Kay Lovely's body is a seriously wild ride.
Copyright © 2023 Adnet Media. All Rights Reserved. XBIZ is a trademark of Adnet Media.
Reproduction in whole or in part in any form or medium without express written permission is prohibited.