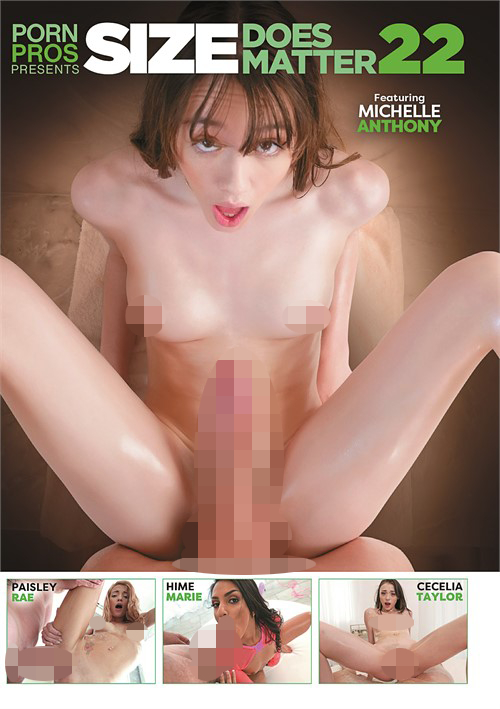 From the fine pervs at Porn Pros, four pixies go crazy for well-sized cock, with the very slightly older Hime Marie rounding everything off in the final scene and ultimately showing the relatively less X-perienced (but still splendidly performing) chicks how it's done.
Blonde spinner Paisley Rae is first seen in the shower getting all sudsy and masturbating, when Van Wylde shows up and gives her some Van-vine, with the best positions being doggie (with loads of foamy soap), cowgirl (shot from Van's perspective) and reverse-cowgirl (also shot from Wilde's Van-tage point). Paisley is an energetic little thang. She's all smiles, too, especially when waiting for and receiving Wylde's burst of spunk just below her left eye.
Brown-haired cutie Michelle Anthony gives Sam Shock's cock a sleepy-eyed BJ that's loud and horny; while doggie à la Anthony is the best position, what with her tight but still luscious ass all wet with oil and looking so perfect. Michelle's a wonderful panter and groaner. You can really appreciate her tight body during missionary. Look at those erect nipples and that flat, slightly rippled stomach! Sam slams it to her during reverse-cowgirl, while cowgirl with this precious little newbie is superb, her hair all wet from sweat at this point. And check out how that ass gets bubble-like when she squats, while Michelle's asshole seems to grow bigger. I also love her puffy, web-like pussy, which snuggly grabs Sam's ham. Man, is this young doll passionate! And after that truly strenuous workout, she still looks pretty. Good girl.
Brunette babe Cecilia Taylor, who has an alluring Euro look (love the sleepy eyes, as well), is in the bathroom all naked with Kyle Mason servicing her with a little dildo, before he starts sucking her sweet, fresh twat, followed by a slow, occasionally deep blowjob from Cecilia, with plenty of eye contact; that is followed by cowgirl (from Kyle's viewpoint), reverse-cowgirl (also from his angle, looking more like doggie — and don't you love that shiny wet ass on Cecilia?!), then traditional reverse-cowgirl (she loves riding cock!), traditional cowgirl (the oil on her ass makes it look all the more round and scrumptious, as Taylor works it so well), and (finally!) doggie (her ass is just so wet and juicy-looking at this point). There's a nice overhead shot of the doggie action, too, with Taylor-tush slightly turned, giving it a unique look, as she looks up at the camera with pleasure and pain. During missionary, Taylor looks like she's gonna cry from the constant, pounding penetration of her thin but still somewhat succulent figure, before she's down upon her hands and knees taking a load in her right eye, as well as upon her nose and lips, but swallowing all that she can. She's definitely one happy little hussy!
Even though she's a bit older than the rest of the featured ladies, Hime Marie pulls off sweet and effervescent very well, sluttily/happily getting the "Size Does Matter" treatment from the returning — and very lucky! — Kyle Mason (initially looking like he missed sleep the night before), who oils up her petite spinner's body, helping her rub it in. After eating Hime's undoubtedly sweet twat, Mason seriously face-fucks this amazing porn starlet, with our girl making nasty, unearthly noises. She's another one who has wonderfully sleepy eyes — when she wants 'em to be, that is. Marie's also a greedy cocksucker (gotta love it!), getting most of Kyle's cock down her gullet. There's missionary and cowgirl (great with that scrumptious Hime behind), with our girl really riding rod, her butt hypnotically jiggling. You realize what an energetic, textbook spinner she is during reverse-cowgirl. Magnificent!
"Size Does Matter 22" is packed with a terrific quartet of gonzo scenes featuring petite and wiry, but no less tasty, pixies performing swimmingly when faced with hefty-sized hose. This is simple, solid, satisfying whacking material.
Synopsis:
Soap up that pussy! To take a dick that big she needs as much lubrication as she can get!
Copyright © 2023 Adnet Media. All Rights Reserved. XBIZ is a trademark of Adnet Media.
Reproduction in whole or in part in any form or medium without express written permission is prohibited.