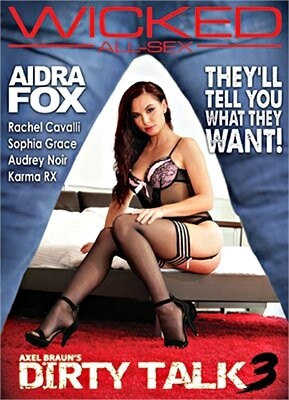 Axel Braun presents the third iteration of his popular series focusing on the fantasy of women who aren't afraid to verbally express just how horny the thought of getting fucked makes them.
This movie clearly has its foundation in the phone sex genre. Each scene starts with the familiar action of the female performer doing a sexy dance with a musical accompaniment, but there's an added echoey voiceover from the performer that definitely calls back to the phone sex lines of yore. It's immersive and presents an interesting take on a classic niche that remains more popular than people might think.
Aidra Fox and Seth Gamble:
Aidra is clad in a sheer nightie with matching panties and stockings. She stares seductively into the camera while she whispers about how much she wants to be teased, fucked and filled with cum. Her solo ends with her rubbing herself just enough to ease the viewer into a state of excitement before the scene transitions to her walking in on an expectant Seth Gamble. The two waste no time diving into one another; Seth with some face-burying cunnilingus and Aidra succumbing to an aggressive and enthusiastic mouth fuck. The sex is hard and fast with lots of perfect angles of Aidra's open ass.
There's a surprisingly tender moment near the climax where Seth leans in close to Aidra's face and she whispers to him how much she wants him to cum all over her face. Seth seemed to really enjoy this scene. He looked on the verge of climaxing almost the entire time and when he finally unloads on Aidra's face the sound of satisfaction is clear in his voice. His reactions to her throughout really speak to the chemistry between the two.
Karma Rx and Ramon Nomar:
2019 XBIZ Best New Starlet Karma Rx is dressed in sheer black stockings and a matching bodysuit with crisscrossing straps barely containing her ample bosom. The camera lingers multiple times in close-up shots of Karma's massive tits and rotund ass and it heightens the anticipation. She tells us how she wants to feel our mouths all over her body, feel our breath on the back of her neck and feel our hard cocks pressed against her back. She can't wait for us to fuck her hard and deep until we can't resist and spill our loads all over her face. Again, it's right out of a phone sex call. I must say the backdrop was gorgeous. A beautiful pool surrounded by lush trees and a clear sky provided the perfect mood enhancer. I thought it was a real shame that Karma and Ramon ended up going inside because I would have loved to see them fucking against the picturesque nature of that pool although there was some nice art on the walls inside so it wasn't a total loss.
Karma uses her massive tits to fuck Ramon during a sloppy blowjob and it's always nice to see women with big breasts utilize them in this manner. Ramon is his usual energetic self and Karma remains very vocal throughout. The best visual was easily Karma riding Ramon sidesaddle and I have to say I am a big fan of the way that positions looks. Just show that position from every angle possible please and thank you. I also really enjoyed the way Karma just collapsed onto Ramon's chest as he pounded her into orgasmic induced exhaustion near the climax. Her hair was matted against her face and she looked physically spent yet satisfied. By then she was fully nude showing off not only her luscious ass and ballooning tits, but also her impressive back tattoo. Slurping the cum drippings up off the floor was a direct callback to her opening dirty monologue and it capped off a very aggressive scene.
Audrey Noir and Tommy Gunn:
Another beautiful backdrop accompanies Audrey's opening tease. This time Axel opts to have Audrey speaking to the viewer about the way she likes her man to fuck her, putting us in the voyeur role. It was a smart decision to change up the composition of the dirty talk portion of the scene because yet another woman talking to the male viewer would have run the risk of becoming redundant. The way Audrey's fishnet stockings open up around her ass works to perfection here as the viewer's eye is drawn right to her buttocks. It creates a stimulating visual during the lengthy cowgirl and doggy positions as her ass ripples with the force of Tommy's rhythmic thrusting. That visual was easily the best thing about the scene.
Sofia Grace and Brad Knight:
Similar to the previous encounter, Sophia's monologue sounds like a narration from an episode of "Red Shoe Diaries." Sophia describes in detail how she's craving cock and what she'd do right now if she had some. The tease is visually striking as Sophia is dancing surrounded by a sheer curtain that's virtually the same color as her hair. It contrasts her bright red lingerie in a way that accentuates Sophia's skin effectively. Brad takes her in a variety of positions and finishes all over her face. In a shocking turn of events, Sophia looks from Brad straight into the camera with cum still dripping from her face and speaks directly to the viewer to close the scene. This is something I haven't seen before with Wicked and it definitely lent an air of naughty taboo to the entire sequence. Sophia's got really pretty eyes.
Rachel Cavalli and Ryan Mclane:
The tease takes place on what looks to be a rooftop with a unique art statue providing the background scenery. Rachel's choice of pink lace bra and panties is quite pretty as well. Unfortunately, her dialogue is a bit redundant as she too is voicing her fantasy of being pleasured by her man as were the women in the two preceding scenes. However, Rachel's deeper voice carries a far different seductive weight behind it and that does make her naughty talk stand out a bit.
Rachel and Ryan get into a sexy 69 that really does a wonderful job of letting the viewer oogle at Rachel's tits as they hang in glorious fashion over Mclane's pelvis. However, the camera stayed zoomed in close on Rachel's face which was a shame because it would have been great to see what Mclane was doing as well. At one point while Rachel is riding him, Mclane grabs her roughly behind the head and stares a viciously horny hole right into her eyes while he slams her pussy which was great. It was just aggressive enough and lasted just long enough to elevate the excitement of the scene without breaking the mood. This is something that Ryan Mclane is very good at.
The premise behind this movie was fun, although my one complaint is that the camera tended to zoom way in on the immediate action and neglect the stimulating visual of showing the performer's entire bodies at times. Still, all the ladies do a fine job arousing the viewer with their words before the sex begins and the sexual performances (especially that by Karma Rx) provided plenty of stimulating moments. I watched this movie on Wicked.com so I was not able to view any of the special features.
Synopsis:
Don't you just love it when she tells you all the nasty things she wants you to do to her? Of course you do, because dirty talk is playful, seductive, and sexy as hell! Legendary director Axel Braun's beautifully raw series graduates to trilogy status, and it's a scorcher you don't want to miss!