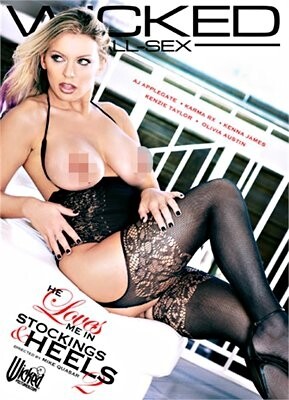 Mike Quasar takes his audience for another ride on the stockings and heels fantasy train with an all-new cast of gorgeous women.
Karma Rx and Bill Bailey:
Karma's popularity has risen steadily since she entered the industry, having recently nabbed a Best New Starlet win from XBIZ and it's easy to see why. She's got sultry eyes, intriguing ink and a body that won't quit. She opens the movie in a large room with a beautiful grand piano and eye-catching art pieces spread throughout. She's dressed in a mesh bodysuit that is open along the sides and at the midsection. Karma's voluptuous tits are on prominent display during the scene and there's plenty of foot play for those who are into it. In fact, the finish sees Bailey spill his load all over Karma's stockinged feet then she shows off her flexibility by licking his cum off her feet. It's a very naughty and nasty ending to a good opening appetizer.
Olivia Austin and Ryan Mclane:
Austin sports shiny black high heels that really lift her hips and ass and a mesh bodysuit, but with some stylistic differences from the design Karma wore. For one, it leaves her entire ass exposed and this serves as foreshadowing to the nature of the scene. There is a lot of cowgirl in this encounter and it is absolutely worth it. Olivia rides Mclane like a stallion, and when she takes a break, Mclane pounds her like a jackhammer. It is very high energy and the entire scene could have just been that single position and it would have been fine.
AJ Applegate and Tyler Nixon:
I think AJ is very pretty and the tease in this scene spent a good amount of time right on her face, which was a great way to start things off in my opinion. Her hosiery consisted of a black bodysuit (noticing a pattern here) and panties, although her stockings were sheer and her heels were adorned with multiple straps and buckles. The highlight of AJ's tease was the way she captured the audience with her ass.
She sways it back and forth slowly and rhythmically and it is downright entrancing. At one point she kneels on the ottoman and rocks her hips to and fro so subtly I actually found myself unable to look away even as she smoldered the camera with her eyes. Excellent work from her and kudos to Quasar for capturing it. Mike also deserves credit for picking the perfect song to pair with this particular tease. The sex is more sensual than the previous scenes with Nixon taking his time and alternating between slow deep thrusts and rhythmic fast penetrations.
He wraps AJ's body in his arms a lot and caresses her quite a bit which is nice. For her part, AJ looks to be completely oblivious to everything except Tyler and the pleasure he's giving her as she spends a majority of the scene with her head back, eyes closed, lips slightly parted. It's clear she's enjoying every minute of everything. As a bonus, AJ swallows Tyler's load to cap off the festivities.
Kenzie Taylor and Derrick Pierce:
Another bodysuit serves as the vehicle for the stocking fantasy here, but this one is decorated with lace around the thigh and the torso portion shares that same lacy decoration along the sides. It's actually a very sexy outfit. Kenzie's heels are open-toed with ankle straps, which is a first in the movie as well. Kenzie is able to deepthroat Derrick easily and as a result she's treated to a pretty nice face fuck that features her licking Pierce's balls while he thrusts into her throat. Kenzie also pulls her tits out of her bodice and leaves them free for the duration of the scene and they bounce around beautifully the entire time.
Kenna James and Tommy Pistol:
Kenna opens her tease in a spacious bathroom wearing a mesh bodice with garter belts connecting it to her opaque black stockings. Her heels are your standard stripper heels; really high at both the heel and the ball. Her bodice contours to her body wonderfully, especially around her ass. Kenna shows Tommy no mercy either. She mounts him and her hips go right to work. She shows no lack of stamina and her rhythm never breaks. It really is a thing of beauty.
This is a worthy sequel to Quasar's first film in this burgeoning series with some pretty blistering sex and a nice variety of attire. There is much more emphasis on the women enticing the camera this time around which should appeal to a certain sect of fans in a big way. And on a final note, I want to say I really liked the fact that Quasar used the same music tracks for the movie's theme and even used some of the same music for some of the teases. I think it connected the two movies in a subtle way and it really worked for me. I watched this movie on Wicked.com so I was not able to view any of the special features.
Synopsis:
His favorite thing is when she teases him before pleasing him and she's dressed to impress with sexy stockings and hot heels that she knows will make him go crazy. 5 sexy starlets are dressed to the nines and ready to make your fantasies come true.