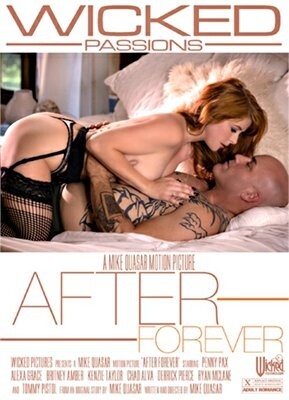 After their seven-year marriage comes to a disappointing end, Derrick (Pierce) and Penny (Pax) separate and try to move on with their lives. When a scheduling mix-up forces the estranged couple to spend separately planned weekend getaways in the same location, their new lives collide in awkward, explosive fashion.
Mike Quasar is a very good storyteller with a knack for incorporating sex seamlessly into his stories. It appears as if moving forward he may be handling Wicked's Passions line exclusively (he's been the only director to helm a Passions project since June) and if that turns out to be the case I think that is a great move by the company. The thing I love about the Passions line is the emphasis on sexual acts other than penetration and oral sex. There's always much more body worship without skimping on the hardcore stuff and the sex is much more likely to be character driven than the standard oral, three positions, pop formula that we so often see in non-features.
The cast members all do their roles justice. Britney Amber is great as the overzealous friend, Ryan Mclane is sympathetic as the hesitant yet hopeful love interest, Pierce is believable as the ex-husband who laments the way his marriage ended and Pax is relatable as the center of the entire conflict being tossed to and fro while wishing everyone would just step back and let her make her own decisions. It's a very compelling dynamic and Pierce and Pax both turn in fantastic performances.
Alexa Grace does a masterful job in the supporting role of Derrick's new girlfriend Rebecca. She is the rebound girl, but she brings a real sense of congeniality to the role instead of playing the old trope of vapid new girlfriend. It's hard to dislike her even though she's in the way of our heroes reuniting and that's a credit to the writing and her performance. Chris (Tommy Pistol) and Melinda (Kenzie Taylor) also add some depth to the story in their supporting roles. They're both subtle, but their interactions with the main cast help create palpable tension that really added emotional weight to the story.
The sex is mostly what you'd expect from a Wicked Passions film with a few somewhat surprising exceptions. Britney Amber and Chad Alva have a nice scene in a lavish bedroom that features a ton of kissing and caressing. It's very erotic and sets a great mood. I loved the lighting too. It created some cool shadows across Amber's body and her dark red underwear looked wonderful against her skin.
Tommy Pistol and Kenzie Taylor make the sweet love in a scene that features some wonderful banter during the foreplay. It's great character work by both of them in that it keeps the viewer immersed in the story. We're not watching Tommy Pistol and Kenzie Taylor have sex, we're watching longtime couple Chris and Melinda make love on her birthday in a beautiful house in the mountains. One minor complaint I have is that Kenzie looks at the camera quite a bit. I know that's pretty standard in lots of other porn formats, but I don't like it in features because it's a reminder that I'm watching a sex scene instead of two characters having sex.
Derrick Pierce and Penny Pax have a beautiful scene together that is visually soft and sensual. I loved the fact that Penny wore all white and her choice of underwear was so pretty. I was also surprised at how easily she was able to deepthroat Pierce without gagging or choking. Penny was not someone I was overly familiar with but my goodness I am certainly a fan now. She's got fabulous tits, a really pretty pussy and she is wonderful in cowgirl. I could have watched her ride Derrick all day.
Alexa Grace has two scenes, one with Pierce and one with Mclane, and both times she is sultry and much harder than the typical Wicked Passions performance. Derrick is a bit aggressive with her body, doing things like biting her, forcing her face-to-pelvis on his cock making her gag ever so slightly and pulling her hair. All this is more towards the rough end of the spectrum than I'm used to seeing in a Wicked Passions title but it was incredibly hot.
Mclane is also aggressive with Alexa but in a completely different way. She opens the scene demanding that he bite her and after seeing the way Derrick nipped at her entire body, there was an immediate expectation. But Mclane opts instead to satisfy her craving by smacking her about the legs and ass. It made total sense that Derrick would bite her in exactly the way she wanted because they were dating and familiar with each other. Richard didn't know Rebecca so he didn't have the same familiarity and instead went with what he knew which created a completely different scene tonally. That, ladies and gentlemen, is how you tell a story across and within sex scenes and everyone involved should be recognized for this detail.
After Forever is a beautiful love story that has a mostly happy ending but does leave the viewer feeling sympathetic towards some of the supporting characters. Penny Pax's performance here made me a fan while Alexa Grace shined throughout. This is also one of Derrick Pierce's best acting performances. I watched this movie on Wicked.com so I was not able to view any special features.
Synopsis:
They promised to love each other forever but Derrick and Penny are going their separate ways and trying to move on with their lives. That plan is interrupted when a scheduling mix-up at their vacation house puts them back in each others face, with their respective new partners along for the ride. Old feelings come back and new feelings get complicated. Sometimes the best part of love comes After Forever.