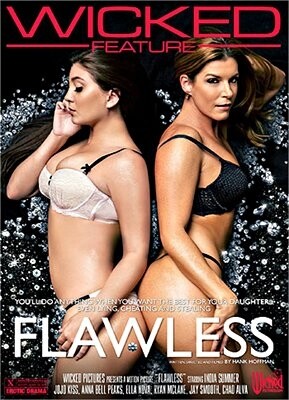 Fresh out of jail Bobby (Ryan Mclane) hatches a plan to steal priceless gems from a rich jeweler's (Jay Smooth) private collection in order to get his family's life back on track after he and his wife Duchess (India Summer) were forced to spend her daughter Allison's (JoJo Kiss) college savings to put Duchess' father in a nursing home following a stroke.
Hank Hoffman offers up a heist movie with plenty of plot twists and lots of blistering sex. I like Hoffman's style. His stories are always intriguing and he always manages to keep the audience guessing. This movie features multiple plot layers and character arcs intersecting with one another. If you pay attention, you'll notice that Hoffman drops plenty of hints throughout the story to let the audience know exactly what's going on but it's likely that those moments will go unnoticed until the final revelation priming the audience for a nice "oh shit" reaction at the climax.
The movie opens in a unique manner; showing us the climax of the story without giving us the context. It's a great way to hook the viewer right from the start. We have the basis of the story laid out for us as India reflects on the events of the past concerning her father and her husband and the sacrifices she's had to make. It's a heartbreaking moment and establishes Duchess as a sympathetic character. We also get a clear basis for Bobby's motivation as well as an understanding of Allison's complete support for her mother.
We begin to see how our players become entangled as we learn that Allison is dating Steven (Alva) who happens to be fucking Starla (Peaks) on the side. Steven and Starla have an energetic romp in a hotel room that features Anna Bell gobbling Chad hungrily during the blowjob and a super cool variant of cowgirl where Anna Bell holds herself steady while Chad pounds her from underneath. It's very hot and a nice change of pace from what viewers normally get with the cowgirl position.
As the story unfolds, we're treated to a flashback type of scene between the jeweler and one of his clients (Nova). My favorite thing about this scene was Ella Nova's submissive nature and the monochromatic palette of the room. The walls and furniture are nearly the same complexion as Smooth and Nova's skin but instead of washing them out, it gives the scene a very warm feel. I think Ella Nova is one of the best young performers out there right now and even when she's not given much dialogue, she is still able to project emotional weight to her performances. There's a moment when Smooth whispers in her ear that he's going to fuck her and she replies in a small voice "Like an animal?" It's awesome and matches Smooth's character perfectly. Watch Ella's face during the scene; she's exactly the kind of girl this cocky jeweler would fuck and he fucks her exactly the way you'd expect him to based on the way he's described by other characters in the movie. For those reasons, this scene was my favorite in the movie.
When Duchess finds out about Bobby's intentions to rob the jeweler, she has a really emotional conversation with him where she begs him not to go through with it because of the risk. I always feel like performers have a hard time crying or showing believable sadness when acting in features but India Summer pulls it off perfectly here. The audience can't help but to hope that Bobby chooses to call off the whole plan. When he agrees and takes Duchess to bed, we experience a surge of relief as if the danger has been thwarted and the ensuing sex is the happily ever after reward. Here's where I think Hoffman makes his first mistake, after a great looking scene where the color palette is monochromatic, he goes back to that same visual in the very next sex scene between Summer and Mclane.
Again it looks great, but I would have liked a little bit of variety in the visuals here; perhaps some darker stockings on Summer or some darker furniture or wall accoutrements in the room. Still, India is amazing to look at and the connection she has with Mclane is plainly visible. At one point he grabs her, looks directly into her eyes and tells her she always makes him "so hard" which inspires India to go to town on his cock enthusiastically. She gags just enough for it to be really hot but not so much that it's a turnoff. I also love the way she rubs herself while he pounds her during their spoon.
After a few moments that start to reveal the multiple deceptions going on in the film, we get to the first pivotal moment in the movie. Allison and Steven have a fun fuck in a really nice den where Allison is the clear aggressor. It's a nice change of pace after having an earlier scene where the woman is so submissive to have JoJo Kiss be the clear dominant force here. JoJo really deserves credit for carrying her part of the movie. She got a ton of dialogue (more than I've ever seen from her) and she acquitted herself quite well. Combine that with her great body and sexual energy and companies shooting features would do well to hire her moving forward.
As the big twist of the movie is revealed, our cast of characters find themselves entwined together in a huge web of deception. Duchess makes a hard choice resulting in a passionate lovemaking from the jeweler. My favorite thing about this scene is the way Smooth takes his time with Summer. The tension between them has built throughout the movie and when she finally lets him take her to bed, he takes the time to enjoy every inch of her. He touches her gently all over and you can feel his anticipation every time he looks at her. It's a complete 180 from the way he fucks Ella Nova earlier in the film. As for India, she is just so good at projecting her pleasure to the camera. You can really feel how much she enjoys herself when she's fucking. She's one of the best performers in the business and it really is a joy to watch her have sex.
The conclusion of the movie is where I think Hoffman makes his second (more critical) mistake. His story has an amazing ending, but the way it's edited together right at the end will likely cause the audience some confusion. The story moves quickly between past and present but there's no clear indicator between those time frames. That said, this is still a very good movie with some great sex scenes and JoJo Kiss puts in the best performance I've ever seen from her. I watched this movie on Wicked.com so I was not able to view any of the special features.
Synopsis:
Everyone wants a taste of the good life... In particular, Duchess lusts for a better life for her daughter and herself, and she has her eye on the prize - a jeweler and his private collection. But, so do the circle of thieves around her - the two-timing private pilot, the tattooed girlfriend, the grifter and the ex-con all want a piece of something Flawless.