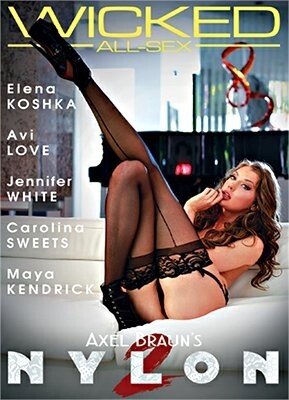 Axel Braun presents a follow-up to "Nylon," his popular film depicting steamy sex scenes featuring beautiful women sporting sexy nylons.
All-sex movies are very different from feature movies and as such, I tend the view/review them differently. All-sex films depend heavily on the audio/visual component to entice the viewer. That's not to say there is no storytelling narrative in an all-sex movie, it's just told using a different skill set. In fact, it is arguable that performers in high-end all-sex movies have a more difficult job because they can still tell a story in their scene but they must do so silently most of the time. This forces them to rely heavily on facial expressions, body movements and eye contact not only with their partner, but with the camera and by proxy, the audience as well.
Elena Koshka and Tommy Gunn:
In all-sex movies I think music is very important. I tend to think it's a bad idea to have the camera focus on the girl (as is usually the case) for extended periods of time without some kind of musical accompaniment because it creates dead air. Imagine watching a dancer perform without their music. It would be awkward. Similarly, if the music is not good, it can distract the viewer from the performance. Conversely, if the music is good, it can greatly enhance the performance. I thought the musical choice for this scene was good.
A soft yet discernible beat set a nice rhythm (I really wish the music would have continued throughout the scene but I typically prefer music to accompany the sex) and Elena did a nice job capturing the audience's attention. Her black stockings look great against her complexion and the lacy garter belt, panties and robe complete the ensemble. She shows off her flexibility by nibbling on her own feet while gently rubbing her clit and gazing into the camera. It's all very nice. We get a great angle of Tommy leaning forward over the couch while Elena leans back to suck him off and there's a very nice variant of missionary where Elena grinds her hips underneath Tommy that is really great. Having never seen Elena perform before, I'm not sure if it's something that she does regularly or if it was unique to this scene, but she bites her lips and fingers a lot as if she wants to be quiet, then follows with periodic outbursts of ecstasy-laced screams. I liked it.
Avi Love and Tyler Nixon:
Avi teases the camera in a pair of red orange stockings that match her lipstick and nothing else. When Tyler enters the frame, she immediately turns and offers him full view and access to her ass. As he begins to caress her from behind, he turns her around in the (very cool looking) chair and kneels behind it so that he can wrap his arms around her and rub her pussy. Avi absolutely seems to melt into his arms and it is subtle physical control like that that can really make a performer stand out. While much of the scene was nice, I did have a bit of a problem with the wide shot. Avi and Tyler were on the extreme left of the frame and even though the camera didn't move at all, the performers did and it made me feel like they were almost fighting to stay completely in the frame. Still, Avi is passionately submissive while Tyler is tenderly dominant and it creates a beautiful dynamic.
Carolina Sweets and Seth Gamble:
This opening had some nice variety. Carolina gives Seth a lap dance and she looks great in pink fishnet stockings. She's got a smile on her face and she's both playful and sensual. The two show a great connection with each other and it's easy to envision them as a couple instead of two performers. Carolina bobs up and down on Seth's cock pretty aggressively with lots of spit and gagging so fans of that will definitely enjoy this scene for that aspect alone. They have a tough time getting Carolina's panties off around her shoe but Seth finally gets them off and stuffs them into Carolina's mouth and it's awesome. Seth also lifts Carolina in a standing missionary and gives her a pretty hot stuffing as well. I absolutely love lifted standing positions. There's something very animalistic about it. I also really like how Seth came literally all over Carolina's back, like from her shoulders all the way down to her ass. Then wiping the cum off her back and letting her lick it off his hands? My goodness that was pretty hardcore for Wicked. Good stuff.
Maya Kendrick and Brad Knight:
Some very cool opening shots of Maya posing on the staircase bannister before she settles down on the couch. She strips her panties off and plays with them with her toes which was quite naughty and again, a bit of variety. Then she puts her own panties in her mouth and continues to play with her feet which was cool, but her knee completely obscured her face which was a real bummer because her eyes were telling such a great tale of naughtiness. We get some foot fetish satisfaction as Maya jacks Brad off with her stockinged feet while he rubs her pussy, but again, her face is completely blocked which is a real shame because the few glimpses you get show that she's having a great time. Then again, as the theme of the movie is stockings, perhaps those angles are purposeful the show off Maya's beautifully adorned legs. The scene concludes keeping with the foot play theme as Brad dumps his load all over Maya's feet.
Jennifer White and Ramon Nomar:
The scene opens with music that would absolutely fit in a strip club and Jennifer looks right at the camera and uses the bedpost like a stripper pole. She's fucking the audience with her eyes right off the bat. Jennifer's stockings are adorned with a leaf pattern which is pretty cool and very different from the rest of the stockings featured in the movie. This is something I must commend the movie for; it would have been really easy to have all the performers wearing similar stockings, but they really changed it up which helped prevent the scenes from becoming monotonous. Jennifer wraps her ankles around her head while Ramon eats her pussy which is always a great visual and when Jennifer is riding Ramon with her legs off to the same side we get a great view of her ass. In fact, Jennifer shows off her perfectly sculpted ass quite a bit in this scene, which is always appreciated from her.
This was a visually stimulating movie that did a good job of delivering on the fantasy of hot women in stockings getting fucked. Good musical choices and a lot of arousing camera angles were in play, which is essential in an all-sex movie in my opinion. I watched this movie on Wicked.com, so I was not able to view any of the special features.
Synopsis:
Stockings. Thigh-Highs. Pantyhose. Nothing showcases a perfect pair of legs better than Nylon, and to prove it, legendary director Axel Braun has a cast another extraordinary group of gorgeous ladies in the second volume of his chart-topping series. Enjoy!