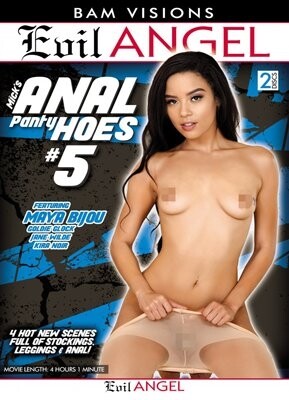 A quartet of young babes (always a good thing in porn) get slammed via the Austrian penis of 42-year-old performer/director Mick Blue, with the ladies each wearing different-colored pantyhose (basically, see-through body stockings, from the waist on down), before they get ripped apart … the pantyhose, as well as the throats, twats and turd-bins o' the anal hoes themselves.
And we start with a bang, indeed, as 23-year-old Hoe-llywood-born Hispanic cutie Goldie Glock — along with her little titties and big juicy ass — is wearing green pantyhose, before she (and her mouth, muff and murk-factory) get blasted by Blue. Little Miss Glock masturbates with her pantyhose on, before tricky Micky pours oil on top of her nylon wrapped vagina, after which she puts a gargantuan vibrator against said cunt, cooing and ahhhing, before Blue balls himself rips a hole for her pussy to breathe, revealing that (surprise!) she has a petite dildo jammed up her sweet sphincter.
A nice POV blowjob ensues, including Goldie eating Mick's farts (yechhh and double-yechhh!), before he (what we've been waiting for!) doggies her cunt, her succulent butt now totally exposed, her panties still clinging around that bounteous booty, leading to Blue doggie-slamming Goldie's dunghole, eventually (finally!) moving his paws away so we can fully enjoy that killer Goldie ass. We then get some choice reverse-cowgirl/missionary/cowgirl anal, with some sweet gapes and romantic ass-to-mouth action. After Mick slams that salmon via mish, Goldie jerks the jerk off to (blatt! blatt! blatt!) climax, with the sperm erupting all over her eye, cheek and tongue (but mostly on the sweetie's eyeball itself).
20-year-old Jane Wilde (all five feet of her!) is one tasty New Yorker, wearing flesh-colored hose and doing the same vibe thing with her cunt (once it's exposed), leading to another POV BJ, doggie vadge, then (hooray!) doggie anal, that's hard and fast, with the entire scene being yet another scorcher. Gotta mention, too, that Janey has one tight craphole, as it's hard to gape it; but it does (eventually) dilate, with wanton Wilde looking oh-so-delicious bent over, her ass and thighs fully exposed, with, like Goldie, one helluva meaty derriere; Janey's anal action (thankfully) resulting in a deepthroat ATM. There's some amazing Wilde ass-undulations during cowgirl anal; her bounteous butt is further highlighted during a squatting-on-McDick segue. Afterwards, there's reverse-cowgirl anal, spoon vadge, spoon anal and some bungholeo jackhammering during mish, showing off Janey's mouthwatering (umphhh!) thighs. And I can just imagine what anxious thoughts are going through these pretty young ladies' minds as Mick forces his face nose-to-nose with their own mugs during mish-anal, as is the case here with Janey; with Mickey eventually ripping his dickey outta her stinky and spraying, well, spray all over Janey's (once again!) eye, cheek and tongue. Seems like there's a tapioca-pudding pattern here, dunnit?
Then, 23-year-old California native Kira Noir is a black beauty, wearing blue pantyhose, which Mick doesn't destroy this time, but just rather has her pull 'em down and stick her delicious dark cunt and anus into the camera (slurp!), with our girl masturbating through the nylon material a few minutes later, before blowin' Blue with lotsa (and I mean lotsa!) spit; Kira always projecting a warm smile; she's also one of the best dicksuckers in the gonzo; while doggie vadge and anal truly show off this bitch's beautiful butt bongos. She's a fine gaper and ATMer, too! I especially like it when Kira does an upside-down deepthroat ATM. Wow! Loads of energy from this cutie, who just can't get enough o' the taste of her anus, i.e., she digs those ass-to-mouth moments. Spoon anal has nasty Noir rollin' her eyes into the back of her skull. "Yes, pound my little ass!" she pants. Mick (breaking sperm ceremony here) blasts boy batter onto her lips and tongue this slime-time (what, do her eyeballs bother you or somethin', Mick?).
Lastly, we end on a nuclear note with cute-as-a-button, 21-year-old Latina Maya Bijou of Vallejo, California getting the Blue treatment; with Maya being downright fucking gorgeous, as she flaunts angel-white pantyhose; her cakehole, cunt and crapper ultimately choking superbly on McDick. After Blue boy coats the crotch area of Maya's hose with oil, she masturbates and gives herself a vibe, soon feasting on Austrian meat stick. She's a good gagger, too, with plenty of terrific eye contact. I particularly enjoyed viewing Bijou's pert tits hangin' down/hypnotically swaying as she blows Mick on all fours. Maya, by the way, just can't wait to get slug-plugged (even by Blue! —but, hey, he's paying for all o' this sucking and screwing, right?), with our Austrian pudster soon tearing open her hose, before banging Maya vadge then anus missionary style. I love, too, that Maya likes to kiss. Cowgirl anal and doggie (get those paws away!) rock. And it looks like, as with Janey, Maya's culo is so tight, that it's hard to gape. I love that freaky fact, however.
She's also magnificent at ATMs, as well as eating Blue's farts (that's the gnarly spirit, Maya!). Reverse-cowgirl anal is awesome, as Bijou's fertile cunt is just staring at us, before she starts screaming during her extended hemorrhoid hammering session. Spoon anal, for the raunch record, makes her look like she's in some kinda dung-drillin' dream world, with her round/tender ass looking all the more scrumptious in this position. Bijou is just such a chipper little thing, I can't help but adore her. Finally, mish anal (or is it mish-vadge? ... as it's hard to tell due to the camera's somewhat static side-angling) leads to (spa-lattt!) a generous gob o' goober-goo upon Maya's tongue and tits. Bijou is a wondrous whore! I wanna see more of this dazzlingly dirty diamond!
Hey, the fact that you'll wanna fuck the living daylights (and shit!) outta each of these four fresh female foxes, and that they're all totally nasty sluts, makes "Anal Pantyhoes 5" an X-cellent gonzo for your whacking needs. Get it!
Synopsis:
BAM Visions brings lingerie lovers intense anal adventure in Mick's ANAL PantyHOES #5. Stud/co-director Mick Blue's deep dive into ass-blessed babes in alluring nylons comes with raunchy rimming, expansive butthole gaping and plenty of ass-to-mouth blowjobs. Tight-bodied Goldie Glock rubs oil into her pussy through ripped turquoise pantyhose. She bends over and Mick inserts his big boner for some slippery anal fucking. Goldie smiles through a hot facial cum bath. In flesh-colored hose, Jane Wilde buzzes her cunt with a vibrator. Hard, spit-streaming fellatio leaves her dizzy. Mick's prick impales her asshole, and Jane enjoys a dripping cum facial. Sucking aggressively on Mick's wood, ebony goddess Kira Noir gags and drools. She tongues his bunghole and squirms with delight while he plugs her with a huge anal toy. Kira moans that it's the best feeling in the world! She bounces on Mick's hard cock in an interracial ass reaming. A vibrator brings Maya Bijou to climax, and Mick rips her pantyhose open to eat her young pussy. His thick dick stuffs her asshole, and Maya cums multiple times. She slurps Mick's semen.