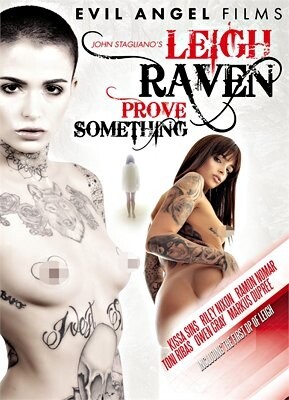 A fictional (or is it?) spotlight on/feature concerning 27-year-old, tattooed, Brooklyn-born, brunette Leigh Raven, "Prove Something" was not only directed by Evil Angel founder John "Buttman" Stagliano, but also written, produced and edited by the same. And it's definitely a rollercoaster of an erotic ride, as we see the psyche of submissive Leigh throughout the course of the movie, joyously filled with three volcanic cock(s)-in-cunt(s) sequences, hornily showing off Raven's amazingly masochistic, whorish ways.
Leigh plays a web designer who has fantasies (and nightmares!) about being dominated, as well as rejected, by her boss, effectively played by Ramon Nomar, with the first scene being a barnburner of a threesome between tantalizing Raven, luscious Riley Nixon and skinny stud Owen Gray. After one of her terrifying dreams about being thrown to the curb by her fantasy lover, boss-man Ramon, Leigh shows up the next day at Owen's photo studio to help him shoot Riley, with the three of 'em ultimately getting their limbs and loins fully tangled in the heat of the moment. Highlights of the ménage a trois include the two ladies choking on Gray gristle, as well as eating man-ass and girl-ass; the ladies getting their anuses bored out by Owen, after which they gladly partake of ATOGMs; Raven squirtin' all over the place; and both girls showing off their juicy booties — and, no, I'm not forgetting Riley's awesome, all-natural, big, pillowy, perfectly shaped tits bouncy-bouncing all over the place! — when Gray doggies the fuck out of the girls' buttholes. Great stuff!
Now, while the girl-girl sequence (taking place after a yoga practice group) between Raven and Kissa Sins is absolutely down and dirty (yes, there are four sex scenes in the movie), the preceding threesome and the following brace of cock-in-cunt trysts are far more apocalyptic; our story cunt-tinuing as Russian pudster Markus Dupree, playing a difficult and ultimately dominant web customer, fucks the living shit outta Raven, one of the very best positions being his slamming of her asshole reverse-cowgirl style, Leigh's succulent buttocks madly rippling; while it's also fun witnessing the cooing coquette frequently gagging on Dupree dick, as well as getting her shit hit doggie style both on all fours and while standing.
And Stagliano definitely gives us a molten cunt-clusion, with Leigh finally getting seriously boned by her boss, Ramon, while simultaneously getting pounded by a visiting customer, in the form of Spanish stud Toni Ribas. The previous evening, Leigh privately shoots nude footage of herself masturbating and calling out Ramon's name, leaving the freaky footage the next morning in a flashcard upon Ramon's desk. Not knowing what the hell it is, Ramon pops in the card into his computer and starts watching the revealing movie, his appalled expressions being quite realistic, as Leigh nervously looks at him from her desk in the adjoining room; for the record, there's only the two of them in the office. Not for long, though. That is, web customer Toni shows up and notices that Ramon has put the footage of Leigh on pause.
He tells Ramon that he'd love to see the entire movie. Nomar agrees and the two watch Leigh show off her erotic and emotional sides off to her boss, care of the video, as an embarrassed Leigh sinks further and further down into her seat. Until, that is, bossman Ramon tells her that he wants to see her immediately. She comes over to his desk and, right in front of a befuddled but turned-on Ribas, tells Nomar that, unless he fucks her right there and then, she'll quit. Odd request. But one which (quite understandably!) Ramon makes happen. The fucking part, I mean. With a little (actually, a lotta!) help from Ribas.
The two dudes wind up choking the squirming starlet with their cocks, as well as taking separate cracks at her cunt and asshole, before they double penetrate her — via doggie and reverse-cowgirl styles — eventually blasting their Euro gametes all over Leigh's cute face. Wow!
If you're a fan of Leigh Raven, or curious about her, or just dig seeing a wondrously major slut like this bawdy, delicious bitch get hammered in the throat, slit and the shit by various throbbing, raging hard-ons — all of which is marvelously augmented by John Stagliano's superb videography, engaging storyline and provocative characters — then "Prove Something" is right up your alley. A fully perverted, engrossing feature that's ab-so-fucking worth checking out.
Synopsis:
Leigh Raven Prove Something is director John Stagliano's dramatic, intense story of an exotic fetish adventurer compelled to hide her true beauty under conservative hair, makeup, glasses and a business suit. In a nightmare, Leigh comes on to boss Ramon Nomar, sliding her sensationally forked tongue into his nostrils! He rips off her wig and dress, revealing her crew cut and radical tattoos. She awakens in anguish -- can she ever let go and be herself? At photographer Owen Gray's studio, Leigh's comfortable in her own kinky, elaborately inked skin. She applies suction devices to curvy, buzz-cut blonde Riley Nixon and floods her face in girl squirt. The shorthaired ladies share Owen's cock and cum in an anal threesome. Leigh's personal training session with comely yoga instructor Kissa Sins becomes passionate lesbian lovemaking plus playful cake slathering and sploshing, till Leigh farts out whipped cream! Client Markus Dupree ignores Leigh's professionalism; he grips her shorn head for a dominant face fuck; delivers full nelson anal plowing; and lifts her bodily for more buttfucking. She deep-throats dick ass-to-mouth amid torrents of girl squirt. Leigh shows Ramon her radical sexuality in a video, splitting her amazing tongue and challenging, "I think you want this tongue deep in your fucking asshole." She submits to Ramon and Toni Ribas in a manhandling, double penetration threesome. They ream her rectum to cavernous gaping and Toni drips girl squirt on her face. After Ramon cums on that split tongue, he offers her job back. Leigh throws out her wig.