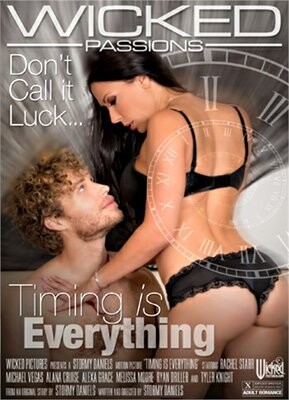 Marissa's (Rachel Starr) friends feel her relationship with boyfriend Jonathan (Ryan Driller) is a dead end and they all think she should look to her co-worker and old friend Kevin (Michael Vegas) as a potential suitor instead. Meanwhile Marissa's friend Brooke (Alana Cruise) has her own dating dilemma to navigate as she pines for the affections of Alex (Tyler Knight), one of her yoga students.
It's fitting that acclaimed director Stormy Daniels' final Wicked film is a Wicked Passions project. The Passions line has been highly successful for Wicked Pictures and Daniels was the driving force behind the series from 2014 through 2017 and acted as the line's sole writer and director from 2015 to 2016. In her last offering as a Wicked Pictures exclusive writer/director, Daniels presents a two-pronged romance that should connect with fans of story-driven porn.
The film opens with Kevin orchestrating a romantic dinner for girlfriend Jacky (Melissa Moore) with Marissa's help. It's a really nice setting and establishes Kevin as a prototypical romantic that everyone can easily root for. We learn pretty quickly that Kevin doesn't think much of Marissa's relationship with Jonathan, but his more pressing concern is impressing Jacky, which is understandable because she is lovely. She's so impressed with Kevin's efforts that she decides to accelerate the evening's activities and get right to the hot and heavy stuff. She looks great at the start of the scene with her hair over her shoulder, glass of wine in hand and sporting lacy undergarments that accentuate her smooth amber skin and dark eyes. We get a nice variety of positions in this scene with the doggie style on the chair being the highlight. It's a very nice opening.
When we're finally introduced to Jonathan, we see exactly why Kevin didn't think much of him. His dinner with Marissa is extremely underwhelming due to his clear lack of interest, but when Marissa calls him on it, he manipulates the situation into a position that makes him the victim and Marissa concedes. What follows is a wonderful blowjob scene. First of all, Rachel Starr is such a pretty woman and I don't see enough people talking about how beautiful she is. Her back is so sexy with its ripples and athletic crease down its middle, her arms are beautifully sculpted, her raven black silky hair shines like a unicorn's mane and her eyes have an enviable sparkle. This is all before we get to any of her sex bits. I cannot recommend this woman enough to feature directors. One of the best moments in this scene for me was the way Rachel obscured the action with her hair at the start. In porn, obscuring the sex is typically a cardinal sin but here it works so well for the mood because it forces the viewer to pay attention to all the other physical attributes of Rachel Starr and if one does that, you can see exactly what I was raving about.
The movie takes a very serious turn, which acts as a catalyst for plot progression, with a revelation about Jonathan and a bathroom scene between him and Tia (Alexa Grace) wherein the movie gives us what I thought was hands down its best sex. Visually, it's brilliant because Alexa Grace's lithe body looks incredible against Driller's solid form. It was also a great visual contrast to have Grace naked while Driller remained completely clothed. The lighting was fabulous and this was something I've actually seen before where the room features a very similar color palette to the performer's body and I really like it when it's done well. Alexa looks stunning pressed up against the wall. The best part of the scene (honestly the best sexual moment in the entire film) was the standing missionary. The way Alexa's ass is spread just enough to see Ryan thrusting into her is so very sexy and I adored the way they constantly kissed and looked into each other's eyes.
We get to see characters Brooke and Alex finally overcome their fears and go on a date, which ends with a sexy nightcap. The best part of this scene is the tenderness with which Knight pulls Cruise close and kisses the back of her neck while he fucks her doggie style. It's warm and soothing and passionate and Knight keeps that mood going throughout the entire scene by caressing and kissing Cruise every chance he gets. It's really nice.
When Marissa and Kevin finally find their way into each other's arms, they share an incredibly tender encounter in his living room. Starr looks stunning and she absolutely blew my mind when she was riding Vegas in cowgirl. The whole scene could have been that one position and it would have still been a total hit. Vegas never stops worshiping Starr's body and he kisses and caresses her constantly. It worked so well to set the mood between the two of them. It literally could have been right out of a romance novel. Also, credit to Daniels for making sure that Marissa and Kevin had to be careful about not aggravating Kevin's wound. Attention to detail like that is so often overlooked in porn. Daniels also deserves credit for omitting a blowjob sequence for this scene because it fits within the context of the movie so well, considering Starr's first scene is blowjob only. It was a great way to cap the story between Marissa and Kevin. I always respect directors who will forego formulaic sex scenes for sex that enhances the story and is meaningful to the characters. Having Marissa not suck Kevin off was brilliant for that exact reason.
This was a movie that had a cool idea, even if the pacing made it feel like two smaller movies combined. Still, the sex is absolutely wonderful and should be experienced by anyone who is a fan of the performers involved. I watched this movie on Wicked.com, so I was not able to view any of the extra features.
Synopsis:
Marissa (Rachel Starr) and Kevin (Michael Vegas) have been friends for a long time and everyone thinks that they'd make a perfect couple....except they work together...and they don't want to ruin their friendship...and they are both dating other people. Then one night, Marissa is attacked and Kevin is in the right place at the right time. Is this the push these potential love birds need to realize their true feelings or has their chance at happiness passed?