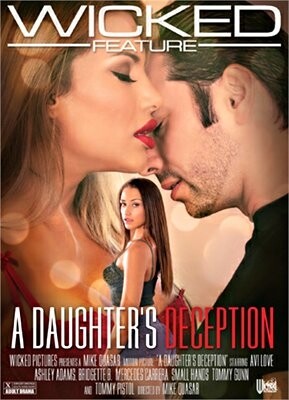 Rachel (Mercedes Carrera) is a newly single mother struggling to move on from her failed marriage while dealing with her 19-year-old daughter Alison (Avi Love) who lays the blame for her father's departure squarely at her mother's feet. When Rachel meets a new beau, Alison decides to throw a wrench in her mom's new relationship.
Mike Quasar offers up a sexy family drama pitting spicy Latinas Mercedes Carrera and Avi Love against each other with the unwitting Tommy Pistol caught in the middle. Plot twists abound in this movie and the audience is given plenty of reasons to invest in the characters. It's a story that requires a lot of emotional depth and everyone plays their part well. Mike Quasar continues his string of quality feature films for Wicked Pictures and Mercedes Carrera continues to exert herself as a quality leading lady.
The opening sex scene is great. Mercedes paces her way through the encounter like a woman who is finally releasing months of pent up sexual frustration. You can really see her give in to her physical desires as the scene progresses and it makes for a very erotic encounter. There's a moment during their 69 where Mercedes sits up and grabs the (quite vintage) headboard and lets herself ride a wave of ecstasy on Pistol's face. It's a beautiful moment.
When we are introduced to Alison, the movie's hostility level gets dialed up to 11 immediately. Love plays the rebellious adolescent perfectly and her fiery anger towards her mother burns so white hot it consumes the audience instantly. There is no doubt where she lays the blame and Rachel's frustration and sense of helplessness feel like a natural response. This is a credit to Avi's ability to express emotion which comes into play during her sex scene with boyfriend Small Hands. I expected a scene where Alison used sex to vent her aggressive anger but it was actually the exact opposite. Love shows nothing but pure joy and happiness while Hands pleasured her and it made so much more sense. The only thing in Alison's life that she's happy with is her boyfriend, so of course when she's fucking him, she's relaxed and truly enjoying herself on an emotional and physical level. Her face says it all.
Alison's friend played by Ashley Adams serves as the catalyst to the drama that engulfs Rachel and Alison. She recommends to Alison that she use the dating app her mother used to find her new love interest to figure out who he is and manipulate him into hooking up with her. This is where the tangled web begins to ensnare our cast of characters. Meanwhile, Ashley finds herself in the arms of her own older man (Tommy Gunn) who she wears out in bed nicely. Ashley's got some great tits and we get to see them bounce around a lot in this scene, which is a very underrated happening in my opinion. Ashley also shows off some great hip movement while she's in cowgirl and we get a nice modified spoon that really shows off her long legs. I must say my favorite part of this scene though was right at the beginning when Ashley was face down ass up with her panties rolled down around her thighs while Gunn ate her from behind. A very hot visual that was.
The pivotal moment in the movie comes in the form of a sex scene between Pistol and Love. The lighting is romantically dim, Pistol is charmingly oblivious and Love looks stunning in her gold dress. Even though the audience can guess it's not going to end well, we still want to see this beautiful mood pay off sexually and it doesn't disappoint. The best sexual moment in the whole movie occurs when Pistol wraps Love in his arms and embraces her as she rides him. It is damn romantic and erotic and more features should allow their characters to express that kind of emotional content during the sex.
The plot thickens when we see Small Hands and Bridgette B ravage each other as the film moves towards its climax. Bridgette is known for her massive tits and they are on prominent display throughout. This scene is a lot more aggressive than the earlier one featuring Love and Hands. It worked as a stark contrast to the earlier encounter while also serving to intensify the multiple deceptions taking place in the film. Hands and B are just fucking each other for pure carnal satisfaction and it shows in the way he growls at her as he pounds away relentlessly.
As the movie concludes, the audience experiences multiple "oh shit" moments that serve to capture our attention. The theme of betrayal weaves its way throughout the entire story and leaves our characters in a position where they have to make some hard choices once they discover the truth surrounding their circumstances. It's a well-written story executed very well by the cast and the sex is great. It's a great way for couples to spend a sexy night together. I watched this movie on Wicked.com, so I was not able to view any of the special features.
Synopsis:
A mother will do anything to protect her daughter but sometimes that love can backfire. Rachel (Mercedes Carrera) has her hands full with her young daughter Alison (Avi Love) who defies her at every turn and blames her for her father (Tommy Gunn) leaving the family. When Rachel moves on with a new boyfriend, Alison decides to do whatever she has to do to sabotage this new relationship and get her father back. Passionate sexual performances and powerful acting blend perfectly in A Daughter's Deception.