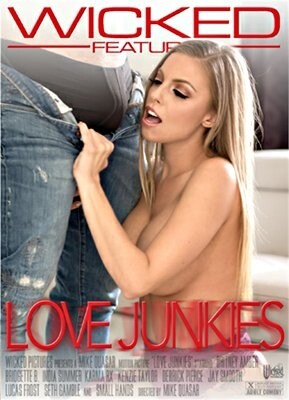 Theresa (Amber) runs a support group for women who are addicted to infidelity. Her group meets regularly to share their lewd exploits with one another in the hopes of learning from their mistakes while providing support for each other on the road to recovery.
Mike Quasar does a lot of dramas for Wicked Pictures, but here he takes a much lighter approach. This feels very much like an all-sex or vignette movie, but there's just enough plot surrounding it to make it a light feature. The concept is quite simple — the ladies sit around and tell each other sex stories, and then the movie shows us said sex story. While the entire female cast gets a chance to portray their own little story, it's Britney Amber who is tasked with holding the movie together and she does a great job of it. She displays a palpable desire to find solutions rather than enabling destructive behavior and she feels fittingly distraught-yet-determined throughout the movie.
Nancy (B) recounts her boldness in bringing her lover Brad (Smooth) to her actual home to fuck him while her husband is working in his study. A lot of times all sex movies will have an obligatory scene prior to the sex with the woman showing off her body in various poses with music playing. Quasar uses a cool shot of Bridgette coming down the stairs to satisfy this trope before moving to the sex. I liked that bit of creativity. I really enjoy Jay Smooth as a performer. He always seems to relish the act of appreciating his co-star's body with touching and kissing before he gets into the sex. I really wish the standing side missionary in this scene had lasted longer. It's one of my favorite positions.
Linda (Taylor) is a voracious woman addicted to Tinder and she'll go to any lengths to hook up with fuck a buddy. She recounts a story of infidelity in a park with Lucas Frost in what I felt was the most aesthetically pleasing location in the film. The babbling brook in the background was soothing and the rock wall provided a great backdrop to the performers. Again, Quasar resists the typical all sex jump right to the hardcore stuff by having Frost and Taylor fondle each other quite a bit in the early going. But once the fucking starts, Taylor puts her skills on display. At one point she mounts Frost like a stallion and rides him with literally no support other than the strength of her quads and she looks delicious doing it. The woman must have quads of steel.
Rachel (Summer) offers a more reserved story that really fits her character and it's a nice change of pace storywise. I need to take a moment to just say how absolutely elegant India Summer is. I love her with blonde hair and the way she carries herself reminds me of the Renaissance French elite. I also love to watch her have sex because she always seems completely engulfed by her passion and the pleasure she's feeling in the moment. Watch the way she grabs Small Hands's hair and throws her head back when he's eating her pussy or the way she locks his gaze and begs him with her eyes to keep fucking her. Hands was a perfect choice to pair with India to further her character's narrative and the piledriver near the end is a thing of absolute beauty. It was like watching a well choreographed wrestling match that told a great story (if you're into professional wrestling you'll understand exactly what I mean). Rachel starts out with a certain demeanor but by the end she has changed into a completely different participant due Nile's (Hands) subtle encouragement and measured escalation. This movie wins on this scene.
Theresa's torrid tale involves a great pool with a view and a client (Pierce) who shows her a fabulous time. Awesome blowjob, loved the stockings, loved the fact that Amber kept her necklace on, and utterly adored the moment when the lovers stopped fucking to get each other off with their hands. Things like this add so much eroticism to sex scenes and I wish we saw more of it. What a great bit of variety that was.
Karma Rx takes a ride with real estate agent Seth Gamble who is gentle and steady with her. It was awesome that Rx kept her undergarments on. It was such a hot visual to see it pulled to the side as Gamble slid in and out of her. Sometimes it really works to have the performers nude, sometimes clothing enhances the arousal. In this case it was a perfect choice by Quasar to have Karma keep that lacy bodysuit on.
We get a pretty good twist that brings the story to a satisfying close, which is one of the things I appreciate most about Mike Quasar. Oftentimes I'll watch a porn feature and it ends abruptly as if the writer didn't really know how to cap off the story. That is rarely a problem with Quasar. The light plot of this movie was bolstered by a solid ending. With that said, sometimes even a feature doesn't need much story when the sex is of such high quality and that's definitely the case with India Summer and Small Hands. The movie is literally worth the price of admission just to see them together. I watched this movie on Wicked.com, so I was not able to view any of the special features.
Synopsis:
Beautiful Britney Amber leads a group of women struggling to overcome their addiction to infidelity and the thrill of knowing that what they are doing is wrong but feels so right. Each has a story to tell filled with their sexy and secretive exploits; stories that their husbands would never want to know.