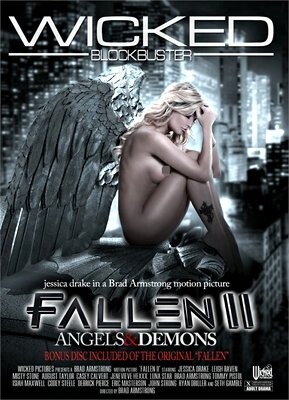 10 years after the events of the first movie, "Fallen II" finds Angel (Drake) and Keith (Armstrong) together on Earth, trapped between the realms of mortals and immortals. One night they rescue a young hooker named Max (Raven) from the clutches of her abusive pimp only to discover that she is the key to something much larger and the agents of both God and Satan want her on their side for the coming storm.
This movie is an incredible sequel to one of the best feature porn films I've ever seen. The stakes are higher, the twists are more shocking and the performances are more vibrant. Jessica Drake is fantastic as she always is and she expands her character from the first movie in a subtle yet impactful way. For instance, the way she uses her facial expressions and baleful smile to exude an eager malice when confronting Kenny Kilroy (Nat Turnher) lets the audience know that this version of Angel can be much more vengeful than when we last saw her, but we also get to see her compassion when she insists they take Max in. Drake walks this line between her sense of duty, her fiery rage and her nonchalant indifference with ease, proving why she is an award-winning actress.
Brad Armstrong also evolves the character of Keith nicely. Gone is the kind-hearted naive soul from the first film. In his place is a cynical being who kills the guilty with satisfaction and cares little for redemption. At the same time, Keith is obviously conflicted about his current purpose and his chess games with Manny (played to perfection by Rick Bailey) are a clear representation of his inner struggle. Again, it's a great evolution of the character.
I thought Isiah Maxwell and Misty Stone were really wonderful in their roles and they look fantastic in their costumes. Maxwell plays the Angel of Death Azrael while Stone plays Gabriel, the messenger of God. This was the most dialogue I'd ever seen Maxwell deliver and he handled himself quite well. Misty Stone sets the table for the heavenly side of the conflict nicely with her message and her conviction is not only evident, but believable. She drips with disdain for humanity but the audience can feel through her performance that Gabriel truly sees nothing wrong with her point of view. She and Azrael believe they're doing the right thing and they have no problem doing what they feel must be done for the greater good.
Tommy Pistol is truly captivating and many who watch this movie will feel he steals the show. I've long thought that Pistol is one of the great male talents working today and his acting ability makes every sex role he has more impactful. His performance as Pharzuph is honestly some of his best work. The way he ebbed and flowed between maniacal and desperate was really something. He should win a Best Supporting Actor award for the breadth of emotion he shows during his conversation with Angel near the end of the movie. I found it really awesome that Armstrong chose Pharzuph as an antagonist for Keith seeing as how Pharzuph is the fallen angel of lust and fornication. It makes Keith's encounter with Astaroth (Taylor) and Naamah (Hexxx) even more sensible if you know Pharzuph's lore. That's the kind of attention to detail that makes Armstrong such a masterful storyteller.
While everyone else does a wonderful job with their roles, I have to say the best performance came from Leigh Raven. She is the center of the entire conflict and her portrayal of the innocent victim caught in the middle was spot on. She was a perfect mixture of fear, awe and acceptance and she really centered the movie for me. At the risk of sounding like a broken record, she should win Best Supporting Actress from someone this awards season.
"Fallen II" also pays perfect homage to its predecessor with plenty of cameos (including a particularly ingenious one that takes place in a graveyard) and the bombshell return of Drake lends a massive amount of emotional weight and stakes to the story. In addition to returning characters, we get a second sequence (one of my favorite parts of the first film), a brilliant bit of subconscious exposition with the 11:11 concept (Google it and then watch the film again; it'll make certain scenes take on a whole new meaning) and an appearance by Satan herself that is quite awesome.
The sex in this movie is also pretty darn hot. Group sex, anal, DPs, this movie has something for everyone. We get a big opening orgy featuring Jessica Drake and Casey Calvert wearing stockings that put their beautiful asses on display while Luna Star sports a corset that places her ample bosom front and center. A highlight of the scene was Jessica sitting on Casey's face, blowing Driller, while Luna ate Jessica's ass, while getting her own pussy fucked by Masterson, while Casey was getting plowed by Pierce.
There's a solid three-way between Drake, Maxwell and Stone that Drake seems to really enjoy (watch her face throughout, she is into it) and the contrast of colors in the scene was awesome. Seeing Jessica entwined between two angels in the throes of passion was a site to behold.
There's a pretty intense gangbang from Leigh Raven which is something you don't see often in Wicked features. This is really a showcase scene for Raven and she nails, it never neglecting any of the cocks in front of her and keeping everyone engaged. The roving spotlight was a cool touch and the muted sharp gray tone of the scene itself was a stark contrast to the warm, soft nature of the angelic scene from the first movie. Another good bit of storytelling between the films.
We also get to see Raven take a hot anal piledriver in a scene with Armstrong and I have to say, fans of inked girls are really going to want to watch that one. We get an awesome squirt moment and we also get a very cool moment where he's fucking her while fingering her asshole.
If you're into big tits you'll absolutely love the threeway featuring Jenevieve Hexxx and August Taylor. Brad gives both ladies and good pounding and there's a nice face-down-ass-up sequence that is a joy to look at.
If it's fresh pairings you want, you're in for a treat because this movie features the first scene between Tommy Pistol and Jessica Drake and it is well worth the wait. There's an aggressive vibe between the two of them that fits the story perfectly. She's got a great ass and it's on beautiful display during the cowgirl while the look on her face during missionary is enough to melt ice.
My favorite sexual moment in the movie comes in the final scene where Drake is riding Armstrong in cowgirl anally. The way she has one leg raised causes her ass to practically coil around Armstrong's cock as he pounds away and it looks absolutely fantastic.
It's not often in today's porn climate that filmmakers take the time to craft a great story, offer beautiful visuals and create multiple characters that could be found in the script of a Hollywood film. This is one of those movies and it comes from one of the few directors in the industry still willing to produce content like this. It's well worth whatever money your brick and mortar store is charging for it or whatever the subscription cost of your favorite website is to view it. If you are a fan of high-end feature porn, this movie is a rare find that is sure to satisfy you. I watched this movie on Wicked.com so I was unable to view the extra features.
Synopsis:
Wicked Pictures and Award Winning Director Brad Armstrong bring you the most highly anticipated sequels in Adult Entertainment history. The original FALLEN was chosen one of the "30 Greatest Adult Movies of All Time" and has been the company's biggest selling and most critically acclaimed film of the past decade. Now the adventure continues on the 10 Year Anniversary of the epic blockbuster's original release date. In FALLEN II Angel (jessica drake) and Keith (Brad Armstrong) continue on the next chapter of their dark journey. A decade has passed and the world is a colder, darker place. The duo still roam the city streets in search of any sinful pleasures that come their way, but they've become a shell of what they once were, no longer human or angel, trapped in an earthly purgatory, caught between the living and the dead. One fateful night they save a young woman's life. At first she seems like just another lost soul, but they soon realize she's much more. They learn Max (Leigh Raven) is pregnant and is carrying this generation's Savior. Both Heaven and Hell want the child for their own and have sent their most trusted servants to coerce Angel and Keith into handing over the anointed one. Arch Angels Gabriel (Misty Stone) and Azrael (Isiah Maxwell) offer Angel her wings back, as well as the return of her interstellar status. Meanwhile the Devil's minion Pharzuph (Tommy Pistol) has come baring the only gift Keith would ever wish for... the return of his true love Denise. The stage is set for the classic battle between Good and Evil. Each will stop at nothing to get their way and bring "The Chosen One" back to their master. Who will be the victor and will Angel and Keith make it through the battle alive? FALLEN II like it's epic predecessor is destined to become an Adult Film Classic . Featuring brilliant acting performances by the entire cast, a riveting screenplay, stunning production design and is 7 incredible sex scenes. If you liked Fallen you'll love the Fallen II. If you haven't seen the original this is your chance to binge-watch because you get both FALLEN and FALLEN II in this EXCLUSIVE 2 DISC SET.