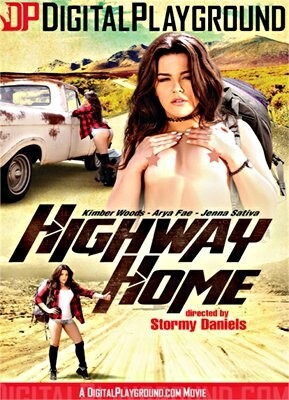 This Stormy Daniels-directed featured could have easily been called "Highway Ho," as the lead character, played by Kimber Woods, is so submissive (yeah!), she'll pretty much do anything you tell her to do (yeah! yeah!), be it standing on her head, eating a raw egg, running around the block 10 times, stealing a car, standing up and farting as loud as she can during a city council meeting and/or sucking cock or fucking yer brains out be it in the woods, on the bed of a truck or even on a toilet set (yeah! yeah! yeah!). And the very juicy Ms. Woods is, actually, not only good in the areas of licking and dicking, but a pretty solid actress, as she "discovers herself" whilst on the road hitchhiking.
Of the four porking scenes included, the best ones are the two bookending the movie and featuring Kimber. Her first on-the-road dalliance is with Derrick Pierce, a tattooed guy driving a truck who picks up the hitchhikin' slut and winds up getting sucked off in the cab, after which he pounds the shit outta her in the bed of his truck (see? — I wasn't lying).
The other heated sequence with Woods is at the cunt-clusion where her stepbrother, played by Xander Corvus, humps her silly in her bedroom (Stormy gives us sex in an old-fashioned bed!), with some excellent doggie moments, highlighted by the arousing black fishnets Kimber's flaunting. She also chokes well on cock during her Corvus cramming. And we also see Kimber emote quite realistically in this final scene, as her stepdad beats the living shit outta his son (Corvus), after the latter splatters upon Kimber's fine ass cheeks.
The scene with blonde spinner Arya Fae, in which Ryan McLane (old enough to be her father) hammers her silly in the restroom of a greasy spoon, does have a smoldering amount of erotic energy; while the girl-girler with Fae and veteran vadge cunt-sumer Jenna Sativa is a steamy affair because it was shot in a shower.
"Highway Home" is definitely a solid movie for couples, seeing as there's not too much craziness (not even anal, for example), while it's a good title for fans of luscious brunette fuck doll Kimber Woods. The fetching bitch works her money holes well!
Synopsis:
After a harrowing altercation between her stepfather and stepbrother, Lily leaves home on a search to find her true self. Five years later and missing her mother, Lily decides to travel home. Along the way, she meets a couple of troublemaking travelers who will fuck anyone to get what they want, including each other.