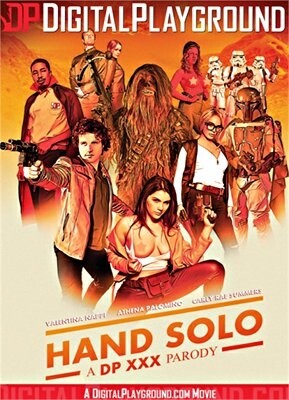 Digital Playground continues its "Star Wars" parody series with a takeoff on the Han Solo standalone movie "Solo." Like the previous installments, DP has executed nifty SFX, fine production values, a brisk pace and plenty of energetic sex.
Directed by Dick Bush from a script by himself and Della Darling, "Hand Solo: A DP XXX Parody" definitely benefits from a fine performance by Robby Echo in the title role. Not only does he channel the source movie's Alden Ehrenreich but adds his own energy and comedy chops. And he's got the beauteous Valentina Nappi as his foil Raina.
Hand cleans tables in a cantina where Raina dances. He sees himself as "a guy that makes things happen ... I'm gonna be a legend some day." His pal Bando (Isiah Mawell) beats him in a game of chance and gets Raina as a prize. After a bout of sex she swipes the start-up code to his ship and she and Hand are off on a spice smuggling mission, in defiance of the ruling Empire.
Along the way they pick up sexy blonde Nomi (Athena Palomino) and the hairy creature Screwbacca. They also run afoul of a helmeted Empire soldier who turns out to be Danny D. He gets to use his huge dick on Athena and a red-painted Carly Rae Summer.
There's lots of starship action and gunfights (well staged) before Hand can get back to work and have a celebratory fuck (a hot one) with Raina. Certainly a stellar flick.
Synopsis:
When a smuggler ship explodes around a nearby planet, every smuggler in the galaxy wants a piece of the prize! Hand Solo, joined by his trusty crew of misfits, takes a perilous journey through space with the ultimate goal of becoming the most revered smuggler in the galaxy (and every inviting pussy that comes with it)!