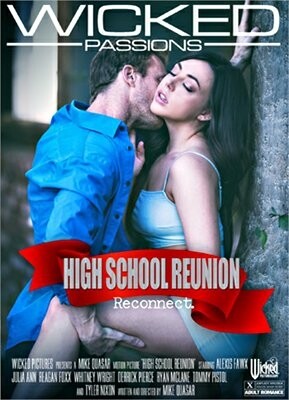 From the couples-oriented Wicked Passions line comes a feature specifically about couples who were high school classmates.
There's happily married Reagan Foxx and Ryan McLane, old friends Alexis Fawx and Tommy Pistol. The others have younger partners: Julia Ann with Tyler Nixon and Derrick Pierce with Whitney Wright.
It's Derrick who we follow to his high school reunion, although first there's a very hot scene between Reagan and Ryan. Everybody has a great time at the reunion. Tyler tells Julia, "Your friends are great," before they have sex.
The most touching relationship is between Alexis, a successful actress, and Tommy, a failed software engineer who wants to become a furniture maker. They renew their friendship and wind up fucking, very high energy. The two actors have an easy, believable rapport.
The big reveal comes when Derrick marvels that Reagan and Ryan have been together so long. Savvy millennial Whitney guesses it's because they're swingers. She's right and they have no apologies. Ryan takes Whitney off for a quickie, with Reagan's approval. Later she finds out that Derrick didn't make it with Reagan, although he could have. He tells Whitney he really cares about her and wants to remain monogamous, adding that he had to "go back to high school to really grow up."
It's well-directed by Mike Quasar, from a script by himself and Paula Treconi.
Synopsis:
Time passes. People change. After 20 years, the gang gets back together to celebrate their good ol' days, but the passage of time has not tamed the lustful desires of these former school mates and sometimes it's the ones that you least expect who harbor the dirtiest secrets. This is one High School reunion you don't want to miss.