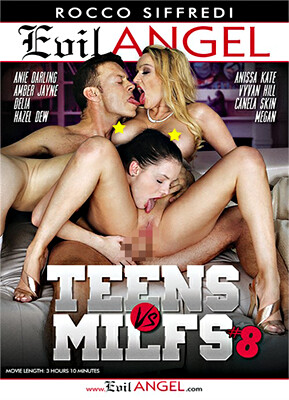 This Euro title from Evil Angel and director/performer Rocco Siffredi has plenty of choice foreign (English, Romanian, French, Serbian, Czech) female bodies (even a Colombian), being way, way nasty; so it's most definitely a win-win wank situation yer gonna positively adore.
We start off with Czech sweetie Anie Darling and 39-year-old Brit/MILF/hottie Amber Jayne getting hellaciously humped by marvelously perverted Rocco. First, delicious Anie gets the Rocco reamin'. She's great at choking on Italian salami and what a vision Anie is getting it doggie. Amber's a blonde slut who really knows how to deepthroat, showing the younger Darling how it's done. And seeing Jayne taking it doggie is equally fantastic. She also eats Rock's farts (yikes!) with grand gusto. And when these two sluts form a threesome with the Rock, you're gonna love seeing Anie eat Amber anus, Jayne slurpin' up Anie twaterola, both ladies double sucking Siffredi sword, Anie licking Rocco rectum (gasp!), both tramps getting their cunts blasted a la Rock, and our lovely ladies sharing a blast o' Siffredi sperm between one another. Ah, so romantic.
Next, delectable 21-year-old Romanian Delia and awesome 29-year-old Russian Hazel Dew get the royal dick treatment from some lucky bastard named Lutro. Brunette Delia is an amazing spinner with a simply perfect, svelte body and gorgeous face. She's also quite the little cocksuckette. She wriggles in heat when bent over, dying to get plugged doggie style, which she eventually does, and it's certainly a movie highlight, with her pink then stink both getting pounded, while our naughty girl hardly shies away from ATMs. Yes! Hazel, herself quite the spinner, shows up while Delia is getting dung-holee-oed during cowgirl anal, with Lutro popping onto Delia's mouth. What? So soon? It's okay, 'cause the Loot can and does Dew-doo it again. Foxy Dew sucks him back to hardness, gets her ass licked, is doggied (by the way, what an ass on Haze!), with Haze soon doing reverse-cowgirl, followed by cowgirl anal (whew!), a choice ATM deepthroat, standing doggie anal (double whew! — and I positively love the garter belt action on Haze), mish anal, Delia doin' some sweet ATOGMin' and Dew sharing Lutro sperm with Delia. Yeah!
Our third scene is also a scorcher, with amazing Serb slut Haley Hill, 20, and equally awesome French tart Anissa Kate, 31, getting licked and sticked by some bastard named Vinny, who's himself mightily licked by both babes, who are equally good at deepthroating, lemme tell ya. I don't know which of these babes I like better. Check out Anissa's luscious big tits, which Haley likes to suck on and which look good going bouncy-bouncy during reverse-cowgirl anal, with Hail doing the ATOGM doo-doo duties. Hill is the shit, as well, during cowgirl anal, such a juicy fucking ass, while she manages to actually beat Kate in terms of an ATM here. Next it's mish anal for Kate, more ATOGMin', doggie anal for Haley, a healthy ATOGM or two, three or four for Kate, and both ladies sharing a wallopin' dollop o' Vinny gametes.
And, lastly, we have a rockin' foursome between 26-year-old Colombian Canela Skin, 33-year-old Romanian Megan Inky, bald Mike Angelo and bespectacled John Price, which is a damn good fiery and (better still) filthy finale. Canela has great big jiggly ass cheeks, which I could watch wobble for hours. She's also a terrific hose inhaler, while she looks amazing in the cowgirl position, with both ladies first taking on bald Mikey. Check out how Canela grinds her cunt down onto Mikey during reverse cowgirl. Damn! Skin soon starts suckin' Johnny's skinny puppy, while Angelo is hammering Megan's anus, with both boys eventually giving Meg a doggie DP, which includes double-vadge and double-anal. These Romanian whores really give you yer money's worth! We soon get the same hole stuffings with Meg via reverse-cowgirl DP, after which the lads train her ass doggie style, with plenty o' gapes. Canela is soon riding Pricey prick cowgirl style, and showing off her amazingly gyrating bongo cheeks yet again. Meg gets Mikey off, after which Pricey pud blasts batter into both bitches' faces, which they happily lick off each other's mugs. Charming.
It's deliriously dynamic, delightfully decadent drilling with a host of attractive young and older babes from Europe — and one big-assed sweetie from South America — all of whom are sure to get you off. As a matter of fact, if this volcanic Evil Angel title doesn't make you blow into yer fist big league, then you, your cock or both just ain't functioning, Bubby.
Synopsis:
Living XXX legend Rocco Siffredi orchestrates freaky, taboo group perversions among the seasoned sluts and fresh-faced rookies of Teens vs MILFs #8. Youth may be wasted on the young -- but not in porn! Blonde MILF Amber Jayne sends boyfriend Rocco to talk with her cute teen stepdaughter, Anie Darling. He seduces Anie, and family competition ignites a nasty three-way including sucking, fucking, rim jobs and a messy cum facial. Studly Lutro gets personal with glamorous Hazel Dew and Delia, her leggy stepdaughter. Both ladies worship his dick; they enjoy anal pounding, and stepmom licks sperm from stepdaughter's pretty face! Naturally buxom stepmother Anissa Kate disciplines disobedient, young Vyvan Hill via a slutty anal threesome with stud Vinny Star! The ladies give him a passionate, dual blowjob, and they take turns slurping his meat ass-to-mouth. Busty, tattooed MILF Megan and comely Latina Canela Skin's lesbian licking precedes a foursome. Hung studs Mike Angelo and John Price interrupt to work Megan with double penetration fulfillment, double vag stretching and intense, double anal reaming!