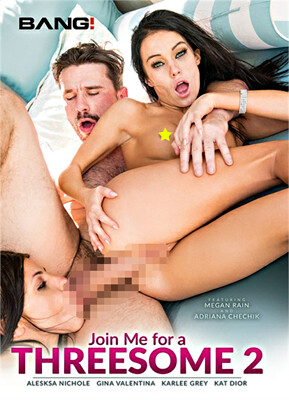 Highly pump-worthy females get fucked in all the holes, while some of 'em are even DP'd in this bangin' gonzo filled with threesomes from Bang.com.
We start off with elder stud Manuel Ferrara bragging about getting to fuck anal whores Megan Rain and Adriana Chechik in the same shitting, er, sitting, er, slamming — and, yes, it does rock, as the ladies get penetrated by so semenly ubiquitous a sword. As you can guess, both of these raging sluts perform superbly with their ever-hungry tonsils, twats and turd bins. Both ladies are also grand at dealing with ATOGMs, cunt and female ass-licking, ATMs and any position offered to their vadges and vapor pits. Adriana even gushes a bit before she fists (I mean it!) Rain's rectum. Wow! Chechik even rains into Rain's mouth. Wow! (Didn't I just say that?...)
Scene two has exotic-looking Aleska Nichole getting dynamically DP'd by Markus Dupree and James Deen, with Nichole being the most erotically insane (a good thing!) of the lot of slots in this gonzo. Check out that big ass on Alesk. Nice large boobies, too. She knows how to choke on a chicken, that's fer sure, and it's a beautiful thing. Times two! First the boys reverse-cowgirl DP her — she's a pantin', beggin', screamin' sex freak! — after which she does standing doggie anal, then a doggie DP, during which she loves getting her juicy ass slapped, followed by a greedy ATM, more doggie anal, another reverse-cowgirl DP, literal choking, face slapping, spoon anal (which is amazing!), another doggie DP, hair pulling, ATMin', face-fucking, a standing DP, more deepthroating, some charming gaping, a doggie-anal train and (if you're still with me) eventually a double blast o' battery-ball acid. And Aleska just can't get enough o' the rough stuff! Love her!
Next, pretty Kat Dior is marvelously cunt and butt bored — meaning she's delightfully DP'd—by John Strong and James Deen. First off, check out those full pussy lips on Kat. Quite a mouthful. She's a wondrous gristle gagger, too, getting plenty o' spit all over those wrinkled saxes, and really taking them all the way down her gullet. The crazed dudes largely give her the same hard treatment Aleska received in the previous in-and-outing, cum-plete with plenty of choking, slapping, anal, DPin' (including doggie, reverse-cowgirl, standing double penetrations), ATMin', cum-cocooning, and, 'natch, vadge obliteration. A showstopper is most definitely when they doggie DP choice piece of ass Dior.
And we get an excellent closer with the major openings of luscious Karlee Grey and ultra-babe Gina Valentina by (ever-)returning Frenchy Manny Ferrara. Both ladies are amazing to watch, but I especially enjoyed juicy Gina in the cowgirl position, with Karlee ravenously eating Valentina's ass vapes. I dig how Karlee squirts into Gina's gob, with Valentina lovin' every drop o' that spontaneous spillage. Valentina getting doggied while Grey sucks dick and vadge directly below the sweaty point of penetration is rather horny stuff, as well. Both girls are superb dick-gaggers, too. And you really can't shoot Valentina in a bad position. Both girls ultimately share a nice pop in the face before retiring, with Mr. Baguette, to a cool pool with plenty o' rocks (the real kind, not ones attached to a prick) and mini waterfalls.
Lots of high energy and nasty action in this quartet of threesomes, with high points going to Megan, Adriana, Kat and (especially, the incredibly outrageous and insatiable) Aleska.
Synopsis:
2 women on one lucky guy and 2 guys destroying 1 girl's pussy and ass! Explosive threesome XXX!